It did not take long for the brand new, sleek Harley-Davidson FXDR to flex its muscles in the Pro Stock Motorcycle class. The new V-twin motorcycle captured a Wally in its debut.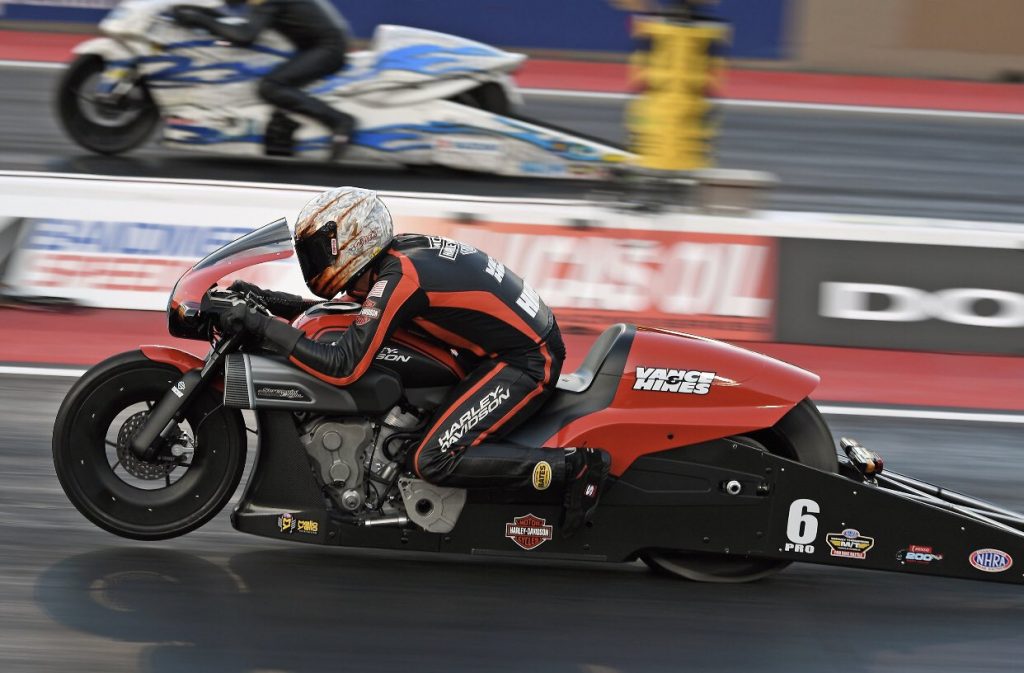 Pro Stock Motorcycle Points leader Andrew Hines continued to roll in Pro Stock Motorcycle, picking up his sixth win in eight races this year by going 7.174 at 186.67 in the final round on his Screamin' Eagle Vance & Hines Harley-Davidson FXDR to beat teammate Eddie Krawiec's 7.222 at 186.38 Sunday at the 40th annual Dodge Mile-High NHRA Nationals presented by Pennzoil.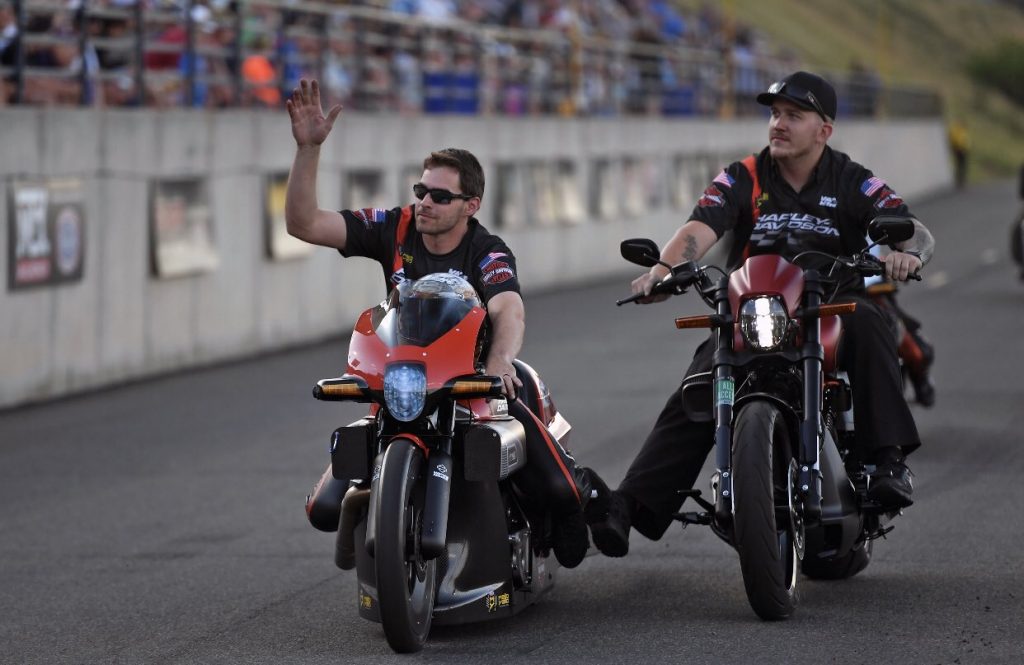 Hines, who extended his points lead, put together an impressive result in the debut race of the new FXDR, beating Cory Reed, Hector Arana and defending world champ Matt Smith en route to the win.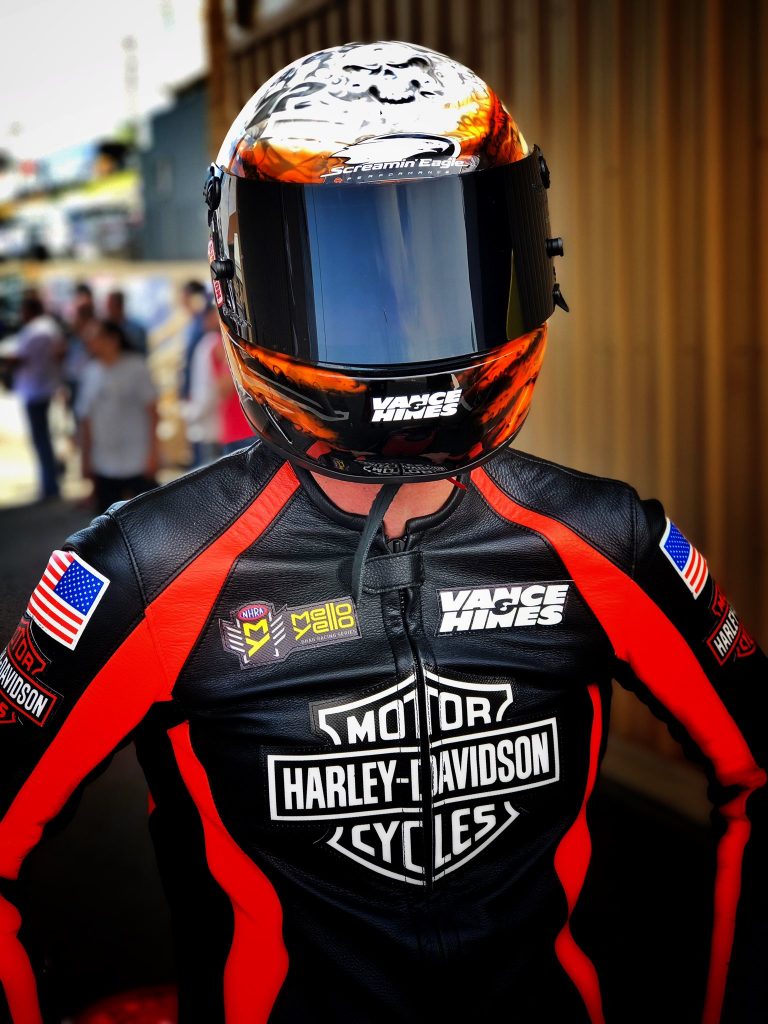 Krawiec reached the final round with victories against Karen Stoffer, Jerry Savoie and defending event winner Hector Arana Jr., but there seems to be no stopping Hines in 2019 after he earned his class-best fifth win in Denver and 54th career victory. Hines, the winningest driver in the class, also became the first rider in Pro Stock Motorcycle to reach 500 career round wins on Sunday.
"Rolling out this new FXDR, it's been so much work these last few months," Hines said. "Bringing that motorcycle here, we didn't know what quite to expect, but we put them both in the final round. You've got to have the full preparation and make sure your mind is right coming to these national events. Everybody in the class can step up at any time, and it seems like my bike has been in the right place at the right time in the right round. We just ride the wave when we can."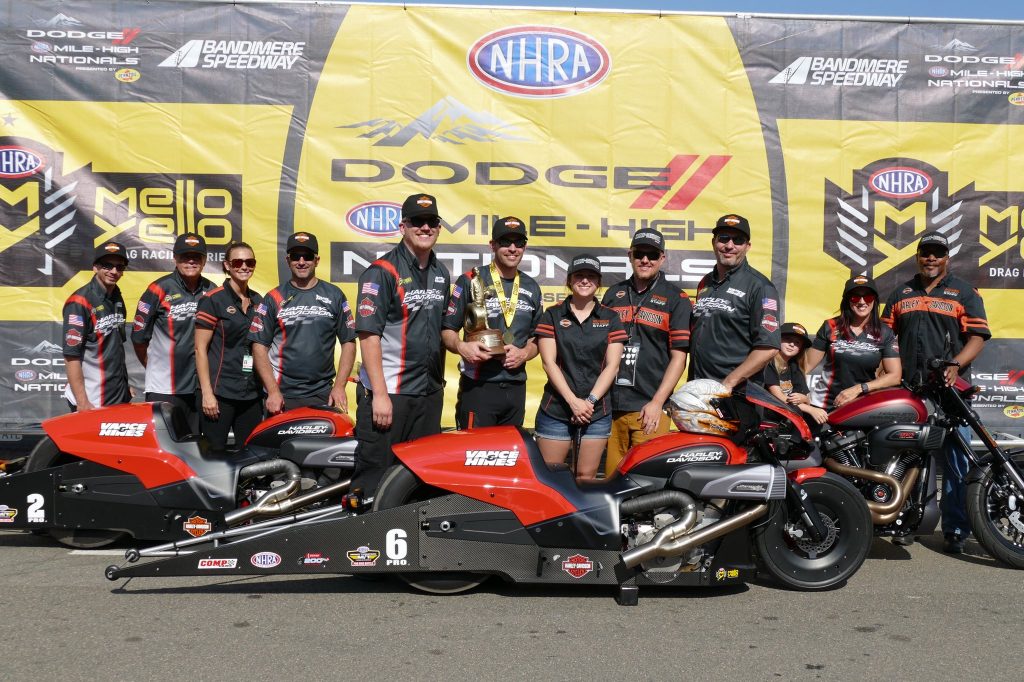 The Mello Yello Drag Racing Series continues July 26-28 with the NHRA Sonoma Nationals at Sonoma Raceway. It is the second race of the NHRA's famed three-race Western Swing, and eliminations will be shown live on the FOX national broadcast network.
There are more videos on the Cycledrag Youtube channel (please subscribe here) and the Cycledrag.com Facebook page (Please like here) and more will be coming soon. Check back daily.
ROUND ONE — Hector Arana, 7.228, 186.25 def. Eiji Kawakami, Foul – Red Light; Scotty Pollacheck, 7.301, 182.08 def. Angelle Sampey, Harley-Davidson, 7.250, 183.72; Eddie Krawiec, Harley-Davidson, 7.218, 185.31 def. Karen Stoffer, Suzuki, 7.278, 182.35; Hector Arana Jr, 7.225, 185.00 def. Ryan Oehler, 7.319, 184.88; Angie Smith, 7.224, 185.05 def. Joey Gladstone, Foul – Red Light; Andrew Hines, Harley-Davidson, 7.179, 185.95 def. Cory Reed, 7.385, 180.84; Jerry Savoie, Suzuki, 7.205, 183.47 def. Kelly Clontz, Suzuki, 17.740, 36.29; Matt Smith, 7.180, 186.95 def. Jim Underdahl, Suzuki, Foul – Red Light;
QUARTERFINALS — Arana Jr, 7.400, 183.69 def. A. Smith, Foul – Red Light; Krawiec, 7.220, 186.51 def. Savoie, 7.258, 183.69; M. Smith, 7.207, 186.00 def. Pollacheck, 7.325, 181.86; Hines, 7.179, 185.72 def. Arana, Foul – Red Light;
SEMIFINALS — Krawiec, 7.235, 185.10 def. Arana Jr, Foul – Red Light; Hines, 7.183, 185.79 def. M. Smith, 7.238, 184.80;
FINAL — Hines, 7.174, 186.67 def. Krawiec, 7.222, 186.38.
Points
1. Andrew Hines, 847; 2. Eddie Krawiec, 734; 3. Hector Arana Jr, 625; 4. Matt Smith, 608; 5. Karen Stoffer, 413; 6. Angie Smith, 385; 7. Ryan Oehler, 355; 8. Angelle Sampey, 346; 9. Hector Arana, 328; 10. Joey Gladstone, 304.