Many called NHDRO's first trip to Louisville's Ohio Valley Raceway "The Greatest," with more grudge races locking in and knocking out than anyone could remember happening anywhere else, ever. "One of the best events I've ever attended!" said rider Richard Gadson. "Man it was something special. People were racing left and right ALL NIGHT!"
So expect even more Thrills in the 'Ville when the Midwest's largest motorcycle drag racing series returns its high-horsepower, 2-wheeled circus to the birthplace of Muhammad Ali for NHDRO's Mid Season Sizzle and Grudge Reunion 2 on July 8-10. The nation's top grudge bikes and trash talkers will lace up and pull no punches on the spectacular, wall-to-wall concrete eighth mile for the season's most intense Grudge session.
The nation's gnarliest grudge bikes—Black Plague, N2Deep, Bullet Bill, Clean Getaway, Gas Monkey, Seal Team 6, Junkyard, Kill Bill, Rhonda, Pitch Black, Venom, Pablo, DMF, and more—will all be there. Riders Gadson, Jeremy Teasley, Jeremy Rossi, Ryan Schnitz, Whip and more will all be hittin' the tree hard and riding wheelies as long as necessary to take the stripe. Cash and tire smoke will fly through the hot, July night air so fast that heads will spin—and roll.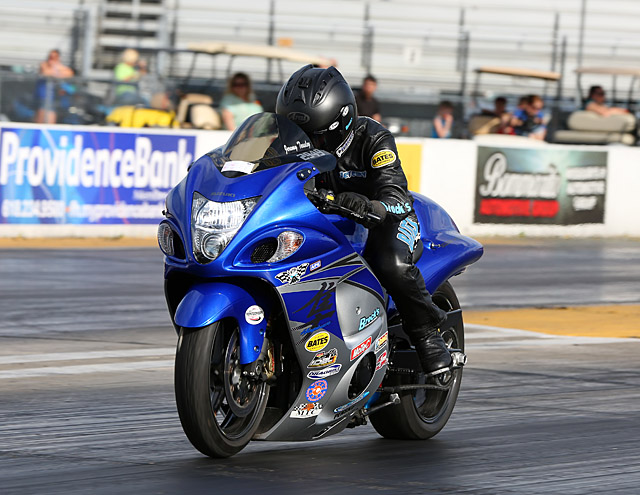 Of course there will be more than grudge, including the nearly 700 horsepower streetbikes of McIntosh Machine & Fabrication Pro Street. Mark Paquette is riding a two-race win streak, now running consistent 6.70s on the quarter. What will his turbocharged Suzuki Hayabusa run in the eighth? And will his teammate Bud Yoder—the defending Pro Street champion—show Paquette how it's done to the 660?
St. Louis area's Rudy Sanzottera will bring his Quicktime Motorsports trailer full of side-mount, big-intercooler turbo 'Busas for himself and Ryan Hable. Gabe Fredrick, Doug Gall, Huntsville runner-up Justin Doucet, KOTS winner Frankie Stotz and more will all be burning out and dragging on.
Gateway HMH Motorsports Coatings Pro Open winner Chris Cutsinger will be racing his big-tire, big-turbo 'Busa on his home track this time around. That won't make it easier for Cutsinger, who will face a larger field of eighth mile-oriented nitrous bikes, such as the Fast Times Motorsports Suzuki ridden by Richard Gadson—who won this event last year—and the Louisville-based Pro Mod of Deshaun Wheeler. Ron Maddox, Marty "Pops" Sanzottera and more will all be shooting for Pro Open gold.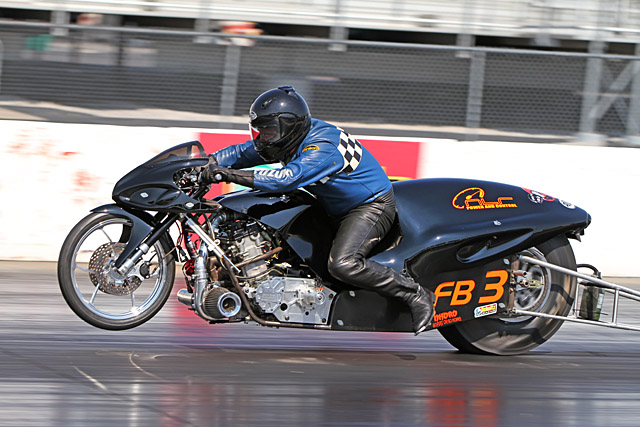 The Fast Times 4.60 bike of Indy winner Chase Morris will also be back in action, taking on Gateway Quicktime Motorsports/Lindeman Performance Pro Ultra 4.60 winner Jeff Lindeman in the world's quickest two wheeled index class. Courtney Wheeler will be there with his local posse as this awesome class continues to grow and gather momentum.
In fact, all the sportsman classes are heating up just in time for Louisville—and for free Shinko tires to sportsman number 1 qualifiers courtesy of Team DRR.
Multi-time G&G Metal Spinners Top Gas champ Greg Mallett finally proved vulnerable last time out, his semifinal loss setting up the first ever all-no-bar bike Top Gas final between Jeremy Teasley and Ben "Race Hard, Crash Hard" Knight. Will Mallet put the hammer back down in Louisville?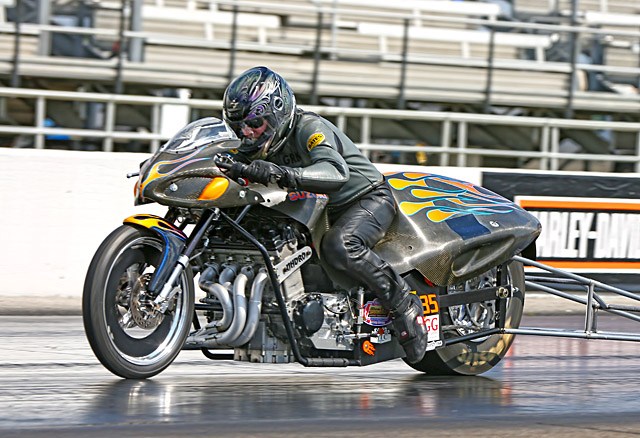 Ron "Jiu-Jitsu" Arnold will attempt to grapple and subdue all Route 21 Street Fighter racers at the closest NHDRO event to his Bowling Green home and his Elizabethtown-based sponsor, Fun-For-All-Motorsports. Will they scream "Uncle!?"
Another Bowling Green-based racer—John "Spooky" Markham—thinks of the Millennium Trailers Super Comp winners circle as his personal property. Dustin "Bring Biscuits if I Crash" Lee and others think otherwise.
Motorcycle House Crazy 8s will feature a lot of these racers and more.
Kounselor Kenny Schwartz, Nathan Hollingsworth, Dan Raduenz, Brian Dale, 17-year old Mike Thurman, Ricky Scott Jr, Chad Isley, Jim "Put it on the Underhill Tab" Underhill, Joe "On" Deck and more will all race in some of these classes, as well as Kevin Dennis Insurance Street ET and MPS Pro ET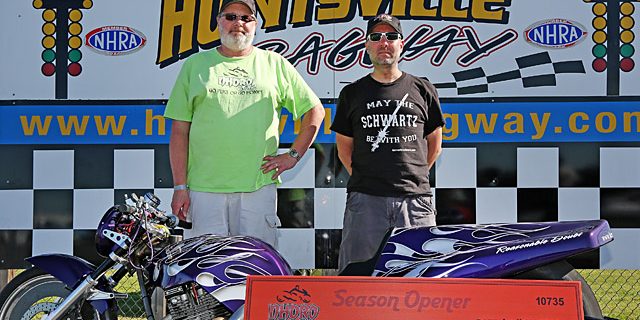 And NHDRO's own Brian Welch cannot wait to race YOU on the MSP-built "Uptown Funk" down Ohio Valley's eighth mile. He and Niki Welch look forward to seeing the whole NHDRO family THIS WEEKEND.
Find out more about the NHDRO at http://www.nhdroracing.com/
NHDRO thanks McIntosh Machine and Fabrication http://www.mcintoshmachineandfab.com , Quicktime Motorsports http://quicktimebikes.com , Route 21 Racing Apparel http://www.route21.us , Millennium Trailers http://www.milltrailers.com , G&G Metal Spinners http://www.ggmetalspinners.com , Kevin Dennis Insurance http://www.bettercoverages.com , MPS http://www.mpsracing.com/default.asp , Motorcycle House https://www.motorcyclehouse.com , PR Factory Store http://www.prfactorystore.com/ , Vanson Leathers http://www.vansonleathers.com/ , and HMH Motorsports Coatings https://www.facebook.com/HMH-Motorsports-Coatings-427240650798192/