Stadium-like Route 66 Raceway, which opened in 1998 just outside of the Windy City, has regularly been the site of
astounding performances and one of PRO2's favorite pre-race parties, Nitro Night in downtown Joliet IL This year's
Nitro Night event will feature (5) PRO2 pro stock motorcycle racers on Thursday, July 7th from 6 P.M – 10 P.M.
Autograph session from 7 P.M – 7:30 P.M with a special "glass works' event planed after the autograph session at
Sue Regis Glass. The event also is the sixth of the season for PRO2 Pro Stock Motorcycle racers.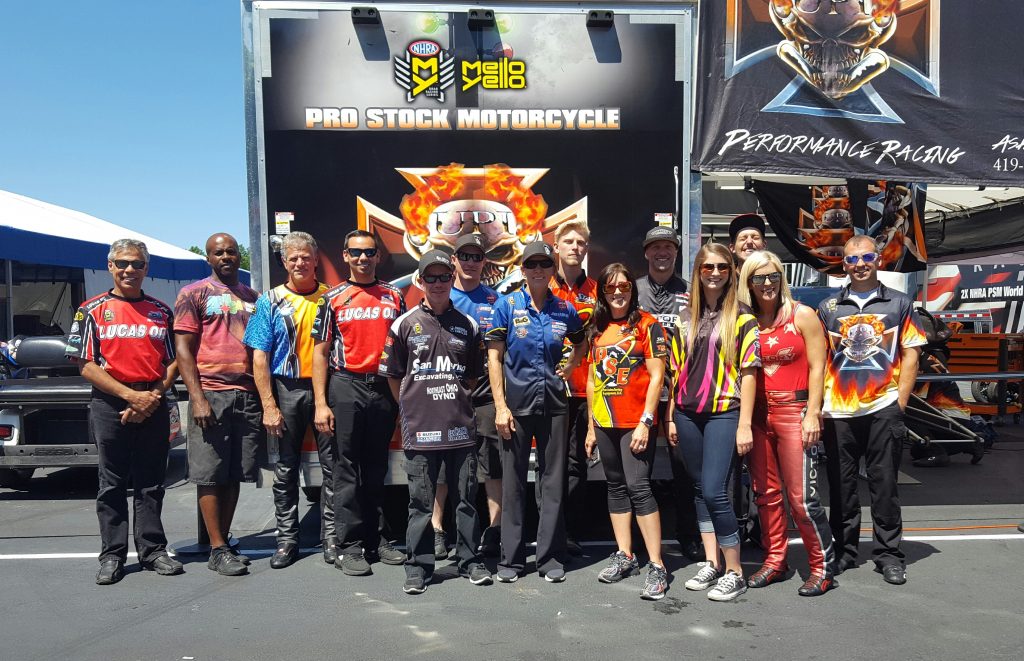 "We are looking forward to racing at Route 66 again this year. In 2015 at this event we seen not only the track ET
records set in all four pro classes, but several speed records as well! That says so much about this beautiful faculty
and it's fans! The PRO2 Pro Stock Motorcycle class has become so competitive with all the newcomers and our
participant count continuing to be the strongest of all the NHRA pro classes. 2016 has proven to be a "VERY
EXCITING" race season to date, the Route 66 Nations coming up this weekend will for sure continue that trend in
our class" stated Scott Smalley, owner of team UPI Racing.
The K & N Filters Route 66 Nationals is scheduled for Friday July 8th – Sunday July 10th and PRO2 will once again
present Pro Stock Motorcycle Fan Appreciation on Saturday July 9th in the pro stock motorcycle (PSM) pit area.
All fans at NHRA's Rout 66 Nationals are invited to come to their Fan Appreciation to hang out with the racers, pick
up a autograph, take a picture, or even sit on a pro stock motorcycle. PRO2 Fan Appreciation is scheduled for
10:30 A.M – 11:30 A.M on Saturday (July 9th) with a PRO2 rider group picture scheduled around 11:40 to close out
the PRO2 Fan Appreciation event.
* NHRA, National Hot Rod Association and NHRA Pro Stock are Trademarks of the National Hot Rod Association.
For more information about the National Hot Rod Association (NHRA) visit the organizations website at
http://nhra.com
* For information regarding the 2-Wheel Professional Racers Organization (PRO2), visit the PRO2 Facebook page
at http://facebook.com/pro2racing. Please PM us with any inquiries you may have.
Scheduled PRO2 event hashtags: #nhrapsm #nhraonfox #PRO2 #goonyello #rout66nats