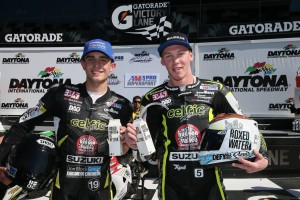 Celtic Hudson Valley Motorcycles Suzuki Racing's Corey Alexander and Wyatt Farris are excited to rejoin the championship battle this weekend at the legendary Mid Ohio Sports Car Course. The 2.4 mile Mid Ohio circuit is known as one of the most challenging and demanding for riders, which rewards riders with technical skill and well timed aggression. Last year's AMA Pro SuperSport events saw Alexander bring home a fourth place finish in race two, with a seventh place in race one after starting from sixth position on the grid. Farris had a similarly successful weekend at Mid Ohio in 2013, with a ninth place start yielding a strong sixth place finish in race one and an eleventh in race two. Both Celtic/HVMC Suzuki riders are determined to improve on their previous results and return to the top of the podium where they started the 2014 season.
Corey Alexander arrives at Mid Ohio tied for first place in the points with rival Hayden Gillim. Alexander stated "The last few weeks off have been really good for me. I've done a lot of riding and I feel my shoulder is basically back to 100% strength. Mid Ohio is a very fun track for me, and I feel we have the potential to do well this weekend, building on what we learned as a team during last years races. I'm very anxious for the weekend to begin, because the results of this weekend will be very influential in the championship battle. I'm confident in the team and what we are capable of when everything is working well. I have to give a big thanks to the whole team and all of my sponsors including MJRS Freeman, Spidi Leathers, XPD Boots, Arai Helmets, Boxed Water Is Better, Defy All Odds Apparel, Oakley, Crossfit OSA, and Lapizta Watches." Please follow Corey Alexander on twitter and Instagram via @corey5alexander , keep track of him on Facebook at www.facebook.com/corey5alexander , and check out his webpage – www.corey23.com – as well.
Wyatt Farris is firmly in fourth place in the point standings as the 2014 season enters the second half at Mid Ohio. "I'm really looking forward to getting back on my Celtic/ HVMC Suzuki GSXR 600 on Saturday and starting the weekend! I had a good weekend at Mid Ohio last year, and I know that is going to pay dividends for us this weekend. Both the team and I are looking to put a solid weekend together and bring home the results our sponsors deserve!" Wyatt's personal sponsors include: Jon Block Group, Cortech, Shoei, Defy All Odds Apparel, Above Category, and CT Racing. You can keep up with Wyatt Farris via Instagram or Twitter @wyattfarris19 or join him on Facebook at www.facebook.com/wyattfarrisracing .
Sponsors for the Celtic/Hudson Valley Motorcycles Suzuki team include: HVMC Racing, Suzuki, MJRS Freeman, Orient Express, Jon Block Group, Yoshimura R&D, Bazzaz, Gemini, K-Tech Suspension, Pitbull, Maxima Racing Oils, Galfer, Chicken Hawk, Motion Pro, Armour Bodies, Saddlemen, Star School, DesignStar3, Zero Gravity, Signs Ink, GB Racing, DID, and Vortex.
CELTIC RACING
Celtic Racing was established in 2001 by Barry Gilsenan, and over the past 13 seasons has established itself as a premier privateer racing team. Celtic Racing has seen consecutive championship seasons in AMA Pro Racing SuperSport from 2012 to 2013. Development of riding talent began with two-stroke 125cc, and 250cc machines competing in professional and regional championship events. More recent Celtic Racing efforts have focused on AMA Pro Road Racing in the Daytona SportBike and SuperSport classes with Ducati, Honda, Suzuki, and Yamaha four stroke motorcycles. Gilsenan's talent for coaching racers of all ages and abilities has brought Celtic Racing worldwide attention and recognition, with many former Celtic Racing riders now competing on World Championship levels. For more information regarding Celtic/HVMC Suzuki please join us on Facebook at www.facebook.com/celticracing and follow @celticracing on twitter and Instagram – we appreciate all your support!
HUDSON VALLEY MOTORCYCLES
Hudson Valley Motorcycles has been serving New York's Hudson Valley and Westchester County as well as Connecticut, Massachusetts, New Jersey, and greater New England with Ducati, Kawasaki, and Suzuki Motorcycle/ATV Sales, Parts, and Service since 1966. Established by Richard Alexander Sr, the dealership is a family run business with employees who have been part of the family for decades in some cases. With deep and long standing customer relationships around the region, Hudson Valley Motorcycles is known for outstanding customer service, in-depth product expertise, and the foremost service department for machines of all brands. Please visit www.hvmotorcycles.com, join them on Facebook at http://www.facebook.com/HVMotorcycles or follow them via @hvmotorcycles .
ORIENT EXPRESS
Established in 1973, Orient Express is celebrating its 41st year as a high performance motorcycle parts distributor and race shop. Orient Express offers engine and motorcycle building services, precision machine work, suspension servicing, and dyno tuning services. Orient Express has an extensive history of racing, including support of both professional and amateur race series and individuals. For more information regarding Orient Express, or to find out what Orient Express can do for your racing success, please call 800.645.6521 or 631.231.9552 (NY/International), visit http://www.orientexpress.com or join them on Facebook at http://www.facebook.com/OrientExpressRacing .