Jeremy Teasley took two McIntosh Machine & Fabrication Pro Street wins as the NHDRO Mid Season Sizzle went off cleanly despite intermittent rain delays this past weekend, July 11-13, at Lucas Oil Raceway near Indianapolis, Indiana, USA.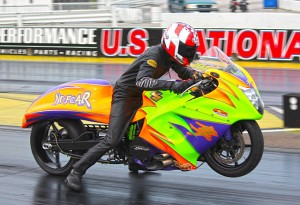 With three-time MIRock champ Rodney Williford tuning online from afar in North Carolina, Teasley rode John Drake's "No Fear" turbocharged Suzuki Hayabusa for the rain delayed Columbus race win over Gabe Frederick in the final on Saturday, and then won again on Sunday.
Frankie Stotz and his alcohol-burning, turbocharged Honda CBR1000RR provided a lot of excitement on the weekend, sprouting a fuel line and bursting into flames on the staring line for round 1 of qualifying. Stotz was burned about the neck, but put it all back together and went all the way to Sunday's final against Teasley, where he redlit by -.006 and Teasley ran 6.96.
Number one qualifier Doug Gall lost to Stotz in the semis, but not before running his own 6 second pass in round 2.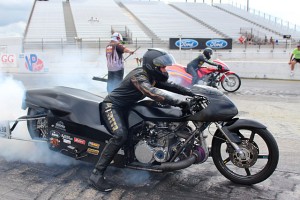 Everybody knows that Schnitz Racing Pro Comp champion Mark Paquette's turbo-methanol Kawasaki Funnybike is an absolute monster. When the tune-up is right, few can touch this machine, and Paquette had the tune right this weekend.
Paquette qualified number one with a 4.05 at 191 mph in the eighth mile class, but that was just getting started. Paquette nailed a 4.01 at a whopping 198.47 mph while winning the final over May winner Keith Lynn and his Roger Gordon-owned and tuned gas/turbo/nitrous Kawasaki. "I'm still freaking!" seasoned veteran announcer Radical Rich Tivitt said later. "What a run! Oh my God, it was one of the coolest passes I've seen." And that's a lot of passes.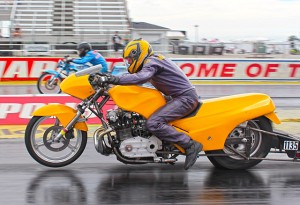 Tivitt hails from the St. Louis area, as does Route 21 Top Gas 8.20 winner Mike Wagner. He took the final over Darrell Carichall, who redlit. Number one qualifier Greg Mallett lost to Doug Fisher in round 2.
Wagner's daughter Rachel qualified number one in Millennium Trailers Super Comp, but it was Ben Knight who took the final round win over Columbus winner Bradley Shellhaas. Both riders had .052 reaction times but Knight stayed closer to the index with an 8.916.
Knight also won Sunday's Kevin Dennis Insurance Street ET race when Jeff "Not the Rainbow Warrior" Gordon redlit in the final. Saturday's final was won by Denny Helms over Andy Frame, mostly by virtue of Helms' killer .001 light.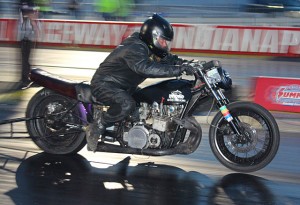 The crazily popular—and crazily competitive—Catalyst Racing Composites Crazy 8s 8.88 index class went to Bill DeShong, who somehow put the fear into runner-up Doug Gall. Gall slammed an .013 light to DeShong's .056, then broke out with an 8.85. Number one qualifier Ron Arnold went out in the quarterfinals.
Norwalk veteran racer Kevin Adams made the trip to Indy pay with a Tsukigi Racing Streetfighter win over Chris Books, who failed to make his .014 light stick on the big end. Number one qualifier Chris Panko left the building in round 2.
Saturday's G&G Metal Spinners Pro ET win went to Eric Cooper by virtue of his .007 light over Mallett in final. Rod Bland and Ronnie Woodall Jr 's lights were only .003 off each other in Sunday's final, but Bland ran closer to his dial. The delayed Columbus final had Shellhaas winning over Jason Sergent.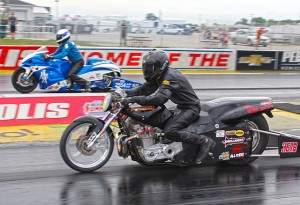 Friday's bonus ET race was won by Ron Arnold, who conquered Teasley in the final. Saturday's Port-Tech Grudge session saw the Orange Crush bike wuss out on its obligation to race The Fugitive—a highly touted match that had the web buzzing for weeks. Now the grudge is real, and we'll see if the orange bike shows its face in August.
Throughout the rain-challenged weekend, KD Kanopies kept everyone dry. NHDRO promoters Brian and Niki Welch thank everyone in the NHDRO family of racers and sponsors for their help and patience in dealing with the weather, and look forward to welcoming everyone back to Indy's Motorcycle Weekend for the Summer Celebration on August 8-10. NHDRO has BIG things planned for August—bigger payouts, live music, a supersized return of the bikini contest, and even a TV production crew laying down tracks for a 30 minute show. The Midwest's largest motorcycle drag racing series continues to think BIG!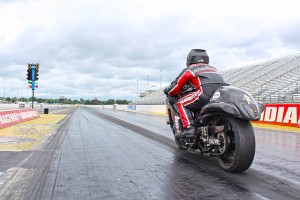 Find out more about the NHDRO at http://www.nhdroracing.com/
NHDRO thanks Schnitz Racing http://www.schnitzracing.com , McIntosh Machine and Fabrication http://www.mcintoshmachineandfab.com , Route 21 Racing Apparel http://www.route21.us , Catalyst Racing Composites http://catalystracingcomposites.com , Tsukigi Racing http://www.tsukigi.com , Millennium Trailers http://www.milltrailers.com , G&G Metal Spinners http://www.ggmetalspinners.com , Kevin Dennis Insurance http://www.bettercoverages.com , Port-Tech http://www.porttechheads.com/index.html , and KD Kanopy http://www.kdkanopy.com .
This report was prepared by Tim Hailey with photos by MDRI https://www.facebook.com/motorcycledragracing1 . Enjoy everything there is to read, see and watch about motorcycle drag racing and more at http://www.eatmyink.com