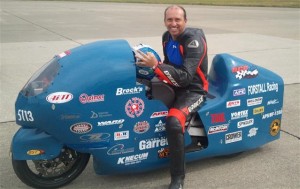 NASA's Space Shuttle program may be winding down, but Bill Warner continues to reach for the stars. On Sunday, at Loring Air Force Base, in Limestone, Maine, he became the first man to exceed 300 mph riding a sit-on motorcycle, with a stunning 311.94 mph run on the 1.5-mile course.
Becoming one with his turbocharged, methanol-fueled Hayabusa-based racebike designed to harness 1000 horsepower, this mild-mannered fish farmer and marine biologist from Wimauma, Fla. smashed his top-speed record of 278.6 mph rolling on DOT-approved BST carbon-fiber street wheels. The 586 lb., 8 ft. long bike was fitted with BST's heavy layup specification rear rim, which is 8.5 in. wide, with thicker-than-normal spokes, designed for big, high-powered motorcycles using a 240-series tire, and a standard BST front wheel.
Brock's Performance President Brock Davidson, a license-holding 200+ mph land-speed-racing participant, is ecstatic with this achievement: "We wanted to make sure that we had enough strength to deal with the potential power output and centrifugal forces developed at these ridiculous speeds. Thanks to Bill's testing, BST's ILR wheels are now available for race and street use to consumers."
Warner, a veteran land-speed competitor, nonchalantly said that accelerating up the runway at up to 152 yards per second wasn't very dramatic. "In this situation it was very calm. I progressed my speeds up from 180 mph over the past few years, so it was not a traumatic thing to do.
"The big part of it," he continued, "after the speed happens, is trying to stop the bike. At Loring, there is a mile shutdown to slow the vehicles and I used every bit of it. The bike was bouncing, hopping, skipping and sliding. Needless to say, I got it stopped safely. It was a little scary."
Not only did Warner blow away his former top-speed record from Texas last year by 33.3 mph, but he also blew the minds of the land-speed-racing community.
Joe Timney, President of the East Coast Timing Association, said: "We knew he had big speeds in store for Loring, but for god's sake, he didn't just clip 300 miles per hour, he buried it! This is a world record of epic proportion. Bill went faster on a sit-on motorcycle than Don Vesco did when he broke 300 in a streamliner; the hair stands up on my arms just thinking about it."
Here's what Dean Sabatinelli, who holds a class record at 269.7 mph, had to say: "I don't see anyone getting close to this record in the next five years, even if they started right now and focused intently on the task. Bill approaches land speed racing like a scientist. There really are no words to describe his determination."
Scott Guthrie, a fellow racer and team owner who has ridden to more than 200 land-speed records, said, "When Don Vesco set the record in 1975, he had a full-on factory effort, with everything paid for,multiple factory engines and plenty of world-record experience. Bill is a privateer in the truest senseof the word, building his bikes at homewith help from friends and associates. While Bill is always short on cash,he is very long on brains, will power and the desire to be the best in the world."
This record-setting bike was set up with products and technical support from the following companies: AiM Sports dataloggers, Alisyn oil, APE, ARP fasteners, Brock's Performance, BST wheels, Continental tires, Crower rods, Dainese leathers, Full Spectrum Power batteries, Garrett Turbo, Heads Up Performance, Injector Dynamics, Knecum Performance, Larry Forstall Racing, M&W ignitions, Marine Crankshaft, McIntosh Machine and Fab, Millennium Technologies, MTC Engineering, NLR boost controller, Öhlins suspension, R&D Transmissions, RCC Turbos, Spiegler, Swain Tech Coatings, T1 Racing, Tial, Web Cam, Weimer Welding, Weldon pumps, World Wide Bearings and Zip Sensors.
A list of specifications follows. For more information on BST wheels, Brock's Performance products and other sportbike performance parts, go to BrocksPerformance.com .