It was raining records at the Xtreme Dragbike Association's 25th annual PFR Spring Nationals this past weekend at Maryland International Raceway™ (MDIR). For those in attendance it felt like we were hitting a milestone or dropping a record every round. XDA had the most impressive season opener in history, #ChangeMyMind.
XDA racers tore down the gates and packed the pits to deliver the highest racer count for a season opener spanning all of MIROCK, IDBL and XDA events with 803 entries. This count also comes in as the second highest racer count, falling in behind the 2015 WPGC Bike Fest. "We are grateful to see the growing support of the series and expect to keep growing in a way that best supports our loyal racers," said XDA Director of Operations Chris Miller.
The Thursday Pro test session had almost forty Pro racers on the premises either getting last minute tunes adjusted or getting on track for the first time this year. Thursday also gave us the first Dunlop tire test on the DME Racing/Connelly 2018 Gold Pro Street bike. A Rep from Dunlop was on site all weekend talking with teams as they prepared to develop a competitive and affordable tire specifically for our Pro classes. "It's always great to see another tire manufacturer taking an interest in our sport," stated XDA promoter Jason Miller. "We need an affordable option that can hold the power these bikes are making while giving everyone a level playing field."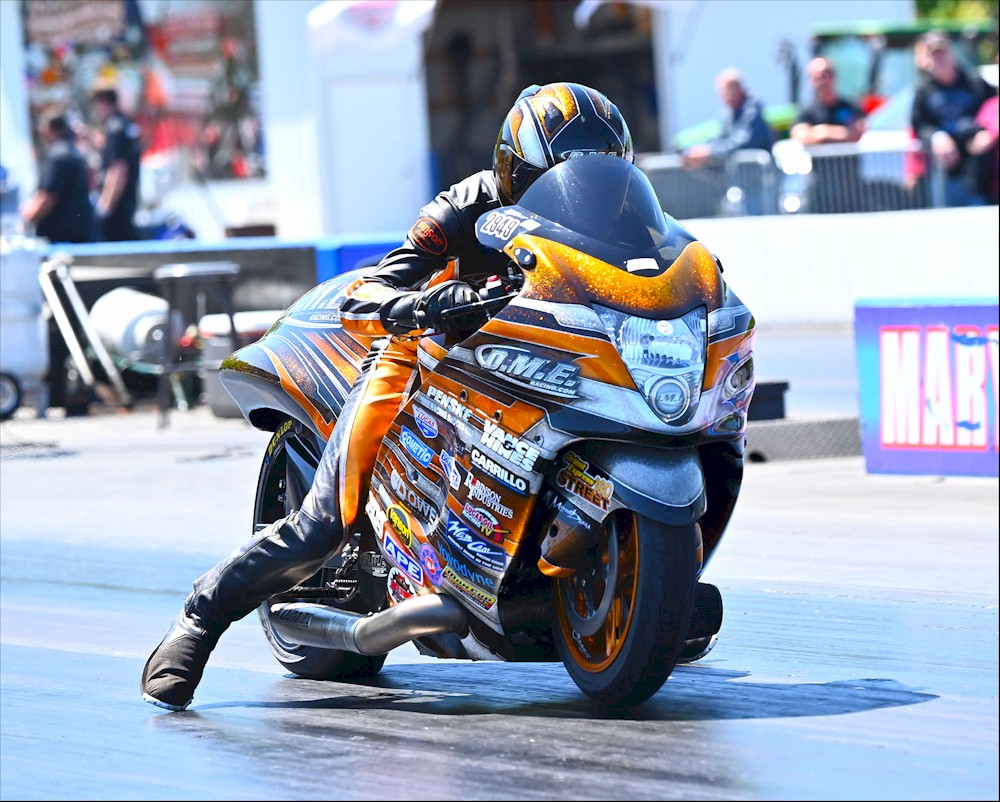 The DME Team brought their bike that had been sitting since last season to use as a tester for the tire, and the first pass out it ran an impressive 6.88. Then during the Friday Test session, they made another pass, this time running a 6.68! "The results speak for themselves. We are excited to see what continued testing turns up by the other teams. It looks promising," stated Miller.
Penske Pro Street Shootout
Winner – Rodney Williford 6.572
Runner-up – Jason Dunigan 6.675
In its second year, the Penske Pro Street Shootout continues to add excitement to an already thriving class. This year the sign up for the eight spots were gone in 30 seconds. Shootout competitors run first in the run order, and with the chase to the fifties boiling, the big guns wanted those first spots to get out on the track. Pro Street rookie Chris Moore took the first-round win only to be taken out in round two by Jason Dunigan on a personal best pass running 6.648, making Dunigan the fastest 200lb Pro Street rider. Rodney Williford took out Jamie Lopes in round one with an unheard of 230.37 mph record MPH! He then went on to take out another DME Racing player, Chris Connelly Jr. with a 6.560 on his way to meet Dunigan in the final Saturday night. Dunigan got the holeshot on Williford, but the Williford Racing powerplant caught him before the thousand foot and kept a bike length on him through the finish line to run a 6.572 to Dunigan's 6.675. Williford's MPH Record and Win were just the start of his weekend.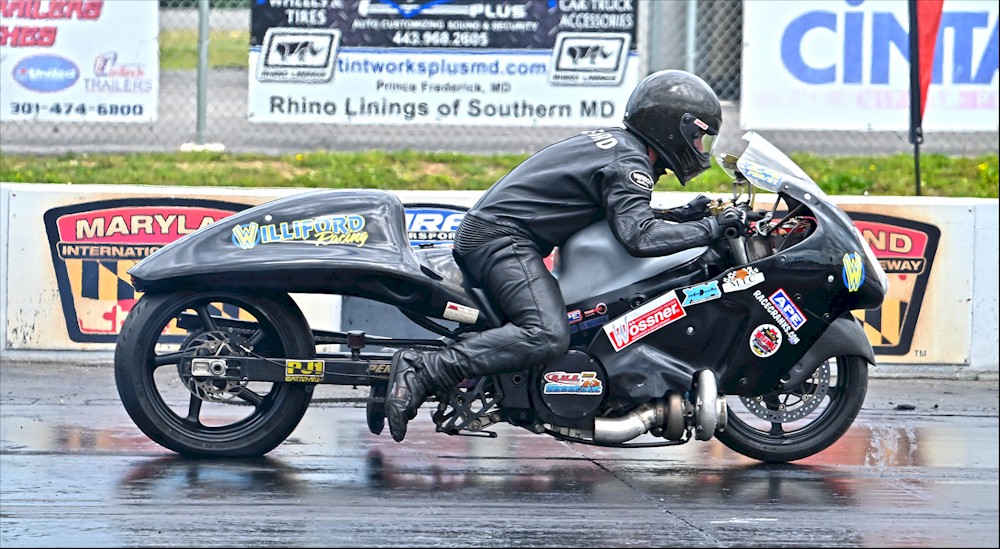 Orient Express Racing Pro Street
Winner – Rodney Williford
Runner-up – Richard Gadson
#1 Qualifier – Jeremy Teasley 6.492
ET Record – Rodney Williford 6.515
MPH Record – Rodney Williford 230.37
Copious record performances have set the tone in Orient Express Pro Street class for the 2019 season. Last season Frankie Stotz ran four 6.60 passes heating up the race for the first to the fifty. Racers were rumored to have hit the 50's during off-season testing, and then the first Pro Street race at SGMP came around, but no fifty. Then Rodney Williford loaded up and headed to Gainesville for a shot, again no fifty.
Thursday testing came and went and no fifty. But during Friday afternoon testing Rodney Williford and Jeremy Teasley decided to run together and put on a show for the afternoon crowd. These two titans put the first side-by-side 6.50 pass on the board. Teasley ran a 6.52 at 214 mph, and Williford a 6.55 at 226mph. But these numbers would not be official as it was a test run and no tech inspection would be performed. Then the rain came in Friday night and canceled the night qualifying session.
Saturday as teams prepared for round one of qualifying, you could feel the excitement in the air, along with a strong crosswind. The Penske Shootout competitors got the first hit at the track, Teasley was in the first pair out, while Williford was the third pair. Teasley took to the tree, everyone held their breath and off he went, but the GSX-R1000 wanted to wheelie, and it was pulling hard to the right making him get out of the throttle to run a 6.85, not what everyone was expecting. Then it was Rodney's turn. He left fast and hard, and it looked like he was going to do it, but the bike drifted a bit to the right as he fought the wind and ran a 6.606 to get him almost there again. But forget about that 6.60 because the MPH on the board said 230.37 MPH and everyone was in shock! The top MPH before this pass was a 226 set by Williford in 2017. It was amazing to see this performance on the first qualifier.
Ryan Schnitz on the HTP Performance GSX-R1000 turbo, who was rumored to have run a fifty in off-season testing, came out next for his shot. He left hard and made a beautiful straight pass to give him a 6.65 ET. It did not better his ET as he went 6.62 last year when he won the Haltech World Cup Finals presented by Wiseco at MDIR.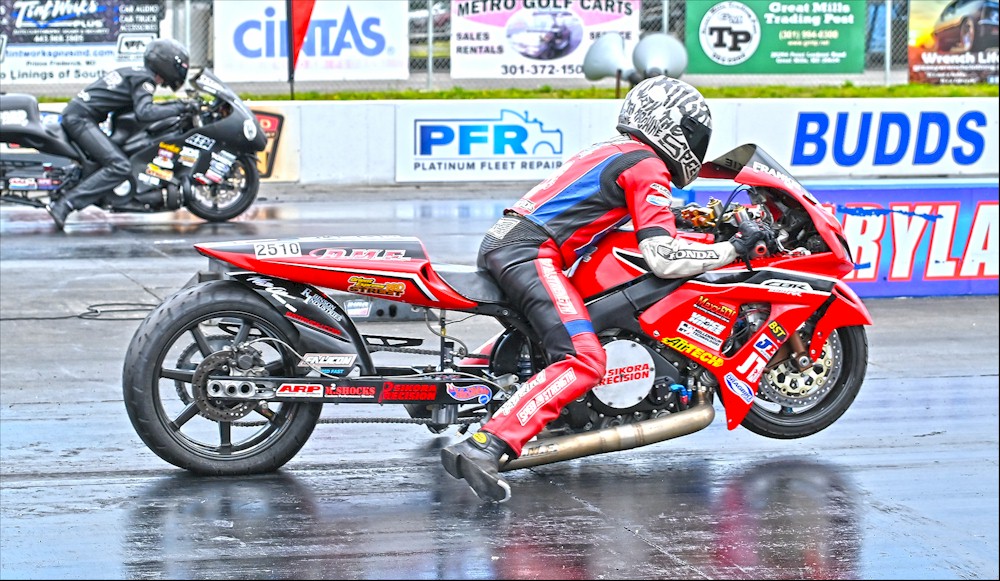 Then several passes later Frankie Stotz, who was parked closest to the staging lanes but opted to stay in the back of the pack, rolled into the beams. None of the other heavy hitters did it, could the little Honda do it this round? The winds died down, the flags stopped flapping, and Stotz left the tree like a bullet, the front wheel stayed down, the bike went straight, and the scoreboards flashed a 6.581 at 204 mph making him the first racer to enter the 6.50's! Everyone at the starting line went wild! It was an extraordinary moment for Kent Stotz and a well-deserved milestone for them as they had been sitting on that cliff for months. But the day was young and were not done dropping records.
In round two of qualifying the same butterflies returned for the racers that thought they had a chance to break their own records. Dunigan ran his 6.64, and then Williford came out and finally broke the seal and ran a 6.56. The starting line went crazy!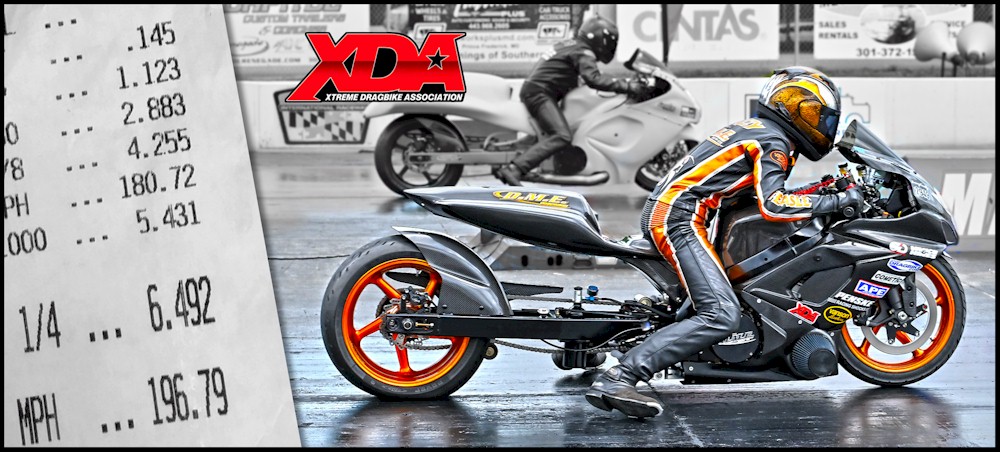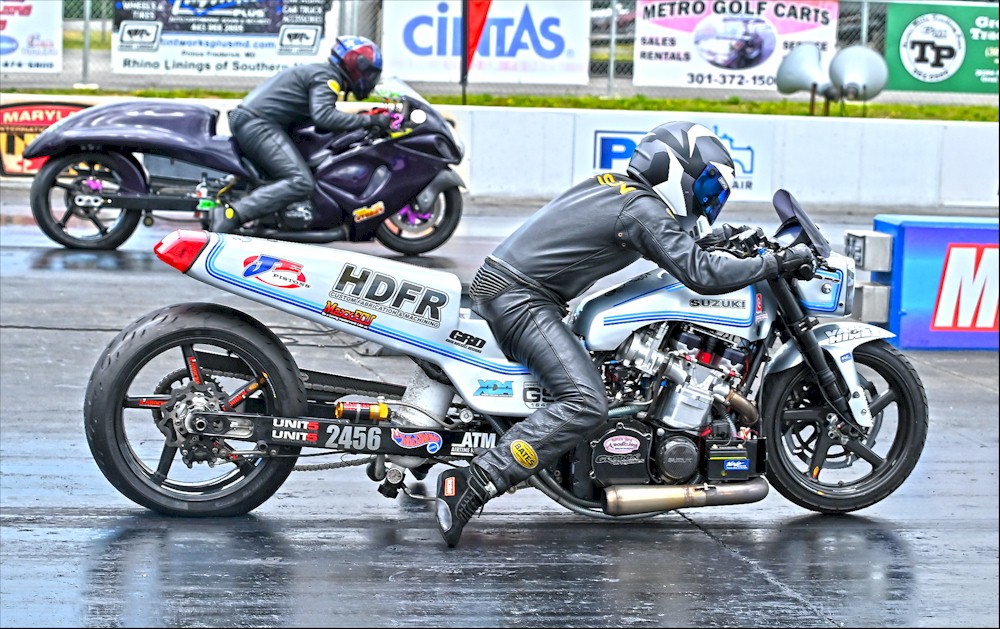 Teasley came out next and destroyed the world with a 6.492 at 193.79 while lifting to avoid hitting the cones! LIFTING!! No one knew what to do anymore, it was record after record, and the fifties were now a thing of the past in a span of a few hours.
Here comes round three of qualifying, what could happen in the night air? Well Richard Gadson on the Brad Mummert Old School GS came out and got his piece of the fifty pie running a 6.58 at 209mph. And while everyone hoped to see another forty on the board, Teasley no-showed for the third round leaving us to see what Sunday had in store.
When qualifying finalized XDA had delivered the fastest Pro Street field to date with sixteen riders in the sixes ranging from Teasley's 6.492 to Mike Kovacevich's 6.999, and creating a twelve bike 'B' class.
On to Sunday where the riders are more focused on making clean A to B passes, as opposed to blowing up their motors to run records like Stotz did on his 6.58 milestone. In round one of eliminations Teasley, Gadson, and Williford would run 6.56, 6.54 and 6.55 respectively. Ryan Schnitz would get taken out by Chris Moore, and Dunigan's bike would have problems staying fired to give Shakir a free pass into round two.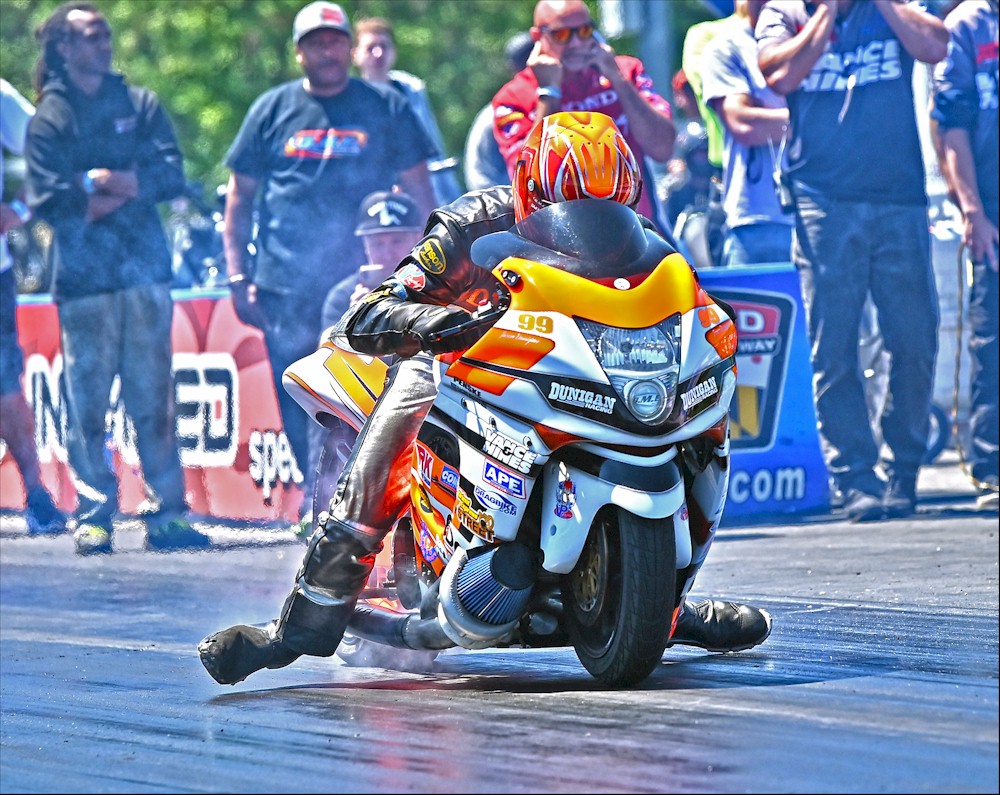 In round two of eliminations, Williford would put teammate Ehren Litten on the trailer, Darion Payne would upset Teasley, Gadson takes out Shakira, and Frankie Stotz tells Chris Moore he's done playing for the weekend.
In round three of eliminations, Darion Payne and Frankie Stotz were both broke sending Gadson and Williford on to the Finals. Williford won $2K on Saturday in the Penske Shootout and was looking to put another $3K in his pocket with another win. Both riders cut decent lights, Gadson gets out on Williford, but he catches him at the eighth mile and stays ahead of him for the win, and the first official side-by-side fifty passes with a 6.543 at 223mph and 6.594 at 208.20 gets logged into the record books.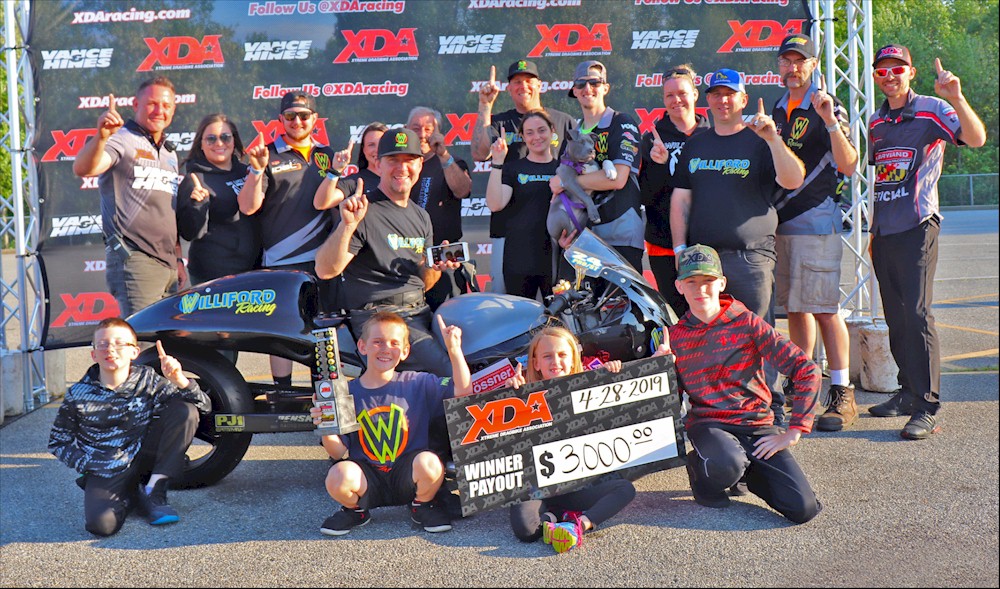 So what's next for Pro Street? Make plans now for the 33rd annual MTC Summer Nationals on May 31-June 2, at Virginia Motorsports Park to find out. The action is far from over.
Schnitz Racing Real Street Shootout
Winner – Mark Hylton 7.71
Runner-up – Spencer Claycomb 8.854
New for 2019 is the Schnitz Racing Real Street Shootout. The sign up to be one of the eight riders to participate was full in 60 seconds. With a total payout of $900 on Saturday, the bonus race added more excitement during qualifying. Mark Hylton who was an alternate on the list got in on the action when Mike Sweeney Jr. couldn't get an electrical gremlin fixed in time to make the event. Bad news for Sweeney, but this chain of events sent Hylton to the final with class Champion Spencer Claycomb.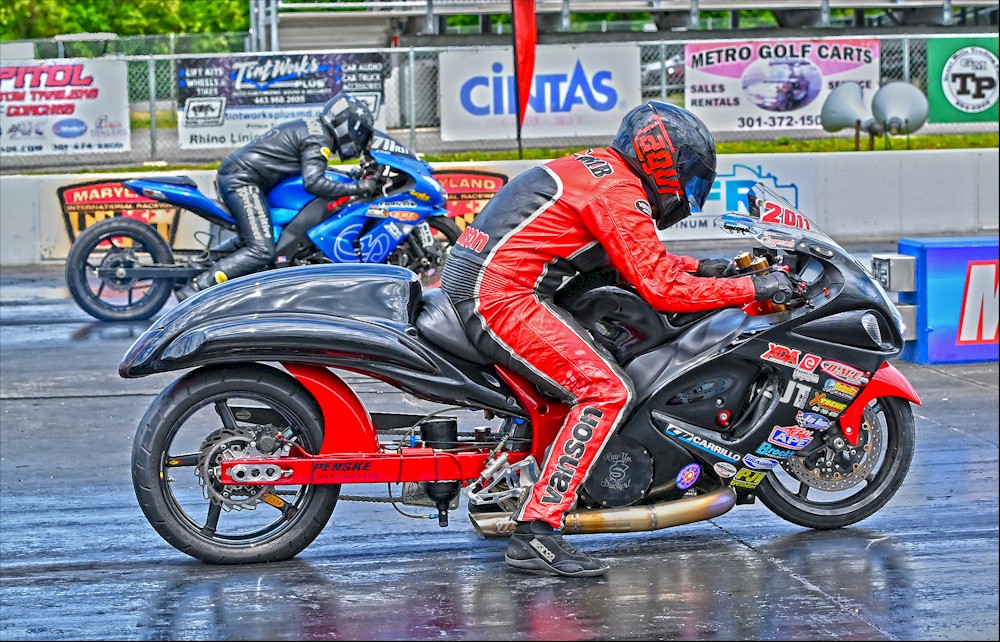 With near identical reaction times, both riders left the tree evenly matched. Claycomb struggled with a wheelie that allowed Hylton to get out in front of him and he couldn't recover giving Hylton the win and the path to Real Street domination for the weekend.
DME Racing Real Street
Winner – Mark Hylton 7.72
Runner-up – Anibal Merced 7.750
#1 Qualifier – Jeremy Teasley 7.628
ET Record – Jeremy Teasley 7.628
The DME Racing Real Street class struggled in 2018 with an average attendance of twelve bikes. But with the Miller's dedicating themselves to not letting the class die, rules were adjusted, and the XDA community came together to deliver the biggest Real Street turn out ever with twenty-four motorcycles on the property. Jeremy Teasley qualified number one and reset the ET record he already held with an improved 7.628 on his AM Performance built nitrous liter bike. Teasley now stands as the world's quickest Real Street rider.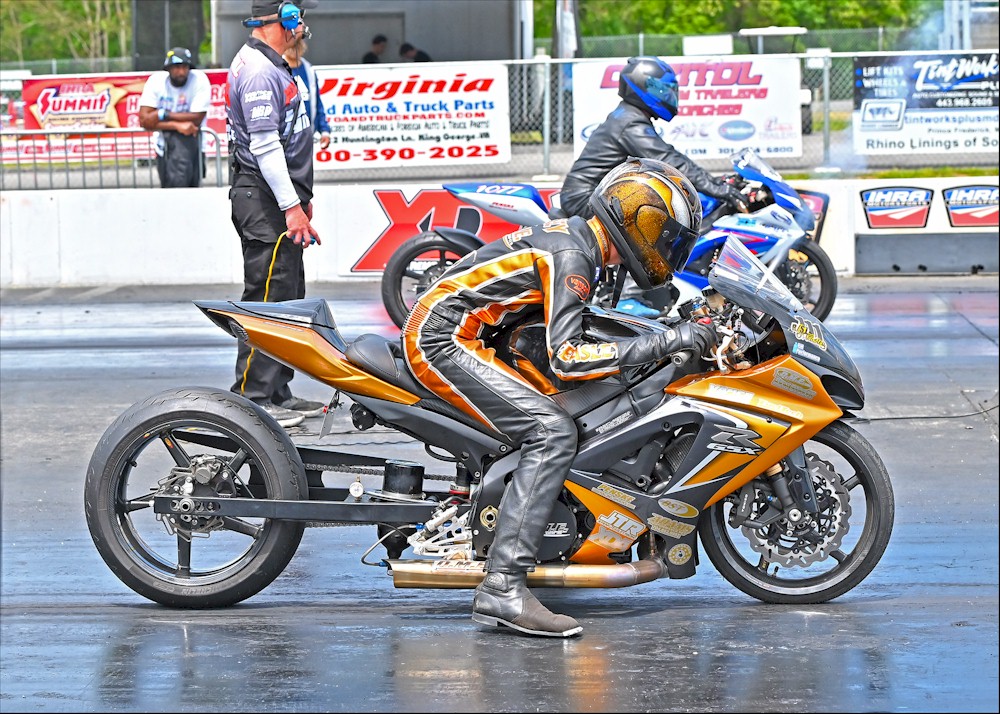 Class champion Anibal Merced of AM Performance would later take out Jeremy Teasley in the semi-final. Shootout winner Mark Hylton would take out Spencer Claycomb in the same round on a significant holeshot. Claycomb charged him and quickly gained ground on him. Spencer nearly grabbed him at the finish line, but he was few feet short of the recovery, and Hylton won running a 7.72 to Claycomb's 7.75 giving Mark two Real Street wins in one weekend.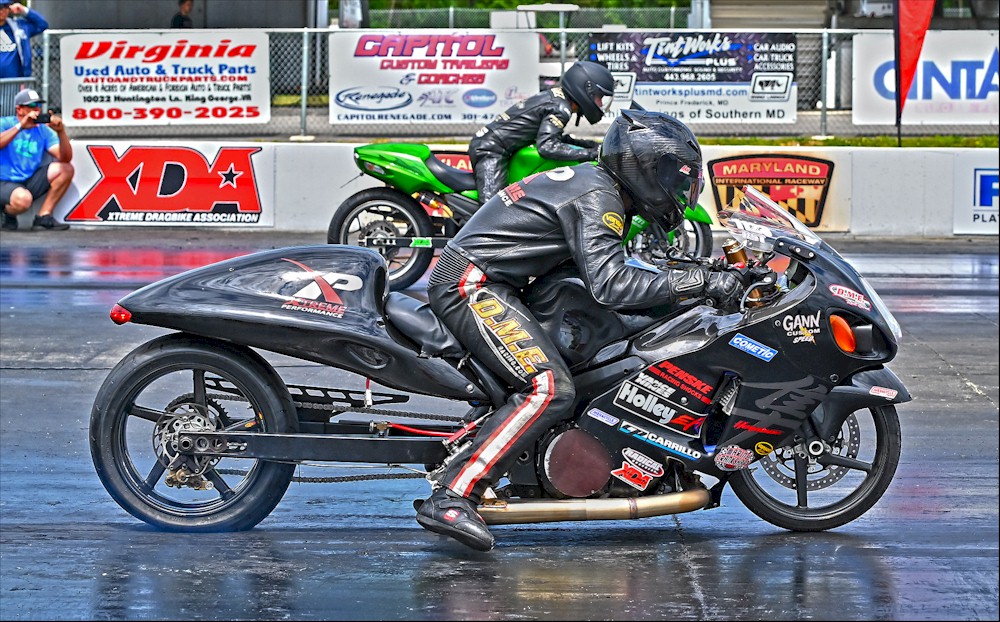 In the Real Street B class, newcomer Brad Stinnett took a win over Jason Herron running 8.206 to his 8.330 with tuning help from Pro Street legend Kent Stotz.

There are more videos on the Cycledrag Youtube channel (please subscribe here) and the Cycledrag.com Facebook page (Please like here) and more will be coming soon. Check back daily
Pro Xtreme – presented by DME Racing, Fast by Gast, Harley Haul, MaxxECU, McCoy Motorsports, MTC, Rob Bush Motorsports, Timblin Chassis, and Worldwide Bearings.
Winner – Kevin Clarke 3.974
Runner-up – Rob Garcia 3.975
#1 Qualifier – Rodney Williford 3.962
ET Record – Rodney Williford 3.962
MPH Record – Kevin Clarke 187.00
The newly added Pro Xtreme 1/8 mile heads-up class modeled on Pro Mod did not disappoint the fans as the action was hot and records were dropped. Rodney Williford who was already breaking Pro Street records broke the track ET record running a 3.962 to take the number one qualifying position and a $300 cash bonus from MTC Engineering.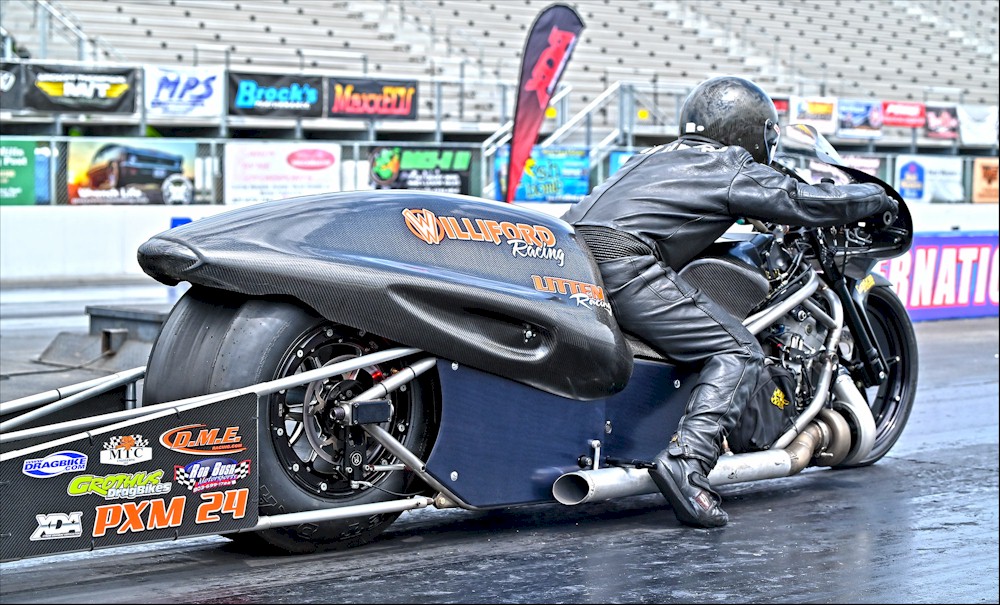 Tony Steele who came back to racing after a two-year hiatus rounded out qualifying field running a 4.408 on the only Kawasaki in the class. Steele was 95lbs. over the minimum weight, so we expect he will be shaving some weight off the bike for the next XDA event that Pro Xtreme competes at.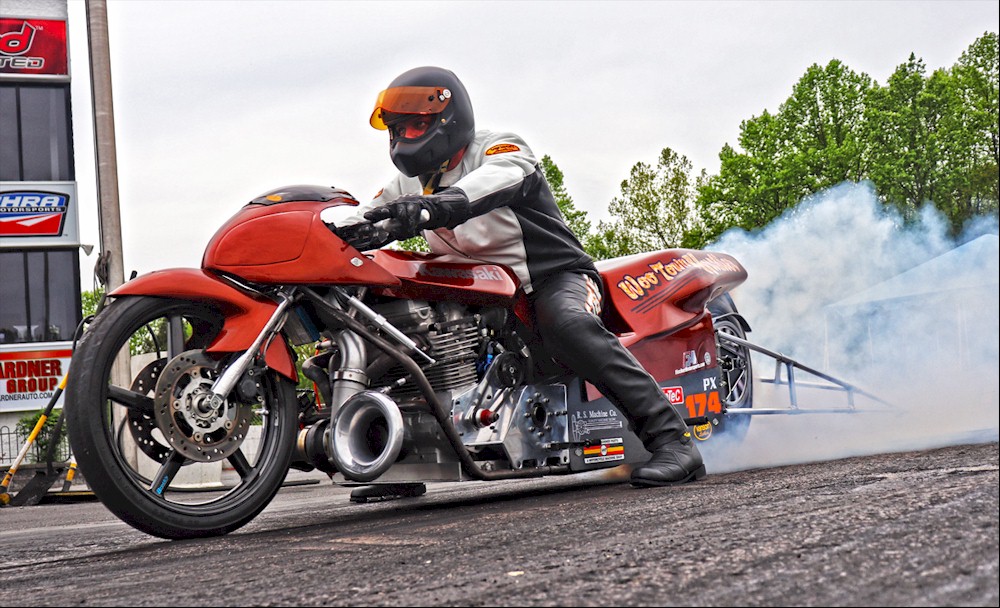 Virginia racer Kevin Clarke who has been racing for over forty years teamed up with legendary Pro Mod tuner Dan Wagner for the 2019 season. This pairing paid off with a MPH record for Clarke running 187 mph in the eighth-mile! But the dividends didn't stop there as Clarke defeated Chris Cutsinger and Rodney Williford to land in the final against the number two qualifier, Rob Garcia.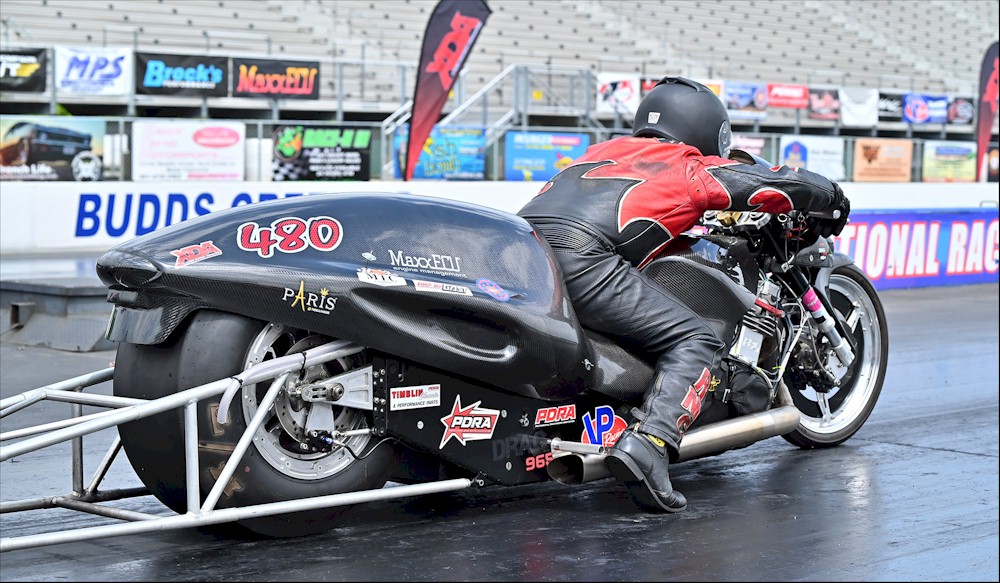 With both bikes tuned by Dan Wagner, Garcia and Clarke delivered an all DTM Final. And with a .0195 margin of victory, Clarke took the first win of the season with a .052 light running a 3.974 to Garcia's .070 light and 3.975 ET. It was a crowd-pleasing final watching Clarke carry the front wheel from the tree through the finish line!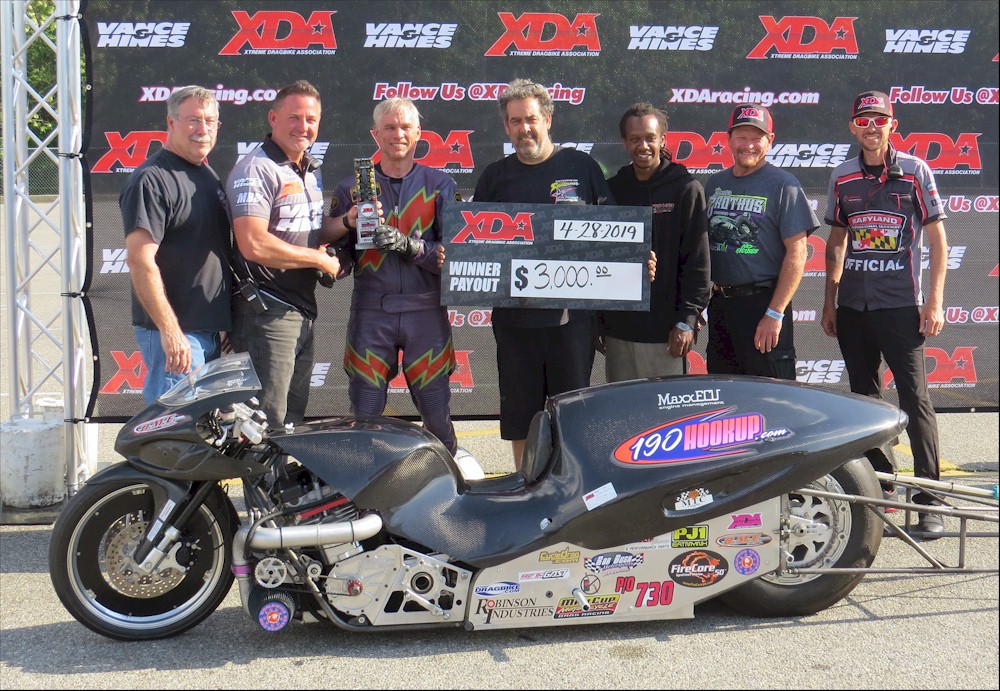 Pro Extreme will return to XDA action for the Superbike Showdown June 21-23 at Maryland International Raceway.
HTP Performance Grudge
APE Nitrous Bulls
Winner – Lavar Delee on High Roller
Runner-up – Richard Gadson on Dead Man Walking
In APE Nitrous Bulls Lavar Delee who has ridden a plethora of grudge bikes, straight dominated on 'High Roller' for the Season opener. On his side of the ladder, Delee took out Kenneth Grate on 'Hannibal' to earn a bye before meeting Richard Gadson in the final. Dave Norris and 'Yellow Jacket' put Billy Ammons and his 'Side Bitch' on the curb first round. Gadson who had a bye first round went on to second round to send 'Yellow Jacket' out to the curb to give the 'Side Bitch' a ride home. And in the final, you could have bet on either rider, but Delee held his dominance and took home a $7K payday.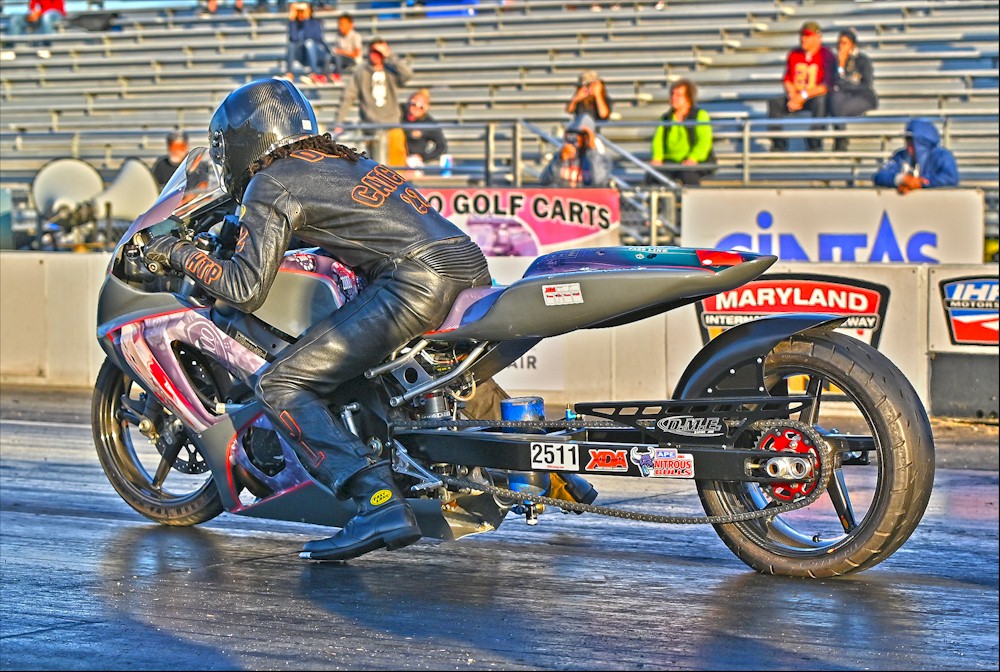 Monster Bulls
Winner – Rendolf Torbed on Kastigala
Runner-up – David Page on Pickin Pockets
The Monster Bulls class is for 200+ lbs. riders. With six heavy hitters showing up for XDA's 'no excuse' track prep, the No-Time class saw these guys flying! Rendolf Torbed on 'Kastigala' and David Page on 'Pickin Pockets' both quickly took out their competition on their road to the final. Due to rain, these two would have to run their final during Sunday's Pro Session. Torbed got the jump on Page off the line, but despite Page catching him at the eight-mile, he gets around him to give 'Kastigala' a $3,200 payout!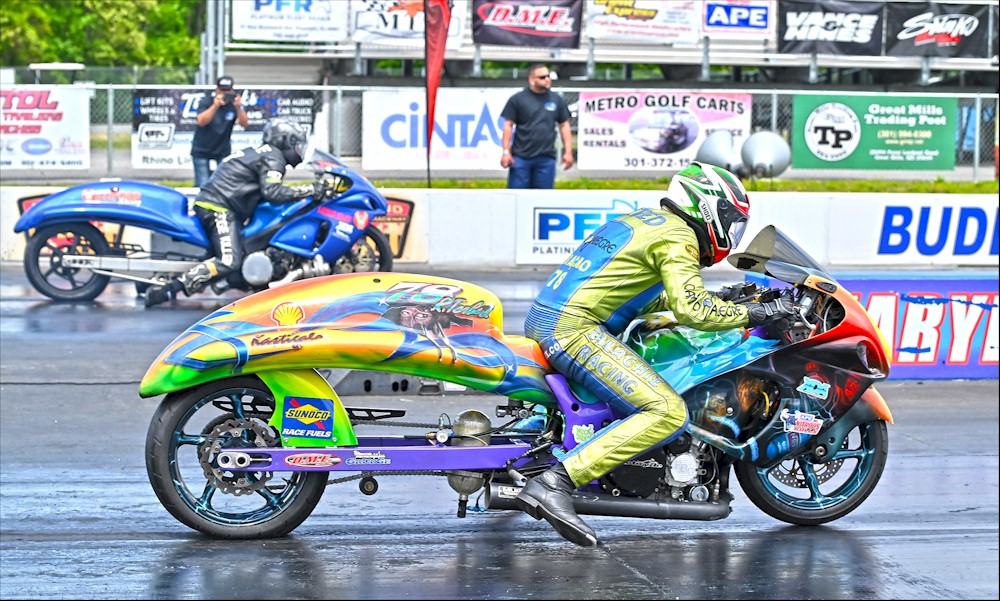 Unit 5 Components Brahma Bulls
Winner – Nick Mazeika on Clockwork
The Unit 5 Brahma Bulls is a 63″ anything wheelbase all-motor grudge class with stock seat position, and came into fruition late in the off-season. With a lone wolf showing up to support the category, Nick Mazeika on 'Clockwork' would run unopposed to take home a guaranteed $1K on top of his entry for a $1,500 payday. Mazeika who is the owner, rider, and builder of 'Clockwork' thrashed for three straight days to get his bike ready, and with it not being prepared to race until ten minutes before the class was called to the lanes, this bike lived up to its name.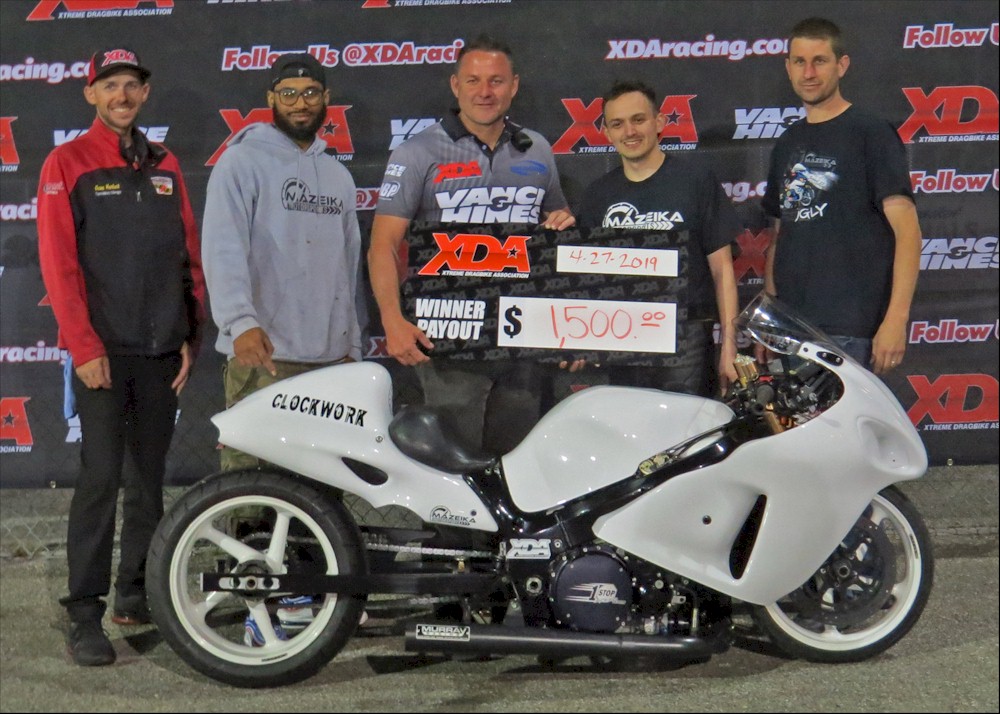 "We have several racers building bikes for this class that we will see out next month for the MTC Summer Nationals," stated Jason Miller. "It was great to see Nick work so hard to try and make our first event."
Vance & Hines 4.60
Winner – Ronald Procopio 4.661
Runner-up – Tyler Cammock 4.598
#1 Qualifier – Thomas Acres 4.605
The Vance and Hines quickest 1/8th-mile index class of 4.60 continues to grow as the Spring Opener delivered a solid thirty-two bike field. Indiana racer Thomas Acres grabbed the number one qualifying spot running 4.605. The field for 4.60 was the tightest of the weekend with the number thirty-two qualifier, Kevin Bradley running a 4.553 and nineteen racers running in the 4.60's.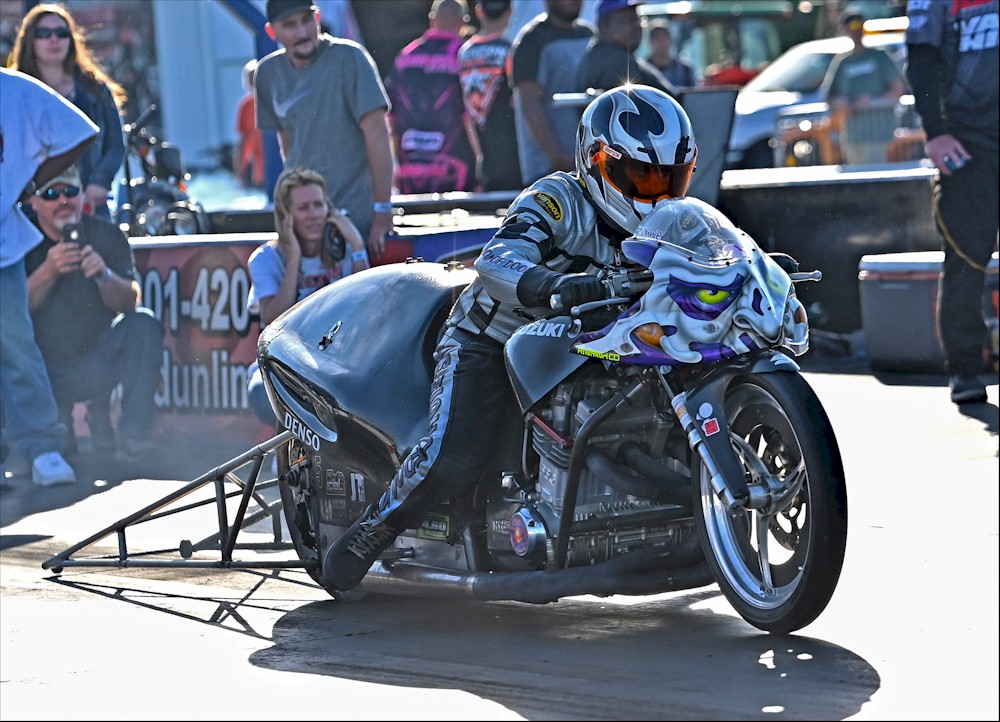 Class veterans Ronald Procopio and Tyler Cammock sliced through four rounds of competition before meeting in the final. While both racers won numerous rounds last season, neither one took home a win, and the Spring Nationals was their first chance to break the cycle. When they meet in the final Procopio had just come from a tight semi-final win against Michael Ostrowski, while Cammock got a pass from Boo Brown's red light. With both riders running the number all weekend the final would surely be won at the tree. Cammock cut an uncharacteristic .147 light giving the starting line advantage to Procopio who cut a .029 light. Cammock had the power to get out of the hole quicker, but Procopio would soon power past him taking the stripe and the $3,000 payout on a 4.66 to Cammock's break-out 4.598.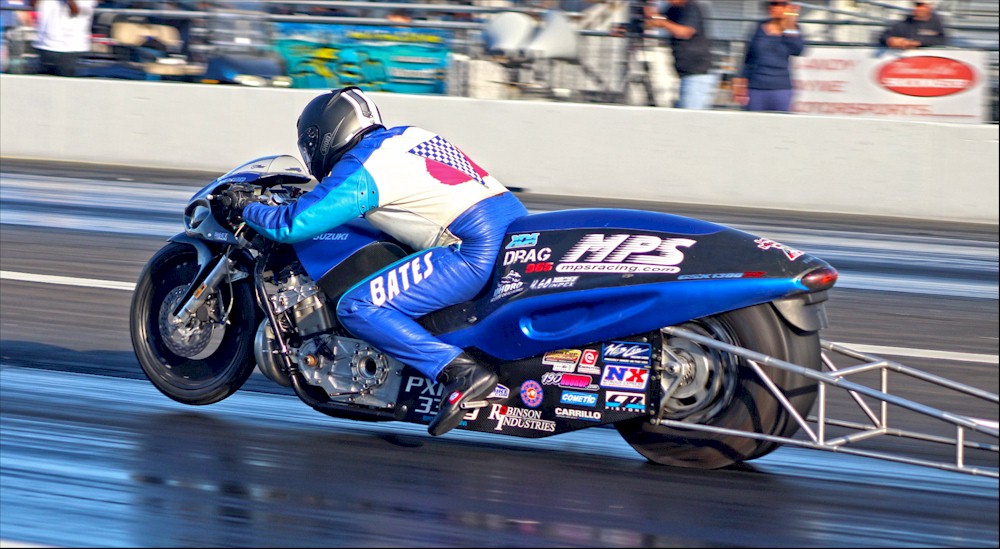 On Saturday Michael Thyen won the 4.60 Big Money Shootout, a $500 to enter, $4,000 winner take all race among eight riders during qualifying. Thyen who is still rebuilding after his entire race operation was stolen during the off-season was elated to take home big money.
The FBR Shop 5.60
Winner – Daniel Joyce 5.712
Runner-up – Dustin Lee
#1 Qualifier – David Beshara 5.606
Fifty-four racers were on the property for the FBR Shop 5.60 eighth-mile class. David Beshara was dominant Saturday taking the number one qualifying position with a 5.606, but it would be the number two qualifier, Daniel Joyce who would make it to the final round. With no room for error in eight-mile racing, only the consummate survive. With five rounds of competition to overcome, Joyce would meet Dustin Lee in the final. With Lee being a fierce competitor Joyce would have to give Lee his best package of the weekend if you wanted to win the hardware. But Joyce would never get the chance to prove himself as Lee detonated at the starting line dropping oil and parts on the track sending Daniel Joyce straight to the winner's circle.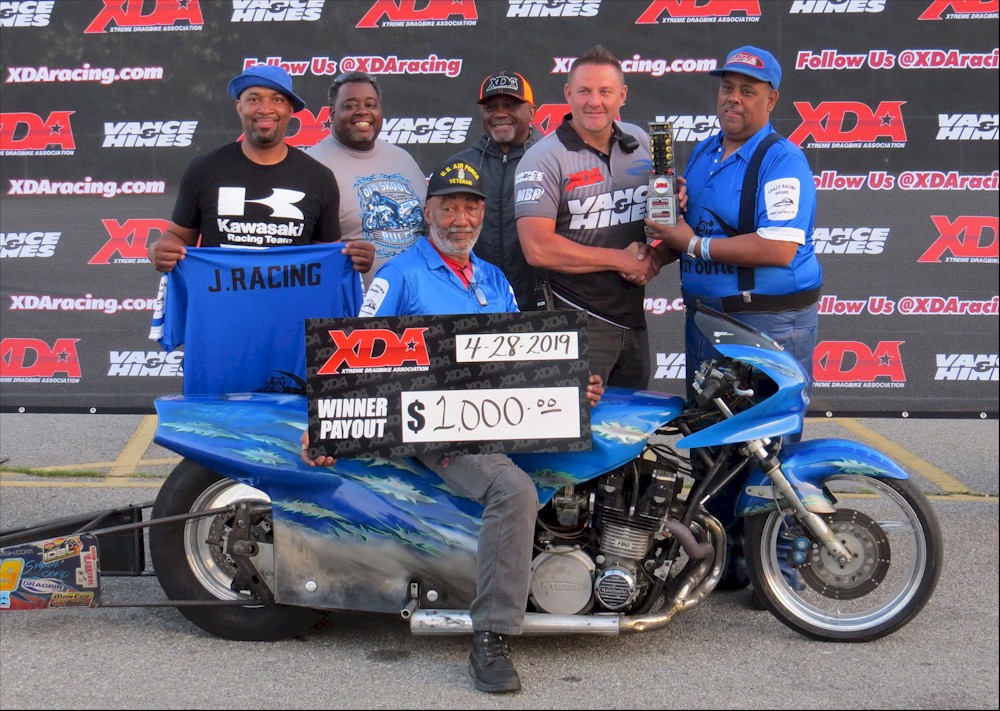 Shinko Tires Crazy 8's
Winner – Nick Hamlett 8.892
Runner-up – Spencer Claycomb 8.837
#1 Qualifier – Nick Hamlett 8.950
The Shinko Tires Crazy 8's class took over the lanes with fifty-six riders looking to run dead on 8.88. Tom Miceli Jr. would take the top spot running an 8.881 over several riders that also ran an 8.88 in qualifying. However, Miceli would not capitalize on this advantage as Boo Brown snatched him up in round two of eliminations to send him home to New Jersey early. Brown would then give away the semi-final to Spencer Claycomb with a red light. Claycomb would go on to the final to face Virginia racer, Nick Hamlett. Hamlett cuts a better .039 light to Claycomb's .093, but Claycomb catches him quickly, and it's side-by-side action to the stipe where Hamlett pushes Claycomb to break out with an 8.83 giving a win to the .00 Racing team.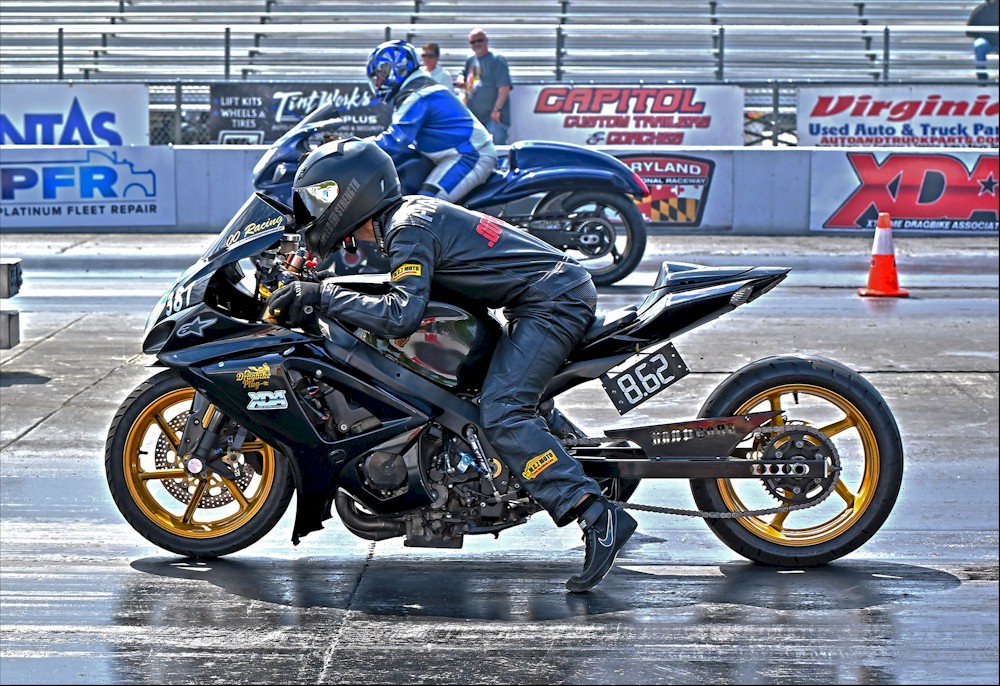 Mickey Thompson Performance Top Sportsman
Winner – Jim Shifflett 7.969
Runner-up – Mac McAdams 7.744
#1 Qualifier – George Whitaker 6.460
ET & MPH Record – George Whitaker 6.460 at 209.23
In Mickey Thompson Performance Top Sportsman the Fastest ET racers on the property competed for a chance at a possible 9K payday. George Whitaker set the stage in qualifying breaking the track ET and MPH record running a 6.46 at 209.23 mph. With George qualified number one, the number two qualifier, David Ashton, was a full second slower at 7.511. The thirty-two bike field rounded out with an ET range of 6.46 to 8.23.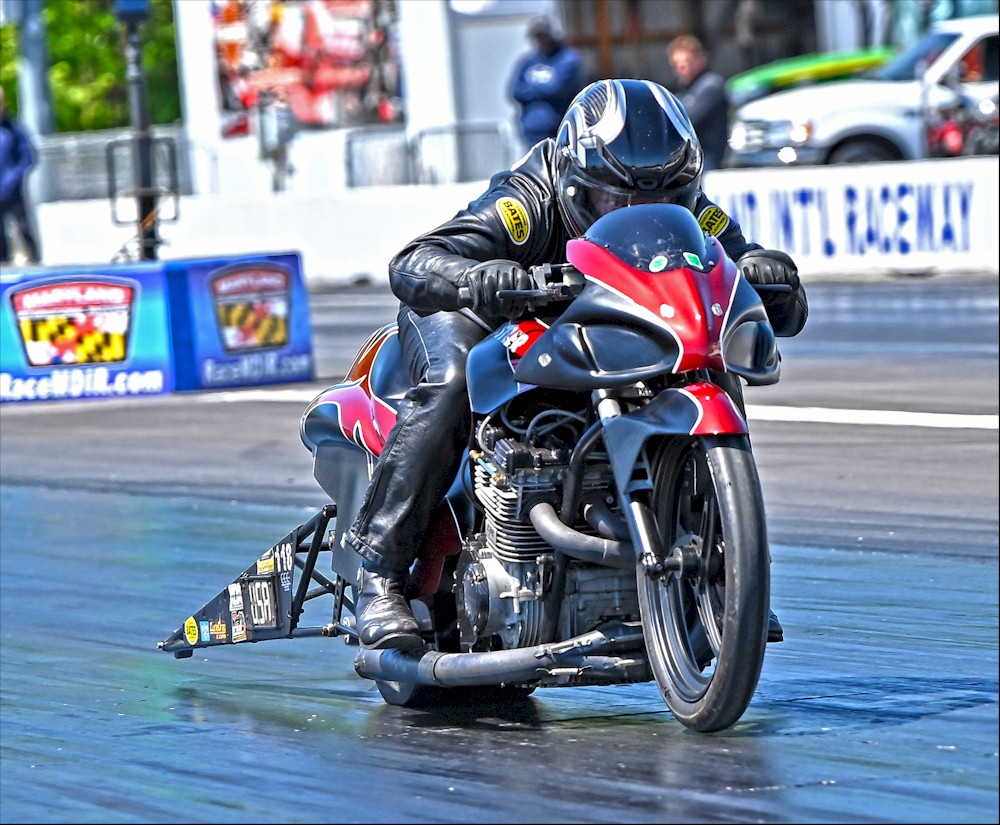 Teammates and late-night warriors, Jim Shifflett, and Mac McAdams would meet in the final grasping for bragging rights over the other. McAdams would make it easy on Shiflett when he cut a -.021 red light giving Shifflett the win. Shifflett ran an impressive perfect package in the final with a .000 light and running 7.969 on his 7.96 dial.
MPS – Motorcycle Pro ET
Winner – Jimmie Miller 8.812
Runner-up – Jim Shifflett 10.775
The MPS Racing Pro ET class has a new sheriff in town, and he's intent on keeping this badge. Jimmie Miller who is known for happily splitting his winnings may see the light after he deposits his fat $3,000 winning check this week. Jimmy Shifflett and Miller both destroyed the competition for seven rounds before meeting in the final for one last fight. Shifflett who won Top Sportsman entered back into round six of Pro ET competition looking to double up his payday. Miller got the jump on Shifflett with holeshot advantage, but Shifflet would run into a problem and get off the gas at the eighth mile to let Miller take the stripe and the points lead.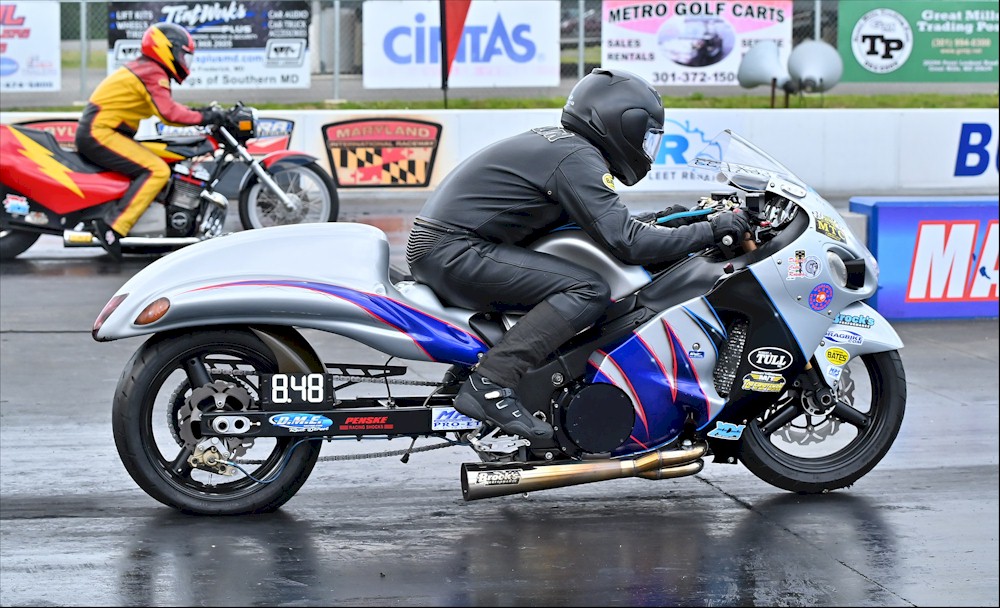 Brock's Performance Street ET
Winner – Derrick Milbourne 8.955
Runner-up – David Poague 8.665
One hundred and forty-five Brock's Performance Street ET racers seeking the first win of the year had to make it through seven grueling rounds of competition to make it the final. Both David Poague and Derrick Milbourne fought hard to win those seven rounds of competition facing tough reaction times and judging when to lift at the stripe time and time again. Their dials-ins would not come into play for the final round, as Milbourne took home the second win of the weekend for the .00 Racing team on a holeshot. Milbourne now has the difficult job of keeping his points lead until September.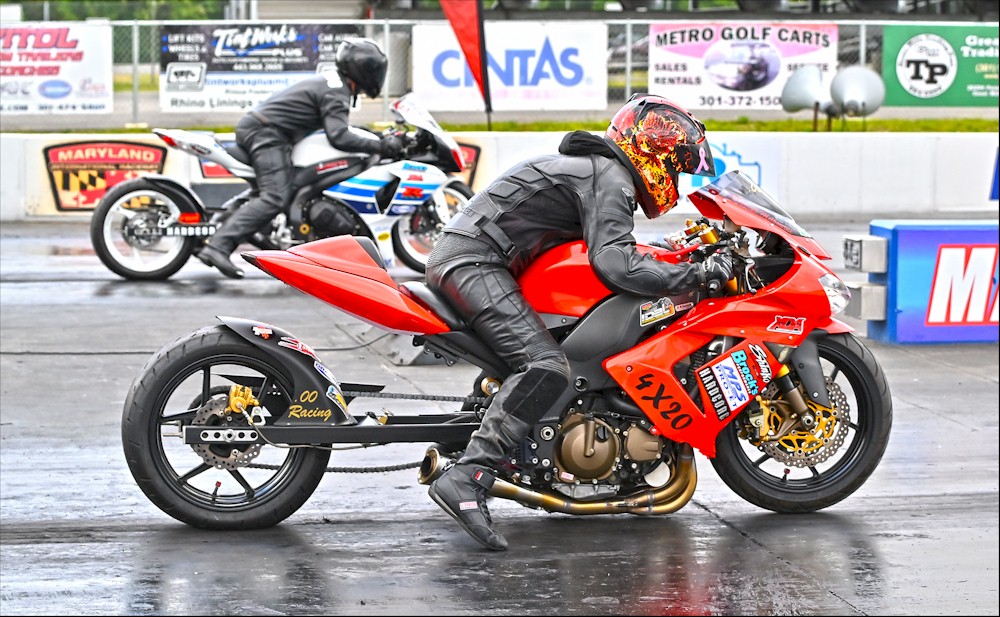 The XDA action continues at Virginia Motorsports Park, located in Dinwiddie, Virginia for the 33rd annual MTC Summer Nationals on May 31-June 2.
There are more videos on the Cycledrag Youtube channel (please subscribe here) and the Cycledrag.com Facebook page (Please like here) and more will be coming soon. Check back daily