Mother Nature may have knocked out a day of racing at the FuelTech Bike Bash, but XDA still made the best of the weather that was given to them at Virginia Motorsports Park. With a continually changing forecast, the Miller Brothers deliberately adapted the schedule to ensure their racers had the best chance to get as much racing in as possible.
The entire program was moved up, Sunday was preemptively canceled, qualifying rounds were dropped, and the XDA racers hustled to help move the program along quickly. Nine classes were completed, with four splitting their purses, while two will be completed at the DME Racing Fall Nationals on September 29th to October 1st.
With nearly 600 entries, the Pro classes delivered incredible racing action, while the sportsman racers brought their A-game to chase championship points.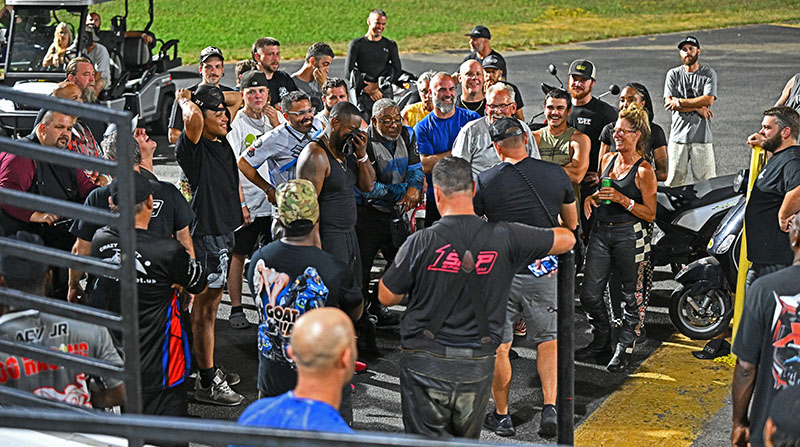 Orient Express Racing Pro Street
The pressure was applied in the Orient Express Pro Street class as racers had only two qualifying opportunities to find their best tune-up. Unfortunately, previous event winner Darion Payne couldn't find his and didn't make the qualifying field. This was a significant setback for him as it moved him from second place in the championship chase to fourth place.
Once again, the points leader Rodney Williford set the bar high, qualifying number one with a 6.375 at 231.52 mph.
Mike Sweeney Jr. did not make the field in his first Pro Street appearance but was able to redeem himself when he threw down an impressive 6.671 at 214.86 mph when he went on to win the Pro Street B class.
Jayson Geerman ran a career-best of 6.699 in qualifying to show his momentum as he keeps dropping his ET race after race.
Brandon Litten took a loss to Mark Rendeluk in round two but ran his fastest pass to date running 221.82 mph, to land him on the Pro Street MPH GOAT list.
James Herbert dropped his personal ET from 7.162 to 6.981 in round one of eliminations when he did everything he could to save himself from Williford, who ran a 6.472 that round.
Ryan Bonitatis also improved his ET and MPH, running a 6.630 at 221.71 mph. However, he would not make it past round two with Williford in the other lane.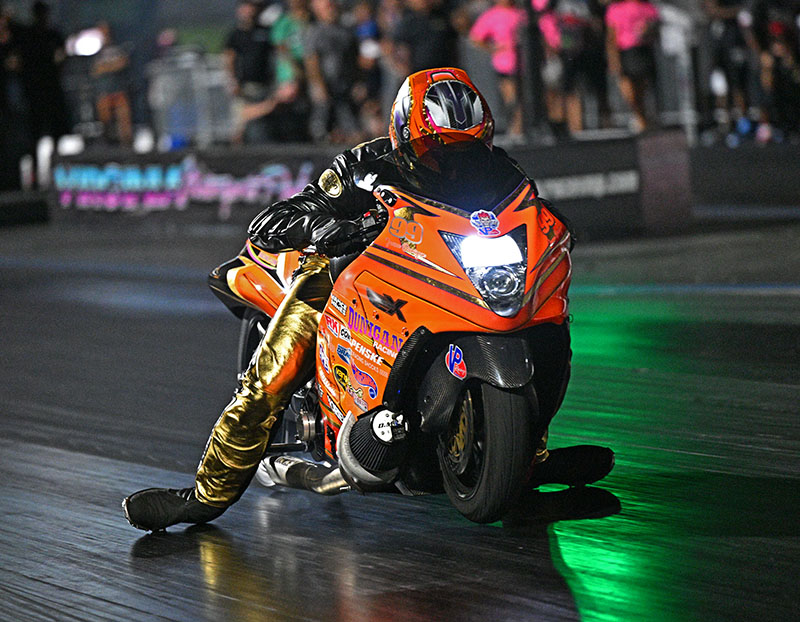 In round two Rendeluk improved his personal best ET and MPH records to a 6.435 at 230.69 mph to take a win over Brandon Litten, sending him the semi-final to meet teammate Jason Dunigan.
Dunigan took wins over Jordan Haase and Gaige Herrera before he and Rendeluk had the unfortunate luck to race each other in the semi-final.
DME Racing's Andy Sawyer had both bikes tuned up for a dog fight. Dunigan got the jump on the tree with a .003 light, forcing Rendeluk to chase him down. The race was close, with Dunigan coming out on top, running a 6.451 at 223.21 to Rendeluk's 6.451 at 223.21 mph.
Kenny Brewer had a banner weekend, making it to the semi-final, taking wins over teammate Justin Shakir and Jamie Lopes before meeting his demise in the semi-final to Williford. Brewer managed to get out in front of Williford; however, at the eight-mile Brewer's bike started to slow, and Williford came around him, taking the win with a 7.233 to Brewer's 7.607.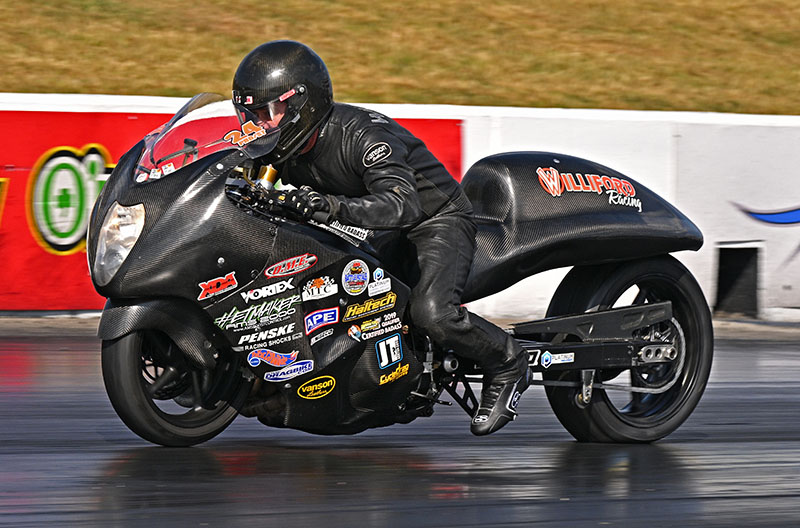 Dunigan and Williford are set to run their final at Maryland International Raceway for the DME Racing Fall Nationals.
DME Racing Real Street
The DME Racing Real Street class was a wild ride at the FuelTech Bike Bash as the top two competitors in the point chase lost in round one of the competition. Mark Hylton suffered mechanical issues, and David Stewart's late light gave Chad Sosnowski a holeshot win.
Rickey Gadson qualified number one with a 7.512 at 189.18 and took wins over Courtlan Whiting's 7.595 with a 7.490 and Trevor Schnitz's stellar 7.581 to land him in the final.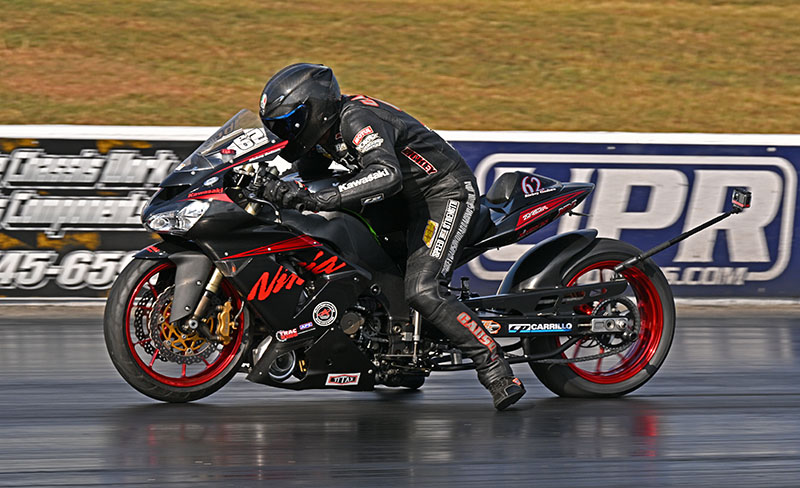 Spencer Claycomb, who moved from third in points to number one after Stewart and Hylton lost in round one, will take on Gadson in the final at the season finale on September 29-October 1. Until then Gadson will be methodically preparing to claim a victory over the previous class champion.
MaxxECU Pro Xtreme
Winner – Chris Cutsinger / Runner-up – Tommy Saxon
Previous event winner Tommy Saxon took the number one qualifying position in MaxxECU Pro Xtreme on the edge of a three-second pass with a 4.008. Saxon then earned his way to the final, taking out Dale Leeks in the semi-final with a 3.975.
In the final round, Saxon would face the Platinum General Service Spring Nationals winner, Chris Cutsinger. Cutsinger nailed the tree with a .008 and ran his first three-second pass of the season with a 3.968 at 188.17 mph, earning a win with a .008 holeshot as Saxon's quicker run of 3.957 came at a loss with his .114 reaction time.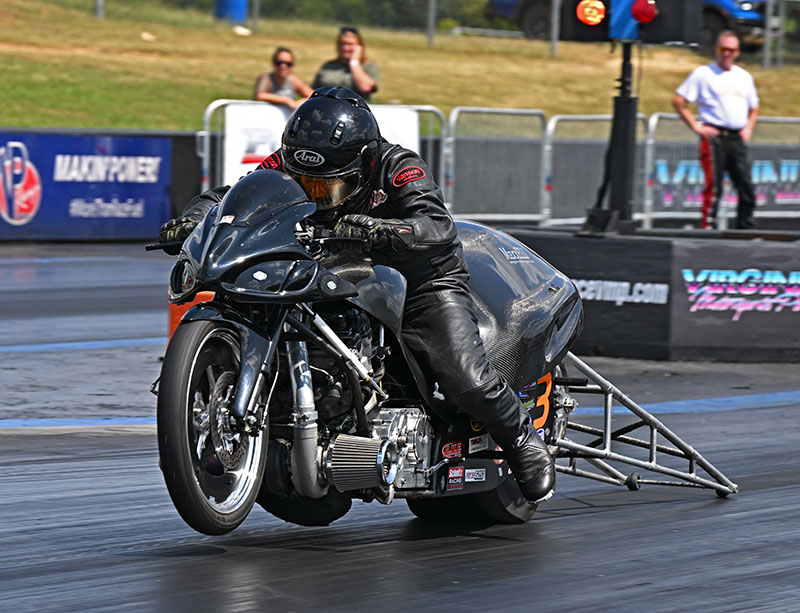 MaxxECU Pro Xtreme is presented by Billy Vose Racing, Fast by Gast, Dunigan Racing, DME Racing, Grothus Dragbikes, Harley Haul, Rob Bush Motorsports, Robinson Industries, Schnitz Racing, Timblin Chassis, and Worldwide Bearings.
HTP Performance Super Stock
Winner – Tim Cottrell / Runner-up – Marcus Queen
The Kawasaki ZX-14 dominated HTP Performance Super Stock at the August FuelTech Bike Bash. Previous event winner Mike Davis took the #1 qualifying spot with a 8.907. Davis would not get a win repeat as Caleb Holt's clutch hand took him out in round three of eliminations.
Previous event finalist Tim Cottrell would prove his clutch hand was strong as he worked his way to another final round. This time, he would face Marcus Queen, who was making his first final-round appearance of the season. The stakes were high as the two competitors rolled into the staging beams. Cottrell sought back-to-back wins, while Queen was eager to obtain his first winner-circle finish.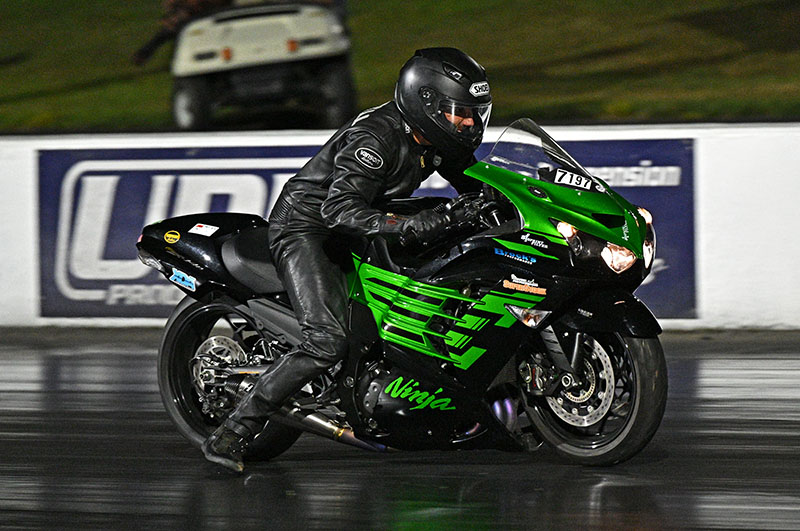 Queen got the starting line advantage by cutting a .034 reaction time on Cottrell's .170. But as the riders fought their stock wheelbase motorcycle down the quarter mile, Cottrell's power would overpower Queen's whole shot advantage as he took the stripe first, running a 9.079 to Queen's 10.887. This will give Cottrell a good boost in points going into the season finale later this month.
Boosted Bulls
Winner – Chris Edwards / 99 Problems
Runner-up – Craig Elliot / Cotton Mouth
Boosted Bulls points leader Geoff Godfrey put his championship contention in danger when he took a first-round loss on 'Minion' to Craig Elliot on 'Cotton Mouth'. Elliot took that dry mouth to the final to face off against Chris Edwards on '99 Problems.' And Cotton Mouth is not one of Edwards problems as he left the tree first and stayed in front Elliot to the finish line for the win.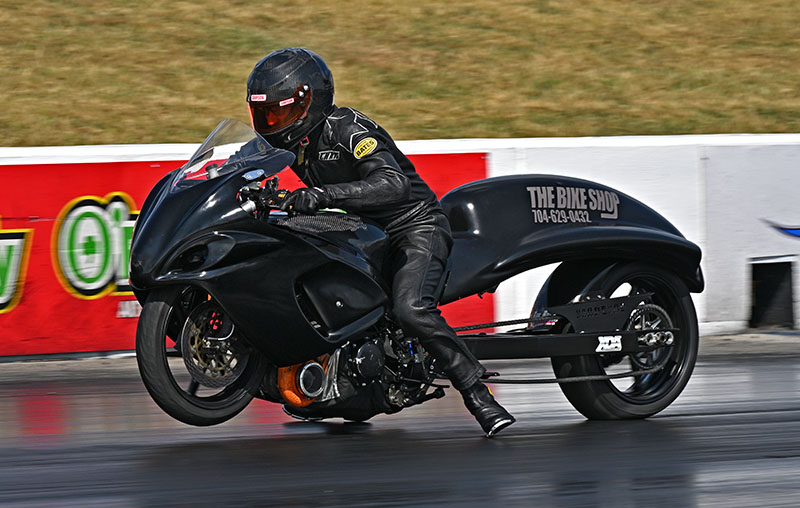 APE Nitrous Bulls
Winner – Matt Dozier / Kill Shot
Runner-up – Desmond Spaulding / Sho Nuff
In APE Nitrous Bulls Matt Dozier never missed his targets as he took ' Kill Shot' to the final. In the final, he met his last target, Desmond Spaulding on 'Sho Nuff'. Dozier had no problems hitting his last target of the night as Spaulding overshot the starting line and couldn't get traction to get down the track.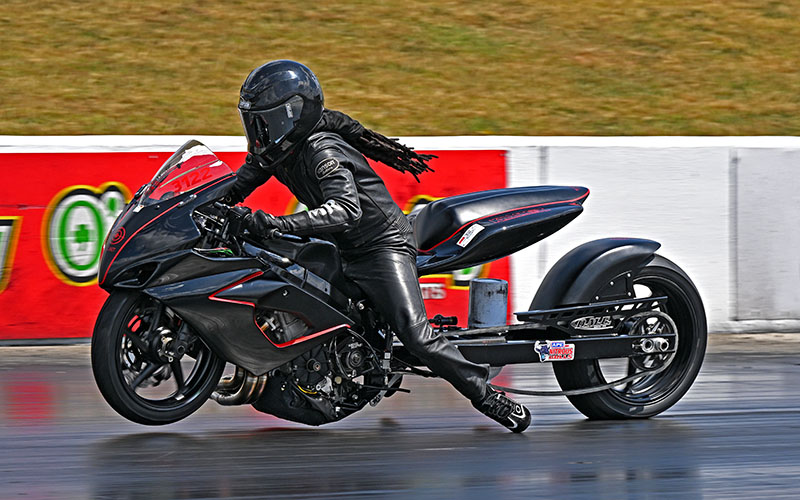 3 Sixty 5 Monster Bulls
Winner – Ken Alston / Leather Face
Runner-up – Mike Burkhart / Attila
After missing the WPGC Bike Fest it was crucial for Ken Alston to win rounds in 3 Sixty 5 Monster Bulls to keep his championship hopes in contention. Alston took 'Leather Face' to the final after drawing the first-round bye and defeating Antonio Williams on 'Flawless Victory' and Brandon Tyree on 'Made Man' along the way.
On the other side of the ladder Burkhardt defeated Spencer Claycomb on '1 Trip', John James on 'Dope Sick' and then earned a semi-final bye to the finals.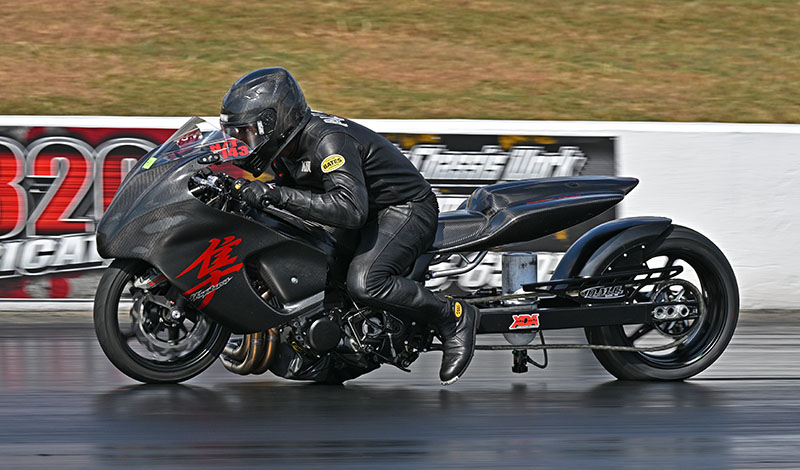 In the Finals Burkhart had the better reaction as he left the starting line first, but Alston quickly caught him at the sixty-foot mark and got around him to take the win and keep him in contention for the 2023 championship.
Tommie's Motorsports DMV Bulls
Winner – Desmond Spaulding / Mob Ties
Runner-up – Antonio Patton / Big Dirty
At the WPGC Bike Fest in July rookie Brandon Litten earned his first win in Tommie's Motorsports DMV Bulls over Antonio Patton. The pair drew each other for the first round of eliminations, and this time Litten misfired on 'Butch Cassidy' and Patton took 'Big Dirty' to a win. Patton then went on to take wins over Jeremy Teasley on 'Gold Digger' and Aubrey Valentine on 'Stunna' to reach the final round.
Desmond Spaulding on 'Mob Ties' was waiting for Patton in the finals after earning wins over Mark Blake on 'Bounty Hunter', Jordan Angelo on 'Quick Money' and Jordan Haase on 'The Mentor'.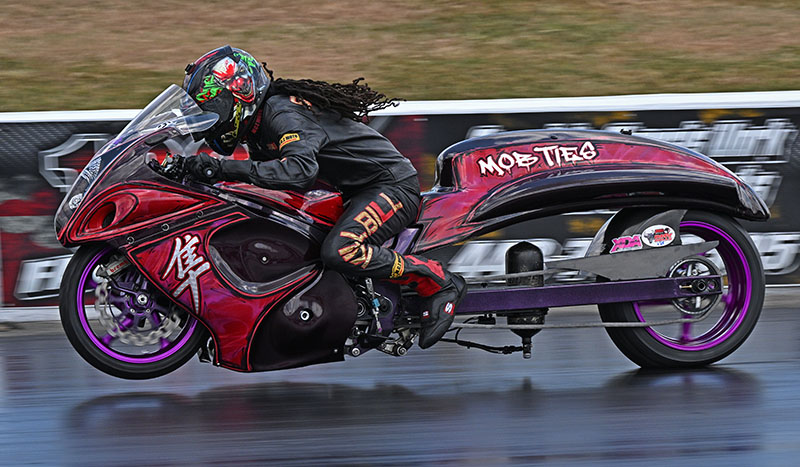 In the final, Patton made the first move off the starting line, but Spaulding applied power to the VMP racing surface quick and blasted towards the finish line while Patton struggled to regain traction. But just as Patton approached the finish line, Spaulding rocketed past him for the win, bringing the fans to their feet. This win moves Spaulding into the points lead.
All Motor Bulls
Winner – Jordan Angelo / Da Setup
Runner-up – LA Payne / Dark Knight
In Tommie's Motorsports All Motor Bulls, Jordan Angelo on 'Da Setup' took out the points leader, David Fondon in round one, and then went on to the finals to clip the 'Dark Knight's wings at the sixty foot as he cruised through the finish line for a win.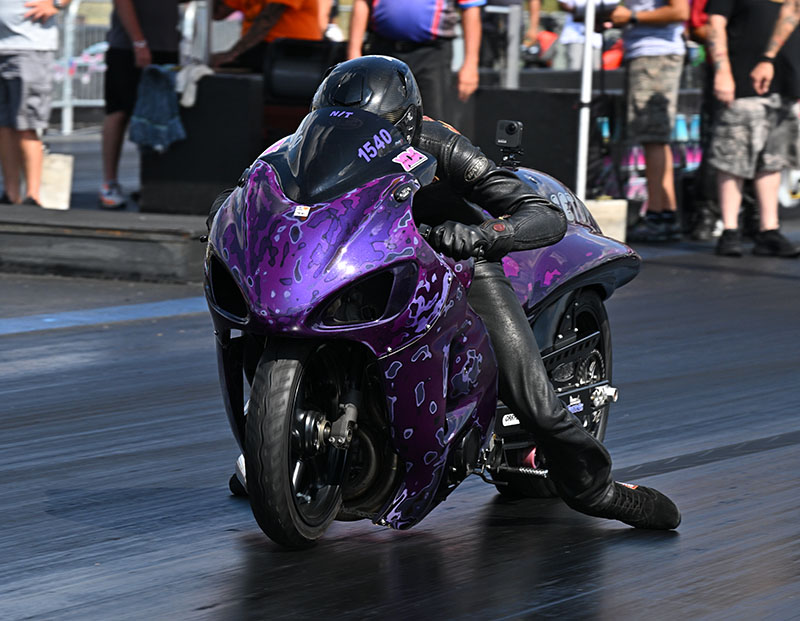 The Vance & Hines 4.60 class successfully completed three rounds of competition and will finish the final rounds at the DME Racing Fall Nationals, with the exception of Les Stimac who cannot attend, he was issued a purse split. The remaining five riders, Kevin White, Michael Stewart, Jimmy Shifflett, Ron Procoppio, and Boo Brown will run for the remaining purse and points.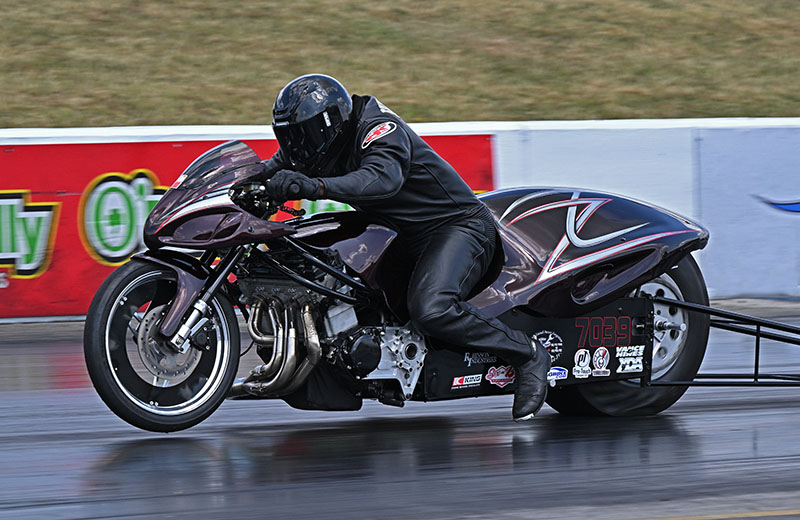 The Sportsman classes of 1 Stop Speed 5.60, Mickey Thompson Tires Top Sportsman, MPS Racing Pro ET, and Brock's Performance Street ET were most affected by the weather projection as curfew hit Saturday night and ended their opportunity to reach the final rounds. After a rider's meeting, it was voted on to split the purses at the event.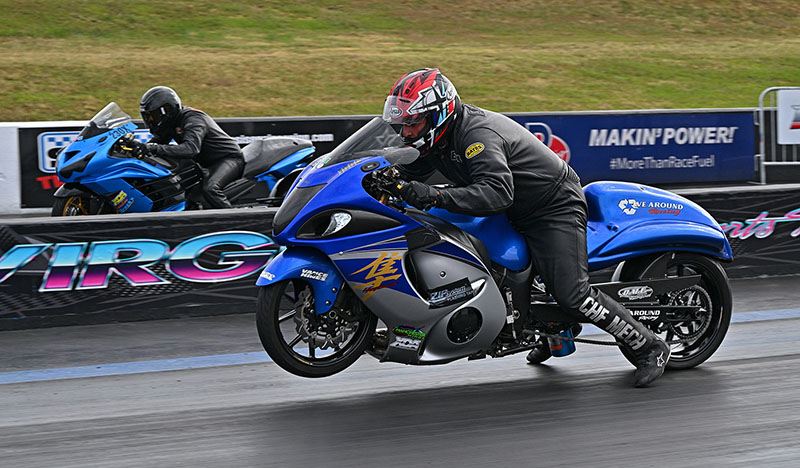 Hard Times Parts & Service Gambler's Race
Winner – Jimmie Miller III / Runner-up – Dillan Clevenstine
The Friday night Hard Times Parts & Service Gambler's race for our sportsman kicked off the weekend with fifty competitors. XDA Champion Jimmie Miller and Dillan Clevenstine were the top dawgs, winning five rounds before meeting in the final round. Miller dialed an 8.99 to leave first with a .052 reaction time. Clevenstine dialed an 8.79 and left right behind Miller.
In no time, Clevenstine caught up with Miller, and as the stripe approached, both riders backed off the throttle to not break out. Miller took the win like running closer to his dial with a 9.026 over Clevenstine's 8.826 ET.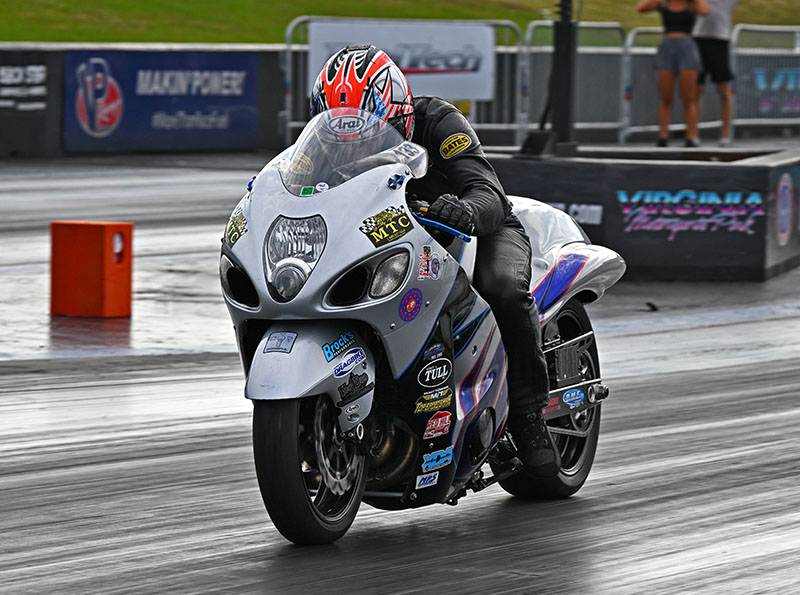 The XDA season concludes in a few weeks at Maryland International Raceway for the 31st annual DME Racing Fall Nationals on September 29-October 1, 2023. Mark your calendars now to come out for our last event of the season to watch records fall like Autumn leaves the XDA racers battle for XDA Champions.
There are more videos on the Cycledrag Youtube channel (please subscribe here) and the Cycledrag Facebook page (Please like here) and more will be coming soon. Check back daily.
To take advantage of some amazing discounts at Brock's Performance, click – http://brocksperformance.com?aff=12
USE cycledrag5 coupon code.