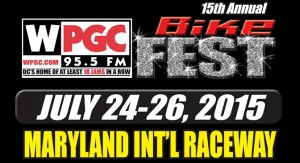 WPGC has been a loyal sponsor and marketing partner with the WPGC Bike Fest for an amazing 15 years in a row, and they are back once again with the IDBL as the title sponsor of the 15th WPGC Bike Fest on July 24-26, 2015 at MDIR. The WPGC Bike Fest will feature a special 5-second, 240mph Top Fuel match race with Larry "Spiderman" McBride taking on Dave Vantine on the wildest machines you have ever seen!
The event will also feature Orient Express Pro Street, DME Racing Real Street, Vance & Hines 4.60 index, FBR Shop 5.60 Index, Carpenter Racing Crazy 8's, Trac King Clutches Top Sportsman, Shinko Tires Pro E.T., Brock's Performance Street E.T., and Eastside Performance Grudge.
There will also be a special "Paint The 1/4 Pink" program run at this event to raise money for the "Bikers Against Breast Cancer". Last year these ladies raised over $7,000! This program is for female riders only competing on drag bikes and street bikes. This class will be run on Saturday and will be a 32-bike qualified field run in an E.T. bracket racing format. These female motorcycle racers have been raising money for a great cause, so come on out and show them your support!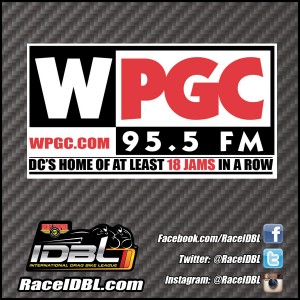 The event will also host a huge vendor midway full of motorcycle parts, apparel, and accessories!
In addition to the racing MDIR will host the famous Hot Body Bikini Contest on Sunday, plus Bikini Bartenders in the Coors Light Beer Garden. Also be sure to check out the wild custom bike show on Sunday of the event. The WPGC stage will be jamming with live bands on Sunday at the event and WPGC's own DJ Flexx will be hosting the show!
For full information on the WPGC Bike Fest, visit:
www.RaceIDBL.com/events/bike_fest.htm
For more information about WPGC, visit their website at wpgc.cbslocal.com or tune in to 95.5 FM in the DMV area.
Remember… Support Those That Support Your Sport!
The next event for the Mickey Thompson Tires IDBL Series will be the Pingel Spring Nationals at Maryland International Raceway on April 24-26, 2015.
For more information on the Mickey Thompson Tires IDBL Series, visit www.RaceIDBL.com or connect with us on Facebook, Twitter and Instagram @RaceIDBL.
Sincerely,
Jason Miller – IDBL Promoter
2015 IDBL Schedule
Pingel Spring Nationals
April 24-26, 2015
Maryland International Raceway
MTC Engineering Summer Nationals
May 29-31, 2015
Maryland International Raceway
WPGC Bike Fest
July 24-26, 2015
Maryland International Raceway
Orient Express Motorcycle U.S. Nationals
Sept 11-13, 2015
Atco Dragway
DME Racing Fall Nationals
Oct 2-4, 2015
Maryland International Raceway