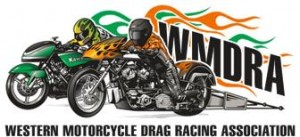 This year's 3rd Annual AMSOIL Sturgis Nationals promises not only to thrill and excite all those present at the track, but a national television audience as well.
Masters Entertainment Group (MEG) will be on site at Sturgis Dragway filming the competition, with racer interviews, opening ceremonies and all the fun you've come to expect at the dragstrip. The 2014 AMSOIL Sturgis Nationals will air this season, as a stand-alone episode on the 'Inside Drag Racing' television series on MAV TV.
"The WMDRA is thrilled with this opportunity for our sport of motorcycle drag racing and we look forward to showcasing the variety of motorcycles and racers that make up our drag racing family," said WMDRA President Sandra Alberti. "This is unscripted, real television and a chance for our racers to shine while giving viewers a behind the scenes look at grass roots drag racing and its accessibility even for the casual fan or motorcycle enthusiast."
The episode is made possible by the generosity of Dragon Fyre, Inc., a boutique sponsorship company for exceptional racers. President and CEO Zona Kaml says, "When I learned of the opportunity for an 'Inside Drag Racing' episode at Sturgis, I jumped in with both feet. The passion the WMDRA shows for their sport and their events is truly unmatched in the industry and mirrors my feelings for the sport and its racers."
Since its inception over 20 years ago, MEG has created and produced quality programming for Velocity Channel, NBC Sports, MAV TV, Fox Sports Net, ESPN, ESPN2, Outdoor Channel, Speed Channel, Sun Sports, and CSS. One of their trademark shows, 'Inside Drag Racing' is the longest running drag racing show in television history.
Join the WMDRA and MEG August 5 and 6 for our television debut, and shine with the stars.
Sturgis Dragway is located at 20523 Hwy 79, just 3.7 miles East of downtown on SR 34, then 0.8 miles North on SR 79. Competition qualifying begins on Tuesday, August 5 with final eliminations on Wednesday. Gates open at 10:00 a.m. both days; with a hot track at 3:00 p.m. Tickets are just $15/day or $25 for the two day event.