Angie Smith plans to get plenty of seat time on her Victory Motorcycles bikes when the NHRA tour arrives in Colorado, both at Bandimere Speedway when she competes at this weekend's Mopar Mile-High NHRA Nationals and in the days surrounding the historic event in the foothills of the Rocky Mountains.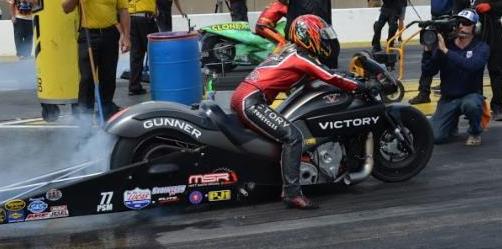 "There's not a motorcyclist anywhere that hasn't dreamed of riding through the Rockies," Smith said. "And I plan to see as much as I can on my Victory Octane street bike both before and after the race. Me and Matthew (Smith, husband and teammate) have loaded our personal bikes in the rig, and we're anxious to unload them and explore some new roads out there.
"Of course the bonus for both of us is we get to race our Victory Gunners down one of the prettiest dragstrips in the country all weekend, so we definitely will get the best of both worlds while we're out west. We can't wait to get there."
Racing her second season as part of the Victory Motorcycles factory team, Smith is still looking to find her stride on track. She has had numerous passes where she looks fantastic but other times when the frustration of competing at the top level of the sport has taken its toll.
"We've had some ups and downs, and I am by far my own worst critic," Smith said. "But you have to remind yourself that we're still fairly new with this program, and it takes time to get up to speed with brands that have been out there for years and years.
"We're only six races into a 16-race season, so we have a lot of time left to make our mark. That's what we want to do.
"For sure, Matthew and the guys give me a great bike every race, and it's up to me to be as perfect as possible when I'm on that bike. We want to win races for Victory. They've been such a supportive and awesome company to work for, and the best way to pay them back is by putting them in the winner's circle. That remains our primary goal each weekend."
The Smiths have become great ambassadors for the Victory brand and routinely visit dealerships around the country to help spread the word about the American-made machines.
"It's so much fun getting to know fellow Victory riders, and we've met a bunch," Smith said. "It's a new group, a different kind of rider that loves American technology and muscle. I see it all the time: Once someone rides a Victory, they're sold, and if we can do our part in getting them to give one a try, then I'm happy."
Pro Stock Motorcycle qualifying sessions are scheduled for 5 and 7:30 p.m., Friday, and 4 and 6:30 p.m., Saturday. Eliminations start at noon, Sunday. FOX Sports 1 will air qualifying action from 6 to 7 p.m., Friday, and 9 to 10 p.m., Saturday. FOX will carry eliminations live from 1 to 4 p.m., Sunday. (All times listed in MDT).