The first time Victory Motorcycles factory rider Matt Smith won an NHRA national event on Thunder Mountain in 2007, he went on to claim his first world championship. The following year, he raced to Bandimere Speedway's podium once again, helping him to a lofty third-place finish in the final point standings, the second-best result he's had without winning it all.
Suffice it to say, winning the annual Mopar Mile-High NHRA Nationals has been a harbinger of good things to come for the 17-time national event titlist.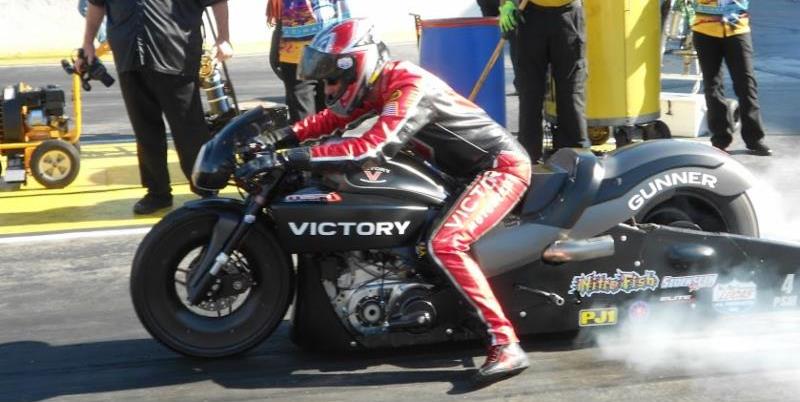 "It's very different racing up there and it's a true test of your ability to adapt to unusual conditions, so when you do manage to win a race in Denver, you really feel like you accomplished something," Smith said. "I've done it twice, and I'd really like to do it again this year. I know this Victory Gunner is certainly capable of carrying me to the winner's circle."
To wit, Smith earned his first Pro Stock Motorcycle pole of the season at the NHRA tour's last stop in Chicago, proving his American-made horsepower can pace the competitive field. He has also qualified second and third this year, bolstering his point.
"When everything goes right and we don't have something weird happen, I don't think anyone can touch us," Smith said. "We proved that in Chicago, Charlotte, and Norwalk (Ohio) when we qualified in the top three. We've just had the strangest little things happen to us, like the bike not shifting into 2nd gear on race day in Chicago.
"Ultimately, I don't blame anyone but myself. Even if it's a part failure on something I bought from a vendor, I take the responsibility because at the end of the day it's me that wins or loses. I'm working on ways to test every part even more vigorously than we already do to make sure stuff like that doesn't happen. Sometimes it's just the luck of the draw. No matter what, we will not stop trying."
One thing that Smith's incredible qualifying efforts of late have produced is a spot in the Pro Bike Battle, which takes place July 30 in Sonoma, Calif. Smith can only be edged out of the special, invitation-only race by Karen Stoffer, who trails him by 70 points in the Battle standings. Denver is the final race where points are earned, meaning Stoffer would have to outqualify him by 12 spots.
"Staying ahead of Karen will be the first goal of the weekend, and that means we need to be strong right out of the trailer," Smith said. "After fighting our way into that deal, we sure don't want to give it back. We will be ready, for sure. I just hope my Denver luck will be there for us this year."
Pro Stock Motorcycle qualifying sessions are scheduled for 5 and 7:30 p.m., Friday, and 4 and 6:30 p.m., Saturday. Eliminations start at noon, Sunday. FOX Sports 1 will air qualifying action from 6 to 7 p.m., Friday, and 9 to 10 p.m., Saturday. FOX will carry eliminations live from 1 to 4 p.m., Sunday. (All times listed in MDT).