All Victory Motorcycles racer Matt Smith wanted was the absence of bad luck.
That finally happened at the NHRA Toyota Nationals this weekend at The Strip at Las Vegas Motor Speedway, and Smith took his Victory Gunner to the semifinal.
Smith has had a powerful Gunner in 2016, but various issues and misfortunes have hampered him this season. This weekend, though, Smith had smooth sailing, qualifying No. 4 and racing to his second semifinal of the season.
"Got a little luck in Vegas," Smith said, "and hopefully we will transfer that luck on to Pomona."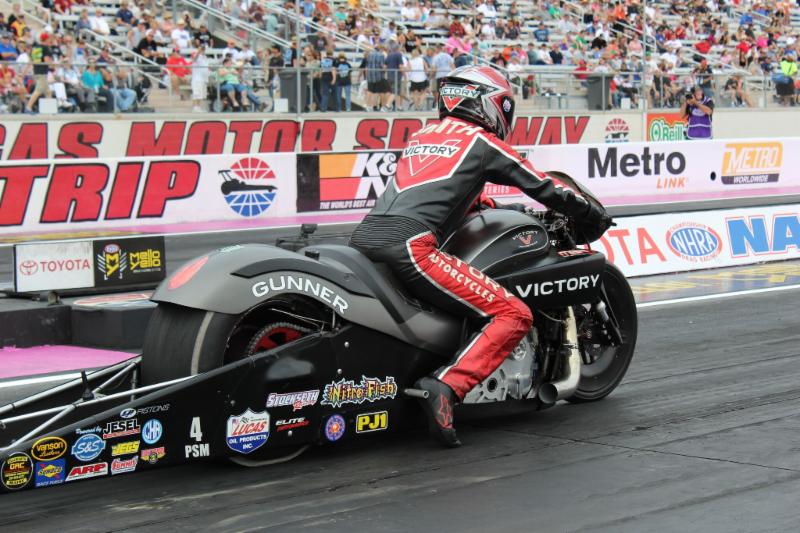 After beating Chip Ellis and Cory Reed in the first two rounds, Smith had the tall order of racing No. 1 qualifier Jerry Savoie. Smith went for it on the Christmas Tree, but missed by .006 seconds and drew the red light, handing the win to Savoie.
"Jerry had us covered pretty bad, and I've been .032 and .025 on the Tree," Smith said. "I had to try to go .00 to even have a chance and just went .006 red instead of on the good side."
Smith acknowledged the support of Victory Motorcycles, Lucas Oil, Nitro Fish and Stockseth Racing in working through a tough season.
"All in all we had a good weekend," Smith said. "We qualified forth, we got to the semifinals, which is where we're supposed to be if we qualified fourth, so we did our job. We have our game and our ground and we'll go on to Pomona, and hopefully do the same thing. Maybe we can go one more round and see if we can have a fight to win a race."
Smith began his day by taking out No. 13 qualifier Chip Ellis. Smith left first with an .032-second reaction time (to Ellis' .047) and then outran him with a 6.961-second pass at 191.67 mph, easily beating Ellis' slowing run of 7.205 seconds at 160.23 mph.
Smith knocked out No. 12 qualifier Cory Reed in the second round with a run of 6.992 seconds at 190.81 mph, beating Reed's 7.141-second pass at 186.56 mph.
Then came Savoie, who beat Smith and then won the race by beating Andrew Hines.
"Right now, nobody is going to touch Jerry," Smith said. "He's got way too fast a bike, and until NHRA does something about it and puts some weight on him, nobody's going to mess with him unless he messes up. He was .031 on the Tree so he didn't mess up. He didn't give me a shot.
"All in all, everybody is excited this weekend, everybody had a good time at Vegas and we are going to try to do the same thing at Pomona."