Lucas Oil Racing TV racer Hector Arana Jr. has had an un-Arana Jr.-like season in 2016, but he was back to normal at the NHRA Toyota Nationals this weekend at The Strip at Las Vegas Motor Speedway.
Arana Jr. rode well during eliminations Sunday, cutting two good lights and leaving first on both competitors he faced.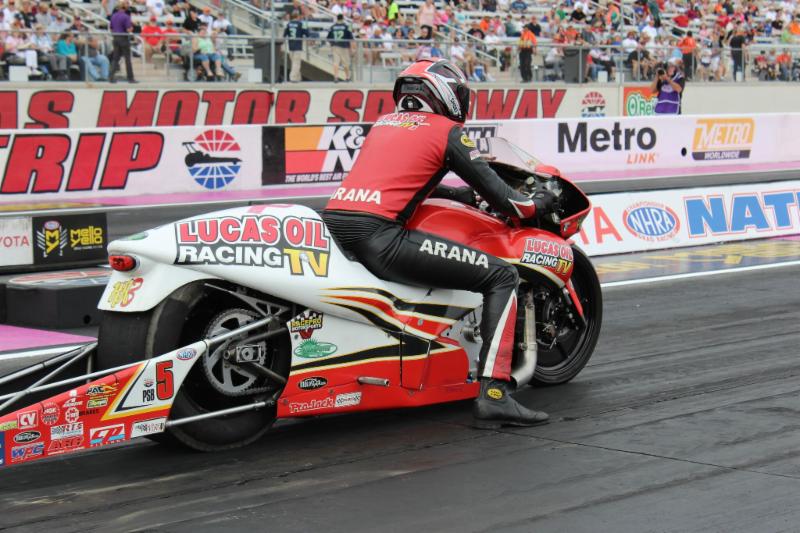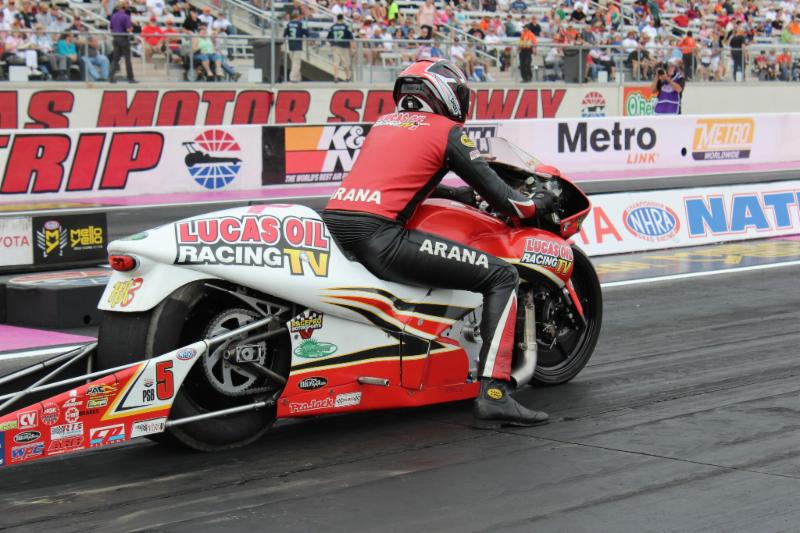 "This weekend was a big turnaround weekend for me," Arana Jr. said. "I felt really good today as a rider, calm and relaxed. I got back in my groove. I felt like I did when I was winning races back-to-back. I was really calm and focused, took my time on the starting line and I felt like I did a really good job out there today: .013 first round, .024 second round, left on both opponents."
His dad, Lucas Oil Buell racer Hector Arana Sr., didn't fare as well, losing in the first round to Angie Smith.



Arana Jr. sits 10th in the Pro Stock Motorcycle points standings after a tough season, but he rebounded well in Vegas, qualifying No. 7 and racing to the second round. He beat Karen Stoffer in the first round with a .013-second reaction time and a 6.995-second pass at 192.36 mph. Stoffer trailed with a pass of 7.035 seconds at 191.65 mph.
Arana Jr. faced No. 2 qualifier Eddie Krawiec in the second round and left first again, with an .024 light. But Arana's pass of 7.027 seconds at 191.16 mph wasn't enough to hold off Krawiec's 6.948-second run at 193.18 mph.
"Unfortunately we slowed down," Arana Jr. said. "We are going to go through the motor and try to figure out why because nothing shows a definite reason for it to slow down, so we have to look into the motor because it slowed down quite a bit in the middle. Hopefully we will get all of that figured out, and we'll have one more shot at Pomona."
Arana Sr. didn't have the same kind of luck as his son, as the No. 6 qualifier lost on a holeshot in the first round. Arana made a solid pass, 6.968 seconds at 192.77 mph, but he couldn't catch Smith's slower 7.052-second run at 187.86 mph.
The reason Smith's .021 light was way ahead of Arana Sr.'s .116-second reaction time?
"You hear that hesitation?" Arana Sr. said after a slight pause. "That's what happened in my brain. It was slow and I had a bad reaction so she sent me home. But the bike ran good. I made a small change and it responded to that change so I'm going to keep playing that direction and see if we can pick up the pace for Pomona."