When Victory Motorcycles rider Angie Smith battles the Pro Stock Motorcycle field at the K&N Filters Route 66 NHRA Nationals this weekend at Route 66 Raceway, one aspect she won't have to worry about is her physical fitness.
That's because the 37-year-old racer is in the best shape of her life and is one of the most fit riders in the class.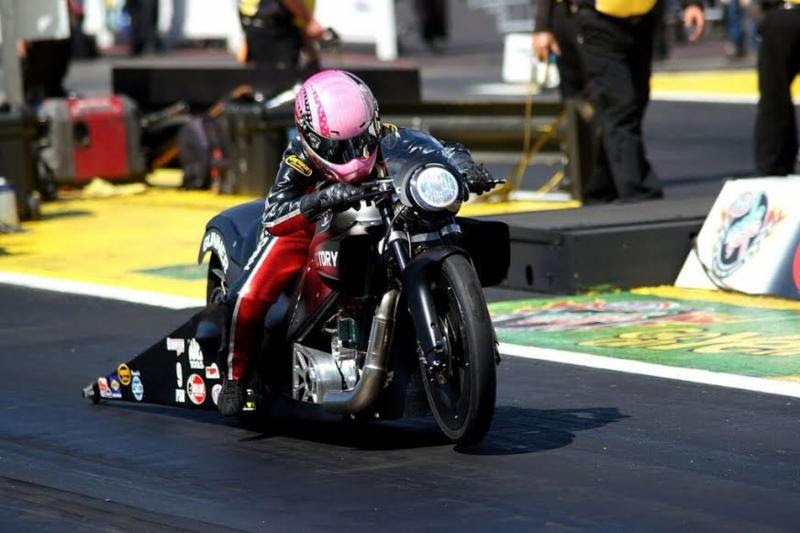 "I've always been interested in fitness and I really enjoy working out," Smith said. "I've always tried to be a healthy person, eat right, and work out, and racing kinda took me away from it just because I was so busy with it. I just made it a priority this year that I'm going to go to the gym and start working out."
Training at the Powerhouse Training Facility in her hometown of King, N.C., Smith has continued her commitment to her fitness.
"I feel like it helps me be better on the bike," Smith said. "Our bikes launch so hard, and there are 3 Gs off the starting line. I got to where on Mondays after we would race my back was bothering me. I guess because the muscles in my back weren't strong, so I wanted to strengthen my core and strengthen my back, so that's what really drove me to get back into it.
"I have a really awesome gym now and a lot of athletes go there, so it's not just a normal working out gym. We do crazy stuff, like we run obstacle courses, and we do a lot different stuff. It's geared toward athletes and I really enjoy it."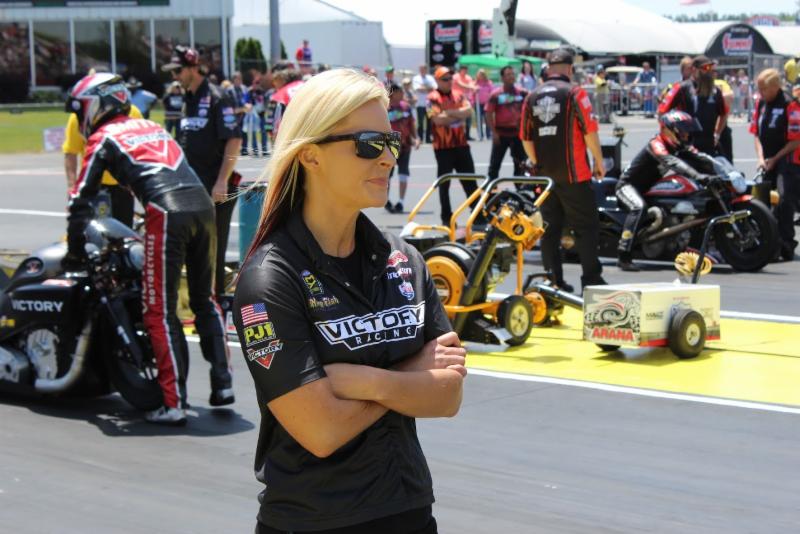 Trainers Joe Middleton and Matt Mullins have geared Smith's workouts to her riding, focusing on different areas to help her perform better.
"They have really focused on making the workout for me, like what helps me with the bike, and that really helps me a lot," Smith said. "It makes me feel better, it makes me sleep better. All around it makes me focus and ride the bike better. It gives me the focus, ability, mindset, and the drive to do it."
More than simply cardio or lifting weights, Smith's regiment includes all sorts of training.
"We do a lot of kettle bell training," Smith said. "Sometimes we'll do push-ups and pull-ups, and sometimes we'll do like ring dips. We do a lot of different things. We'll run obstacles one day. We do a lot of stuff that professional football players do.
"One day we pushed sleds, and I think I had like 50 or 75 pounds on and we were pushing the sled and that kicked my butt, but I think it's really good. We don't focus on just one part of the body. We do a lot and it's good. I really like it and I feel much better when I get there."
Pro Stock Motorcycle qualifying sessions are scheduled for 5:15 and 7:45 p.m., Friday, and 3:15 and 6 p.m., Saturday. Eliminations start at noon, Sunday. FOX Sports 1 will carry qualifying action from 10 p.m. to midnight ET, Saturday and eliminations live beginning at 2 p.m., Sunday.