Someone once wrote, "The road to success is always under construction." I certainly am not the first person to make note of this cliché. But if today is cliché day, I say if the shoe fits, feel free to lace that bitch up and wear it proudly. This is the essence of what's happening in motorcycle drag racing as our sport continues to evolve this November.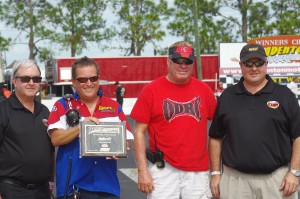 November of 2013, like November of 2010, has once again become a month of prominent evolution in motorcycle drag racing. And again it involves the Manufacturers Cup organization and South Georgia Motorsports Park also known as SGMP, aka "Valdsosta." Call it what you will, it's the cradle of motorcycle drag racing in the modern era. Valdosta is today's "Atco" to modern day motorcycle drag racers. Accept this, it's modern history. While you're at it, accept this too: the road to success is always under construction. Hence the return of MANCUP drag racing to SGMP.
If we turn the clock back to 2010, you'll see that on Thursday, June 24th, 2010, AMA/DRAGBIKE failed and closed it's doors. In mid season they ceased business operations. Scrambling to make something from the ashes of this failure; nine business owners banded together to make something of what remained. In November of that year, they announced the formation of what they called "Valdosta Manufacturers Cup Finals." In September, they announced a race would be held November 12/13/14, 2010 at the South Georgia Motorsports Park (SGMP) in Valdosta, Georgia. Please note that SGMP is actually in Adel, Georgia, not Valdosta, but we'll discuss this confusion at another time. For now let's stay on topic, MANCUP began at SGMP.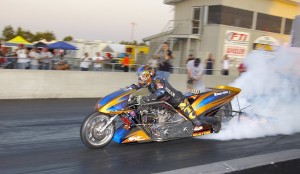 This is important because the day the music died for motorcycle drag racing, as the last remaining major motorcycle drag racing sanction took it's last gasps, it was SGMP working with the nifty nine that breathed life back into the dying sport of motorcycle drag racing. The "Nifty Nine" as they were sometimes referred to were: Schnitz Racing, Brock's Performance, Star Racing, MTC Engineering, the PR Factory Store, MPS, Fast By Gast, M.R.E., and Orient Express. It was the collaboration of these nine aftermarket companies, combined with the cooperation of South Georgia Motorsports Park, that kept big league motorcycle drag racing alive.
Keep the opening statement of this story in mind here, "The road to success is always under construction."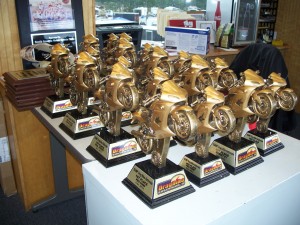 The first race convened as assembled by the nifty nine, on November 12/13/14, of 2010. It happened at SGMP. The nine fore-fathers who sought to keep big time motorcycle drag racing going, forged a deal with SGMP to keep the sport going. This was the start of today's modern era big time motorcycle drag racing that still soldier's on to keep the sport alive. It's a long and winding road, still under construction, that is fraught with it's share of success and failure. In short, it's under construction, just like the sanction now known as MANCUP.
The evolution of MANCUP racing is the evolution of a sanction in progress; it's always under construction. Yes, there were differences between MANCUP and SGMP, and MANCUP left and went to Bradenton, Florida to begin anew with Bradenton Motorsports Park (BMP). This is fledgling racing sanction evolution in progress.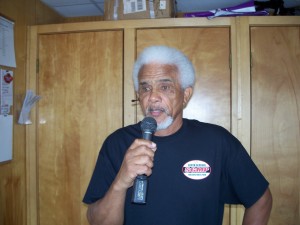 There were many successful outcomes from MANCUP going to BMP. Alan Chervitz, one of the owners of BMP looks at it this way, "We were and are grateful that MANCUP came to our race track. We've never had that many motorcycles here before. It was a great racing experience. To have so many motorcycles and racers, from all around the world here to race, that was just awesome." He's justifiably proud about that. And he should be just as proud of his track's performance.
Eric Teboul, of France, laid down the quickest and fastest pass in the world by a motorcycle with a 5.12 elapsed time pass at 264 mph in the right lane of Bradenton Motorsports Park. Larry "Spiderman" McBride and Peter Svensson laid down the quickest side-by-side Top Fuel bike race a 5.76 to a 6.02. On Larry's way to victory on that pass it should be noted he clocked a 3.75 @ 207 at half-track: he was honk'n on that pass and the race track held it. Alan Chervitz can be proud of that too, BMP did a great job. But evolution continues as the road to success remains under construction for all concerned.
Economics more than anything else brought MANCUP and SGMP back together. Conflicting race dates did not serve SGMP, nor MANCUP, or the racers in their best interests. Bringing big time motorcycle drag racing back to it's modern day roots, was a major factor as well. There were many factors that brought MANCUP and SGMP back together, it's all part of the road under constriction.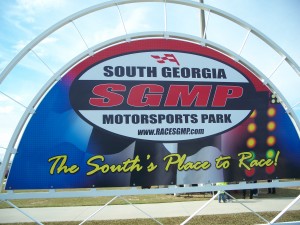 If one were to entertain the question, "Why did the MANCUP leave South Georgia Motorsports Park, bring it's racing to Bradenton Motorsports Park, then return to SGMP?" The answer is because MANCUP seeks to succeed as a healthy, viable racing sanction for the racers, by the racers. It's leadership is listening to the racers, reading the needs, making adjustments along the way.
Jay Regan had this to impart about the return to SGMP, "The extra 5 hours of driving south hurts many of our racers who would otherwise attend our race. In our economic climate today, now more than ever, racers are staying closer to home more often than not. Who can blame them? The more races we can bring closer to the racers, they more they will participate." This is the crux of the return to SGMP.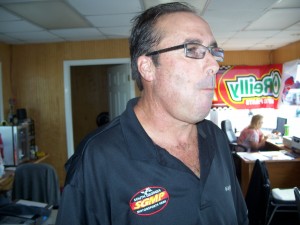 Jay also had this to say, "I can't say enough good things about Alan Chervitz and his team at Bradenton Motorsports Park. Their professionalism, the way they went out of their way to help and accommodate our racers, it was fantastic working with BMP and it's staff. They are a class act all the way."
MANCUP has left BMP for now, and returned to SGMP, but remember, "The road to success is always under construction."
Tim Fleming, the General Manager at South Georgia Motorsport Park had this to say today, "We are pleased that the Manufacturers Cup series is coming back to our track. We want what the racers want, and that is for motorcycle drag racing to go forward, we're all for that." At this point in time, all parties are in agreement: the road to success for motorcycle drag racing may be under construction, but it sure looks like it's headed in the right direction.