Pro Street racer Justin Doucet of Two Wheel Werkz brings us up to speed on his team with this blog –
When we showed up to Huntsville Alabama for NHDRO's season opener it was the first time we have ever visited the track. Luckily we went down with the intent to test on Friday, as the track would prove to be a challenge throughout the weekend.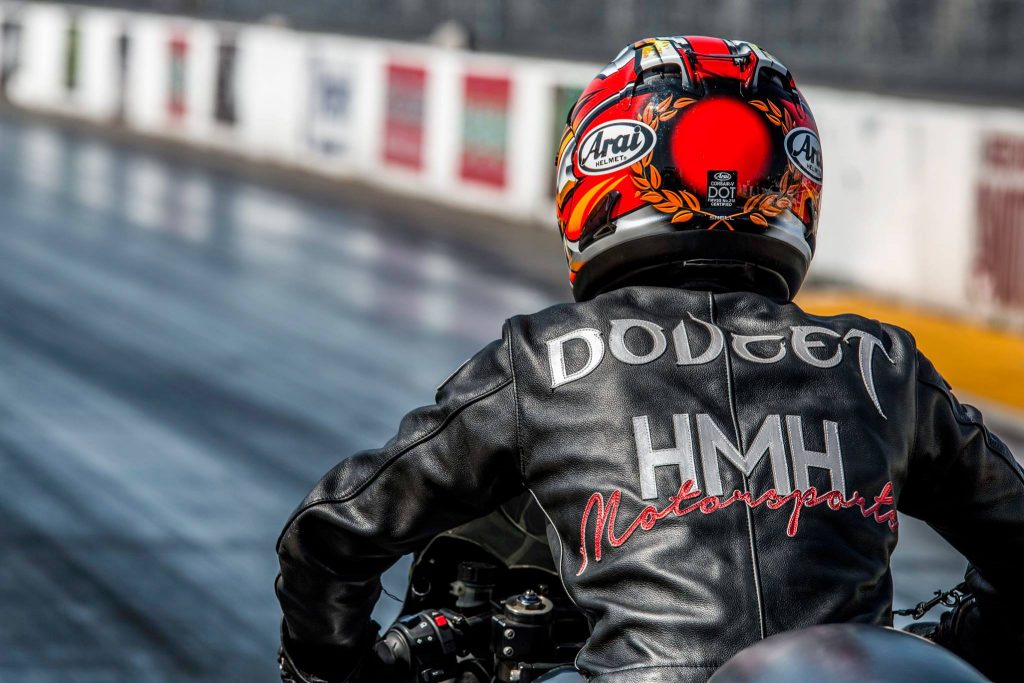 We unloaded the bike with a mild tune up that should put us in the low 4.7s in the 1/8 mile but we quickly learned this track was not going to work with our normal tune ups, as the bike would spin instantly on the starting line. We went back and looked over the data collected from our first attempt. We made some adjustments to the bike. On our second run we managed to run 4.85 @ 155.49 spinning through the 1/8 mile but at least we were able to get down the track. On the next run we improved to a 4.77 @ 164. We knew were headed in the right direction, but after we went back up with just a little more power and attempt to go a 4.70, we would quickly learn the track wasn't having it and the bike slowed down to a 4.90 @ 159, so we decided to call it a day.
On Saturday morning we would use what we learned on Friday testing  and it would pay off. We ran a 4.668 @ 166 with a killer 1.18 60′, for the #1 spot in the first qualifying session. The track was starting to come around so we decided to try & lean on the bike for the next session. This decision would cost us our # 1 spot in the second session of qualifying when we would spin the tire ever so slightly, slowing us down to a 1.22 60′ & 4.70 @ 163 and Doug Gall would run a 4.664 to our 4.668. After checking out data and monitoring the weather & track conditions closely we made the decision to give our previous tune up another shot since the track conditions would be a little better in the evening. We managed to improve to a 4.650 @ 167 and get the #1 qualifying spot back.

On Sunday morning we would end up with a bye run first round when John Chant pulled out of competition due to mechanical issues. This would give us a chance to lean on the track and see what it would hold, and we did running the quickest pass of the event with a 4.635 @ 168 with a 1.17 60′ and fighting a wheelie through the top of first gear. For second round we would pull a little to try and calm the wheelie. Good thing we did cause the track prep routine would change and the track surface would suffer greatly. We managed to win in a peddle fest with a winning 5.54 @ 150. After just squeaking by second round, we would play it safe & back the bike down to make sure it would get down the track in the final, just in case the track would be similar to the previous round. We made it down the track with a 4.81 and ended up losing by only .01 of a second to a quicker 4.75 after we had a huge .048 starting line advantage.
We need to thank the people and sponsors who make this possible.
Derek Miller & HMH Motorsports, Eddie Krawiec and Vance & Hines for the best
cylinder heads on the planet, Dave Conforti & Worldwide Bearings for keeping us rolling smooth & fast, Joe with Precision Turbo & Engine for
producing our boost, CP-Carrillo for making the parts that hold up under pressure, Robert & Galfer Braking Systems for getting us stopped in time,
Jeff Weil & Arai Americas for keeping my head safe while looking great, Penske Racing Shocks for keeping the tire planted. Magneti Marelli Motorsports for keeping everything under control to keep us going fast.
Also want to thank the media outlets and the people behind them, that help our sport grow. Dragbike.com & Brandi Neithamer, Cycledrag.com & Jack Korpela, Eatmyink.com & Tim Hailey