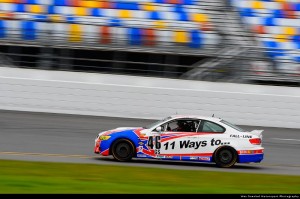 Fall-Line Motorsports is thrilled to announce that Trim-Tex Drywall Products will be the primary sponsor on the #46 BMW M3 and will be on the car for the entirety of the 2013 Continental Tires Sports Car Challenge season.
The #46 car, which will be driven by Fall-Line team owner Mark Boden and sports car superstar Bryan Sellers tested at the "Roar Before the 24" earlier this month at Daytona International Speedway. The team gave a sneak peek of this season's car livery with the slogan "11 Ways to…" on the side of the car. Those familiar with Trim-Tex, Fall-Line, and/or the world of drag bike racing spied a familiar paint scheme and slogan on the car and rumors of a partnership can be confirmed today.
Trim-Tex based in Lincolnwood, IL is the premier manufacturer and distributor of vinyl drywall beads and finishing accessories for over 40 years. Trim-Tex coined the phrase "drywall art", which accurately describes the adaptive use of materials and accessories to enhance the standard flat and squared edged world of drywall. Drywall art can be found in a variety of forms, including decorative archways, rounded edges, layering details and tray ceilings.
Only Trim-Tex offers "11 ways to…" finish a corner. There are also "11 ways to…" win a Continental Tires Sports Car Challenge Championship, with 11 races on the 2013 circuit.
Joe Koenig, President of Trim-Tex drywall products, has an impressive racing resume himself. He is a multiple event winner in AMA/NHRA Pro Stock Motorcycle as a driver and won the 2003 NHRA Championship as a team owner. Koenig has taken his love of racing from two wheels to four, and competes himself in SCCA and Grand-Am sports car racing with Fall-Line Motorsports. His love of the sport and appreciation for the B2B benefits that a sponsorship in CTSCC and Grand-Am make a perfect fit for Trim-Tex and this partnership has great potential.
Koenig talks about the sponsorship: "Obviously we are extremely excited to take the relationship with Fall-Line Motorsports and Trim-Tex to the next level. At Trim-Tex we work hard, are determined to succeed, keep our promises and our customer is always right. We see those same attributes in Fall-Line and in the leadership from Mark Boden. Fall-Line always delivers a top-notch product, and doesn't take any short cuts. That is what we are all about at Trim-Tex."
Koenig and Boden have co-driven together in many endurance races, including several Grand-Am events. They shared the cockpit and now will begin a new journey as sponsor and driver. Koenig states, "I have raced with Mark since 2007 and we did three Grand-Am events together in the #46 car. But I do think that the #46 has a good shot at taking the Championship title because I am not in the car. But in all seriousness, the main reason I decided to jump on board as a sponsor this year is due to the chemistry between the team, the car, and the co-drivers. Mark has put together one heck of a program and we are proud to be a sponsor in 2013."
Team Owner Mark Boden shares Koenig's enthusiasm, "I cannot express how thrilled I am at this partnership between Fall-Line and Trim-Tex. Joe (Koenig) and I have been racing together for a long time and I am just so happy that we have the opportunity to showcase Trim-Tex and what an upstanding organization that they are. At Fall-Line, we always strive to achieve such a high level of competition, but for myself as a driver of the #46 car there is additional pressure to perform to the highest ability and represent Trim-Tex at the top of the podium!"
The first round of the 2013 Championship is at Daytona International Speedway on January 24-27 and Round 2 takes place at Circuit of the Americas on February 28- March 2.
Fall-Line Motorsports is a premiere builder and fabricator of race cars for all levels of competition. Fall-Line specializes in BMW, Porsche, Audi and other high-performance makes. Fall-Line Motorsports unveiled their Grand-Am team in 2006 and won the GRAND-AM Continental Tire Sports Car Challenge GS Championship title in 2010. In addition to fielding 3 GS BMW M3's in the Continental Tire Sports Car Challenge, Fall-Line also prepares and fabricates cars for other CTSCC teams, SCCA and NASA drivers, track day prepared and high performance street vehicles. w
ww.fall-linemotorsports.com
@FallLineMotors  
www.facebook.com/Falllinemotorsports
Trim-Tex Drywall Products global headquarters and manufacturing facility, located in Lincolnwood, Illinois, is the most modern and efficient in the industry. Trim-Tex also has a satellite facility located in Orange, California. Both facilities feature a Design & Training Center where architects, builders, and contractors can be inspired and educated. With a combined inventory of well over 100,000 boxes of product and a 40-year history of 100% in-stock, Trim-Tex sets the standard for same day shipping. Trim-Tex doesn't just make decorative products. In fact, Trim-Tex has over 20 patented drywall products designed to improve installation quality and design aesthetics in commercial and residential projects worldwide.  
@TrimtexDrywall