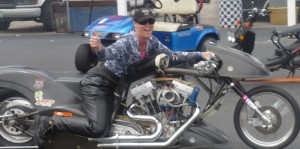 It was an interesting rookie year for Janette Thornley. In her first ever drag race season, she finished 5th in two very competitive Pro Dragster fields.  Now it's time to set a schedule for 2013 and she's up to the challenge again.
"There will be some major changes with my program this year," says Thornley, "First I'm leaving the nest of Ray Price and the Ray Price Racing team. I can't begin to thank them enough for their support and assistance but it's time to stand on my own."
This year, Buddy Foss and Freddie Robbins will comprise the crew for Dream Chaser Racin'.  Both fellas have over 25+ years racing experience, Foss worked in the NASCAR circuit so he's very familiar with need for consistency and attention to detail.  Robbins brings tons of experience to the team being both a rider and tuner. "I'm excited to get the two heads together!"
"We've arranged an RV for traveling and we will be based in NC so that I can fly in to races from the Northwest. Our trailer will have to be replaced to carry the additional weight of equipment.  We are still pulling our schedule together but will likely complete at all the AMRA races and will probably pick up a few additional races throughout the season as time and money will allow."
March 23-24 AMRA State Capitol Raceway, Baton Rouge, LA
April 27-28 AMRA Beech Bend Raceway,NO TF or Nitro Funnybike, Bowling Green, KY
May 30-June 2 AMRA Mason Dixon Dragway, Hagerstown, Md.
June 29-30 AMRA Beech Bend Raceway, Bowling Green, KY
July 27-28 AMRA Kil-Kare Raceway, Xenia, OH
Sept. 28-29 AMRA Beech Bend Raceway, Bowling Green, KY
Janette Thornley is owner and operator of her nitro burning, carbureted, 121 ci Pro Dragster and Dream Chaser Racin'.  She is excited to have added LAT Racing Oils to her list of sponsors as of August 2012.  Thank you to all my sponsors: Autolite Sparkplugs, LAT Racing Oils, Lowry Callahan of Quality Refrigeration Company and Mark Lavine.  Special thanks to Ray and Jean Price; Freddie Robbins; Bill Hendren, Dalton, ML and Doug Atkinson.   Sponsors always welcome!
Contact Dream Chaser Racin' at dreamchaserracin@yahoo.com