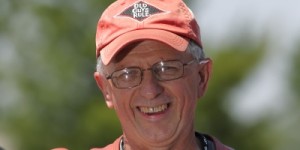 Tom Caldwell's Old Guys Do Rule Racing proved the point in 2012 as Caldwell finished 2nd in Pro Gas with the AMRA with the new 1/8 and ¼ ET and  MPH records.  He went on to win the AHDRA Pro Stock National Championship No. 1 plate. Not bad, indeed, for a guy nearing Social Security. Everything is being freshened up and the training/diet for the old man starts tomorrow.
Caldwell's lifelong racing passion has held strong thru out the 27 years of racing Harleys and he not only can race like a wild man but, he understands how racing works and has over the years has attracted a list of who's who sponsors for which he is very thankful.
2013 Tentative Schedule
April 27-28   AMRA Beech Bend Raceway,NO TF or Nitro Funnybike, Bowling Green, KY
May 30-June 2 AMRA Mason Dixon Dragway, Hagerstown, Md.
June 29-30  AMRA Beech Bend Raceway, Bowling Green, KY
July 27-28   AMRA Kil-Kare Raceway, Xenia, OH
Sept. 20-21 NHRA Bristol Dragway, Bristol, Tn  (MAYBE)
Sept. 28-29 AMRA Beech Bend Raceway, Bowling Green, KY
2012 Results:
9 No. 1 qualifiers
6 wins
2 runner up
Not too shabby for the "Old Guys Do Rule Racing Team"
Thanks to:
SOUTHERN BIKER MAGAZINE
TRAMMEL CREEK CYCLE WORKS
SA RACING (The Best heads available)
HOGSCRAP BRAND
S&S CYCLE
RED LINE OILS
PMFR
3D PAINTING
WEST HAVEN SPEED EQUIPMENT
VP FUELS
M/T TIRES
MSD
Team:
DANA ECKHARDT
STEVE ALLSTAEDT
MARY LOU BREWTON
ROBERT MINGE
CRAIG COCHRAN
RAY MATLOCK
GARVIN WIAWIAOLE
JERRY CARDWELL
JANET (Sister)
DAN (Nephew)
VA. JOHN