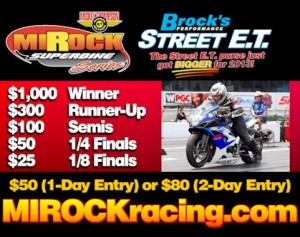 Brock's Performance has renewed their Street E.T. class sponsorship in the MIROCK Superbike Series for the 2013 season. Brock's Performance has also been a loyal contingency sponsor of the MIROCK series since 2008. The Street E.T. class is a great class for novice and veteran racers to hone their skills on street legal machines.
Brock Davidson had this to say. "Street ET is a fantastic class which provides a fun, yet highly competitive place to race for everyone from entry levels racers to the stars of our sport. I can't think of a better class for Brock's Performance to show our support in the MIROCK series."
About Brock's Performance: Brock's Performance leads the way in sportbike innovation for acceleration addicts. From exhaust systems to wheels, this championship-winning company designs, builds and sells more than 3000 products that make it easier and safer for racers and street riders to reach record-breaking results through a never-ending process of research, development and track testing. For more information about BST wheels and other Brock's Performance parts, go to www.BrocksPerformance.com.
Remember… Support Those That Support Your Sport!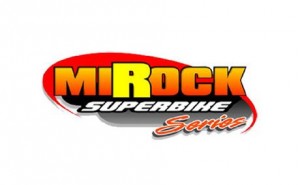 The next event for the Mickey Thompson Tires MIROCK Superbike Series will be the FBR Shop Spring Bike Open at Rockingham Dragway on March 22-24, 2013.
For more information on the Mickey Thompson Tires MIROCK Superbike Series please visit: www.mirockracing.com