If we value human life as much as we do this sport, it's time we rethink where to put the finish line when Top Fuel motorcycles are on the drag strips.  Top Fuel motorcycles that once covered the ¼ mile in 10 seconds at 100 miles per hour now cover 1320 feet of distance in about 5.7 seconds at speeds of 255 miles per hour.
Exciting for fans yes, safe for our heroes, no, not even close.  When you see these motorcycles race, if you value these drag bike pilots lives, now is time to rethink the location of the finish line location for Top Fuel motorcycles.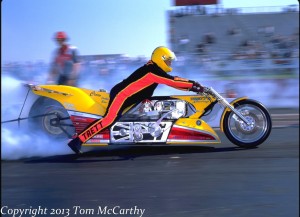 In 1950, going a quarter of a mile in 10 seconds at 100 mph was exhilarating for drag bike pilots.  Today, going 255 mph in close to five and a half seconds, traveling the same distance as in 1950, is not exhilarating for a Top Fuel bike pilot; it's cause for grave concern.  That's right grave, as in that fuel bike pilot might not come back.  Concern because if anything goes wrong the results can yield grave consequences as they have before.
Remember the following statement and mark my words well here "speed magnifies everything."  The cost of racing, the dangers, any mistakes made: the greater the speed involved, there will be an exponential increase in the consequences.
The longer the racing distance, the greater the speeds the machines will achieve.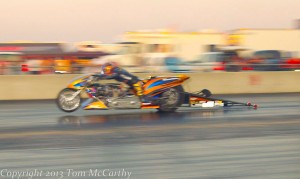 It is the responsibility of racing sanctions, to police the safety aspects that govern the conduct of racing.  They do this by setting policy on racing standards via rules to govern safety.  When the sport of drag racing began, it was initially born from the need for safer racing, to get cars and motorcycles off the streets to curb street racing.
To enhance their sport, hot rodders banded together in the 1950's, lead by Wally Parks, they formed an association known as the National Hot Rod Association.  Shortly thereafter, the NHRA launched a traveling road show known as the "Safety Safari."  They were a bunch of hot rodders who barn stormed the USA putting on drag races to promote the sport and by bringing safety and organization to it.  This was how the sport known as drag racing began, it's very roots were formed in the soil of safety first.  High performance always took a back seat to the safety aspects of the sport when this sport was first formed.  The time is now to assert this premise once again.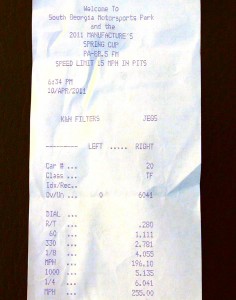 Over time, Top Fuel motorcycles have now evolved in performance faster than the racing format itself is designed to safely accommodate.  A record setting T/F bike of today can cover half the timed distance of a drag strip in less than two seconds with a terminal speed of 255mph.  Simply making race tracks longer to create, a longer shut down, even if this were possible, will only address one aspect of problem.  The real problem is two-fold: 1) the amount of speed achieved at the finish line and 2) sufficient distance to safely stop a 1000 pound motorcycle traveling at a rate greater than one football field-per-second.
Consider this; most any I-4 Top Fuel bike can achieve 230 miles-per-hour at the finish line.  At that speed, at that moment, the 1000 + pound motorcycle is traveling at 337 feet-per-second.  At that speed, if the shut down distance were 1/2 of a mile, a Top Fuel bike pilot will run out of track in exactly 7.8 seconds.  The bottom line is this; a 230mph T/F bike pilot has about eight seconds to bring their thundering beast to a safe stop.  A 255mph T/F bike has exactly 7 seconds.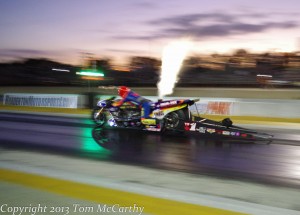 Now take into consideration that Top Fuel bikes are only going to go faster in the future. Their speeds will increase year after year, but the tracks will remain the same length.  Can a sanction, should a sanction step in and help avert another disaster before it happens?  When is now?
If the timed racing distance is shortened from 1320' to 1000' this will help safety in two ways: 1) T/F bikes will achieve top speeds of close to 230 mph plus or minus 10 mph.  2)  By adding an additional 100 yards to the shut down area, this gives T/F bike pilots an additional full second of time to slow their bikes down. This additional one second WILL help save lives.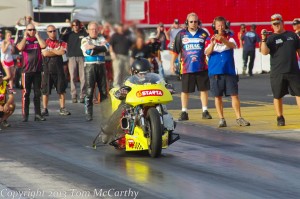 How fast is too fast, how quick is too quick?  I'm not exactly sure about that but I am sure of two things, it's time to start talking openly about this subject, and I know what the price will be and who will pay the costs if we don't.
How do today's Top Fuel motorcycle pilots feel about discussing this topic?
Larry McBride, "I'm a 1320 guy myself, but I'm not opposed to the idea."
Korry Hogan, "I'm not opposed to the idea, it's E.T. that wins races."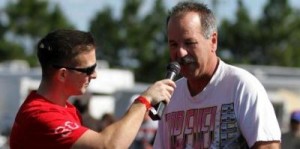 Chris Hand, "I prefer 1320' of racing, but I'm not opposed to looking at this."
Sam Wills, "I like 1320 feet or racing thank you.  But I've never gone over 240mph.  If I had, I might think differently about this."
Dave Vantine, "I'm the new kid in town, but I'm all for safety."
Geoff Pollard, "I don't like the idea, 1320' for me."
Athol Williams, "I would be very disappointed if they knock it back."
Phil Parker, "I think it would be a good move."
Gavin Spann, "I'm in favor of ¼ mile racing, I would not like 1000 foot."
Sverre Dahl, "Not sure, it depends on the track.  I like ¼ mile and I think it's safe, but it depends on the track.  It's an idea."
Chris Matheson, "I don't see the need to shorten the distance."
Rikard Gustafsson, "I know this will be the natural development because of the performance of our machines and it will be better to do this before anyone of us will sacrifice our life. Safety first even, if I love to run the 1/4."
 Jan Sturla Hegre, "I like full track, I like the challenge, it's not easy!"
Jules Boag – We need to keep racing over the 1/4 mile, 1000ft is useless.
Peter Svensson – If the length of the tracks is like here in Europe and Australia it would be the right way to go.  But if it's racing on tracks like NHRA standard I like 1/4 mile would better.
Finn Asserbo –  I would like 1000 foot because my Top Fuel Bike very old, so it can keep competitive for longer.
Ian King – Only 1320 foot is real dragracing in my view but if track conditions dictate (weather, shutdown distance etc) then it should be considered on an as need basis.
What are your thoughts? Should Top Fuel Motorcycle be contested to the 1,000-foot mark? Let us know what you think.