The high-flaming motorcycles of Top Fuel are back on the card when the Mickey Thompson MIROCK Superbike Series returns to New Jersey's Atco raceway for the 45th annual Orient Express U.S. Motorcycle Nationals, September 5-7.
But despite Top Fuelers Larry "Spiderman" McBride and David Vantine running the first ever, side-by-side 5-second motorcycle pass in July at Maryland International Raceway, the big noise in Atco is likely to come from the relatively quiet, turbocharged Kawasaki ZX14R of Rickey Gadson.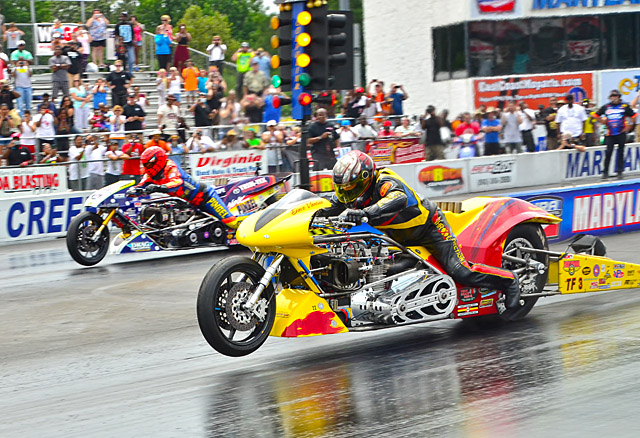 That's because Gadson is a legend of Atco Raceway, the streets of nearby Philadelphia, and the motorcycle clubs that cruise the Philly highways. Gadson's remarkable racing career began when sneaking out on his mom Vicky's bike a very long time ago and continues unabated to today. Gadson's won two straight DME Real Street races, including Real Street's quickest-ever side-by-side race last time out at Rockingham Dragway.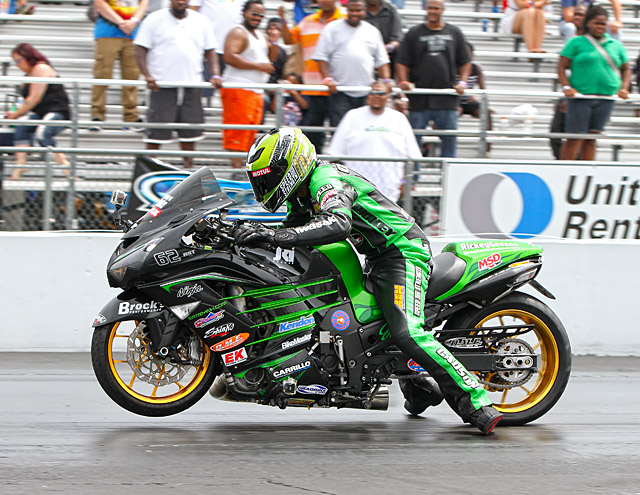 The runner-up at Rockingham was big man David Merks, who along with tuner Roger Starrette has finally gotten winning performance out of his turbo Suzuki Hayabusa. Merks, Starrette and Gadson are all making a run at points leader Jeremy Teasley, who's nitrous huffing ZX14 is having a hard time keeping pace with the turbo bikes.
And despite the best efforts of HTP Performance and others, nitrous bikes are paling next to the extremely fine-tuned performance of DME Racing's four turbo Orient Express Pro Street 'Busas. Through strict focus and refining their craft, DME has filled several all-DME finals so far this year.
Pro Street champion Joey Gladstone began his career at Atco when still in high school, then touring the country with AMA/Prostar. Gladstone and teammate Terence Angela both won at a double race weekend at Rockingham in August, but fellow DMEer Jason Dunigan picked up his first MIROCK win at Atco last year. Dunigan is oozing confidence and will be a major factor. And will Team DME have Ehren Litten's bike repaired after his dramatic top end crash at The Rock?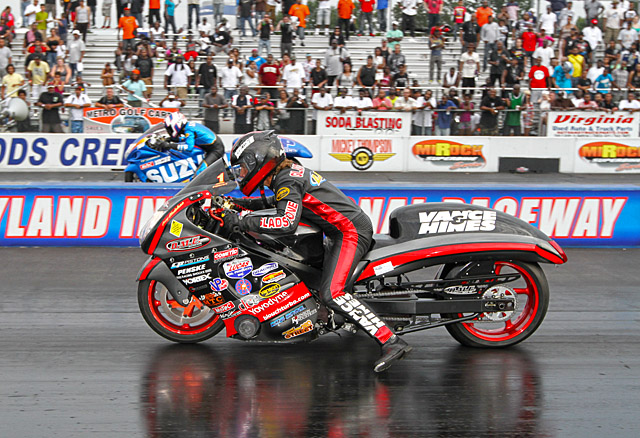 Expect Teasley, who's run 6.90 on John Drake's "No Fear" 'Busa, to make a serious run for the win as well as the sport's first 6.80 streetbike pass. Doug Gall, Gabe Frederick, Danny Cox, Ryan Schnitz and others will not let DME walk unchallenged into the winners circle.
Gadson's nephew Richard joined his uncle in Rockingham's PJ1 winners circle with his own Louis Concrete 4.60 win. The world's quickest motorcycle index class completes its business by the eighth mile, featuring equipment as diverse as Willie Jones' old school Kawasaki that Gadson rides, the contemporary Pro Mod bikes of Eran Pielert and Ronnie Smith, and the Pro Dragster nitro Harley of Dale Nilles.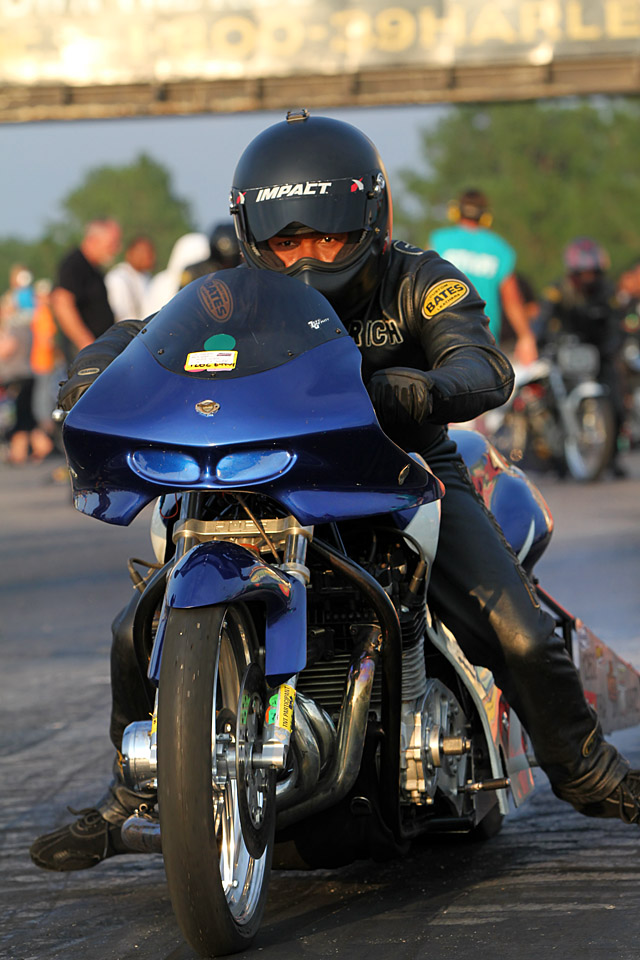 FBR Shop 5.60 points leader Michael Ostrowski will have a relatively short drive from his Long Island, New York home to Atco, so expect him to be fresh and ready to defend his Rockingham win against all challengers in this streetbike/dragbike mixed class.
Trac King/APE Top Sportsman also mixes it up, taking the quickest 32 bikes out of the Pro ET field. Ostrowski is a player here too, tied for fifth with Leslie Thomas. Jimmy Shifflett, George Shriver and Brian Canoles follow points leader Boo Brown.
Cycle Connection Crazy 8s is streetbikes only, with Teasley leading the class over Gall, Fun-For-All's Ron Arnold, Virginia's Clay Davies, Shayne Proctor and Floridian Robert Parker.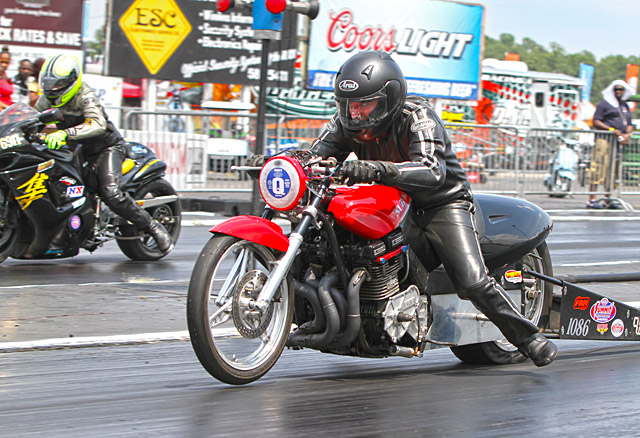 Brock's Performance Street ET and Fast by Gast Pro ET racers will fill the staging lanes with huge entry counts, featuring racers such as Kawasaki Kingpin Bob Carlson, Tennessee's Dustin Lee, Dale Hamilton, Scottie Keller, Kyron Drake,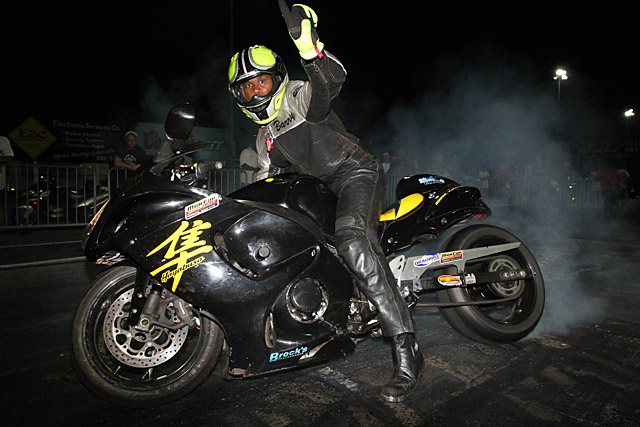 , Baybay Yarbrough, and on and on. And you can bet that Rockingham $5000 winner Brian Guarino has the MIROCK bug and will be looking for another winners circle cure.
Afterdark Underground will fill the night air with big money grudge racing as ballers, trash talkers, and wild grudge bikes from all over the East Coast take over the lanes and the quarter mile.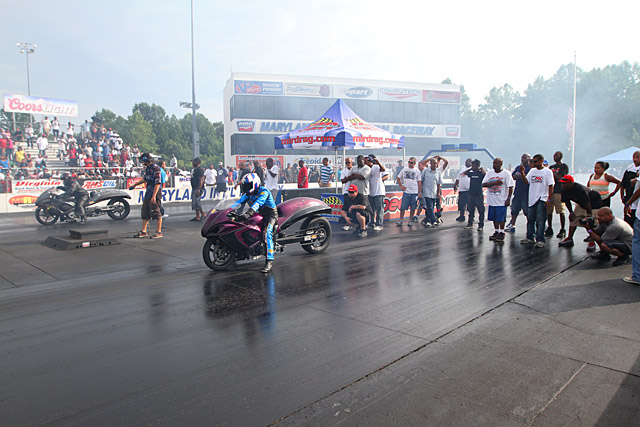 Dramatic, high speed, side-by-side, two-wheeled racing towards track record speeds and ETs are what the Mickey Thompson MIROCK Superbike Series brings to Atco Raceway for the 45th annual Orient Express U.S. Motorcycle Nationals. There is NO other place to be.
Find out more about the Mickey Thompson Performance Tires MIRock Super Bike Series: http://www.mirockracing.com
This report was prepared by Tim Hailey with photos by Hailey and Genie Muldoon. Photos are for editorial use only. Enjoy everything there is to read, see and watch about motorcycle drag racing and more at http://www.eatmyink.com