Backed by the brain power of some of the most knowledgeable and talented dragbike racing veterans, an innovative, custom, Timblin Chassis turbo GS dragbike with big expectations has surfaced – a modern-day Funny Bike is born.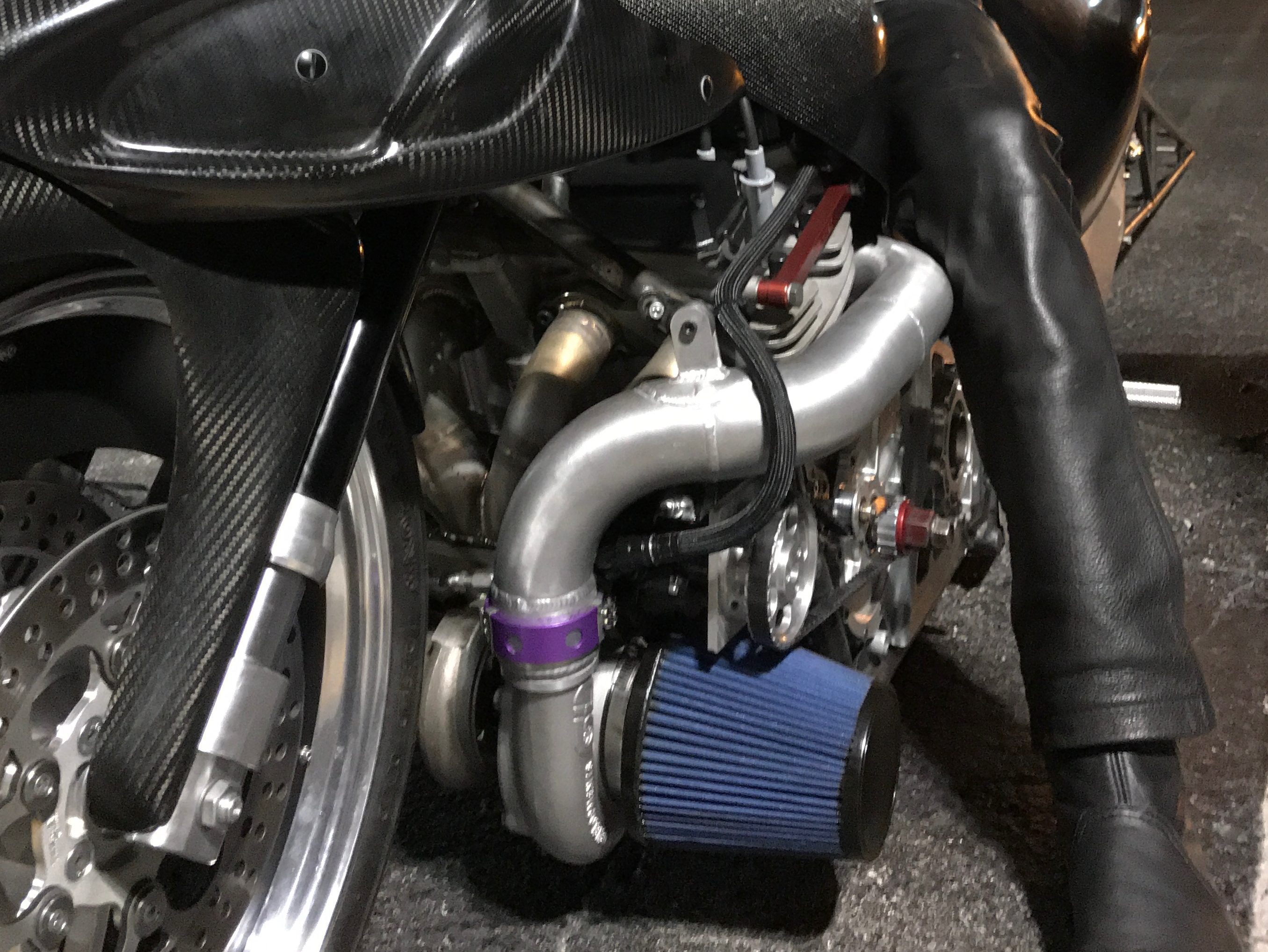 30-year-plus nitrous loyalist Dan "the Man" Wagner of DTM never thought he'd be helping to build a turbo dragbike. Then again, times have changed and so have the rules.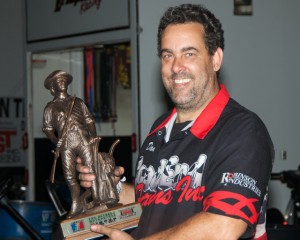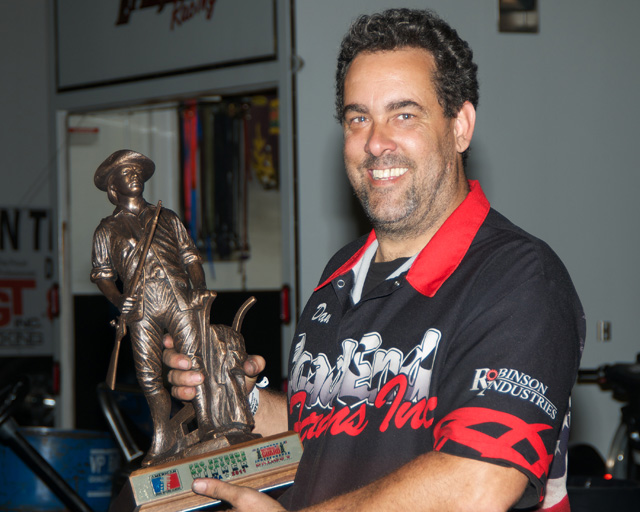 Virginia Beach-based longtime motorcycle drag racer and current 4.60 competitor Kevin Clark, 63, feels prepared to make an emphatic impact in Pro Open and Pro Mod. He was eager to assemble the quickest bike he could, so Clark, owner and operator of Ace Mechanical Incorporated, a heating, cooling and plumbing company, procured the assistance of Wagner and a plan to build a wickedly fast nitrous GS was formulated.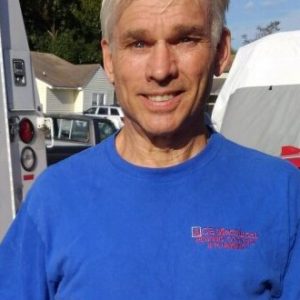 "I used to drag race a fast turbo back in the 70s and it was really exciting," Clark said. "My bike was stolen unfortunately and I always wanted to build something really fast."
Wagner says step one was starting with a state-of-the-art Timblin Chassis.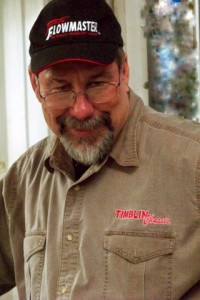 "I knew we needed a top of the line chassis for the build," Wagner said.
Shortly thereafter another masterpiece was rolled out of Timblin Chassis in Baxley, Georgia.
"I built the chassis the best I could and incorporated all the best changes I think will work," said veteran frame producer and record-holder Walt Timblin.
The build was off and running. After several arduous weeks of work Wagner had the motorcycle about 60-percent complete when the project took a sharp turn.
"I had the motor built and all the nitrous on it. I sent Kevin a picture and out of the blue he said let's change it to a turbo," laughed Wagner. "I couldn't believe it. I started taking the nitrous nozzles out, and changing the pistons and cam timing. It was not very cost effective but I was on-board."
Clark's motivation was the immediate success of turbo racer Ehren Litten in the PDRA Pro Extreme Motorcycle class. Over the off-season PDRA opened up the rules to allow turbos in the category and Litten has impressed the field with what he has been able to do in a short period of time, even winning an event.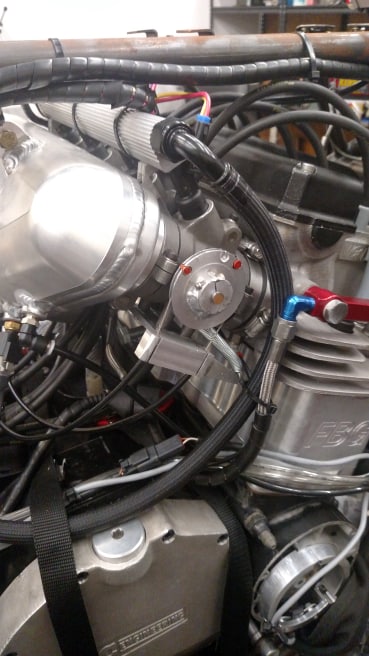 "The splits Litten has produced have eclipsed anything nitrous bikes have done," Wagner said. "Clark wanted a nitrous bike because it was the fastest thing out there, now the turbos are the fastest things out there. It makes sense for what he wants to do"
Clark expressed a similar sentiment.

"I wanted something we could push the limits on" Clark said "That's why I stayed with the GS."
Turbo expert Andy Sawyer of DME Racing and electronics guru Steve Nichols of Maxx ECU were brought on board to share their extensive knowledge of this combination.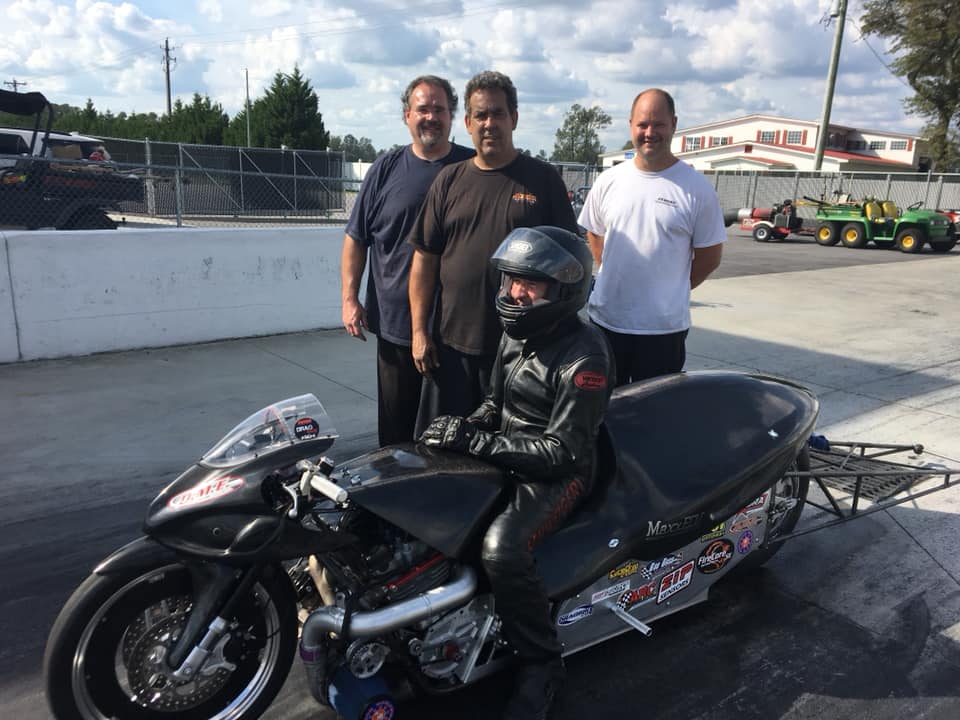 "It's exciting and neat to be a part of it. It's been in the talks for years with the article on Cycledrag.com (link below)," said Sawyer who has experience running a turbo Suzuki GS in 2003 in the defunct Outlaw Pro Street class. "Our experience and knowledge with turbos has come forward one-thousand percent since 2003. We would like to incorporate everything we have learned on the Pro Street Hayabusas and put it into this. It will have the best of everything for what we can do with a turbo system."
It has required several upgrades in the electronics department by Nichols.
"We spec'd out fuel injection and a Maxx ECU for this methanol turbo (VP M1) combination and learned how to apply EFI to this project," said Nichols, who is revered as one of the foremost specialists in this space, using similar fuel injection systems on the Pro Street Bikes of Honda racer Frankie Stotz and Suzuki GS rider Richard Gadson. "I expect us to have more power than ever before with this platform."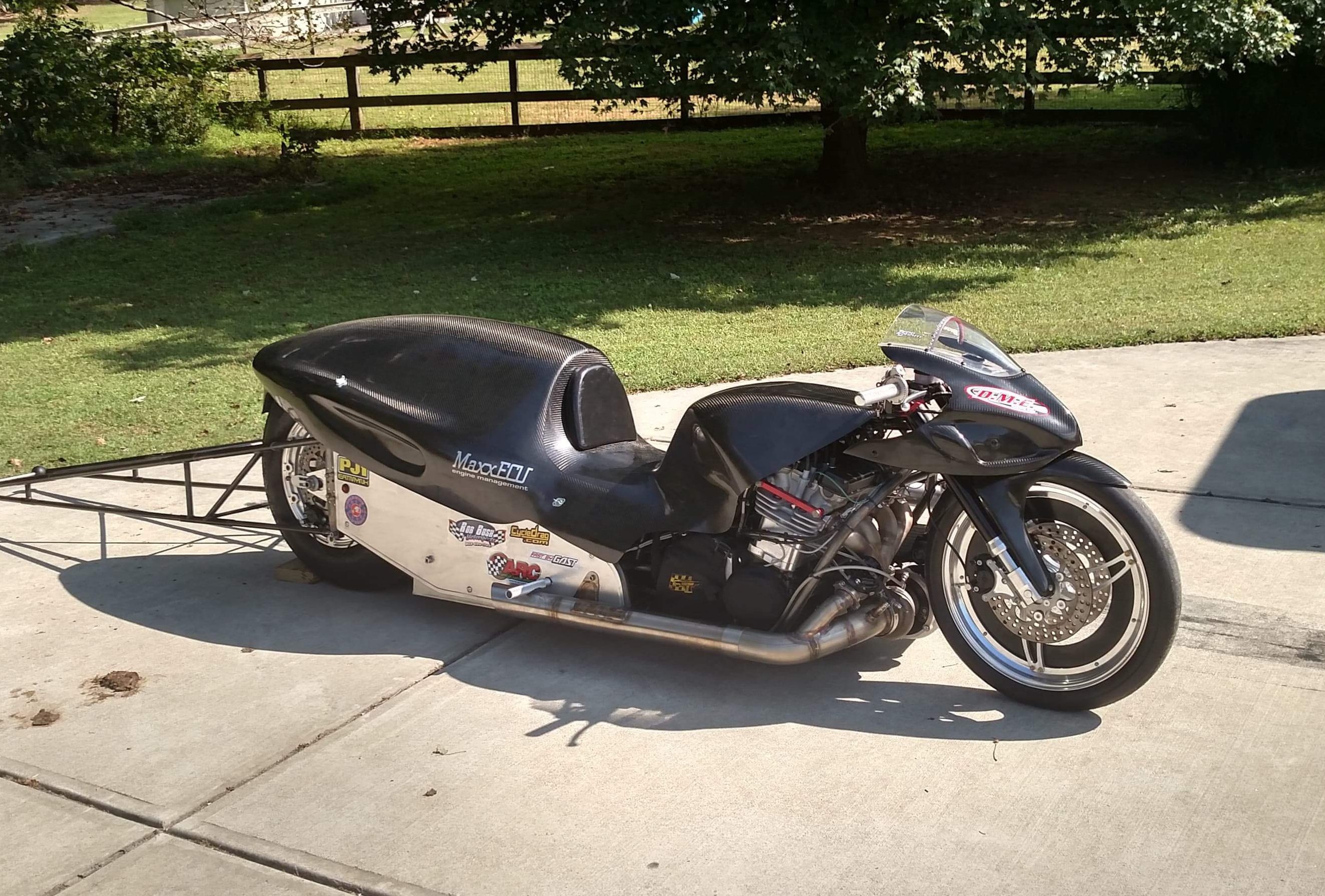 In 2004 Nichols designed the ground-breaking Magneti Marelli system for the Pro Street Bikes of Kent Stotz and Barry Henson. He has been active in Pro Stock Motorcycle, helping George Bryce and George Smith with their EFI programs when the Buell was introduced and is currently working with Matt and Angie Smith.
Nichols has high expectations for the motorcycle but says there is still a lot to be learned.
"The GS is proven but it is not without its problems," Nichols said. "The bike has shown great promise with a 1.03 60-foot. If all goes well and the bike goes straight, and the rider does his job, 3.90s at 180 mph should happen pretty quickly."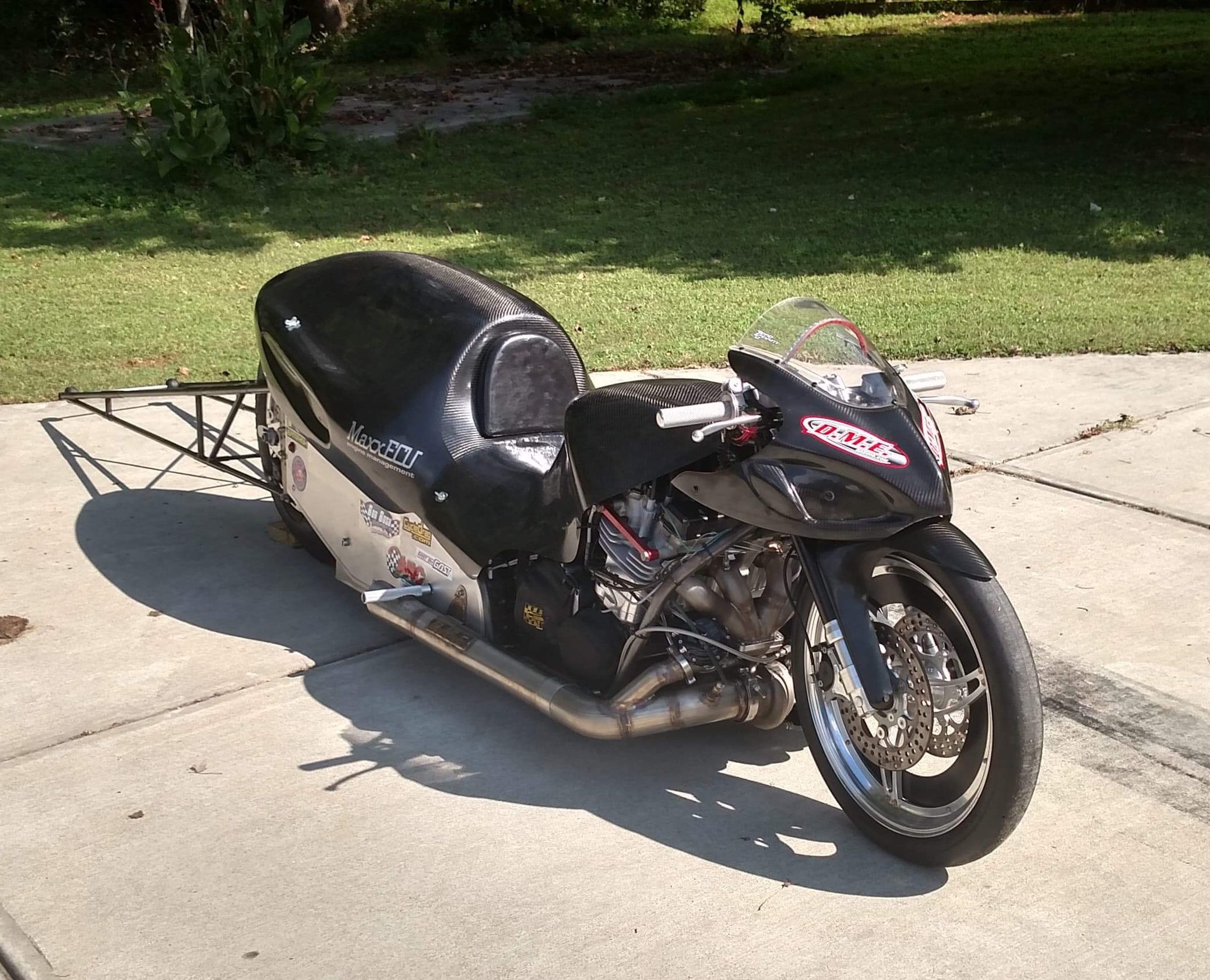 Wagner says the technical ability of Sawyer and Nichols has been paramount.
"They are the backbone of this deal," Wagner said. "I just assembled the bike under their knowledge."
Not many changes were needed to the chassis after the combination switched from turbo to nitrous.
"We had to change some brackets for the mechanical fuel pump, but that's it," Timblin said. "We wanted the best working piece for the horsepower we were putting in. The size and wheelbase is similar to Paul Gast's and Meshal Al Saber's (Kuwait Pro Mod Bike racer who ran 3.95 with a Timblin Chassis)
Like Sawyer, Timblin says a much-debated and popular Cycledrag.com article from 2015 asking if a modern Funny Bike could run in the five-second zone is what really inspired the project. Read that article here
"That got everyone talking and everyone thinking," Timblin said. "We have big expectations for this thing. I think it can go in the 3.80s and turn the nitrous world upside down."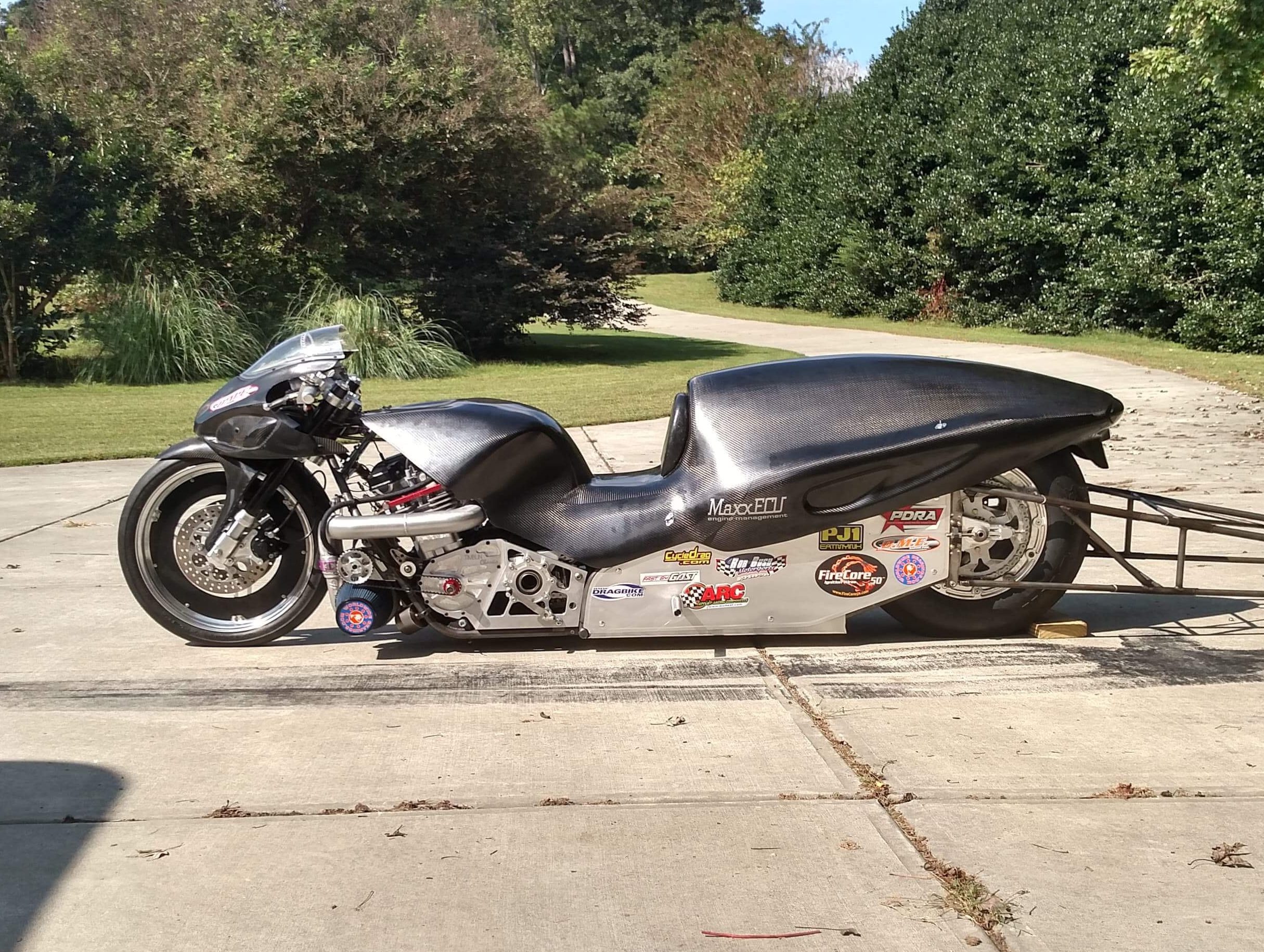 Much of the turbo technology and advancements have come from the Pro Street class and development of the Hayabusa engine. Wagner says sticking with the GS put the team in unchartered, but exciting, territory.
"It's been a lot more work and re-designing," Wagner said. "There is nothing made for a 1,600 c.c. fuel-injected, turbo, two-valve GS. That has been our biggest hurdle. Everything has been a custom."
It's a combination that required some initial troubleshooting.
"The old GS motor did not produce enough oil pressure to support the turbo we have," Wagner said. "We are working through all these issues."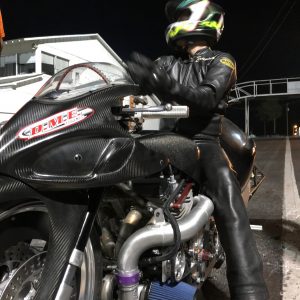 Clark knows the research and development phase could be costly.
"One mistake could get expensive," Clark said.
Talented racers Brunson Grothus of Grothus Dragbikes and Travis Davis of Davis Racing got to make some of the very first test shots. Valuable data was gained and Wagner and team are prepared for the next step.
Skilled Pro Mod racer Terry Schweigert was next to test the motorcycle and on October 3rd recorded an impressive 3.99 at 178 mph.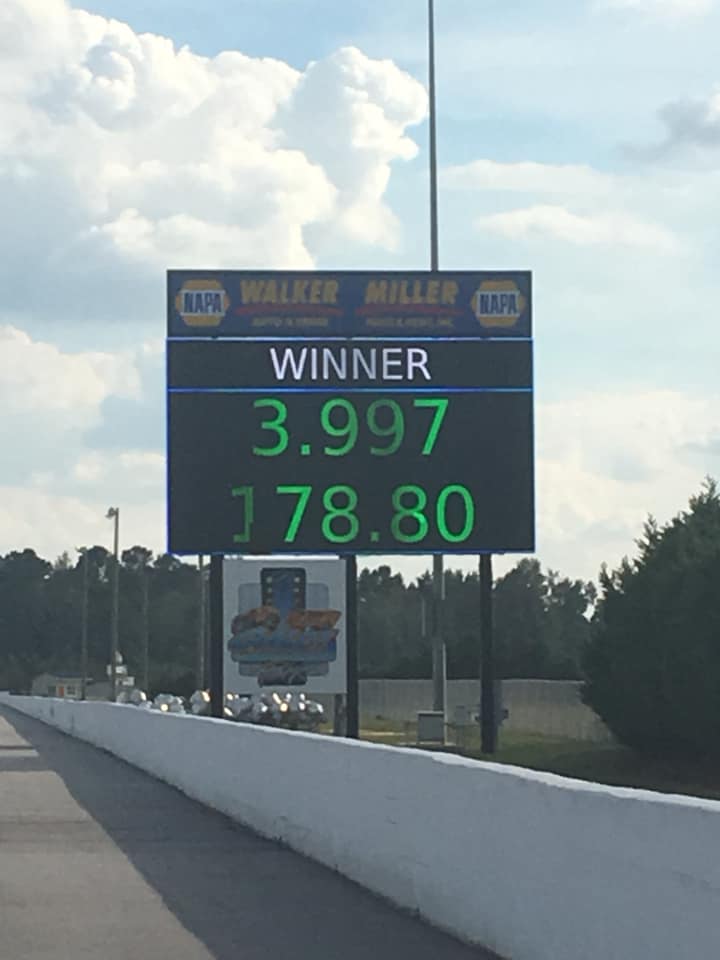 The run was enough to put a big smile on Scweigert's face.
Clark plans to enter Pro Open at the Man Cup Finals, Nov. 16-18 in Valdosta, Ga.
Timblin says the bike has been a group effort and the first turbo five-second run is an achievement that would honor everyone involved for years to come.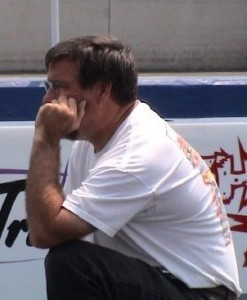 "That would be a real milestone. I think it is a five-second piece," said Timblin who lays claim to the first 200 mph small tire bike with Matt Smith and some of the first 3.90 Pro Mods. "To go in the 3.80s would be a big accomplishment. I'm really excited about the turbo bikes coming back."
Clark is in awe of the creation this team has crafted.
"It's something to see. No one has seen anything like this," Clark said. "We will be producing a lot more torque than ever before."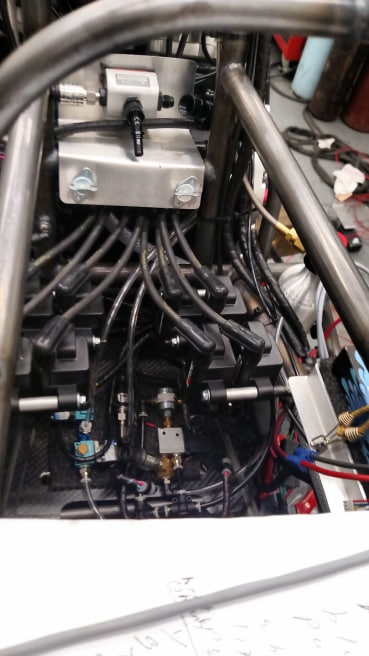 Clark himself has high expectations.
"I'm hoping 6.0s and 5.90s at 230 mph," Clark said. "In comparison to what the gas bikes are doing I think it's possible. They are going 220 mph with gasoline, smaller motors and smaller turbos. We are running bigger everything and methanol that will let us really crank the boost."
Sawyer, like everyone else involved, adores being a part of the team effort.
"We are trying to combine all of our knowledge to hit a homerun," Sawyer said.
One thing is certain; for all involved it's a true labor of love.
"It's not about money," Wagner said. "For anybody to do this right they need a passion and everyone involved has it."
And it's Clark's passion that is leading the way.
"I'm not a millionaire but I have put every dime I have into this bike. I'm going all in," Clark said. "I can't tell you how much I appreciate the help of everyone. Everyone involved is thrilled and wants to see this work, not just from a business standpoint but for the love of the sport. Dan has been the main builder and supporter of this and I thank him greatly."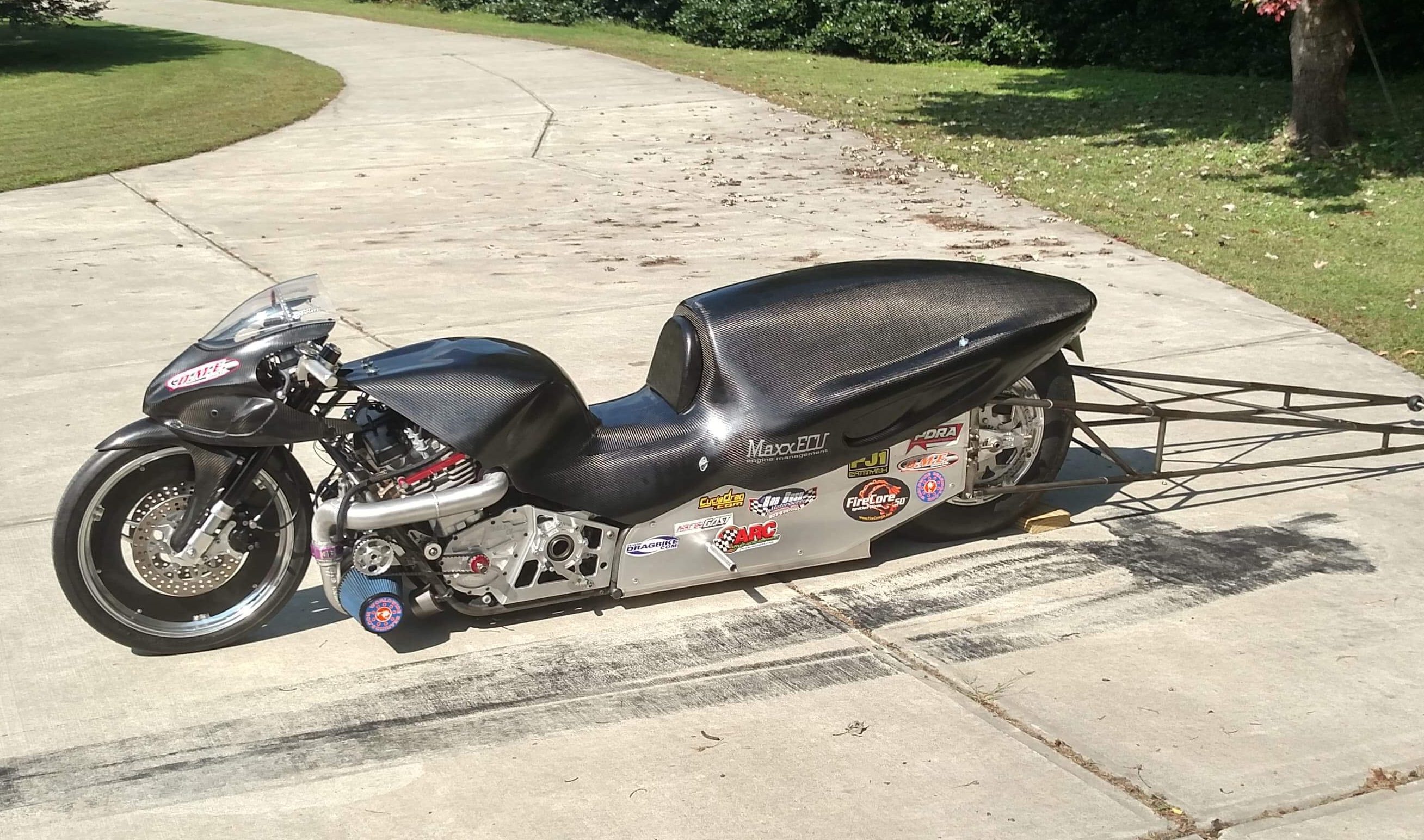 Will we see the first turbo five sooner rather than later? Please share your thoughts on this epic build.
Wagner thanked Road End Farms, DME Racing, Timblin Chassis, Worldwide Bearings, Maxx ECU, Robinson Industries, ARC, Fast by Gast, Firecore Spark Plugs, Owens Developments Turbos, Steve Rice Racing and Rob Bush Motorsports.