Several times in the past on the Cycledrag.com Facebook page (please like and share) the question was raised, how quick could a modern Funny Bike, turbo-charged, wheelie bar machine, run if all of the most modern technology, engineering and data was used? Would a five second run be plausible?
No one has come within two-tenths of a second of running a five-second turbo run. But with Funny Bike no longer an official class, not having been one in more than a decade, has anyone really tried?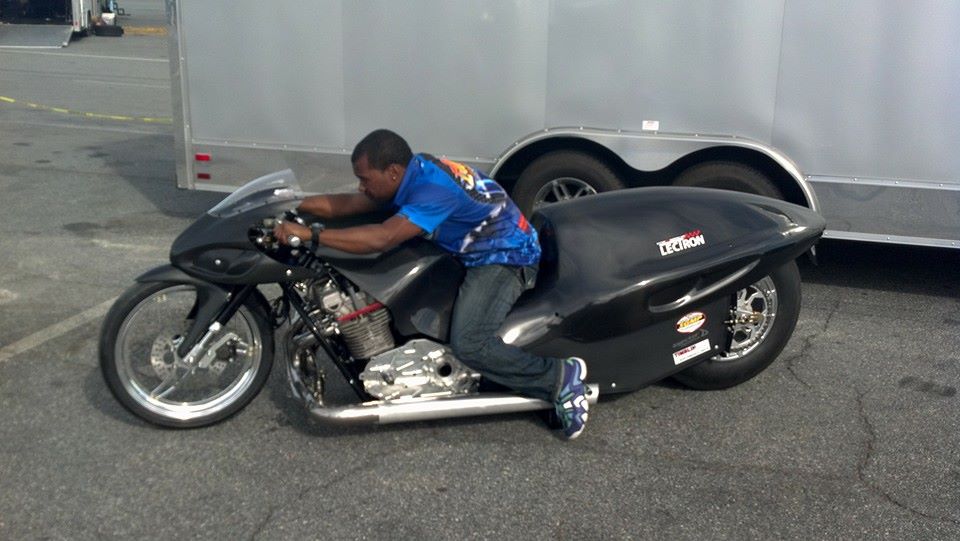 Perhaps because of the expense combined with the category's uncertain spot in the sport, no one has assembled a Funny Bike using the same high level of technological advancements as competitors in the Pro Street and Pro Extreme/Pro Mod classes.
With Pro Extreme motorcycles running threes to the eighth-mile mark, including Ehren Litten's turbo-charged entry, and Joey Gladstone running 6.50s on a small-tire, no wheelie bar, turbo Hayabusa Outlaw in Pro Open, would a modern Funny Bike, if built right, run in the five-second zone?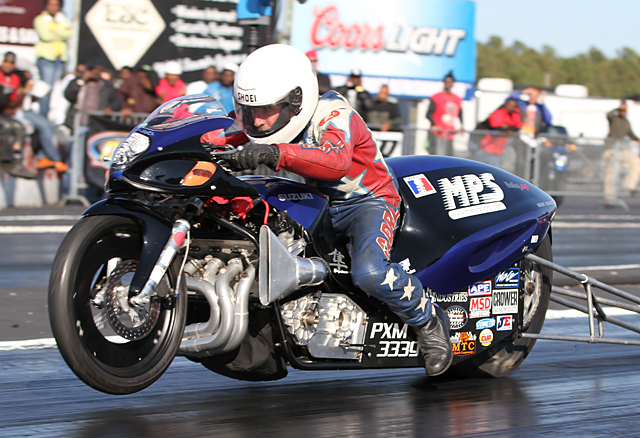 This topic lead to more than 250 comments on the Cyceldrag.com Facebook page.
On one side of the debate was the legendary and vocal Billy Vose, who does believe a modern turbo dragbike would be in the fives.
Vose authored this strong Facebook post – "Many 6.0s have been run with 4.0 eighth-mile times. Better look at what DME back-halfed on gasoline only. Some might even be surprised at the weight of that bike. I remember all too well many of the walls that were believed to be impossible to overcome by so called experts that somehow got broken. The things that are so quickly dismissed, even though all the math is there to support a five-second run being possible by a Turbo Busa. Fragile Egos and old tech can only hold people back."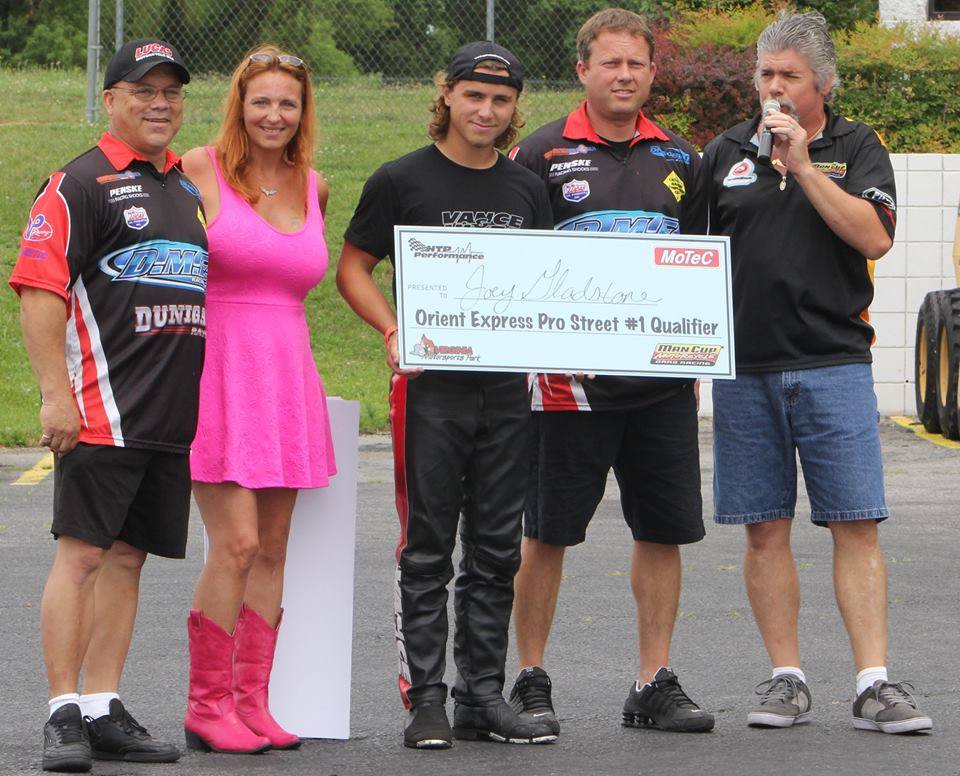 On the other side was turbo expert and former ManCup announcer Bill Hahn who countered with this equally strong post – "The distance between even 6.20's and the fives is a virtual universe. We know this just because of how long it took TF bikes to cross that gulf…it took years, and heck, we've still yet to even see a 6.20 pass out of a Funny. As Larry McBride can tell you: Making enough power is one thing…but using it for all 1320 feet is quite another. Those who'd speculate that a five-second turbo combo could be built tomorrow are just not being serious with themselves. I'm calling that bluff."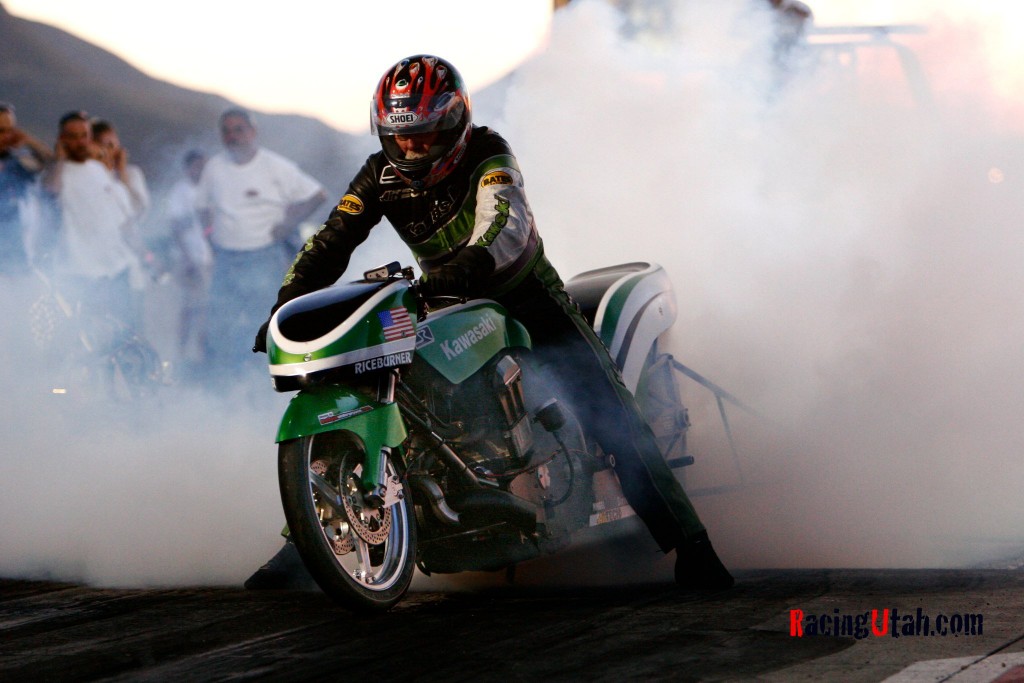 We consulted with a chassis expert, a man who many have credited for the tremendous improvement in performance in the Pro Extreme class, frame builder Walt Timblin.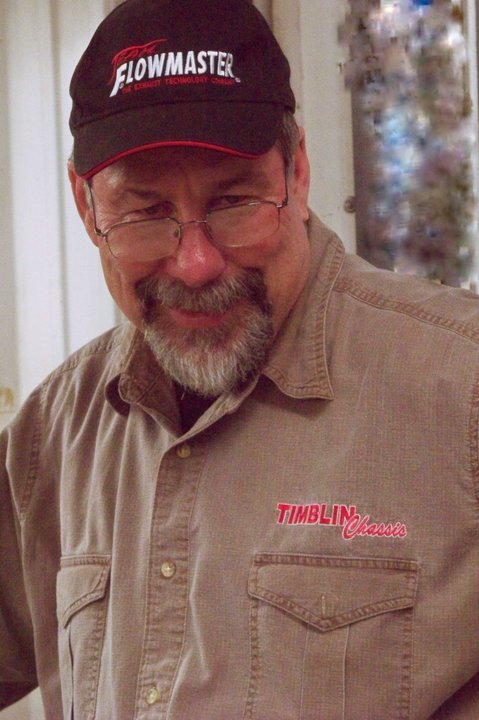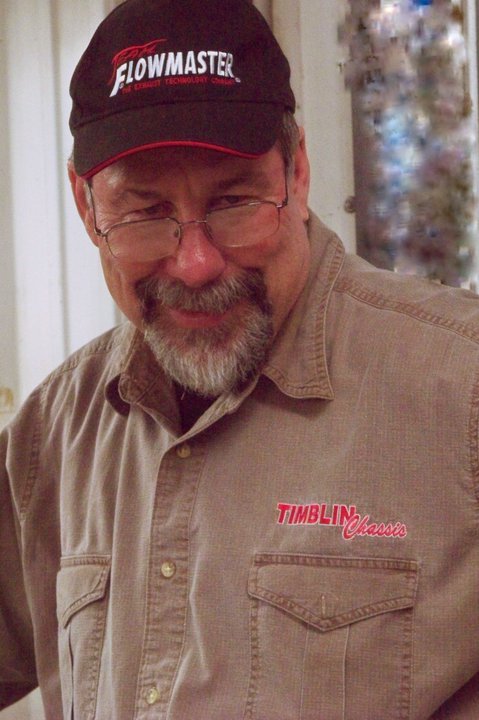 Timblin's short answer to whether or not a modern Funny Bike could run fives is a quick, "Yes."
"From what we have learned with Pro Mods/Pro Extremes and how to improve the 60-foots, with the extra power of a turbo and an E.F.I. (electronic fuel injection) system, it would have to go fives," Timblin said. "Travis Davis was one of the last to have a more updated bike. He ran 6.40s at 216 mph, but it was heavy and the electronics and controllers were way out of date. The chassis, tires and wheels were not nearly what they are today. Short times back then were 1.05-1.06. Now with better traction and a better chassis they are .980 and .990s."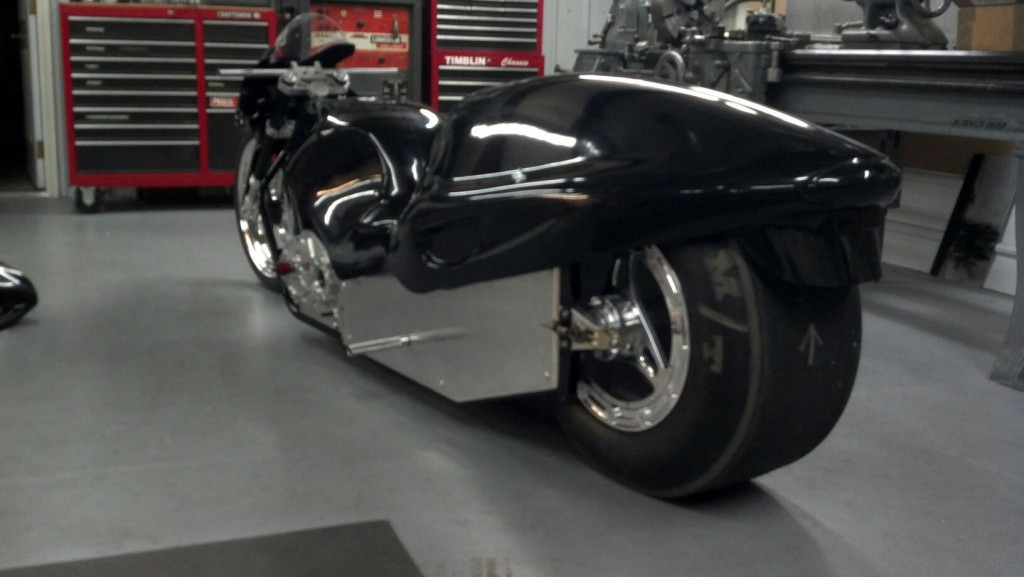 Timblin points out how the quickest Funny Bikes of yesteryear used 13-inch Goodyear slicks and skinny rims. Timblin says that combination has been greatly improved.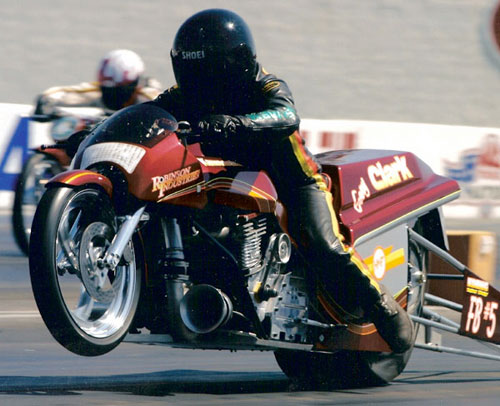 A modern day Pro Mod set-up uses a 10.5-inch tire with a 13 or 14-inch wheel. Like Vose, Timblin thinks a Funny Bike would find much better performance running this combination as opposed to the giant slicks.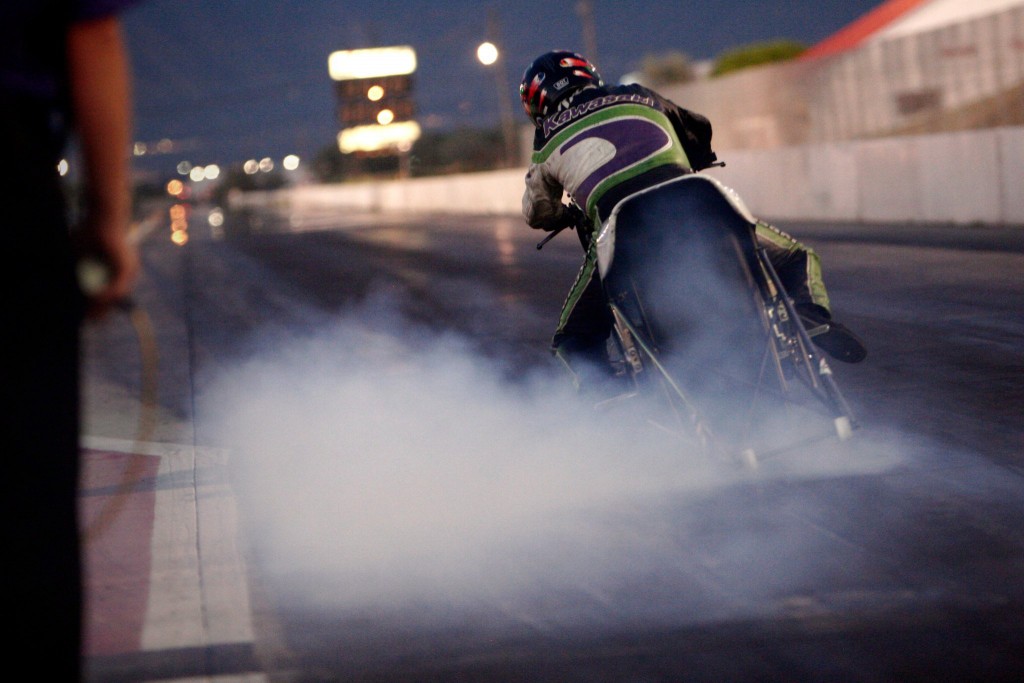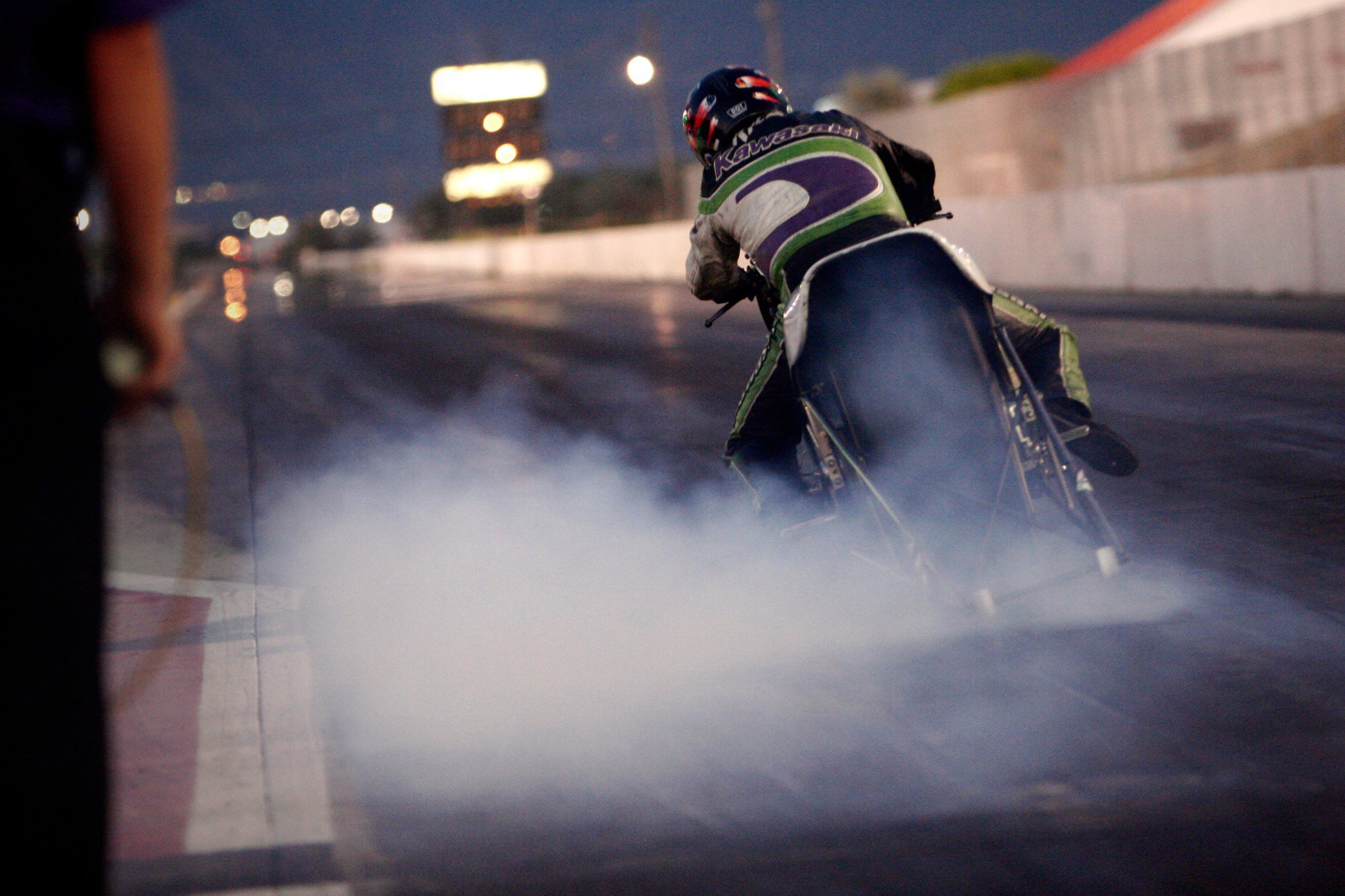 "A narrow tire and a wide rim give you a lot more control. It doesn't shake the tire. And with the wider rim it plants more rubber on the ground all the way through the pass and it doesn't grow. The skinny wheel and wide tire grew a lot. You have more of a footprint with the 10.5," Timblin said. "Plus the compounds for the smaller tires are so much better than what we used to run."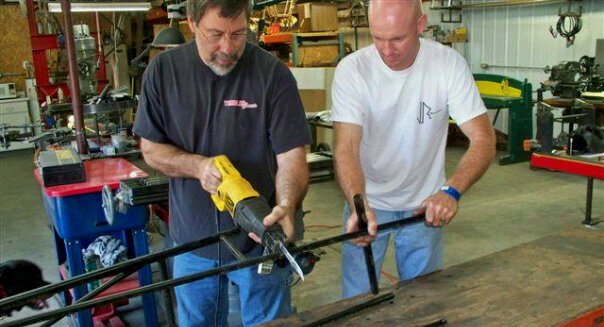 Larry "Spiderman" McBride knows what it takes to run fives. He was the first motorcycle drag racer to accomplish the historic feat in 1999.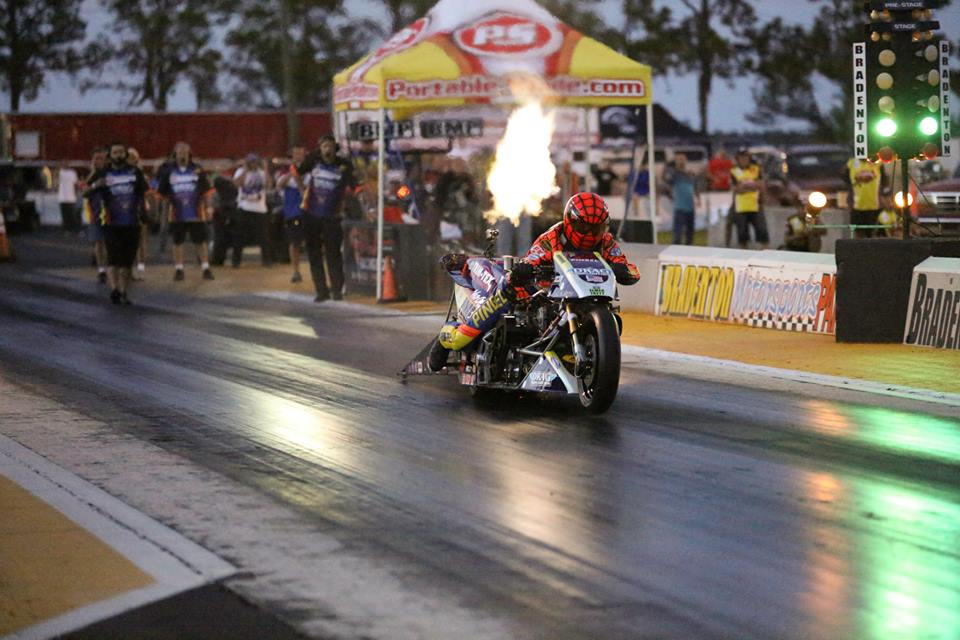 "The way they have turbos working today, I definitely think it's possible," McBride said. "I think you would have to have custom cases to accept a clutch similar to mine. I don't think stock OEM clutch plates would get it done."
Current Pro Mod/Pro Extreme Bikes can run in the 6.20-6.30 range, or better, in the quarter-mile right now. Eric McKinney has one of the quickest PXMs out there.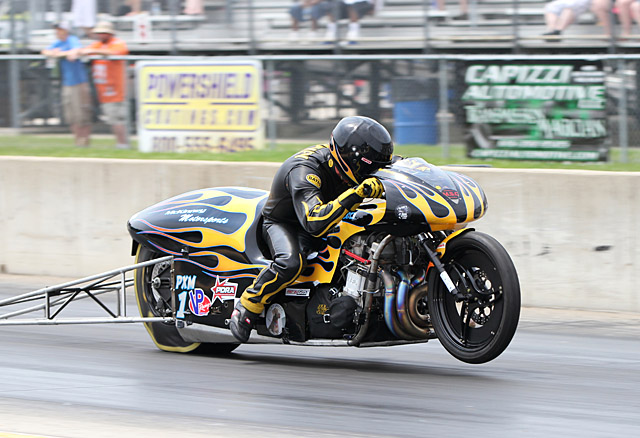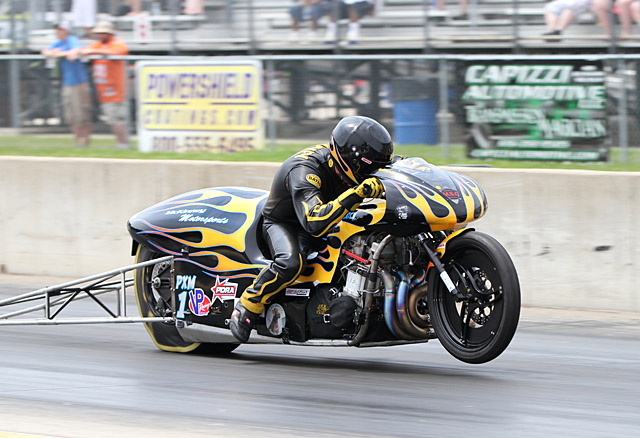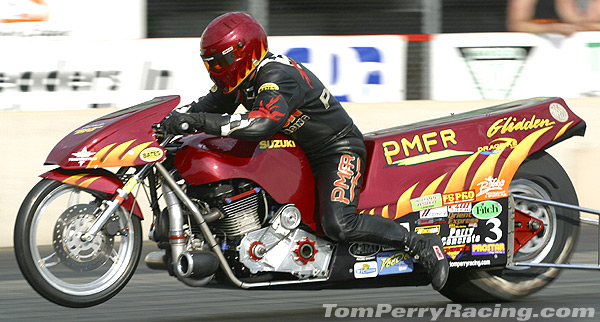 The demise of the once-thriving Funny Bike class and the gravitation of turbo gurus to no-bar racing are factors that have held back the progress of turbo-charged bar bikes.
Timblin says lack of commitment and participation is what led to the Funny Bike demise.
"I told them years ago. We were all out eating with Keith Lynn, Gary Clark, Travis Davis, John Davis and the whole crew. I said the problem with you guys is you can't get three of you together to come to race," Timblin said. "You guys like to build them and brag on them but you don't come to the races. When you don't come, it's like not using a muscle. If you don't exercise, what happens to your muscles? They go away. That's what happened to the class. It went away."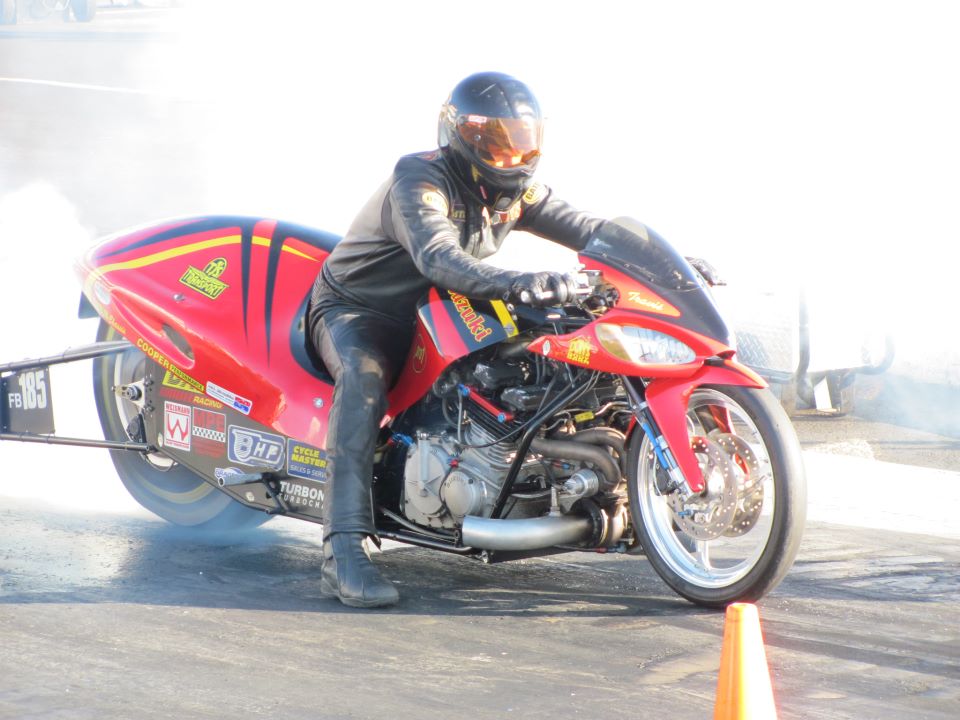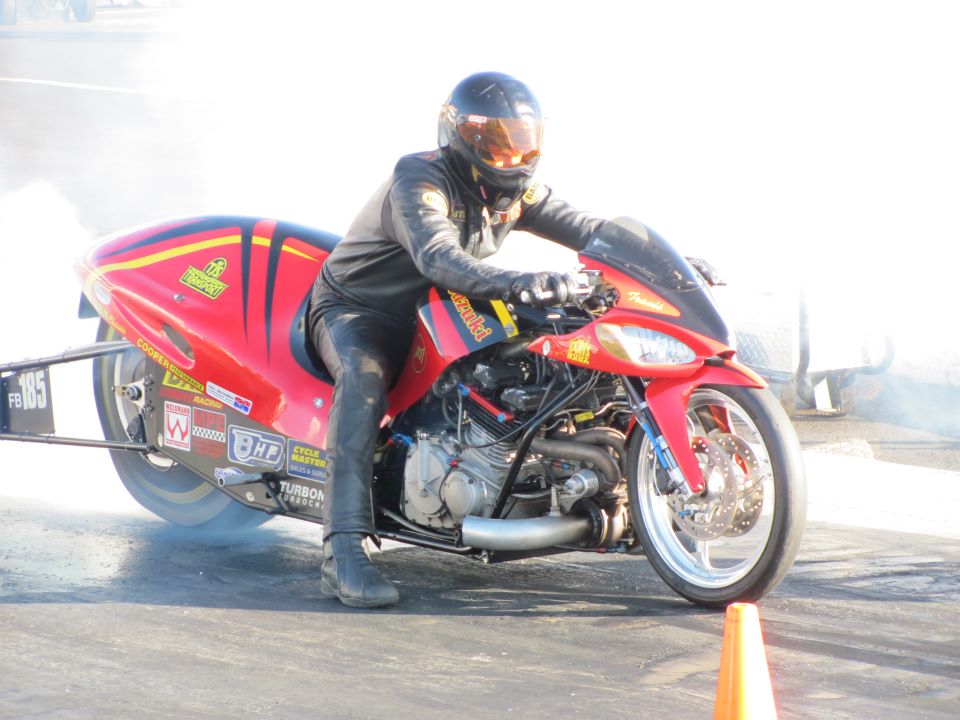 Funny Bike has a long and storied history in the sport of motorcycle drag racing.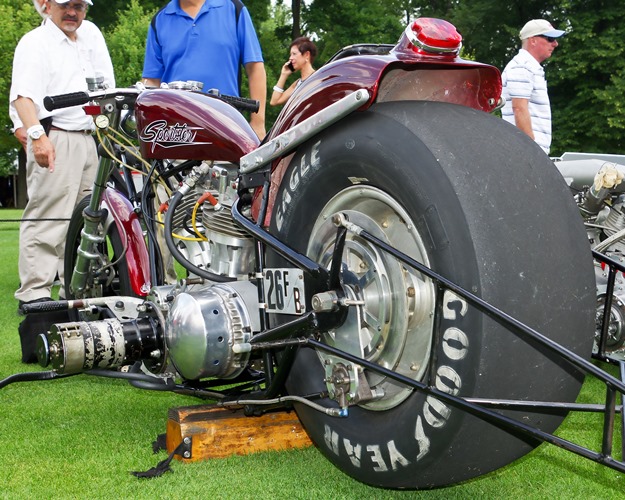 Before George Bryce of Star Racing was a six-time NHRA Pro Stock Motorcycle championship-wining team owner, he was a standout Funny Bike racer. Bryce won Funny Bike titles in the IDBA, NMRA, and he won the prestigious NHRA U.S. Nationals.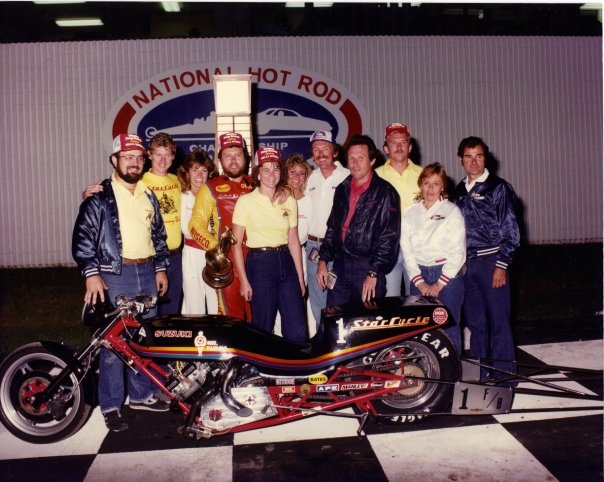 Bryce feels his team could build a five-second Funny Bike with enough time and money.
"If you have the imagination and the funding, seemingly impossible things are possible," Bryce said. "Gary Clark ran in the mid-sixes over 10 years ago. Mark Paquette showed some impressive speed. The potential is there."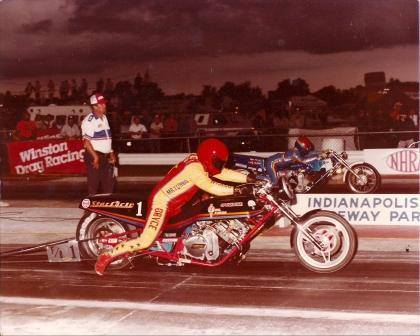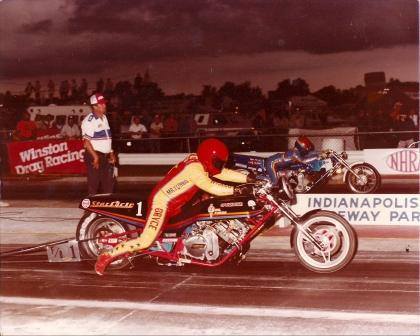 That's not to say Bryce thinks the historic first five-second turbo run would come easy.
"I stand in awe of Larry McBride and his competitors' performances. Also the no-wheelie bar, mid-six second runs we see now with regularity, are just as awe inspiring," Bryce said. "Gladstone's 6.50 on an Outlaw in Pro Open was amazing. But a lot of fans don't realize the aerodynamic wall that exists at around 200-210 mph. As you make a motorcycle bigger and stronger, aerodynamics become a huge factor. You may also start breaking the weak links."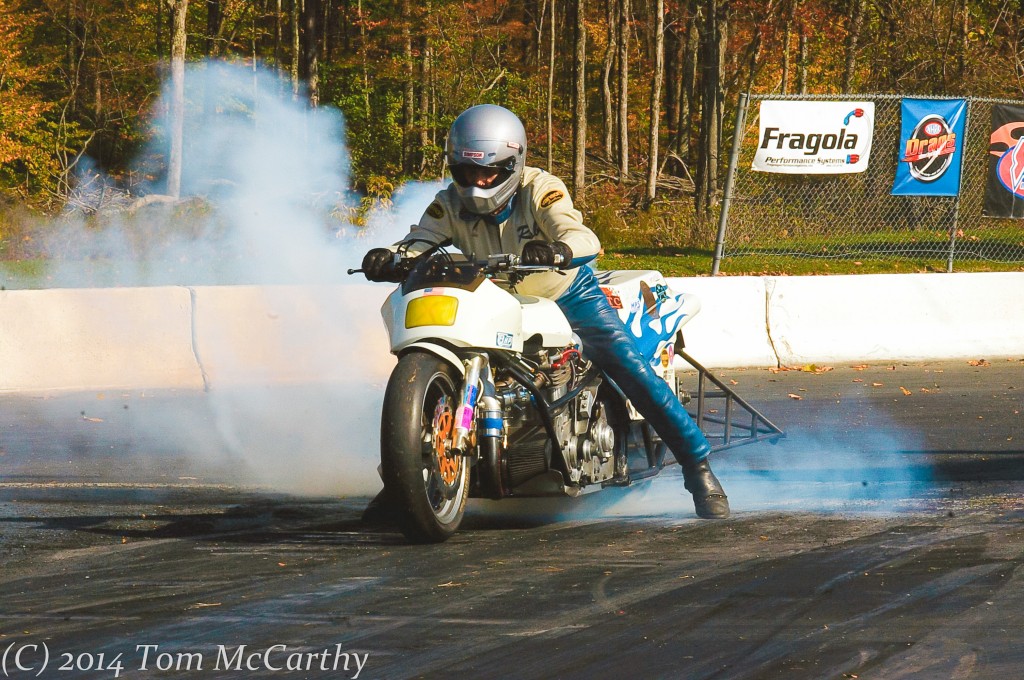 Paquette, of Michigan, was the most recent leader in Funny Bike performance. He had a machine capable of 6.3 performance, before selling his bike.
Timblin saw room for improvement on Paquette's bike.
"It is a little short and I don't think he was as wide as he should have been on the rim," Timblin said.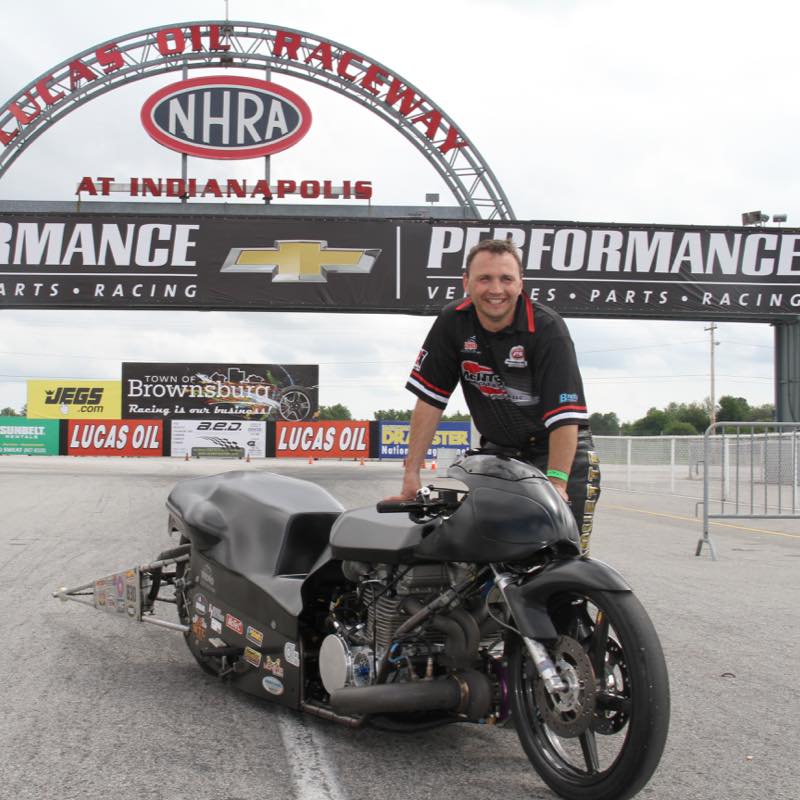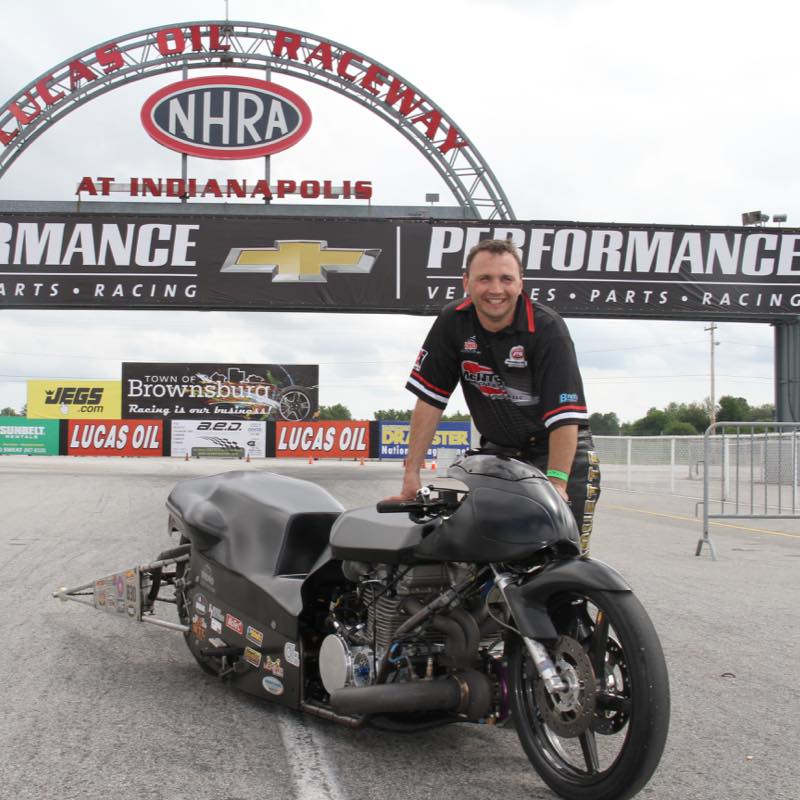 Timblin feels he could build a chassis that would take a Funny Bike into the fives.
"Yes," Timblin boldly proclaimed when asked. "Vose and I agree a small c.c. Busa setup would be the way to go. Basically it would be exactly what DME ran in Valdosta with the 6.50, only it would be longer and have a bigger wheel on it."
As for the 6.50, where did the dramatic increase in performance come from, vis-a-vis Outlaw Pro Street bikes of the past which ran in the 7.20 range?
"For one, Pro Stock Motorcycle technology has transferred over to our class. Vance and Hines gives us an amazing cylinder head," DME team owner Dimey Eddinger said. "We also tried many new things. We've come a long way and we are still learning. Every day is something new."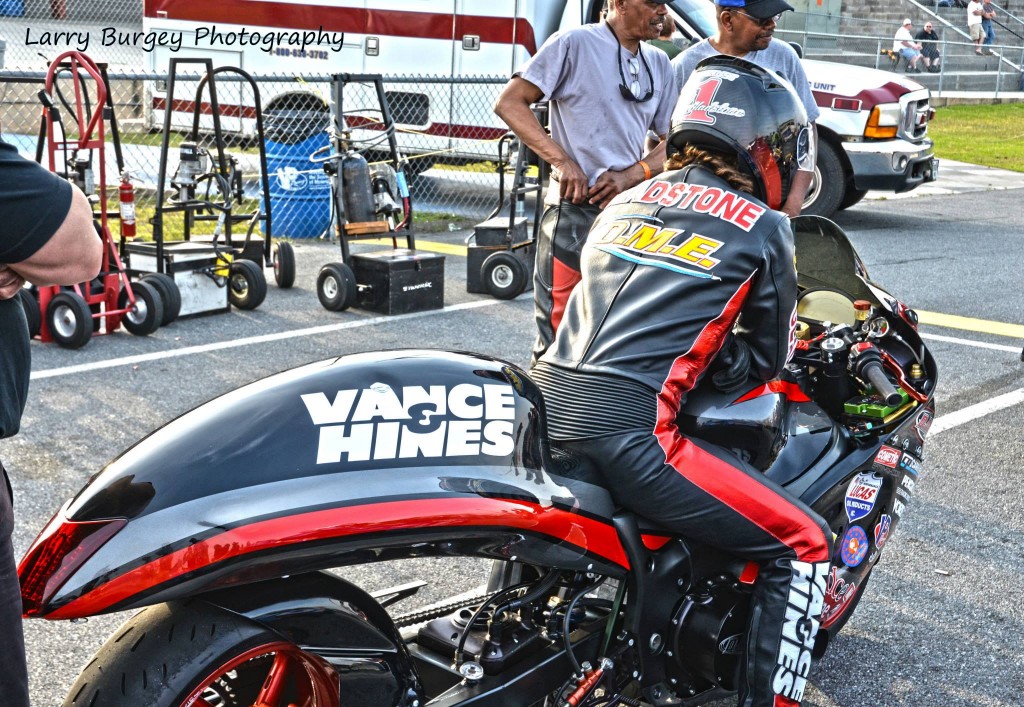 Longtime Pro Mod competitor, builder and tuner, Rob Bush of Rob Bush Motorsports, also believes a Funny Bike utilizing all of the modern resources could be in the fives. Bush astutely points out; nitro could have helped accomplish the goal.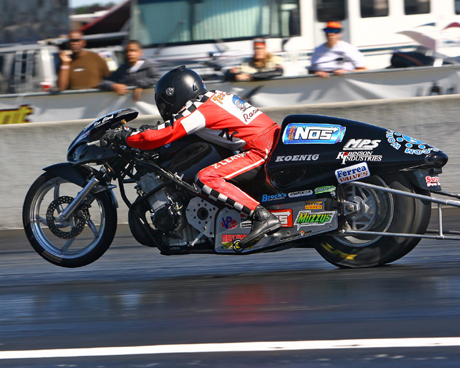 "Look at the numbers these no-bar bikes are running and they are not even pushing the envelope. It's definitely possible right now," said Bush, who was part of the first team to put a Hayabusa in the six-second zone. "If John Sands (legendary nitro Honda racer) was still alive he would have put a Funny Bike in the fives by now. He would have done it with an injected nitro combination. He was very interested in building an injected nitro Hayabusa that would have been legal in Funny Bike at the time."



Does Eddinger feel he could put a Funny Bike in the fives?
"I think so," Eddinger said. "I know we could get a whole lot closer than 6.20. I think in the past the stuff that was used on Funny Bikes was so much heavier. Unless we found a weak link somewhere, everything would be much lighter."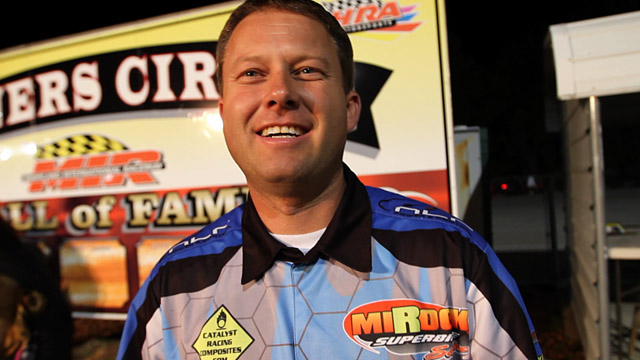 Joey's father, Skip Gladstone feels confident his team could build a five-second turbo motor.
"To run a five with a Funny Bike, I would use the same tire they use in Pro Stock Motorcycle to eliminate parasitic drag. A big tire hooks up better but it is always a horsepower drainer," Gladstone said.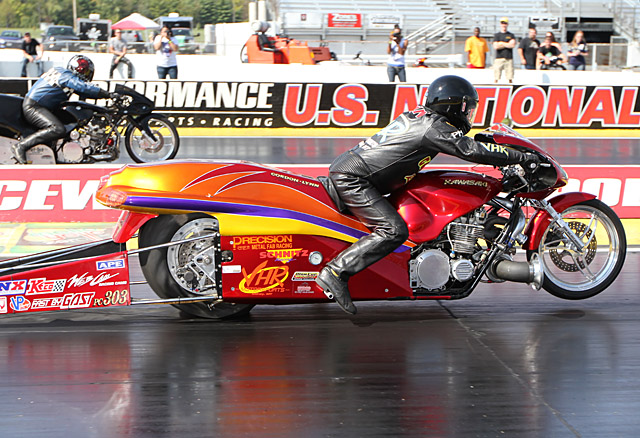 It seems the debate over ideal tire size is just as controversial as the debate over whether a five-second turbo run is possible.
McBride uses a massive tire on his Top Fuel motorcycle, a 14-inch Mickey Thompson.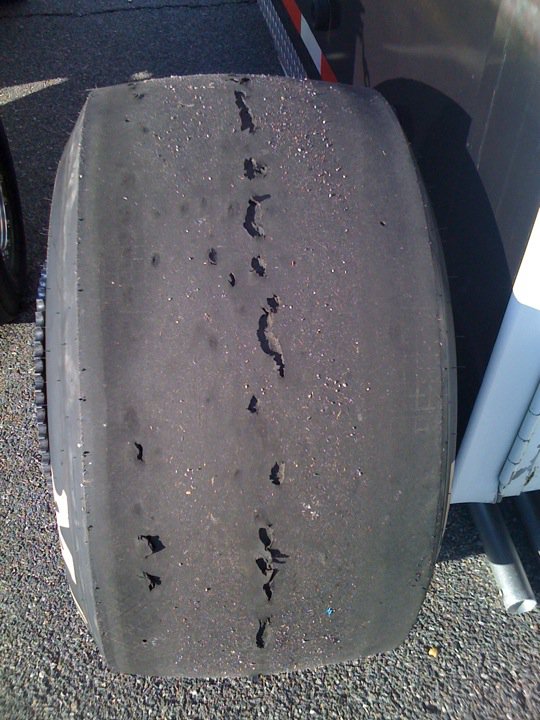 "I think a bigger tire is necessary because with more horsepower you are going to run into traction issues. You need a tire to hold the power," McBride said. "If you go too light it would be unsafe."
Bryce has a different formula for selecting the correct drag slick.
"It all comes down to pounds per square inch of what's touching the ground," Bryce said. "Let's say based on Joey's weight and contact patch, he has about 40 pounds per square inch. Then you got Larry, who is more like eight pounds per square inch. In the engineering world the perfect combination would be somewhere in between the two."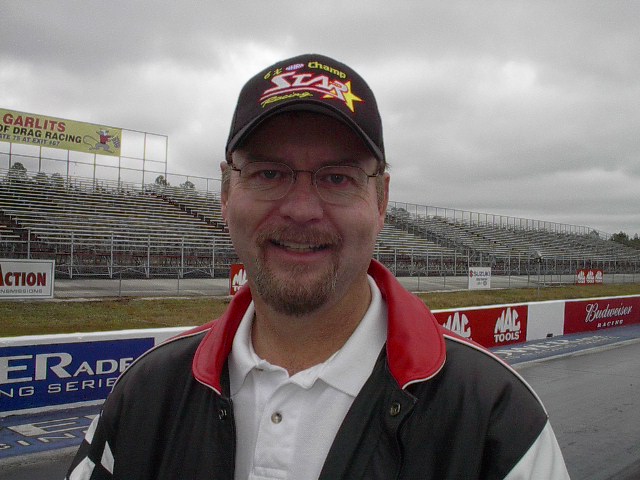 Bryce also added some insight, which may explain why tire size is such a debatable issue.
"I think there is only one place on the track when the tire is the right size," Bryce said. "It's too big most of the time and not big enough some of the time."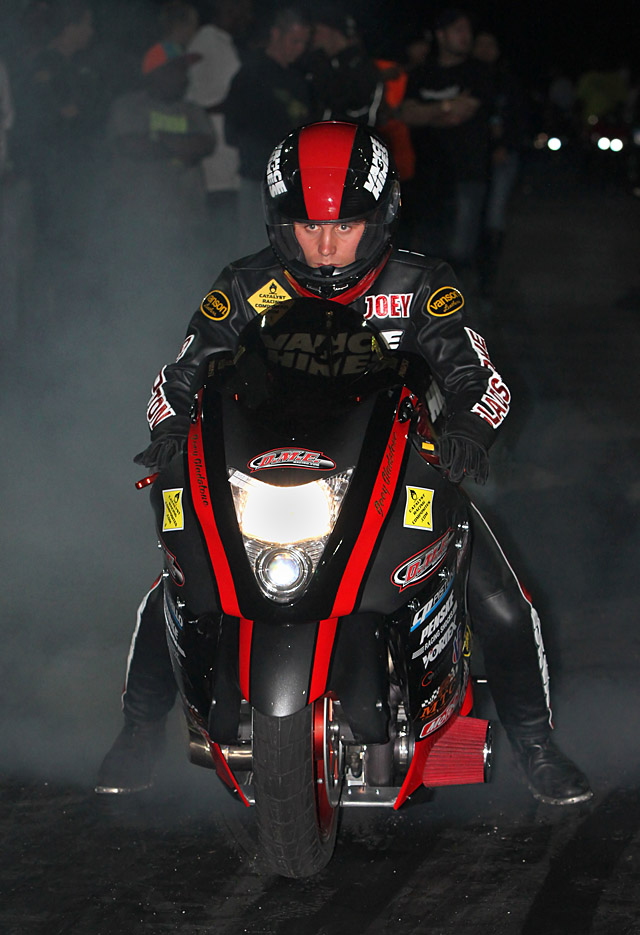 Timblin says the 6.50 no-bar pass inspired him.
Referring to Gladstone's jaw-dropping Outlaw run , Timblin says if a guy can go 6.50 on a small tire with no wheelie bar, a Timblin chassis with wheelie bars would definitely go in the fives.
"We could leave harder, and we would not have to worry about wheelies. It's a lot safer and we would have a lot more contact patch. So you could take that 700-800 horsepower and use a lot more," Timblin said. "I love fast bikes and I hope these guys keep coming to me and believing in me. I'd love to build a five-second Funny Bike."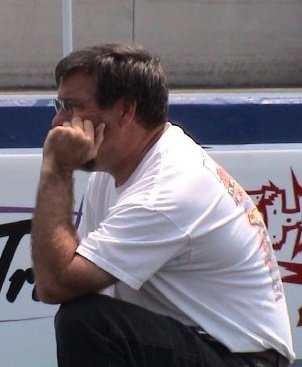 Timblin is working on one state-of-the-art Funny Bike for a racer out of Greece who will compete at Santa Pod Raceway in Bedfordshire, England.
Eddinger would love to see one of his customers try for a five-second turbo run.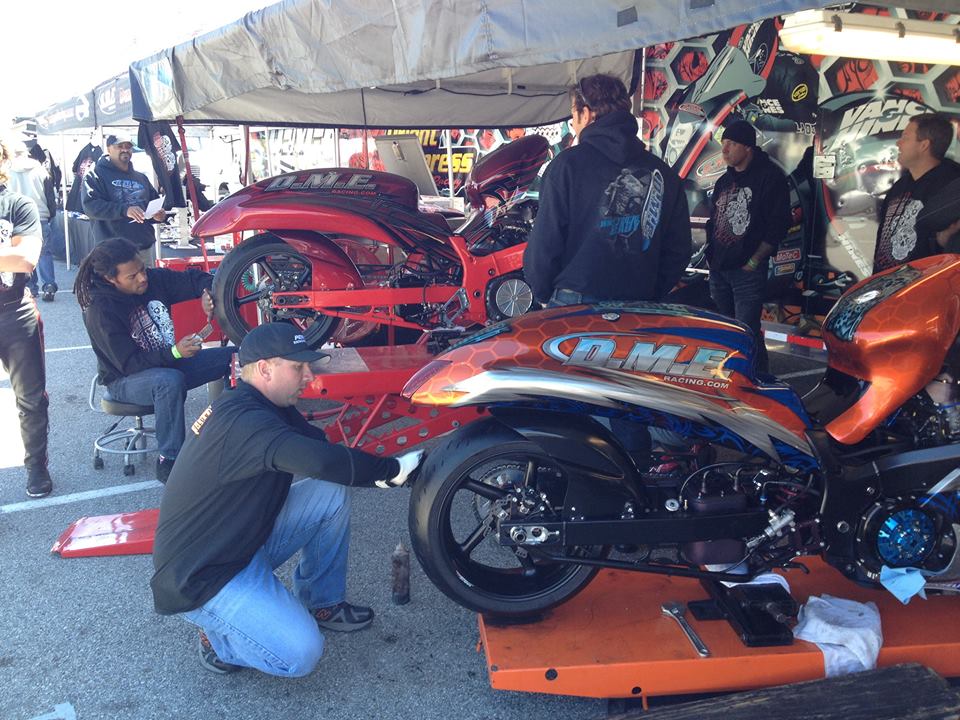 "I'd be really excited," Eddinger said. "It's just going to take a little while. It's going to take money and learning."
The learning will certainly require money, which may be the most limiting factor of them all. The experts are all in place. It's just the financial backing which needs to materialize.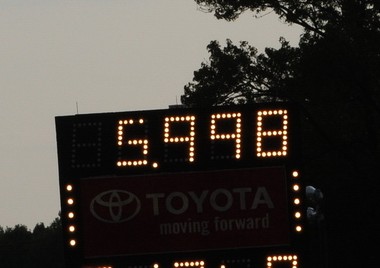 Who will be the first team to put a turbo in the fives?
Here's hoping for a Funny five in the near future.
Originally published – Published on: Jan 5, 2015