Cycledrag.com is deeply saddened to learn of the passing of Jim Kizer, father of AMA Prostar founder Keith "Scooter" Kizer.
Jim Kizer was a fixture at AMA Prostar events, assisting his son in many capacities. He was known for his friendly, laid back, gentlemanly, Southern demeanor. He was beloved by the racers.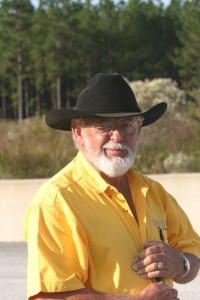 The first time I met Jim Kizer, I was a nervous college kid who showed up at Gainesville Raceway to help hang banners before the 2001 World Finals.  Jim not only showed me how to fasten banners correctly, he made me feel at ease. He had that special, rare quality where he could make you feel like family within five minutes of meeting him. In his warm Southern drawl, he warned me not to step on the massive fire ant hills. He gave me a piece of dark chocolate (which he almost always carried) and told me something I'll never forget –
"I'm not here for the races. I'm here for the people," Kizer said.
The message was clear. As a "motorhead" who raised a family passionate about motorcycles and speed, the man had seen enough racing in his lifetime, but could never get his fill of conversation and fellowship from his friends and family at the track.
Jim loved the racers and the racers loved him. Donning his signature cowboy hat and driving his custom Mule, Jim couldn't get very far when passing through the pits due to all friends who wanted him to stop and talk.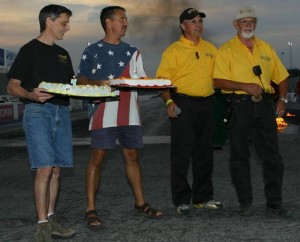 Working on the top-end of the track, Jim would often be the first to break the news to a racer that they had just made a stellar run, or in the case of Top Fuel Motorcycle Five Second Club members, Larry "Spiderman" McBride, Jimmy Brantley and others, they just achieved a major milestone.
He was also there to ensure everyone was safe. Many felt at ease with Kizer's watchful eye intently observing.
Jim was a great man. He will be missed dearly.
Cycledrag.com sends its sincere thoughts and prayers to the Kizer family.
Godspeed Jim.