Rickey Gadson, one of the most accomplished no-bar motorcycle drag racers of all-time is returning to a category he once dominated, Pro Street.
Rickey Gadson 62 and Great Lakes Race Craft have teamed up for 2015 ProStreet motorcycle racing efforts. The team plans to run the full IDBL and the Manufacturers Cup Series schedule.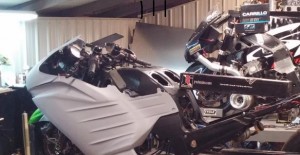 The team will start off the season with two Turbo-charged Kawasaki ZX-14R's, ridden by Rickey Gadson and Andy Leslie with support from the industries leaders in performance motorcycle parts. Shinko Tires USA will provide and support the team with the best drag racing tires in the sport. Devin Pearce and the AEM Electronics team will provide tech, product and tuning support of their industry leading Infinity ECUs. Marcus McBain and JRI will keep the rear under control with their shocks and chassis tuning support. CP-Carrillo will provide the strength and foundation for horsepower with the strongest and most reliable rods and pistons available. Robinson Industries, Pro Street transmissions hitting every gear helping make smooth, consistent passes every time.
Rickey's Roaring Toyz Kawasaki ZX14R will be fitted with a Garrett GT3582R Turbine with ported shroud and sporting a new Roaring Toyz custom built aluminum 69 inch super-lite swing arm, the best racing shock JRI has to offer and tuning the clutch for Gadson will be none other than Tim Hayes himself. The newest AEM Infinity system will be tuned by AEM's Devin Pearce and Chris Jones Performance with BST's by Brock's Performance.
Gadson says "I'm really excited to be returning to the class after all these years of being away from Pro Street. Watching the class evolve into a 6.80 class motivated me to return to what has become such an intense level of competition. Since Bobby Fisher and I have teamed up with the best Kawasaki chassis guy in Prostreet Andy Leslie, the best clutch guy Tim Hayes, and best standalone (AEM Infinity), I have no doubt that when these 2 ZX14's roll up to the line, the competitors will be worried!"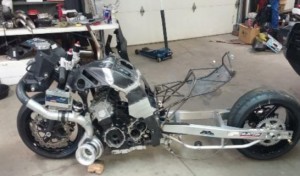 Andy's Kawasaki ZX-14R will be running a newly developed Bullseye Power TCT S362 turbo with Turbosmart blow off waste gates to help control the power and Rock Solid Manufacturing EVO series clutches providing smooth and consistently quick launches.
With Rickey's Championship winning experience, teamed up with Andy's fabricating, it's guaranteed to once again be Kawasaki/Suzuki rivalry in Pro Street which is always good to watch for the fans.
Andy and Rickey will definitely be a force in the Pro Street Motorcycle racing
This team is coming hard in 2015!