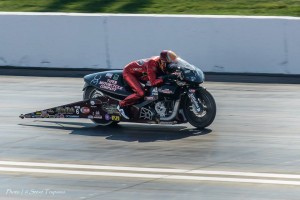 Cutting a light, hitting shift points and going fast and straight are all important factors when it comes to succeeding in the ultra-competitive environment of Mello Yello NHRA Pro Stock Motorcycle drag racing.
Yet, as is the case with many of life's ventures, nothing is more important than strong financial backing. As the old hot rod adage puts it, "Speed costs money; how fast do you want to go?"
All the racing and tuning talent in the world can't overcome insufficient funds to field a team.
Just a couple of weeks before the category's season-opening race, the Amalie Oil Gatornationals from Auto Plus Raceway in Gainesville, Fla., two of the top teams, containing a total of four top-ten riders from last season, including the season champion, found themselves searching for marketing partners.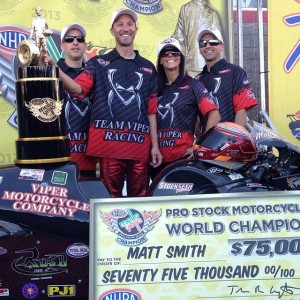 Perhaps the most surprising announcement came with the news that 2013 class champ Matt Smith and his three teammates, wife Angie Smith, John Hall and Scotty Pollacheck would be without a major sponsor due to what Viper Motorcycles is calling an operational transition.
A new ownership group took Viper private in early 2013, and recently decided to go in a different direction. The company, which also includes PMFR, suspended operations and plans to move the assets from Auburn, Ala. to a storage warehouse in Ft. Lauderdale, Fla. until they can regroup with a plan to move forward.  The changes left former Viper Vice President of Marketing and Racing Operations, and major NHRA supporter, Colbert Seagraves without a job.
"It was an unfortunate situation that we could not come to terms with the Viper ownership group and they chose to suspend opperations.  It's a tragedy for all the hard work that Matt put into promoting the Viper brand," Seagraves said. "Matt did everything we asked of him. He was a great ambassador for Viper and so was the entire team.  Matt Smith Racing did nothing to cause this situation."
Smith was stunned upon receiving the news.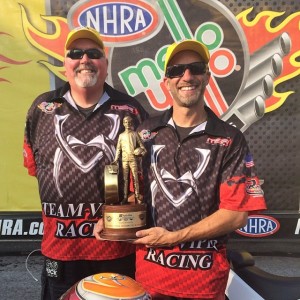 "This definitely throws a monkey wrench into our plans to defend our 2013 title. We thought all winter that we had sponsorship with Viper and now this, but we plan to move forward and are actively looking for marketing partners for the 2014 season," said Smith shortly after being informed.
Oddly enough this is not the first time Smith has suffered the unusual fate of winning a championship and losing a sponsor the following season. In 2007 Smith captured the title for Torco, who was forced to pull-out over the winter.
"I feel like every time I take one step forward, I end up taking two steps back. We just need a sponsor who is dedicated to staying with us and we can really give them a lot in return," Smith said.
Having gone through this before, Smith knows looking for marketing partners while trying to win a championship is not easy.
"It's a little distracting," Smith said.  "The good news is we have people trying to help us out and our associate sponsors are stepping up for us. I think we will be just fine."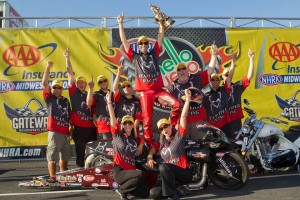 Another way Smith aims to generate revenue is by renting out his extra race bike for $7,500 per event. Smith says he will offer discounts to customers who commit to multiple races.
The loss of funding forces the team to downsize to just two riders for the foreseeable future, Smith and Hall.  Pollacheck will compete with the team at the Gatornationals but his future beyond that is in question. It's a crushing blow for a successful squad that went to 11 finals and won six races last season.
"It's a shame because we are such a strong team," Smith said. "It's a bad deal for everybody."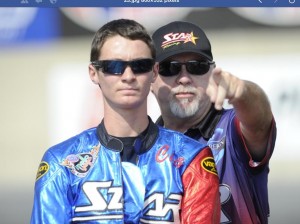 Multi-time NHRA champion George Bryce's team, comprised of last year's No. 2, Michael Ray and rookie of the year candidate Chaz Kennedy suffered the same fate when the team's primary sponsor, Sovereign, pulled its funding, citing uncertain economic conditions. Like Smith, Bryce will continue to seek the all-important primary sponsorship for his team, but the 80-time event winner  has been preparing his team to survive an unfortunate situation like this.
"Thanks to all the great support we got from Sovereign the past few seasons, we were able to come back out and showcase what our engine program can do. We have a lot of the parts we need to make horsepower," Bryce said. "We will run all 16 races with the intent of a winning a championship and a Rookie of the Year award. It would be a shame to stop right now. We have learned to go quicker than ever."
Bryce said losing Sovereign so close to the start of the season presents an incredibly affordable opportunity for a business or individual to brand the team for less than half of what is usually required.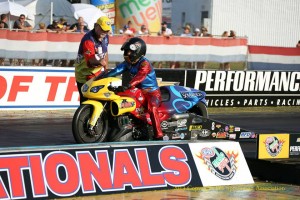 Ray doesn't care what the team is called or what colors he wears; he just wants to win.
"It's unfortunate that we lost our sponsor, but it happens everyday. During the offseason, we've continued working and testing, which says a lot about our team. I'm still looking forward to going to Gainesville. I don't know what the bike will look like or what logos will be on it, and I don't really care as long it's fast and going rounds," said Ray.
The two announcements effectively altered the season for six top riders.  One has to wonder what impact that will have on a class that competes 16-times a year, coast-to-coast and needs 16 competitors for a full field? The NHRA has been through similar trying situations in the past and believes the racers will find a way to get through the rough patch.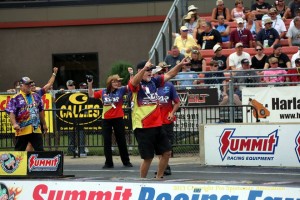 "It is unfortunate that these two sponsors were forced to exit the sport due to economic and operational circumstances unrelated to the value of being associated with the NHRA Mello Yello Drag Racing Series," said Gary Darcy, senior vice president of sales and marketing, NHRA. "Matt Smith and George Bryce have developed very competitive multi-bike teams on the circuit and have proven over the years to be very resourceful in obtaining marketing partners and giving them a solid return on their investment."
Bryce, who has operated Star Racing for the past 34 years, agrees that the loss of Viper and Sovereign is more of a reflection of the economy and not of the current state or value of the Pro Stock Motorcycle class.
Meanwhile Smith is asking the NHRA for help.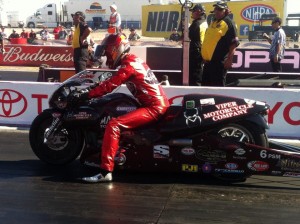 "We need more TV time. The NHRA does a great job helping out Top Fuel and Funny Car, and the kind of money our class is looking for is minuscule in comparison," Smith said. "We need help finding the companies with smaller budgets who want to be involved."
While there is always the unfortunate possibility of getting only 14 or 15 bikes at an event, Bryce thinks racer participation could increase this season.
"The time is right for past racers to come back out," Bryce said. "The purse structure is pretty good and the Suzukis have a new engine rule that may bring a lot of teams back out. We've sold 79 very fast S&S motors. There are many quick bikes out there."
Based on last year's standings, Smith and Ray were considered by many, the two favorites to win the 2014 championship. Perhaps, the pre-season advantage now shifts to the Arana family, who enjoys the backing of Lucas Oil, and the always tough Vance and Hines team, sponsored by Screamin' Eagle.
Smith isn't ready to concede.
"Don't ever count out a past champion," Smith said. "That's why Eddie Krawiec is always there at the end. We may not have as much money. We may not be able to test as much, but don't count us out."
Who do you believe will win the 2014 Mello Yello NHRA Pro Stock Motorcycle championship?