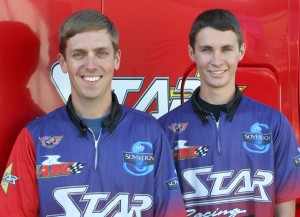 The Star Racing Pro Stock Motorcycle team received some unexpected news recently as they were preparing to field their No. 2 driver Michael Ray and Rookie of the Year candidate Chaz Kennedy. After a successful two-season return to professional drag racing competition, Star Racing's primary sponsor announced that they would be unable to continue the marketing partnership for the 2014 National Hot Rod Association (NHRA) season.
This surprising news sent the team scrambling to reach out to other potential marketing partners that would be interested in achieving the exposure and brand awareness that this No. 2 team and potential Rookie of the Year can provide.
Although the team's previous sponsor, Sovereign, had planned to support the team throughout the 2014 season, uncertain economic conditions in Central Europe where the company operates prevented them from continuing this sponsorship.
Star Racing is currently seeking companies or individuals that want the marketing opportunities or hospitality benefits that this two-motorcycle Championship-caliber team can provide as they compete at all 16 races of the 2014 NHRA Mello Yello Drag Racing Series.
"Our team has one of the best partnership deals available in motorsports right now for any company that wants to go racing in NHRA on a professional level. We can offer our partners a 'dollar's-worth of exposure for only 50 cents' because we've already spent much of the time, effort, and money last year to go to the top of our class.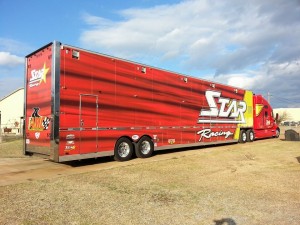 "Because of this preparation and the fact that we're already partially funded, we can offer something that the rest of the teams can't. For half the normal price, we can give you team naming rights and team colors or entertain your clients, customers, and friends with exclusive pit access at events. Give us a chance to show exactly what we mean by a 'dollar's-worth of marketing exposure for only 50 cents,'" said Star Racing owner and team crew chief George Bryce.
Marketing partnerships with this team can be customized to fit any company's sales goals or hospitality needs, ranging from Primary Naming Rights or Associate level all the way to opportunities on a race-by-race basis.
Seeking the 2014 NHRA Mello Yello Championship continues to be the team's main focus, despite having to find partners with less than a month until the motorcycle season opener in Gainesville, Fla. Through this uncertainty, this Americus, Ga.-based team has continued track testing and engine R&D to improve performance.
"I have to say thanks to Jeno (Sovereign owner) for getting this entire team back together over the past two years. Without him and his interest in the sport, we wouldn't have a No. 2 plate and I wouldn't have two more Wallys on the shelf. It's unfortunate that we lost our sponsor, but it happens every day. During the offseason, we've continued working and testing, which says a lot about our team. I'm still looking forward to going to Gainesville. I don't know what the bike will look like or what logos will be on it, and I don't really care as long it's fast and going rounds," said No. 2 Pro Stock Motorcycle racer Michael Ray.
During the 2013 season with Sovereign-Star Racing, Ray claimed two national event wins, six additional semifinal round appearances, three No. 1 qualifying positions, low ET for the Norwalk and Reading events, and the top speed for Norwalk that also set a new track record. For the last 13 out of 16 races of the season, Ray also maintained a position within the top five competitors in the Pro Stock Motorcycle points standings and finished the season at No. 2 overall.
"All race teams have their ups and downs. We just have to work through it and do the best we can with the cards we have been dealt. I still believe we have all the manpower, willpower, and horsepower we need to be just as successful as we were last year. I'm also looking forward to competing for the Rookie of the Year Award, which would be nice to add to my other two Rookie of the Year Awards from AHDRA and AMRA," said 19-year-old racer Chaz Kennedy.
Kennedy made his NHRA Pro Stock Motorcycle debut aboard the team's S&S-powered Buell last season in Reading, Penn. He also qualified at all three NHRA national events that he has entered.
Companies or individuals interested in more information about the opportunities and benefits of becoming a marketing partner with the Star Racing team should contact Jackie Bryce (Jackie@StarRacing.com) or Jami Houston (Jami@StarRacing.com) at 229-924-0031.
• Star Racing Online:
o Twitter: https://twitter.com/StarRacingGA
o Facebook: http://www.facebook.com/StarRacingGA
o YouTube: http://www.youtube.com/StarRacing6X
Star Racing Fast Facts:
• Based in Americus, Georgia
• Six-time NHRA Pro Stock Motorcycle Champions
• 80 NHRA national event wins with 10 different riders
• Owned by George & Jackie Bryce