Turbo racers are hoping winds of change blow into the Top Fuel Motorcycle class.
Many were watching closely as a fresh, new, innovative, modern turbo Funny Bike made its quarter mile debut at the Man Cup Finals, Nov. 16-18 from South Georgia Motorsports Park. Read more about the build here. Terry Schweigert and team didn't get the much-anticipated first five-second turbo time slip some had expected, but the squad did make an incredibly powerful statement.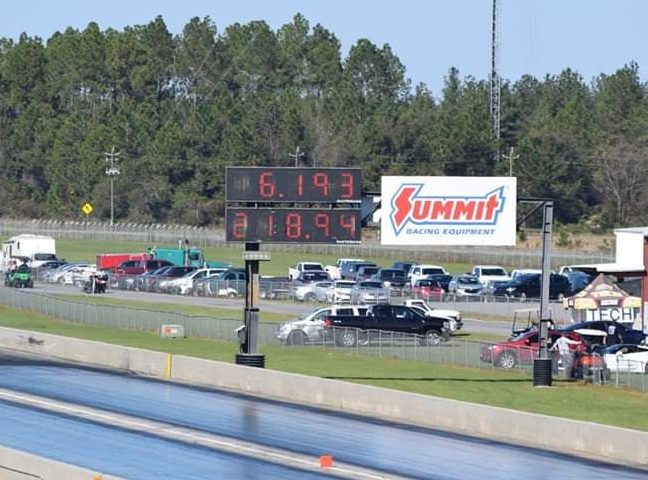 In one of its first few attempts at a full 1,320-foot pass, the bike shattered the previous turbo record by a tenth and a half with an inspiring 6.19. On the Cycledrag.com Facebook page the run was ranked the second most impressive of the event, behind only Frankie Stontz's new Pro Street record of 6.60.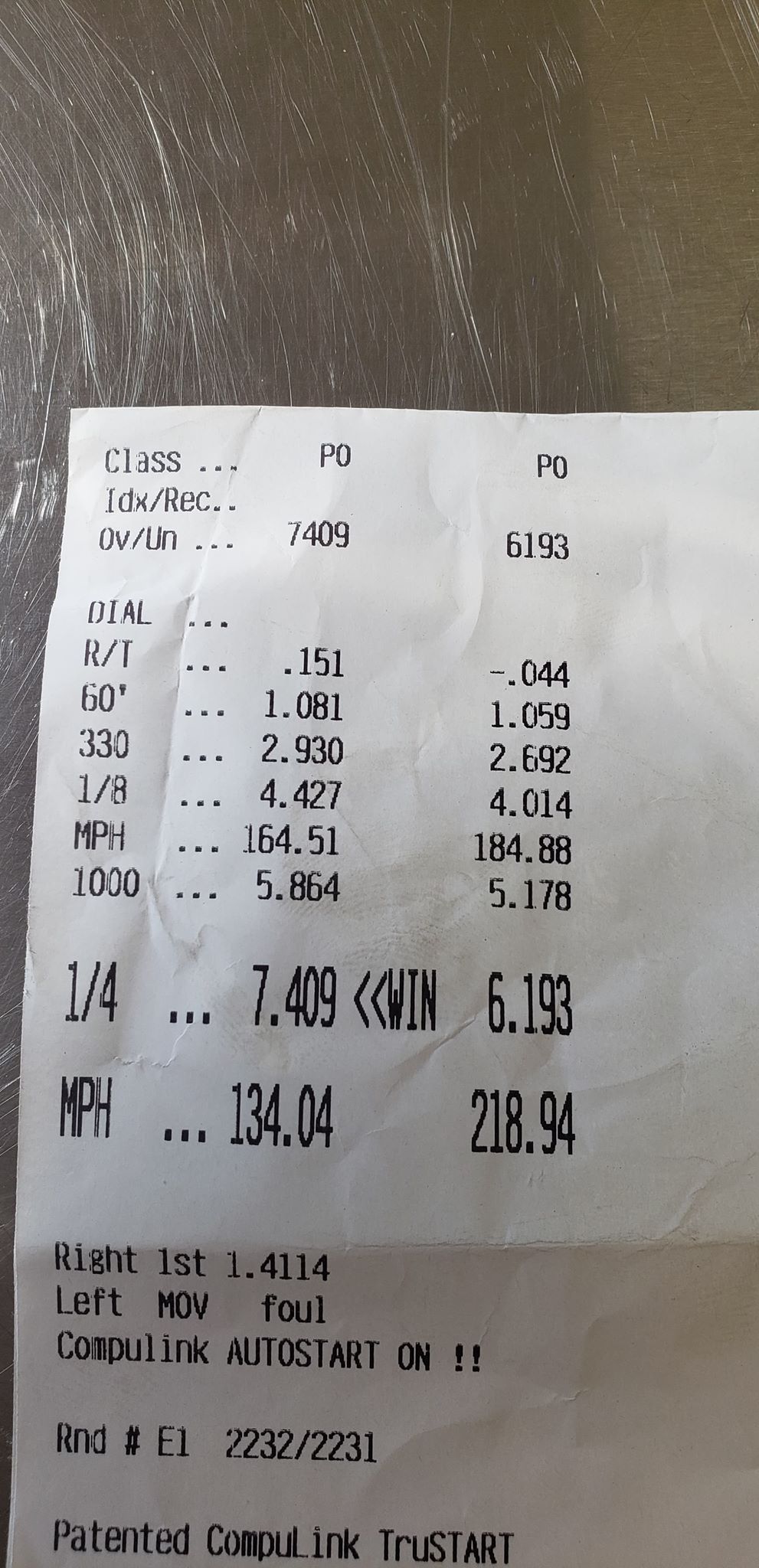 If it wasn't before, it's now clear this state-of-the art Dan Wagner-built, Timblin Chassis, DME, Maxx ECU motorcycle, owned by Kevin Clarke is on a different level from all Funny Bikes that have come before it.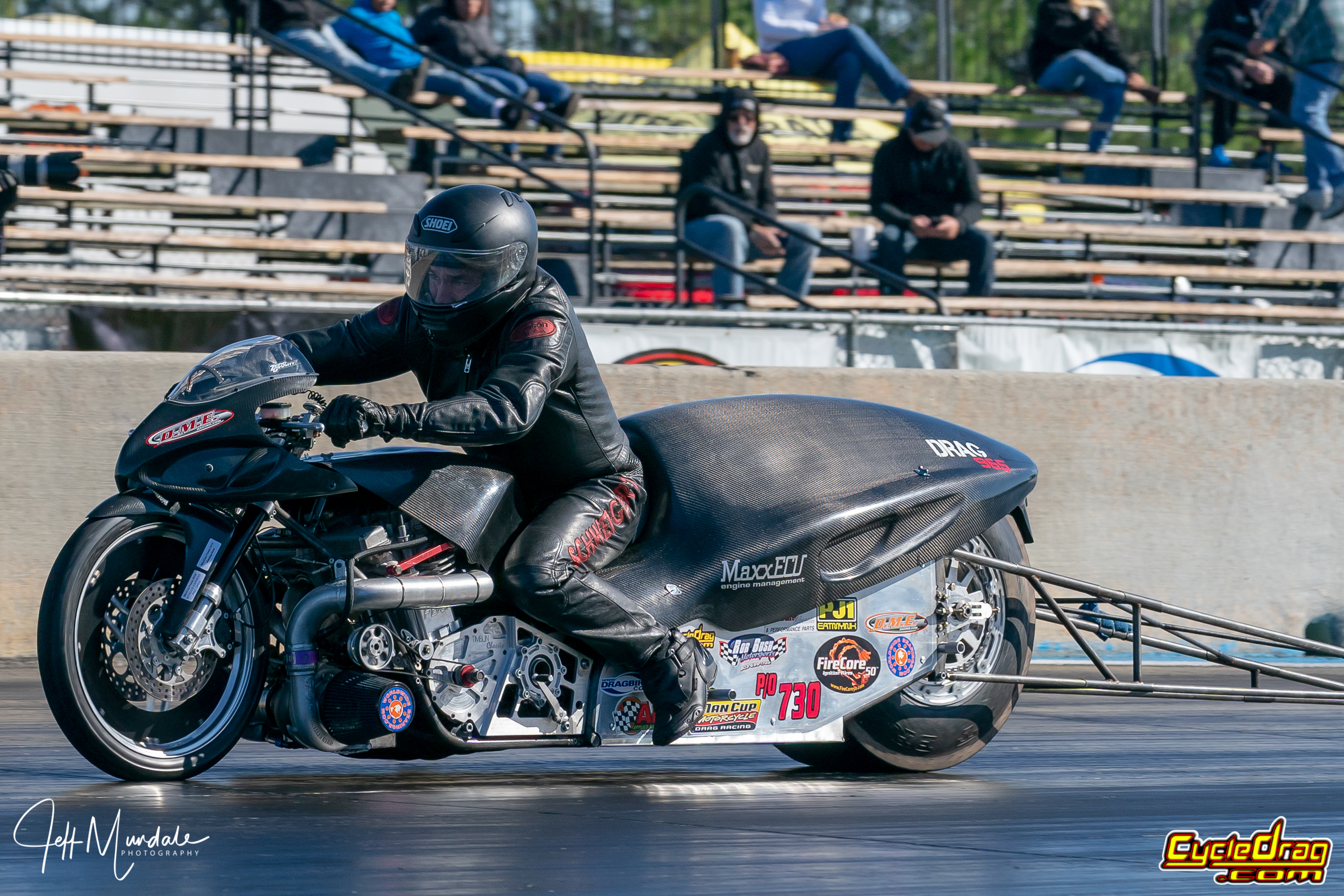 "It lived up to what we thought it would. If it had another pass it would have went in the 6.0s," chassis builder Walt Timblin said. "We knew the first or second outing would be a lot of learning. We are taking baby steps."
Those baby steps could soon turn to a giant leap as the team now targets the Top Fuel Motorcycle class as a new home for the innovative dragbike. At the Finals, Man Cup reserved the Top Fuel category for nitro-burning, supercharged entires only. Timblin and team hope to open Top Fuel up to more of an unrestricted category, as it once was allowing for the success of legendary turbo racers like Steve Rice and Terry Kizer. Wagner and ECU expert Steve Nichols have contended the current rules posted online allow for the turbo to enter. Man Cup is expected to clarify its stance this month.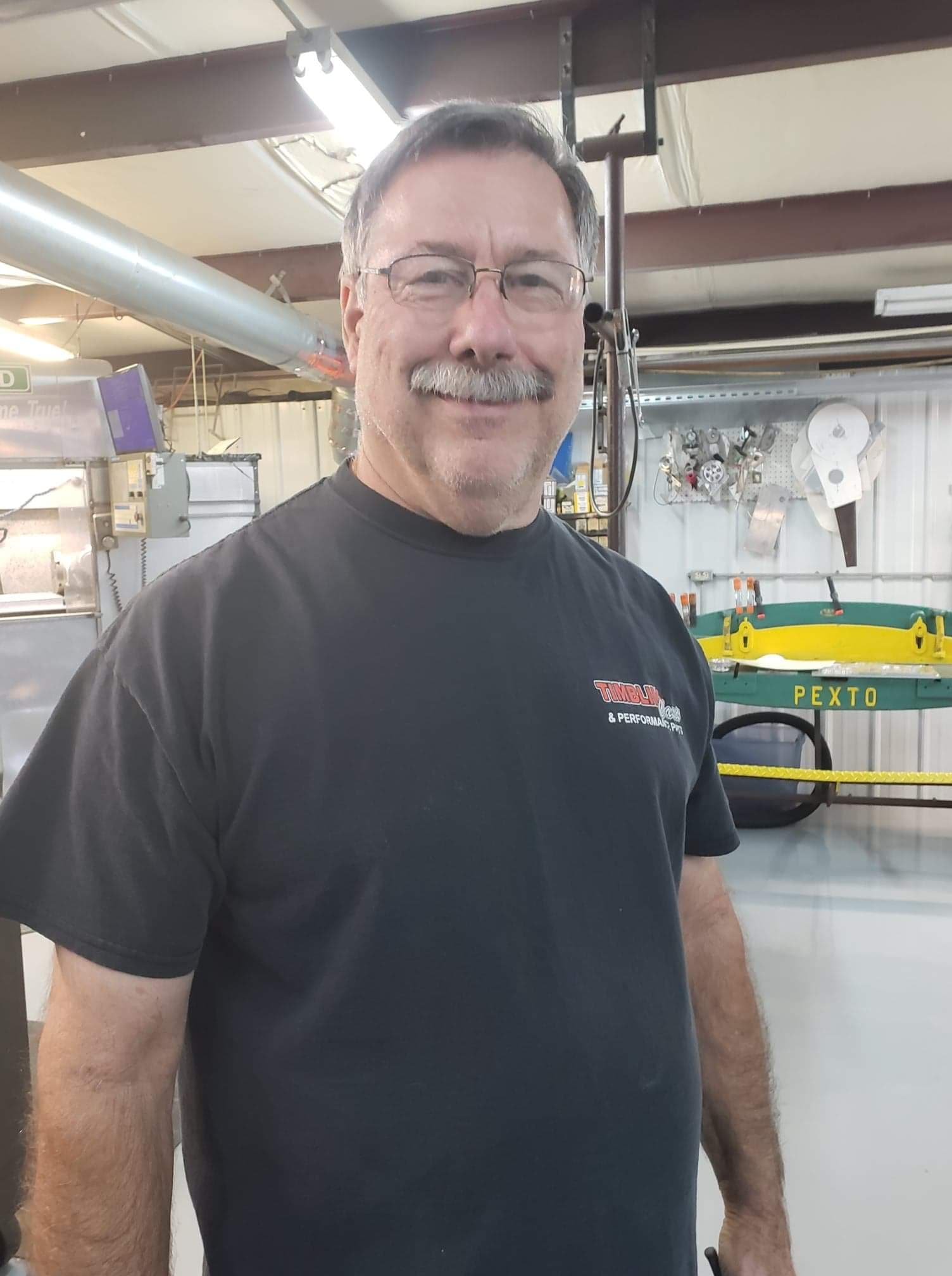 "We think this is a great way to grow Top Fuel. You could see 14 or so bikes out there someday," Timblin said. "A lot of people just can't just jump to Top Fuel like Dave Vantine and Jimmy Brantley. Those big bikes are very expensive. The turbo bikes are more affordable and will provide a stepping stone to full blown nitro bike."
The disparity in the cost of the two different motorcycles is reason for concern for one nitro insider who says he is not sure letting a $70,000 – $100,000 motorcycle run with $250,000 motorcycles is the best way to grow Top Fuel.
In terms of personal bests, the nitro bikes would have a clear performance advantage when all goes well, with most of the nitro field in the five-second zone and 19-time champion Larry "Spiderman" McBride leading the way with his 5.61 world record. However the overwhelming power of the Fuel bikes causes tire-smoking inconsistency that a more steady turbo racer could take advantage of, especially if traction control is introduced. McBride has not run a .60 all season and smoked the tire on several passes. Schweigert's 6.19 would have been good enough to win the Man Cup Finals, where most Top Fuelers struggled to get a grip on the track.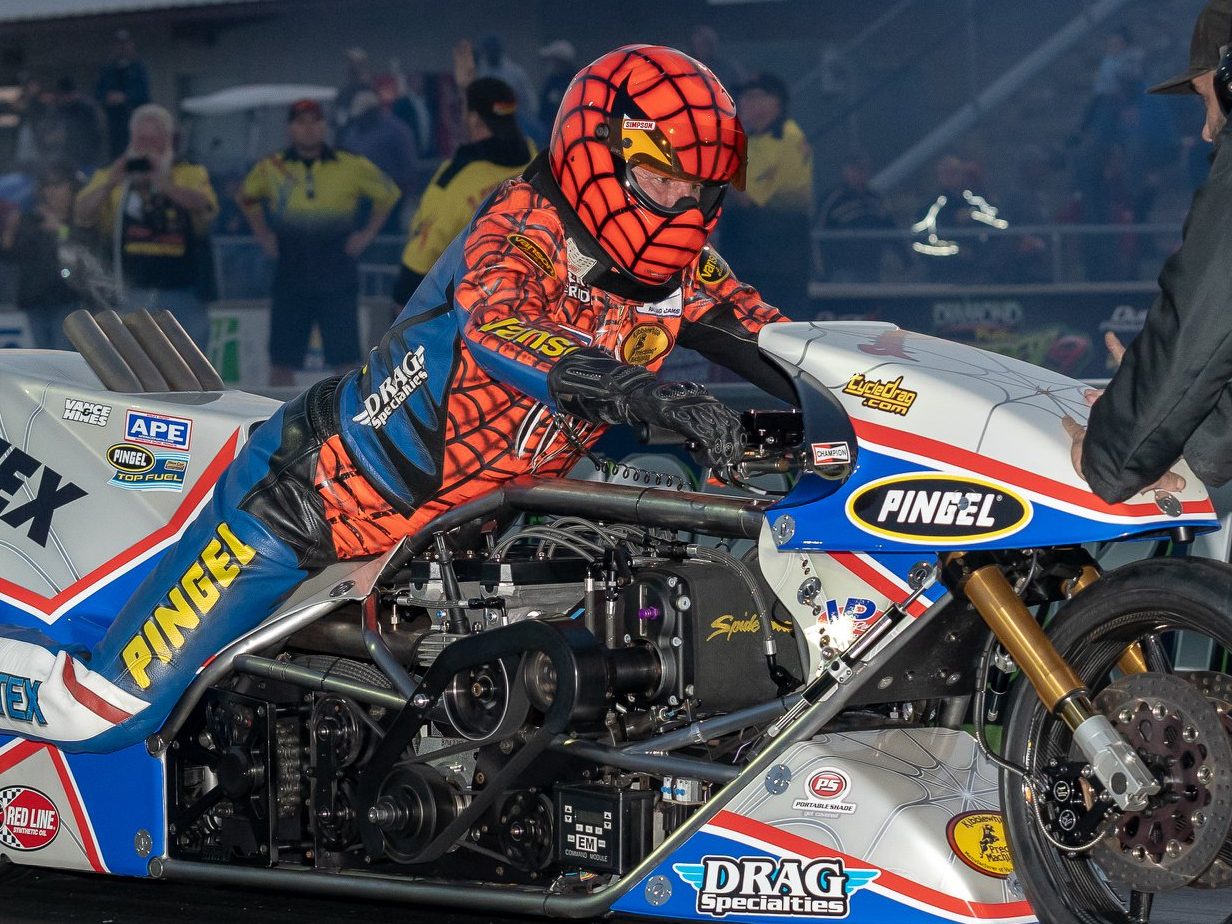 Wagner says the performance advantage of a Top Fuel bike would be the equalizer.
"The chain will break before we ever go a 5.60," Wagner said. "The Top Fuel bikes will always be faster."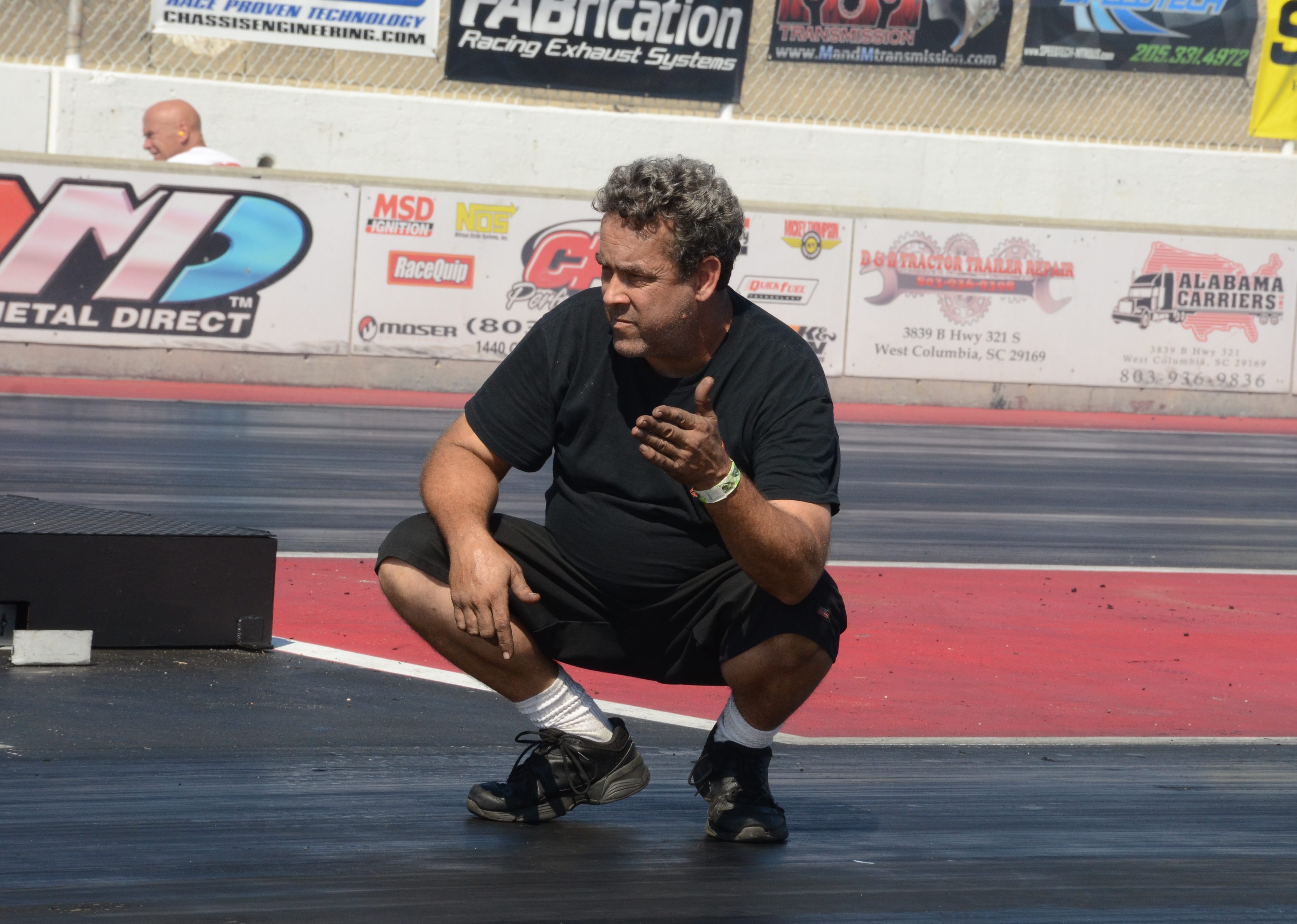 Wagner also points to how the traditional Top Fuel Motorcycle may already have a much more serious threat in the super v-twins that Finland's Jaska Salakari is producing. In August at Sweeden's Tierp Arena, on a Salakari-built bike Vesa Lipponen became the first v-twin dragbike racer in the the fives, followed by Salakari taking the combination's record with an astonishing 5.83. You can read more about these passes here.
"Somebody is always looking to build a better mouse trap. Jaska is producing bikes for sale quicker than anyone else. He has four of them already," Wagner said. "There is a lot of interest in this turbo combination and we could like to keep it going."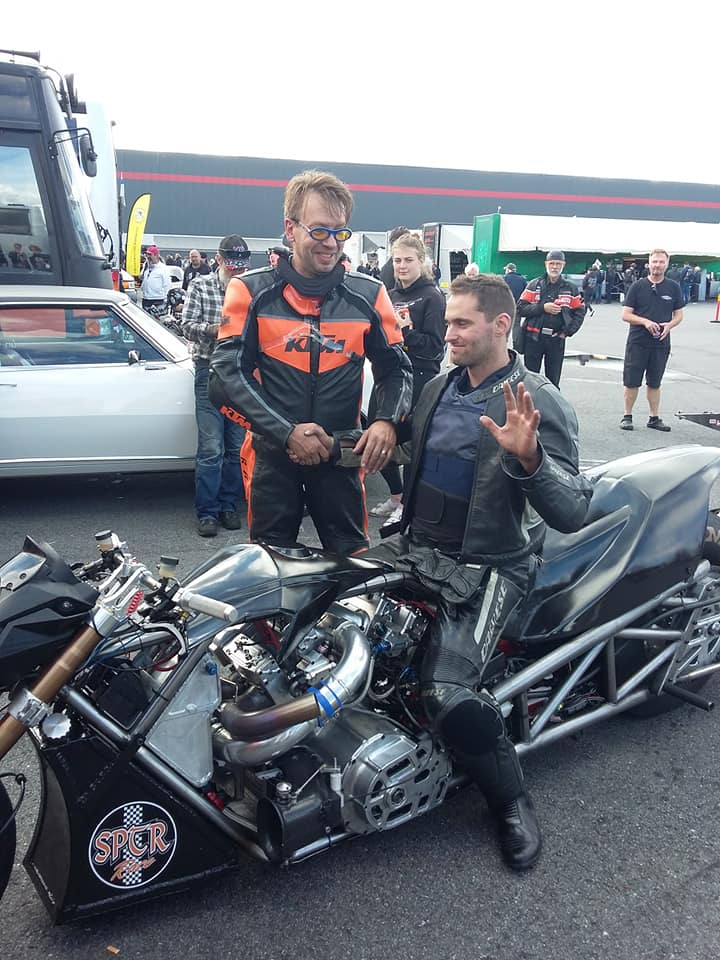 Timblin is also eager to see his latest creation compete alongside the quickest dragbike racers in the world.
"Larry has always told us c'mon in the water is warm," Timblin said. "I think it's time. If you can run 6.0s consistently with .020 and .030 lights, you can win some races against current Top Fuelers. If you look at the history of Top Fuel, they often blow the tire away or cut a bad light."
McBride says he is all for anything that will grow the sport but admits any changes need to be carefully considered.
"As always we have to make sure everything is 100-percent safe," McBride said. "We risk our lives on these motorcycles."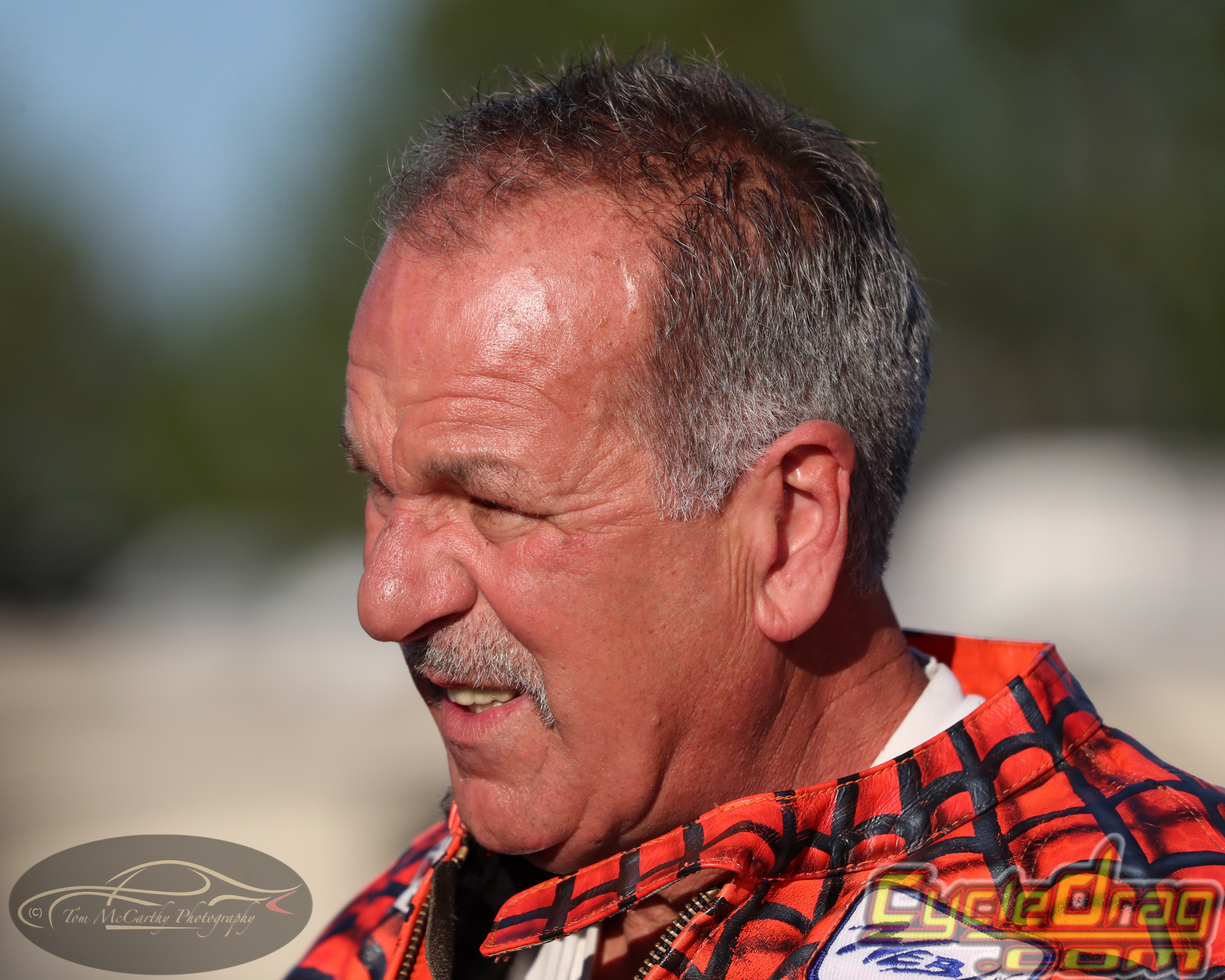 Timblin was very happy with how his chassis performed and feels from a safety standpoint the motorcycle is on-point. Some questioned if the frame was strong enough to handle the big power on the quarter mile prior to the event. Timblin said the 6.19 was a beautiful pass that gave him even more confidence in his work.
"It was probably the straightest and prettiest pass Terry made on the bike. I don't see any problems for the chassis going quicker. It's not flexing or rolling over," Timblin said. "We are going places a chassis like this has never been. It's not a Top Fuel chassis, it's a more conventional Pro Mod style chassis."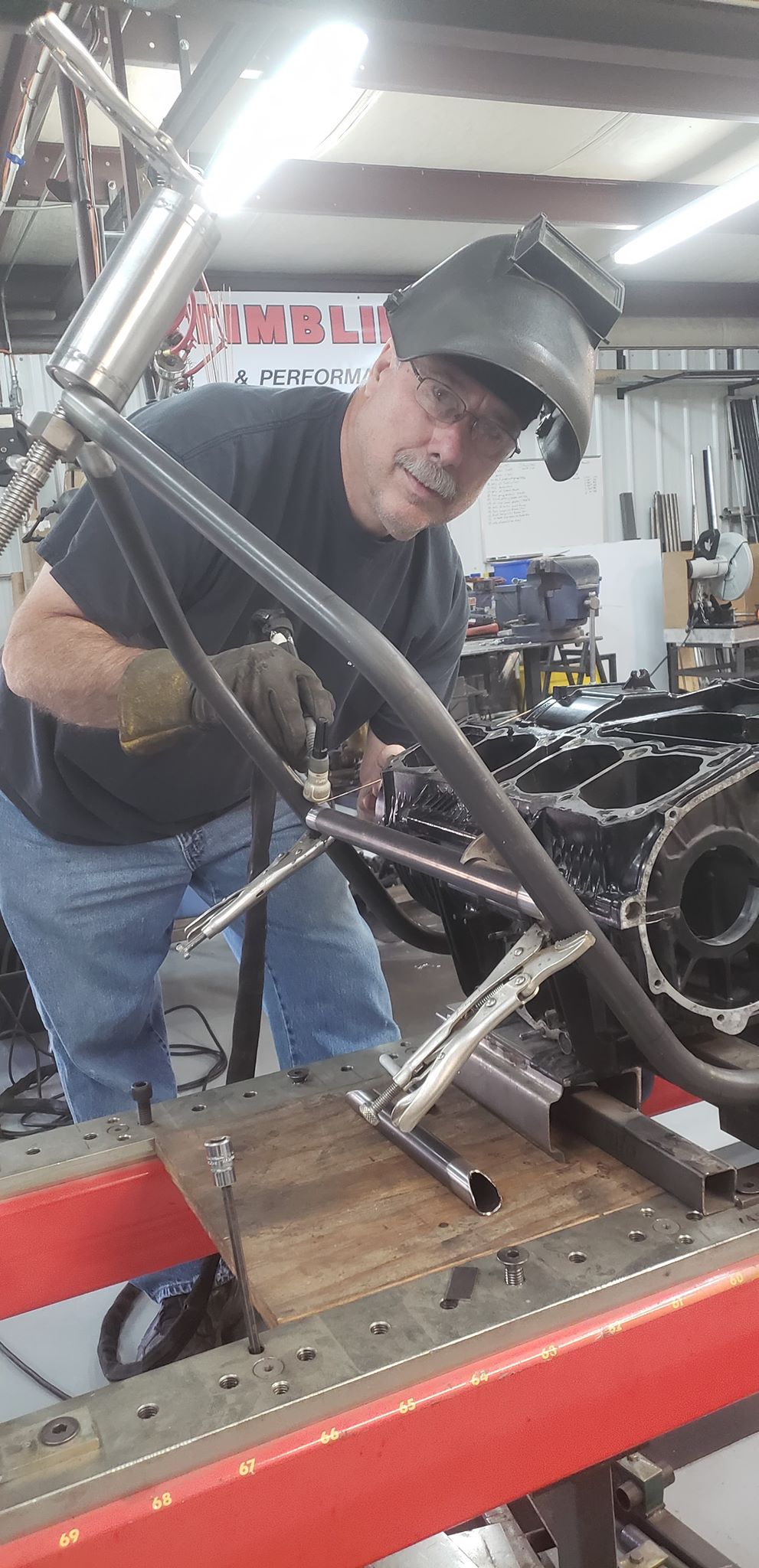 Wagner says initially the team had trouble with handling, but the chassis was not to blame.
"It was due to balancing. Larry gave us great advice and helped us set it up safely," Wagner said. "He saw where our weight was in the wrong spot. We fixed it and we went straight. It's going to take people like Larry to push the sport forward."
Second-year Top Fuel Motorcycle racer and Man Cup Finals winner Mitch Brown applauds the new turbo creation but is strongly against it joining Top Fuel.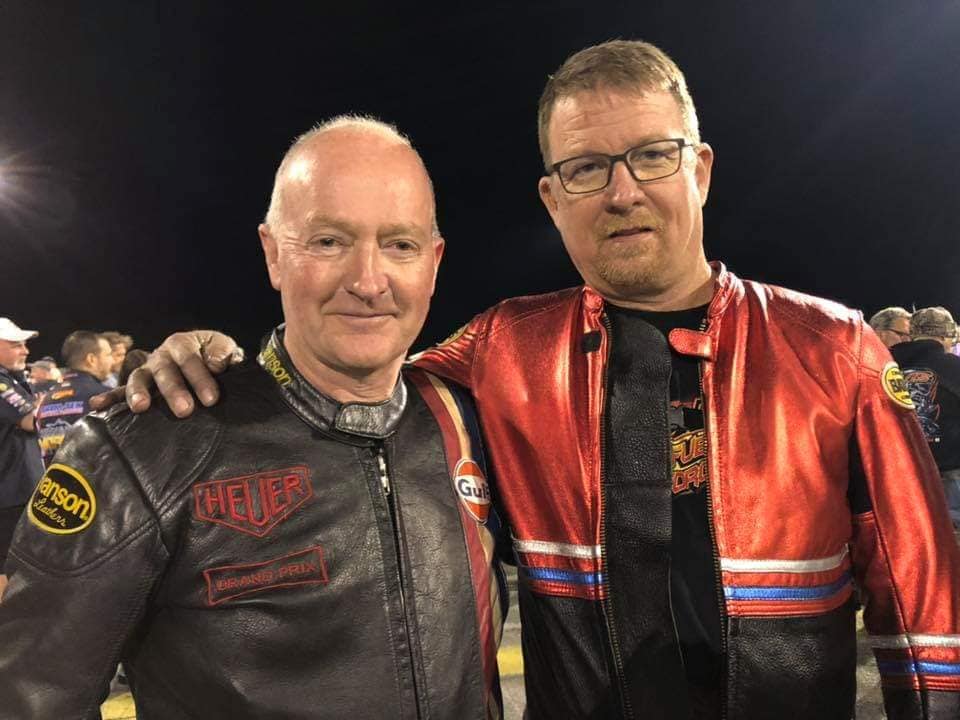 "As a fan of Top Fuel Motorcycle and a guy lucky enough to grab the handlebars, I think Top Fuel should always be about big flames, huge noise and nitromethane," Brown said. "I think Top Fuel may only have a few years left. I went to my first final last year on my 50th birthday and I am considered the young guy in the class. When it's done, it should be done and we should honor guys like Elmer Trett. It should not be about the turbos."

Brown has a unique perspective. He won the Finals with a career best 6.20, A number Schweigert has already surpassed in his first outing.
"Top Fuel is not necessarily about the fastest times, it's about blown nitro and always should be," Brown said.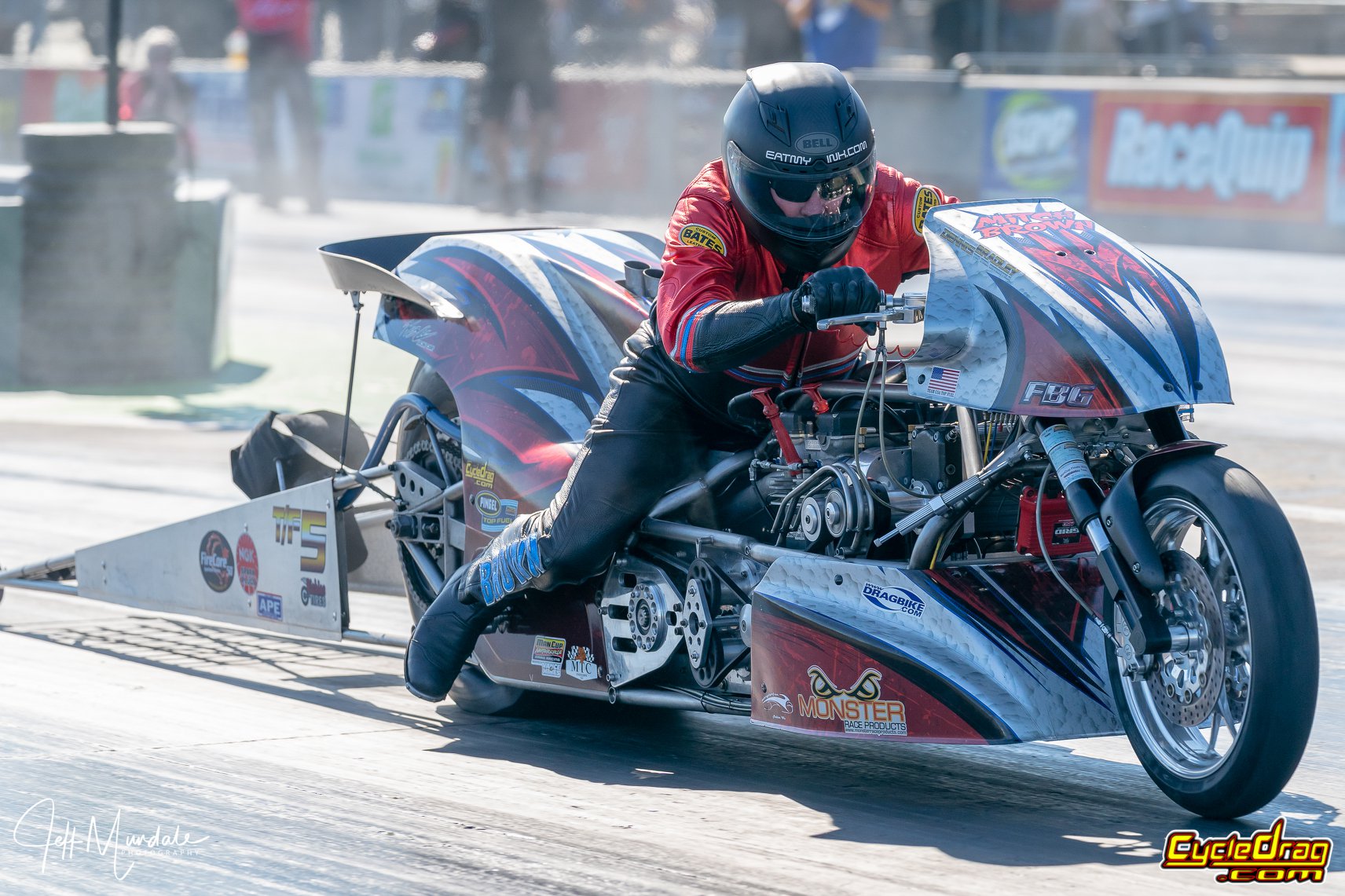 Brown, who ran the PMRA for 17 years, says the new turbo bike is great for the sport but says it needs to stay in its proper place.
"As a promoter I see wheelie bar dragbike racing dying and this new technology could help save it. I just don't think Top Fuel is the place for it," Brown said. "They have a class called Pro Open."
Brown points to the popularity of turbo-charging in four-wheel racing and says the turbo racers will have an amazing opportunity to attract new sponsors in Pro Open.
"It's something the ECU companies and turbo companies should be very interested in," Brown said.
Schweigert's new turbo record supplants the 6.34s of previous record holder Travis Davis and Chris Cutsinger, also Timblin Chassis customers. Timblin says it's clear this new machine is on a different level.
"It's a different animal. It's got a bigger 1,600 c.c.motor. It sounds different," Timblin said. "It's a testament of all new technology and power with the ECU . It's smoother and better controlled. The tuning is way better than the older systems. We just need to continue thinking outside the box."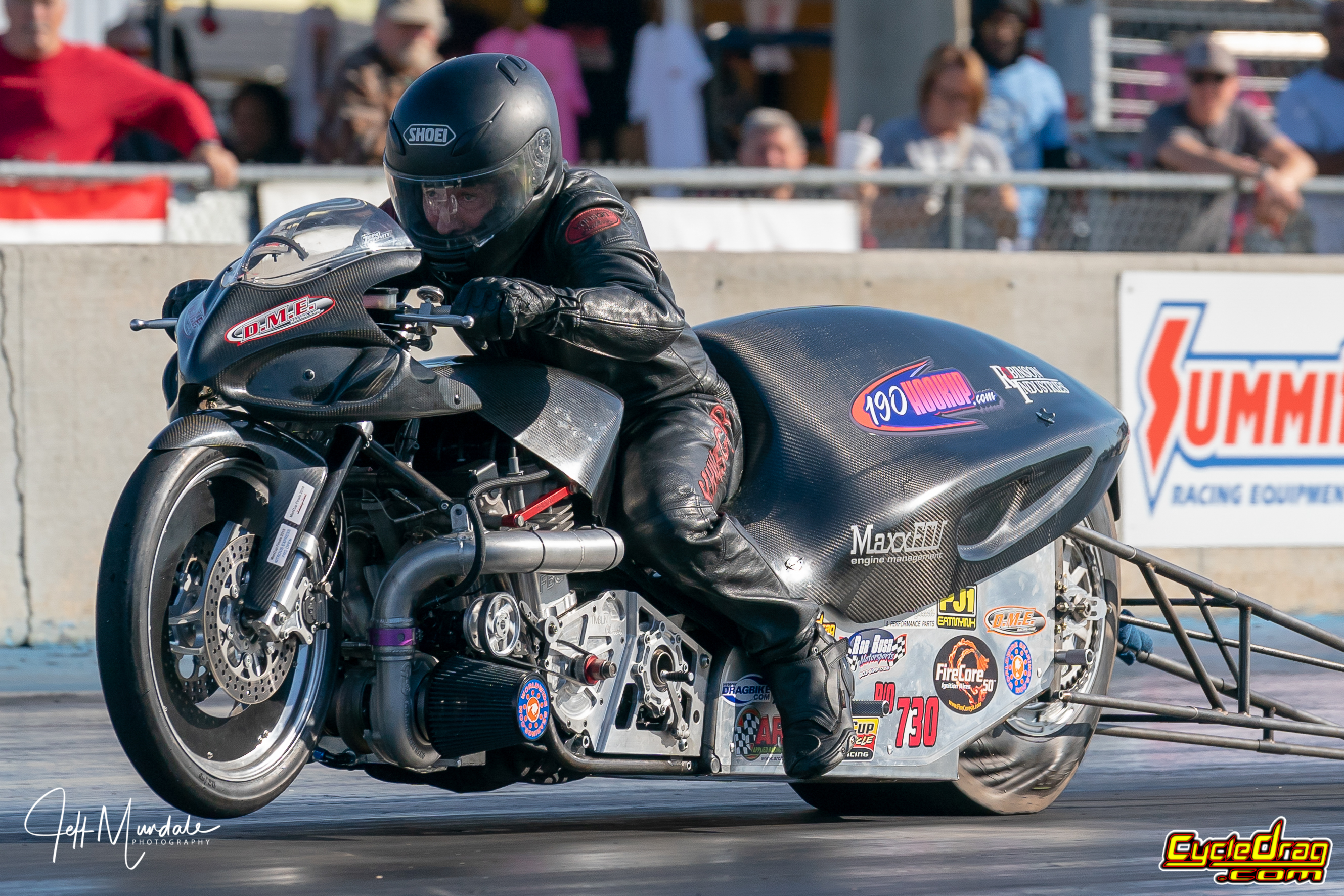 Unfortunately for Schweigert and team the Man Cup weekend in Pro Open was ended with a red light on the 6.19 pass. The bike count at the event was too high to allow any time for another pass.

The team pulled off a monumental feat making it up to the line for first round.
In qualifying Schweigert shredded a tire and destroyed a body on a 6.38 pass. The damage nearly parked the bike for the weekend.
"It caught us off guard. The tire came apart and at about 1000 foot and it took the body and the wheel tub out," Timblin said.
It sent Clarke and Timblin's son Stuart about 90 miles away to Timblin's shop in Baxley, Ga. to get some spare parts and a spare body generously loaned by Australian racer Geoff Redgrave.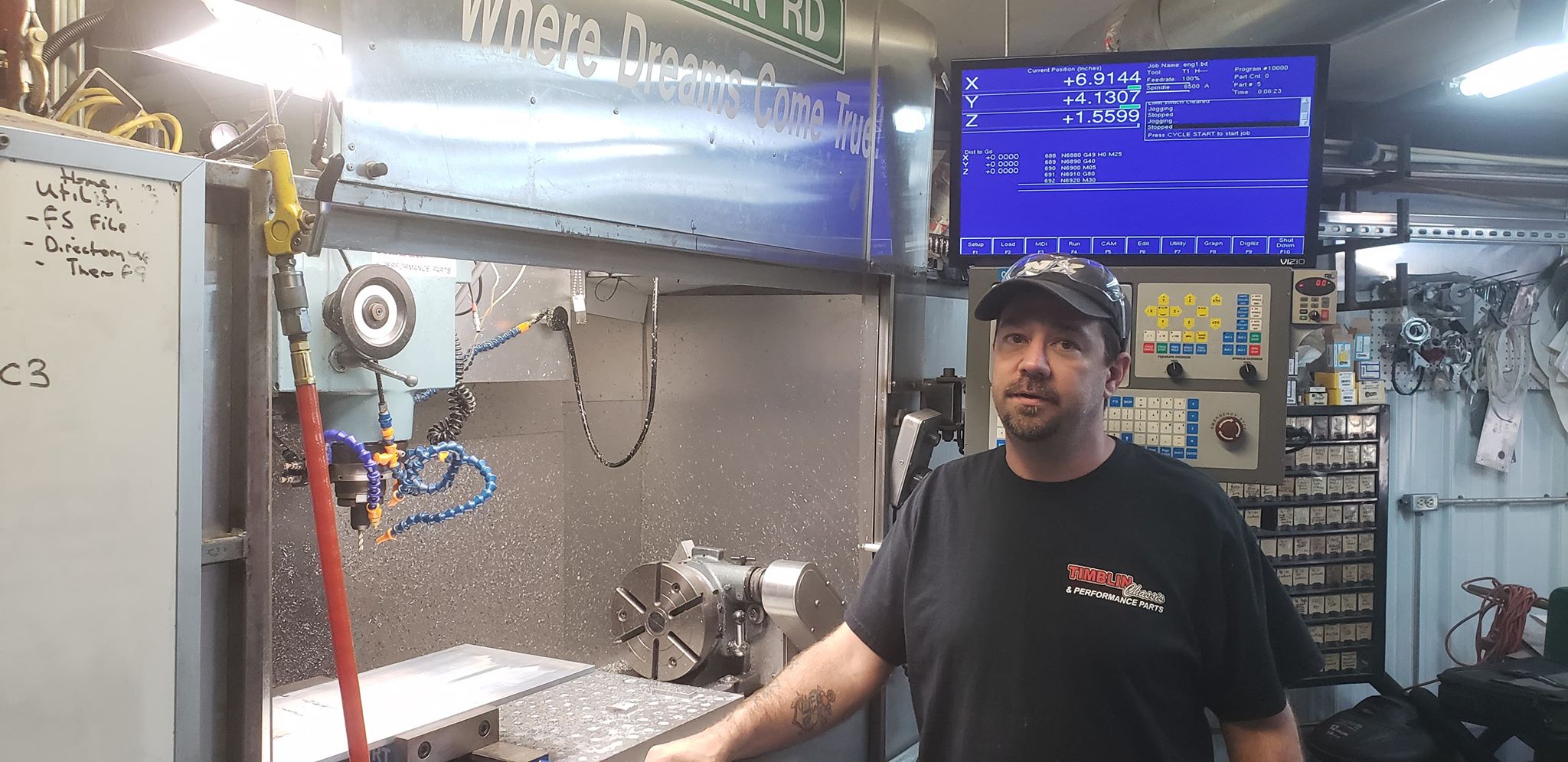 "The body was sitting on a brand a new bike going to Australia," Timblin said. "We really want to thank Geoff for stepping up for us. We also want to thank Spencer Allen for crew help and providing his trailer as a work station for the bike."
Timblin says the shredded 10.5-inch, 30551 Mickey Thompson Tire was sent back to the company for review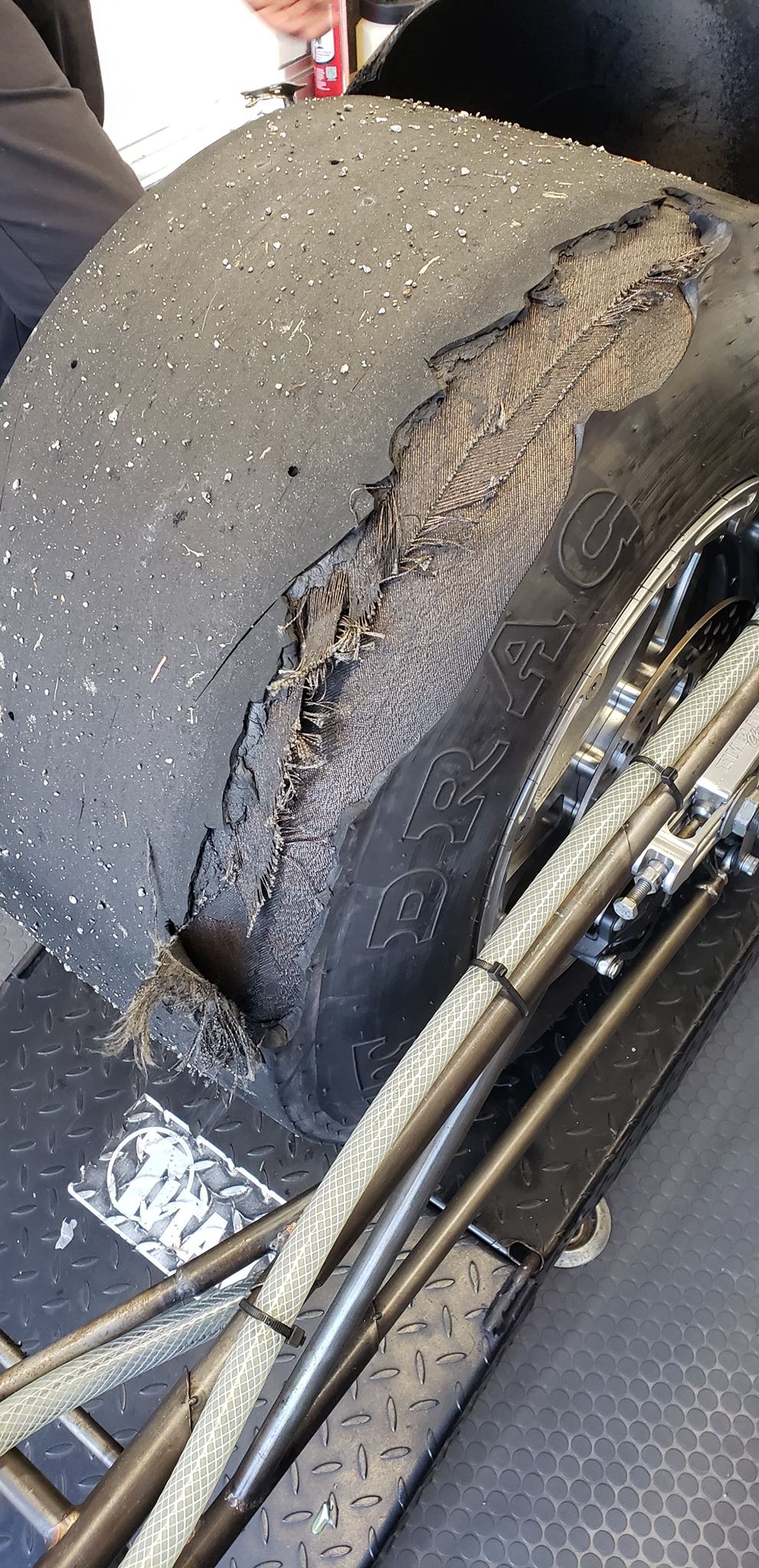 "We are hoping Mickey Thompson is going to improve it. That tire shredded had about 25 passes on it, so it might be a situation where we only get 10 passes out of it now," Timblin said. "The chunking has been a problem in Pro Mod for years, but never this big of a problem. We are learning with every pass. We have never been here with this much power before."
Timblin says the tire provides about 11 inches of contact on a 14.25-inch wheel.
Wagner is optimistic the team will find a solution.
"It's not a quarter mile issue, it's an eighth mile issue because that is where the tires are chunking," Wagner said. "The tire chunked, tore apart, caught the body and pulled it in. We want to make an inner fender that goes all the way back to contain the tire inside instead of letting it grab the body. That will avoid catastrophic failure. We are addressing all the issues we can. We got some of the best people on our side looking at these things."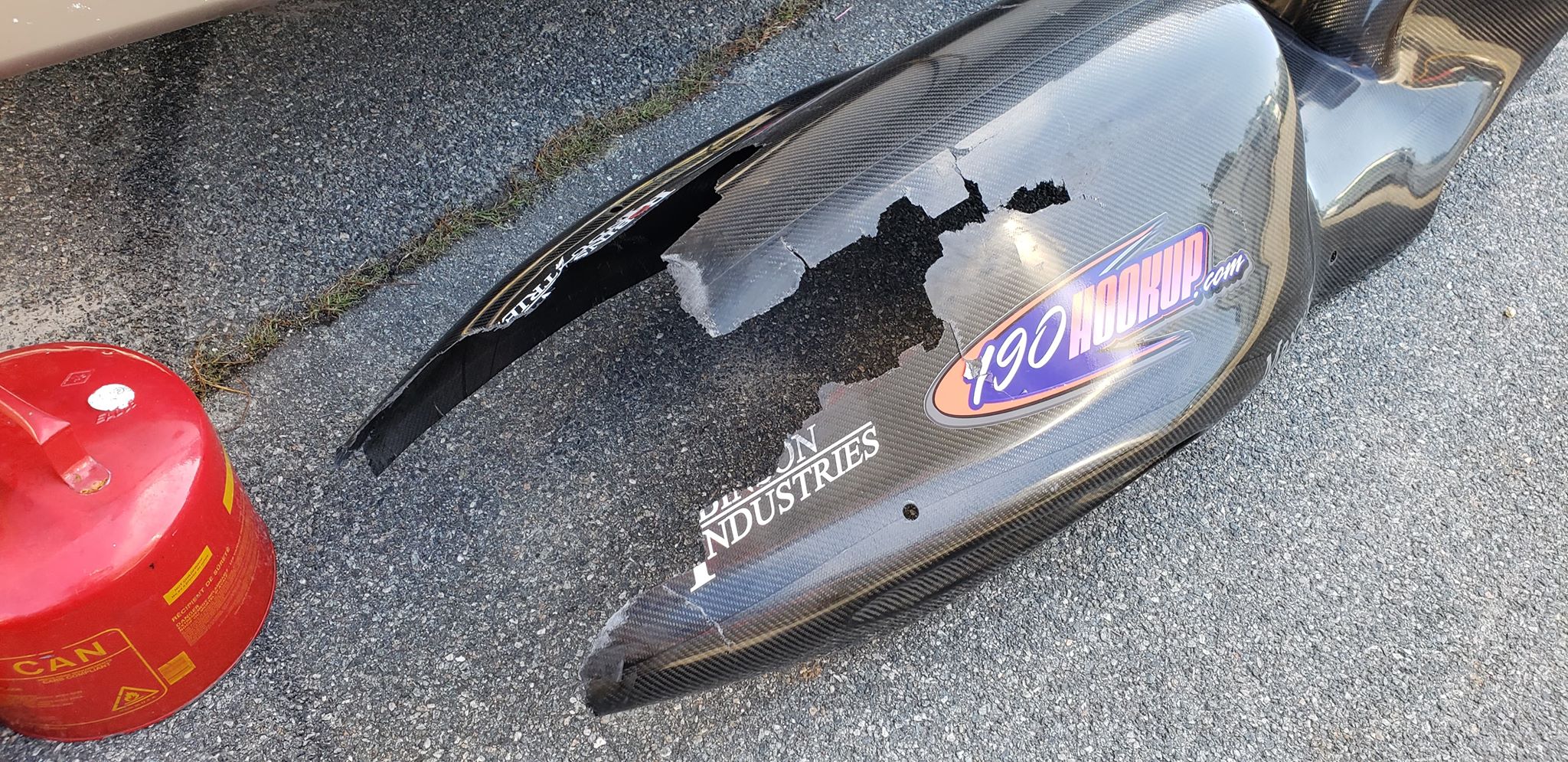 Wagner credits the PDRA for reigniting the interest in turbo-charged wheelie bar bikes and is not upset they are disallowing his bike to compete with the nitrous motorcycles next season.
"I want to thank PDRA. They should not be bashed," Wagner said. "They may have started the best thing possible."
Timblin says the interest in the motorcycle, both domestically and internationally has far surpassed his expectations. He says he's glad it won't fit with the PDRA nitrous bikes because de-tuning it would be shame. He sees Top Fuel as the only logical next step.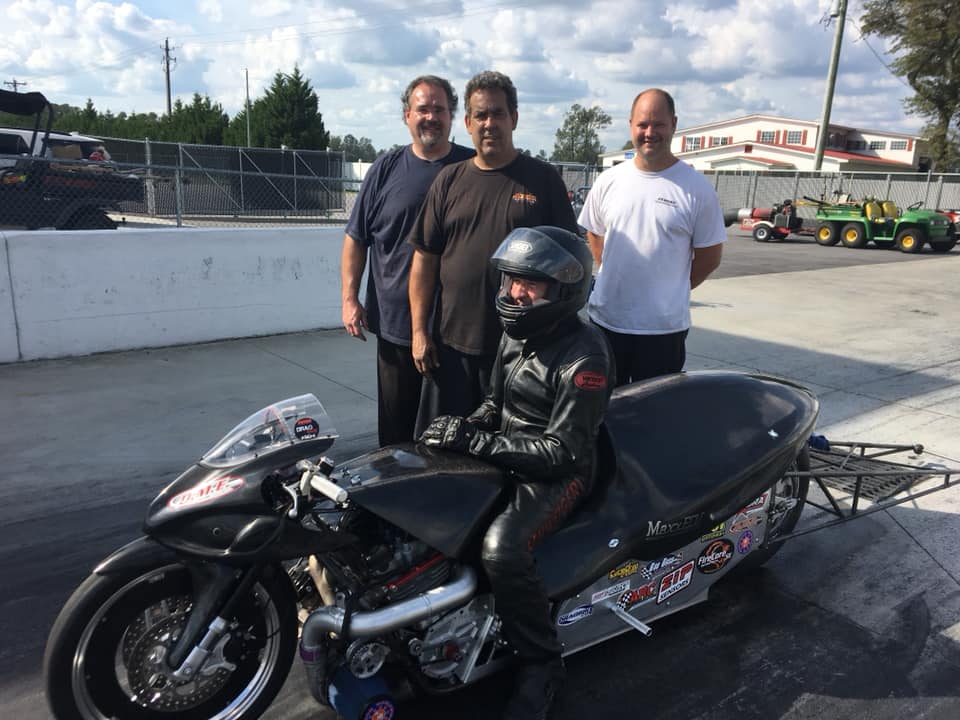 Wagner, Top Fuel racers, Man Cup's Jay Regan and others met at the PRI Show in Indianapolis to discuss the topic.
Wagner says the 6.19 got Regan's attention.
"I think we surprised Jay," Wagner said. "He didn't think we were ready to run with Top Fuel but we proved we can."
Regan says after hearing all sides there is a lot to consider and he is expected to make a final decision soon.
If allowed in, Wagner is also hoping the class stays unrestricted.
"Right now anything goes according to the rulebook," Wagner said. "We are hoping it stays that way. We want traction control."
Wagner says he's also working with the XDA and wants to bring in a class very similar to last season's version of PDRA's Pro Extreme Motorcycle, where turbos and nitrous bikes could compete against one another.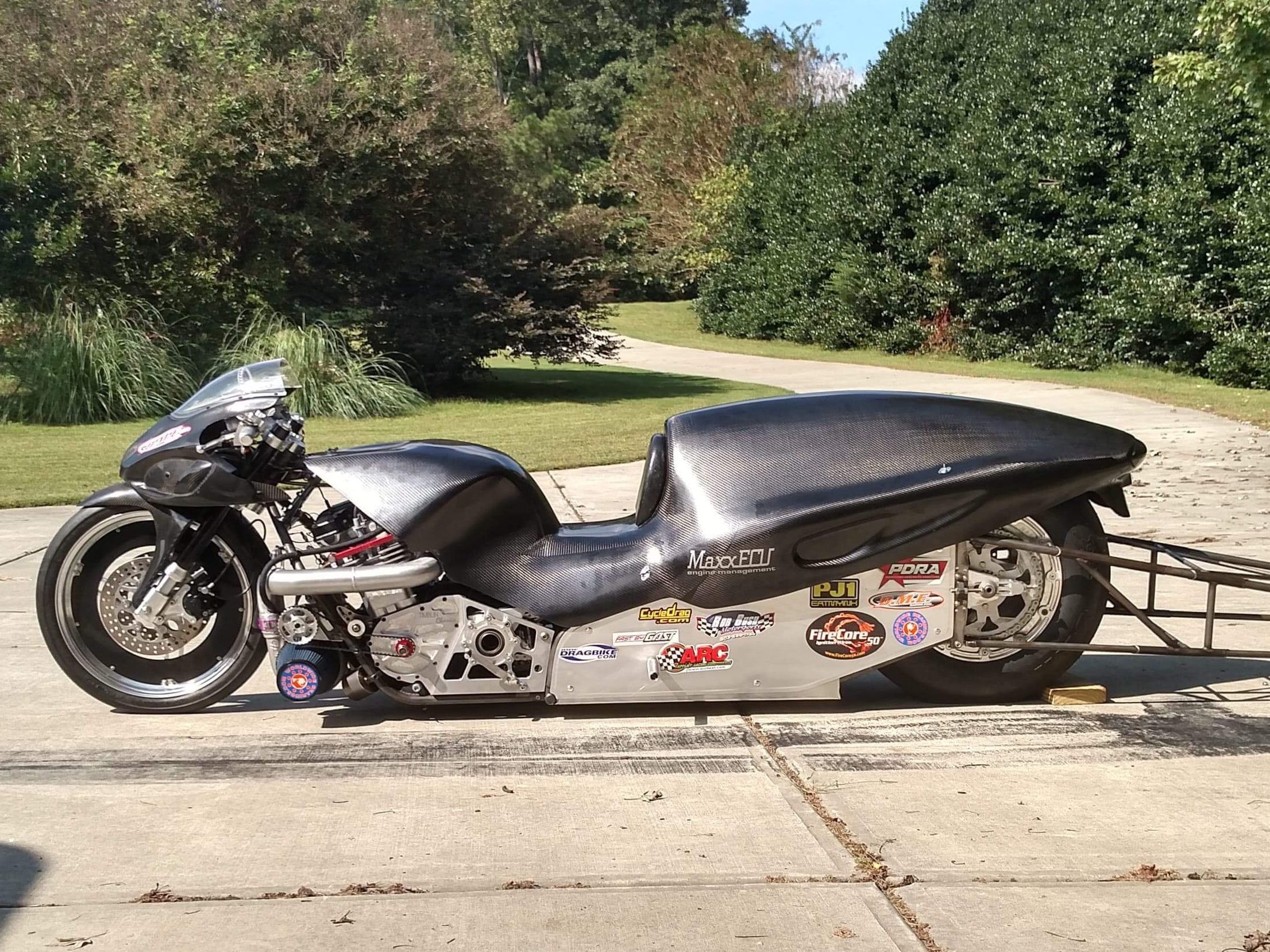 Will we soon see turbos invading Top Fuel? Should it be allowed? If so how will it change dragbike racing's quickest class? Feel free to leave your take.