The Man Cup 42nd annual Man Hill Garage World Finals, presented by Kibblewhite Precision Machine, held at South Georgia Motorsports Park, in Adel, Georgia, from November 15-18, was a race to remember from the 2018 racing season. The event, attended by hundreds of drag bikes and spectators from all over the world, once again made it the world class event it truly is.
There were racers from Aruba, Norway, Finland, Sweden, The UK, Greece, India, Australia, New Zealand, Japan, Puerto Rico, Canada, Nova Scotia, and of course many contestants and fans from the USA. This was easily the best attended motorcycle drag race of 2018 and the race lived up to its hype in every way.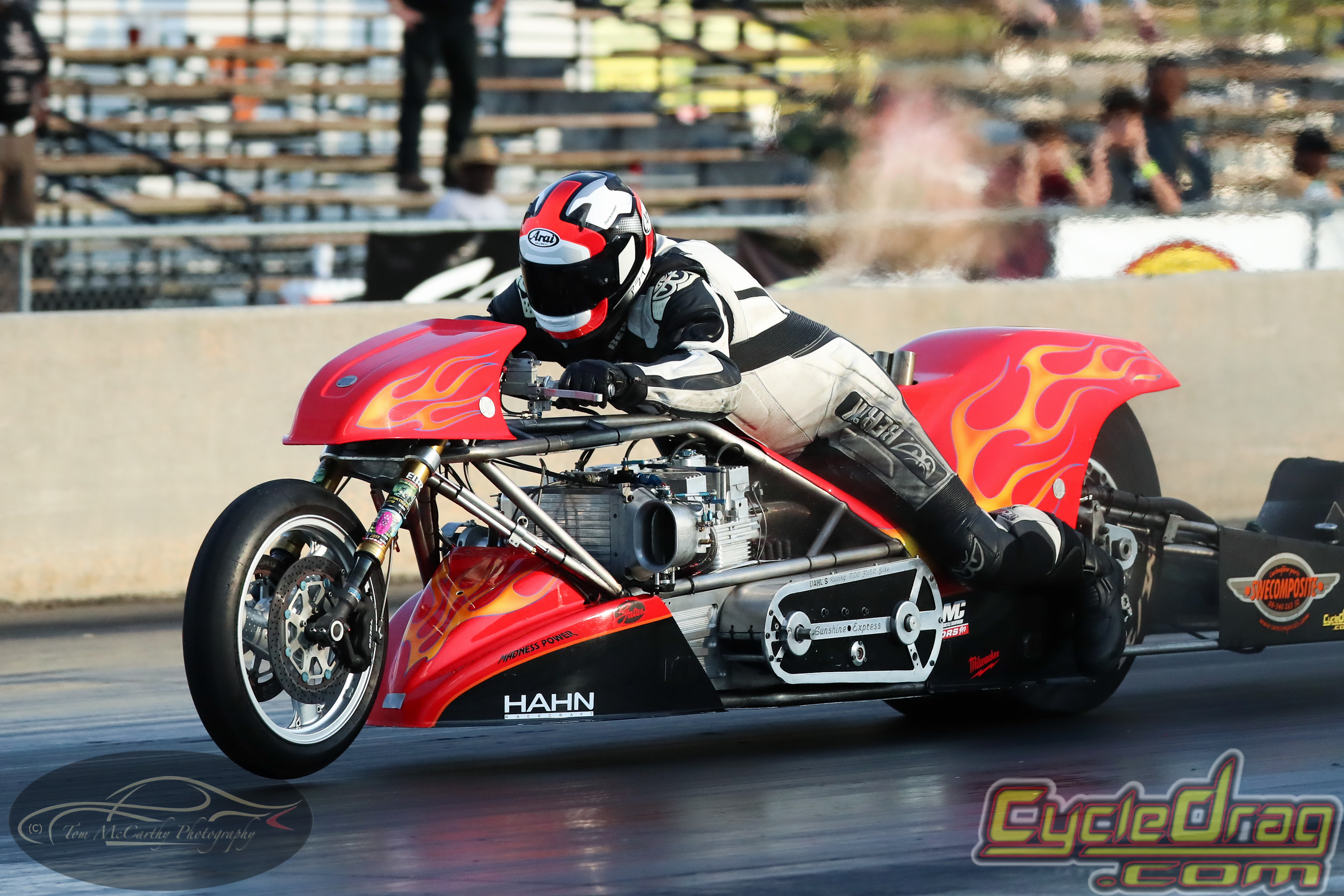 Mother Nature threw the event a curve ball to start things off by raining out the first two days of racing on Wednesday and Thursday. This put the crunch on the staff of the Man Cup organization and the hosting track, SGMP and clearly they were up to the task. Racing on Friday went till after 1AM and on Saturday, again it was late into the darkness in attending the racing – but get the racing in they did, producing a stout field of #1 qualifiers for Sunday morning.



In the Pingel Top Fuel series, the number one qualifier was Larry McBride with an attention getting 5.77 @ 241 MPH to lead the pack. And in running that lap he defeated Dave Vantine as they paired up to finish off the final round from the rained-out Dragway 42 event. Other #1 qualifiers included: Top Fuel Twin, Tii Tharpe 6.28 @ 217 MPH, OCR Pro Fuel, Kirby Apathy, 7.11 @ 177 MPH, Falicon Pro Mod Eric McKinney 3.99 @ 179.11 MPH, Nitrous Express Pro/Open Terry Schwiegert 6.635, APE Pro Street Frankie Stotz 6.66 @ 203 MPH and in Shinko/WPS Real Street Spencer Claycomb clocked in with a fine 7.76 @ 179 MPH.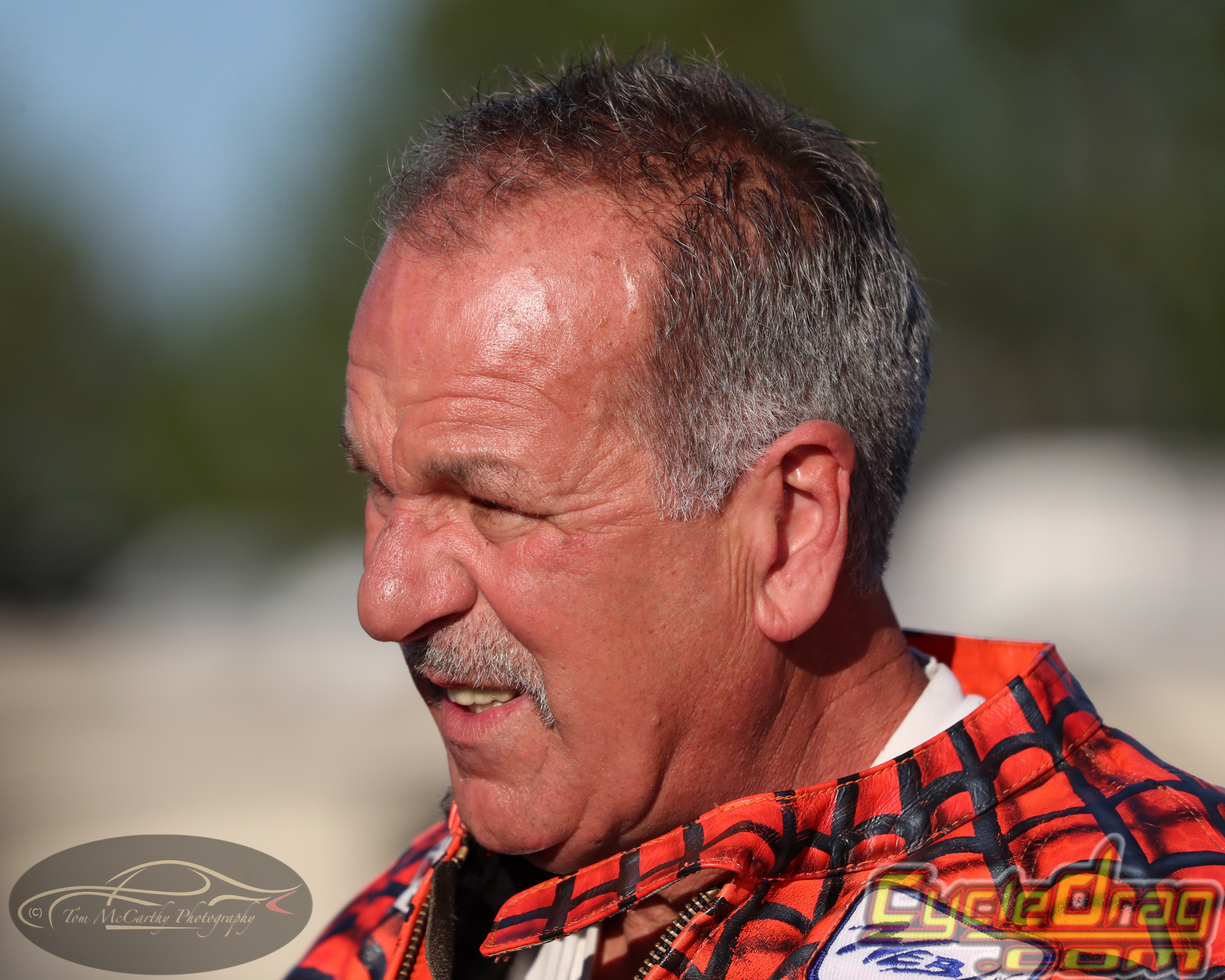 In the Sportsman Racing classes: Grothus Ultra 460, the #1 qualifier was George Babor, Cycle X Super Eliminator – Alex Huges, MTC Super – Comp Chris Bishop, Wiseco Street Fighter – Roy Johnson, Star Power Top Gas – Bob Carlson and in World Wide Bearings Crazy 8 – Shaun Bizette was the top qualifier.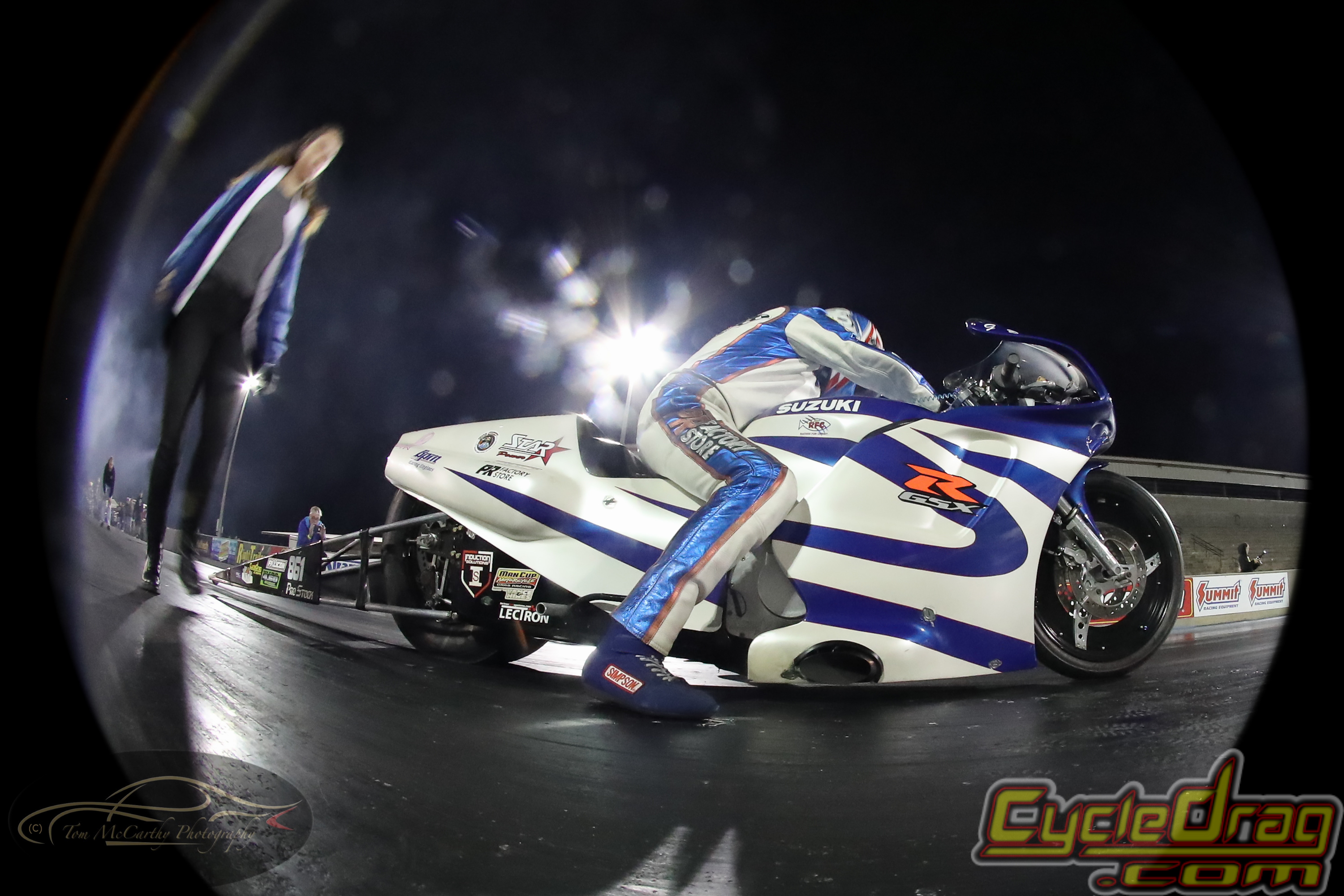 Once eliminations got underway on Sunday, it was all business in all classes. Pingel Top Fuel led the way with Ian King on the Gulf Oil T/F motorcycle laying down a stellar 5.89 @ 232 MPH to take out veteran Sam Wills who posted a strong 6.20 effort in defeat. Then Dave Vantine got into a heated peddle-fest with Sverre Dhal of Norway, they both broke traction and refused to let go of the throttle and kept getting back into it, smoking the tire on and off, for 1320 feet of race track. Dhal got to the finish line first with a valiant 8.60 elapsed time to Dave's embattled 9.60 clocking. Chris Hand then got into a similar peddle fest with Mitch Brown who shot past Chris at the last possible moment to snatch victory with a 7.71 to Chris Hand's 7.77, advancing him to the next round. Larry McBride, as low qualifier had a bye run for the round.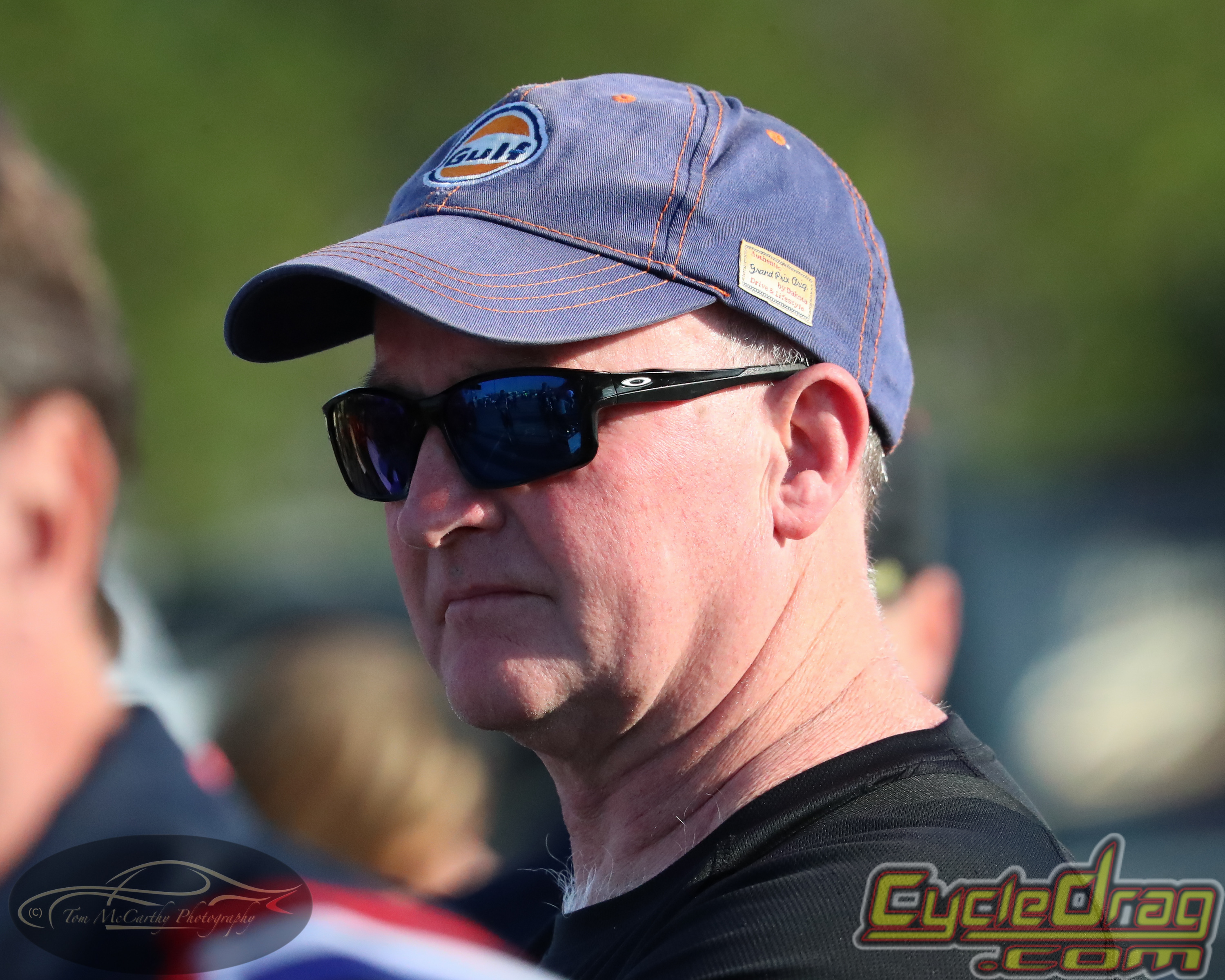 During E-2, Ian King came out guns blazing and took out the Spider Man with a fine 5.95 @ 225.33 MPH as Larry struck the tire on the launch and idled down the track. In the other match up of the round, Mitch Brown, driving the Dennis Bradley T/F bike powered to a 6.43 @ 219 MPH win over Sverre Dhal, who had a fine showing at the Man Cup World Finals.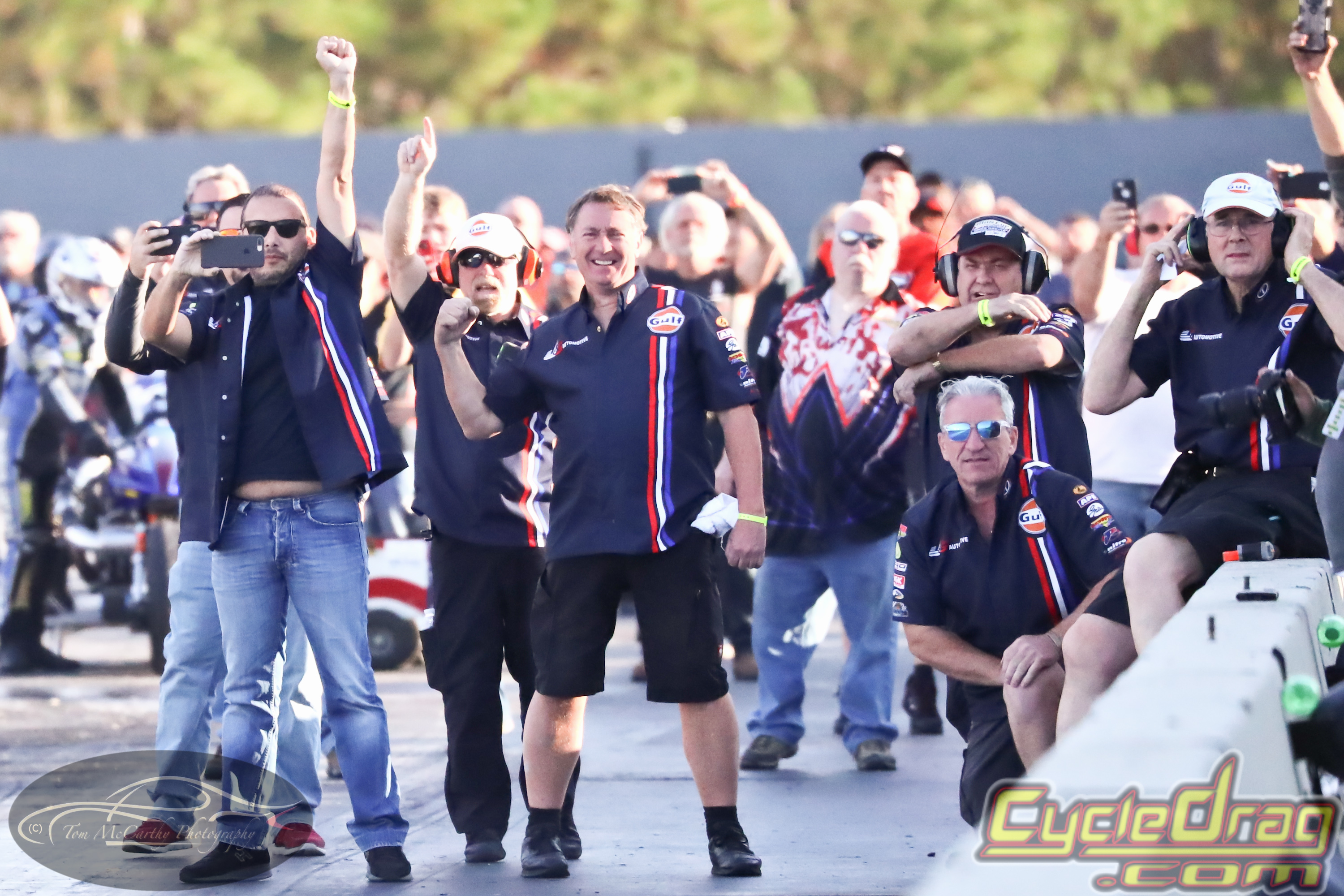 In the final round of Pingel Top Fuel motorcycle drag racing, Mitch Brown and his team gave it all they had and as Ian King broke traction, Mitch Brown covered 1320 feet of race track in 6.20 seconds with all four candles lit, to win the coveted Pingel Top Fuel World Cup.
In the Pingel Top Fuel Twin Class, during qualifying, Tii Tharpe flexed his NHRA TFH championship muscle with a 6.28 and took out Don Becker with a 6.43 @ 208 and looked like he was on a winning streak until he met up with The Man From Japan in round two. Tak Shigematsu of Japan dropped a 6.0 bomb on everyone, once again by stopping the SGMP clocks with a brilliant 6.06 @ 234 MPH to eliminate Tii and advance to the finals in Top Fuel Twin. There he met up with Rich Vreeland who qualified well and it looked to be a good drag race, until Rich encountered problems and Tak pulled away for the win. His 6.28 @ 212 MPH looked great under the lights at SGMP with his dual pipes spitting flames well into the night sky.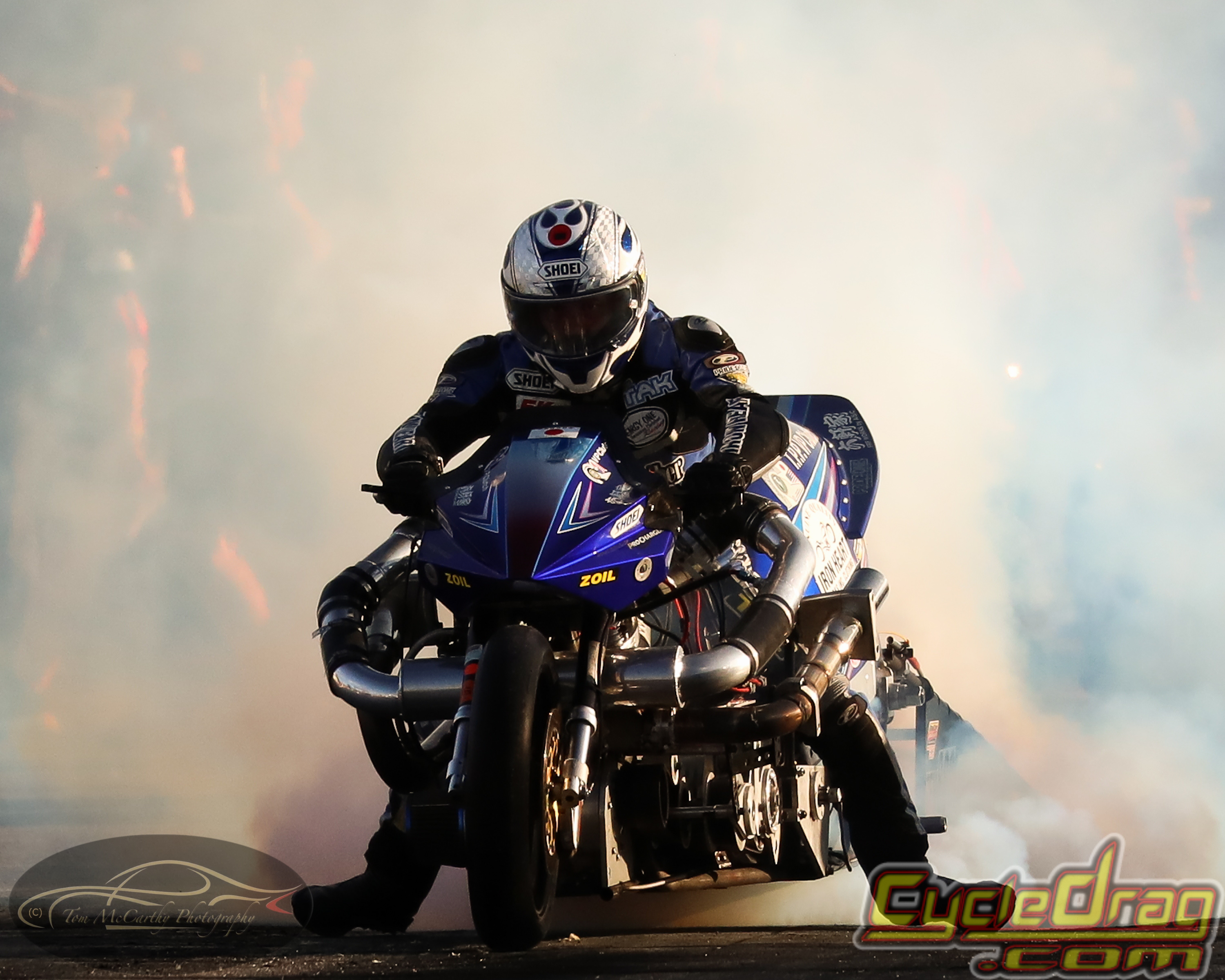 In Orangeburg Cycle Racing Pro Fuel action, the whole field new #1 qualifier Kirby Apathy was the man to beat. The question was who could do that and go the distance. The answer was: nobody. Kirby Apathy of Deland, Florida was just on a tear and his Gunfighter motor, he designed and built his-bad-self was just too much for the competition. Kirby went all the way for a 7.17 elapsed time victory over Preston Bartlett (7.55) who gave Kirby a run for his money.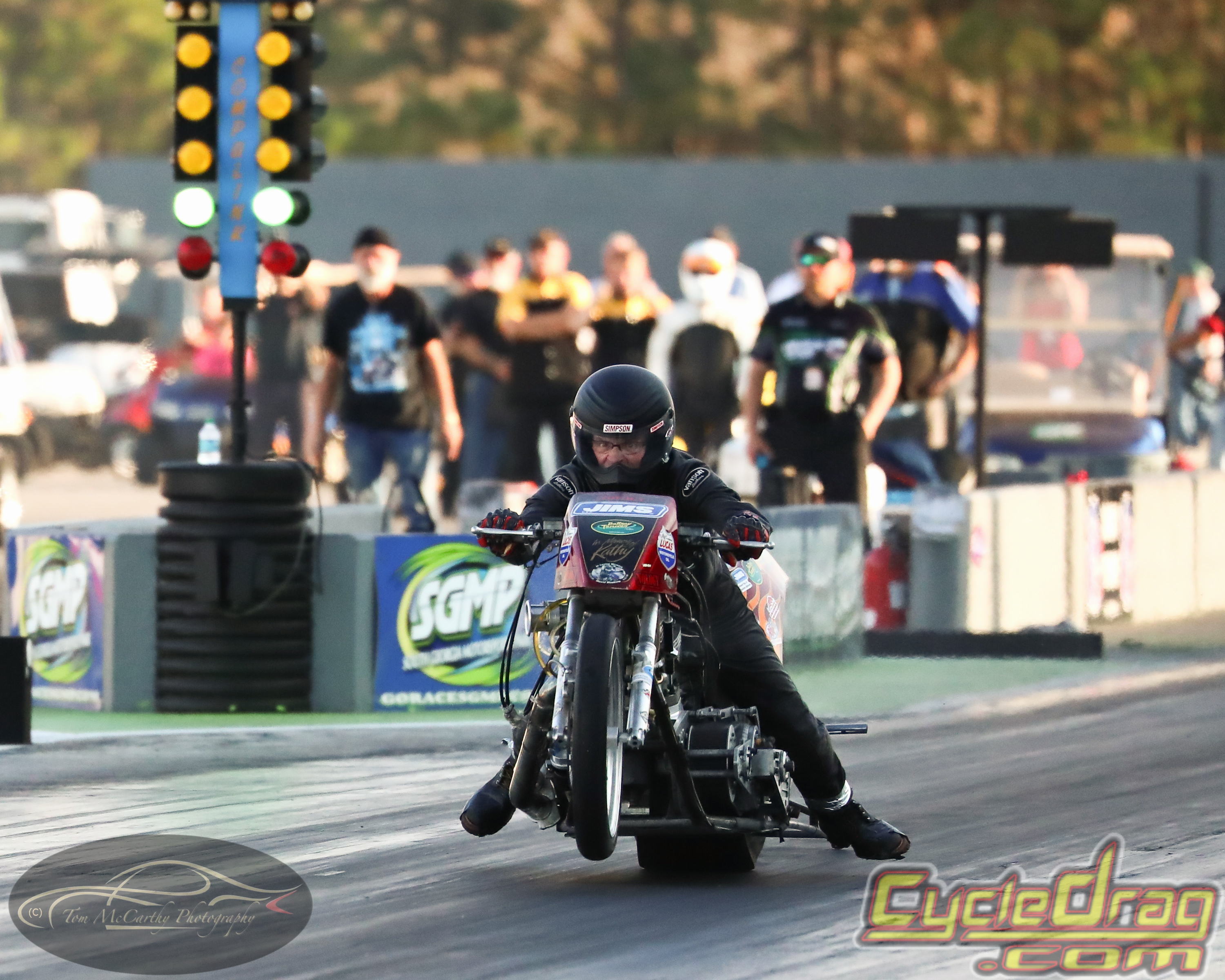 Preston, who only had a slim lead over Sam White coming into this race, had a match up with Sam during E-2 action, which became the match-up to decide the championship points. Sam got out first with a .103 RT to Preston's .124 response and they were side-by-side for the entire 1320' of race track. At the stripe, it was the 7.32 run by Preston Bartlett that took the win over Sam White's 7.53, to seal Preston's second consecutive Man Cup P/F #1 plate.
Falicon Pro Mod racing at the Man Cup World Finals was outstanding with Eric McKinney's 3.99 #1 qualifier pass setting the pace. Eric took out Mantex Thompson during E-1, defeating him 4.00 to 4.29. He then had to face team mate Ashley Owens in E-2 action and it was quite the drag race. Eric's .49 RT to Ashley's .054 light was close and their racing was fierce, with Ashley Owens 4.023 just a wheel quicker than Eric's 4.04 at the stripe, with the win going to Ashley Owens. Ashley then took out Chris Garner Jones, who fouled out and this set up the final pair as Ashley Owns Vs Brunson Grothus. These Lions came out for the kill with Brunson Grothus cutting a stunning .014 RT and Owns with a .016 just two-thousands of a second off the pace. As they rocketed to the finish line, Brunson had a malfunction which forced him to abort the run and Ashley Owens closed out the win with a 4.00 pass that sealed his win in Falicon Pro Mod.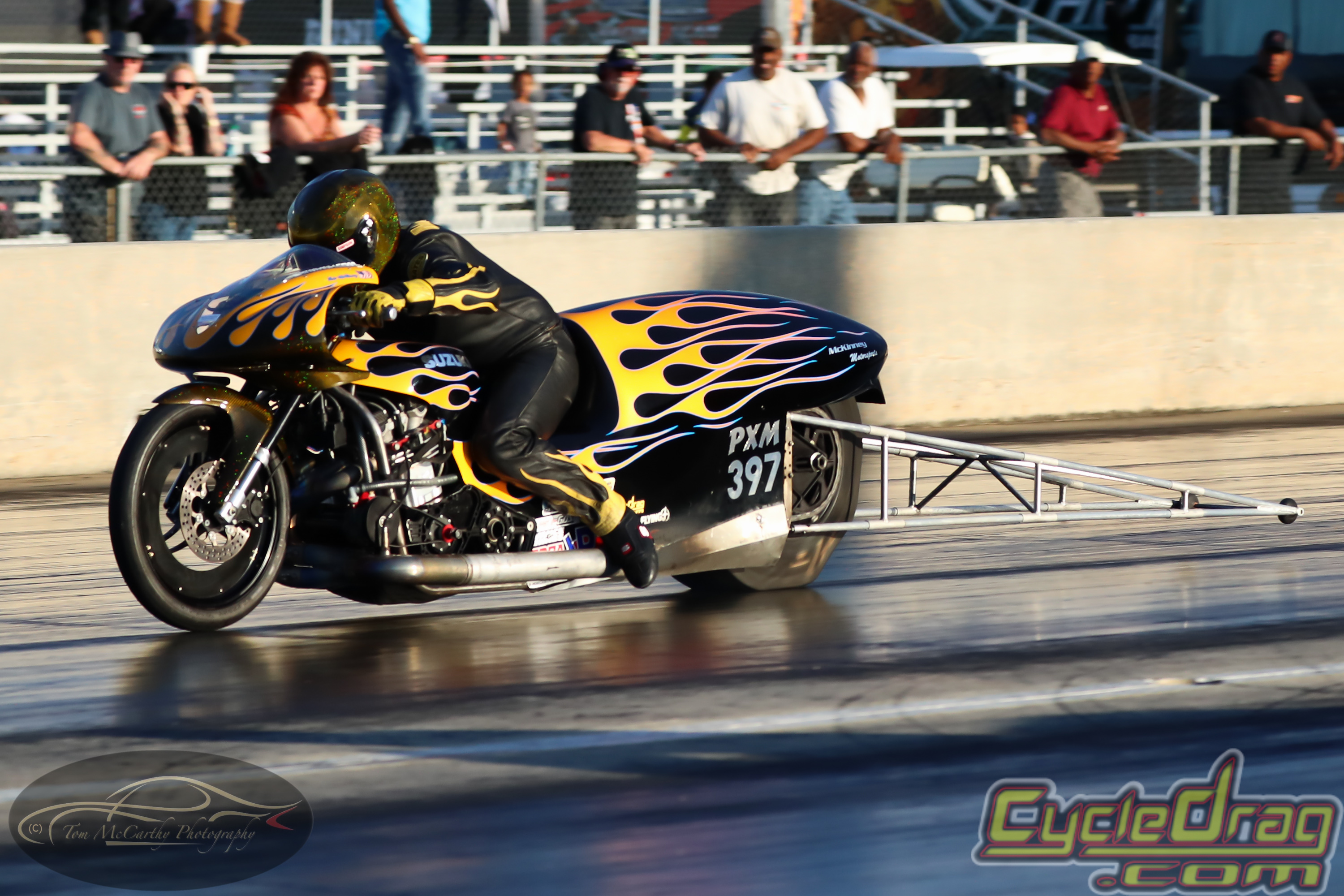 Nitrous Express Pro Open was a-buzz with the 6.36 @ 218 by Terry Schwiegert during qualifying, people were wondering, how much more does he have in that new supercharged bike? Well the answer to that question will have to wait until the 2019 season as Terry fouled out in round one, opening up the door for the rest of the field. The man of the moment in P/O turned out to be Rob Garcia who in E-1 defeated Marc Ingwersen, 6.47 to 713, then in E-2 Rob trailered Charlie Prophit 6.47 to 11.94 and in the semi-final round Rob beat Rick Perry, 6.50 to 7.25. In the final round, Rob Garcia had a great drag race with Chris Cutsinger: they left the starting line with identical .064 reaction times and stayed wheel-to-wheel for the entire race, with Rob Garcia taking the win 6.48 to 6.56, what a great drag race!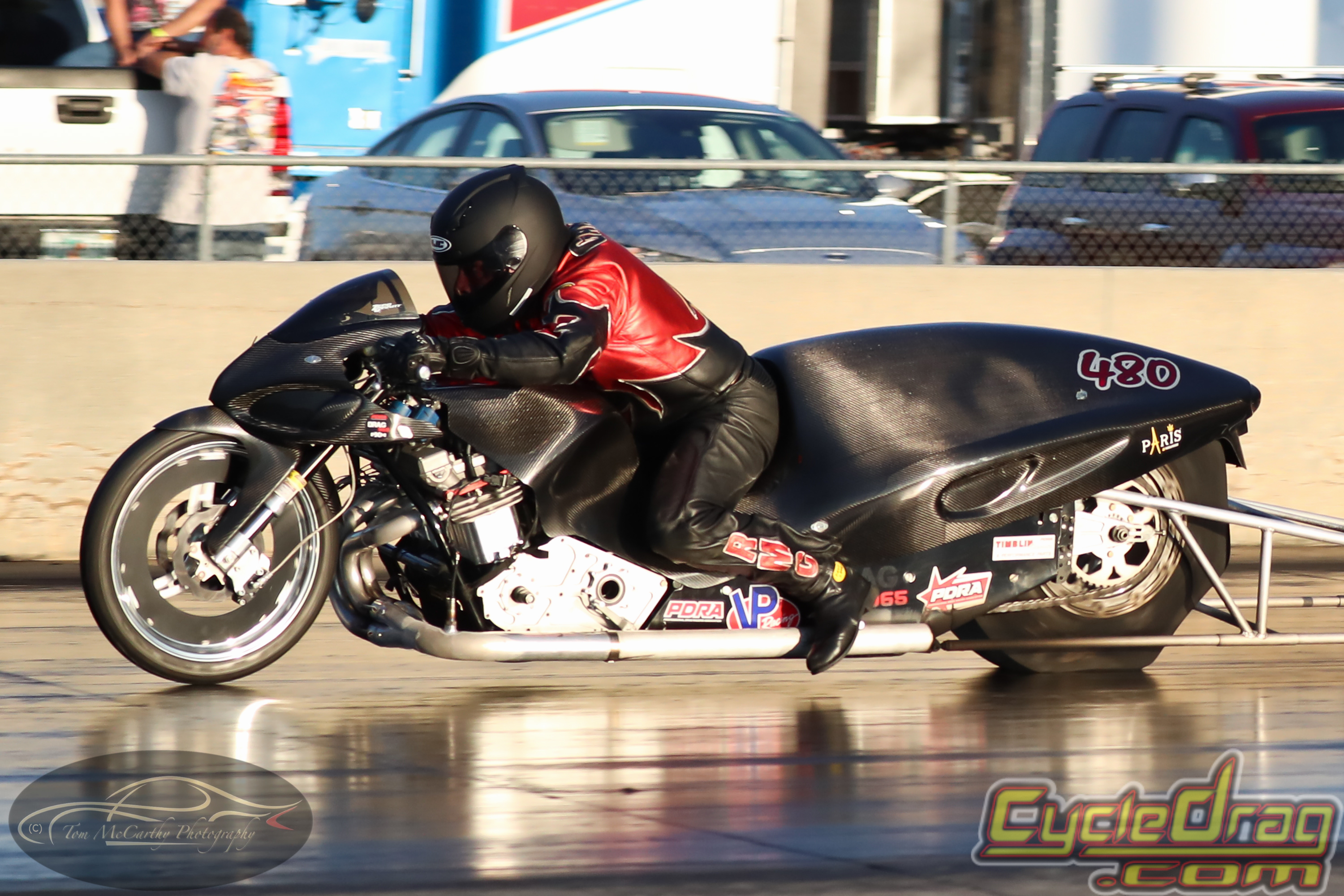 In APE Pro Street action, Frankie Stotz and the Stotz Racing Honda stole the show, beginning with winning the DME All Star Shootout, which had to be condensed into the qualifying sessions of the Man Cup World Finals. Brandi Neithamer, the Editor in Chief of Dragbike.com provided the coordination duties as liaison between the tower and the Pro Street racers as her work was pivotal in getting the race-within-a-race, complicated. Frankie Stotz then ran the table like a pool-hall shark in a feeding frenzy. After winning the DME All Star Shootout, Frankie ran a string of 6.60's all the way to the finals (6.607, 6.608, 6.601) to defeat Rodney Williford 6.603 to 6.76 to win the event and set a new world record for APE Pro Street in the process.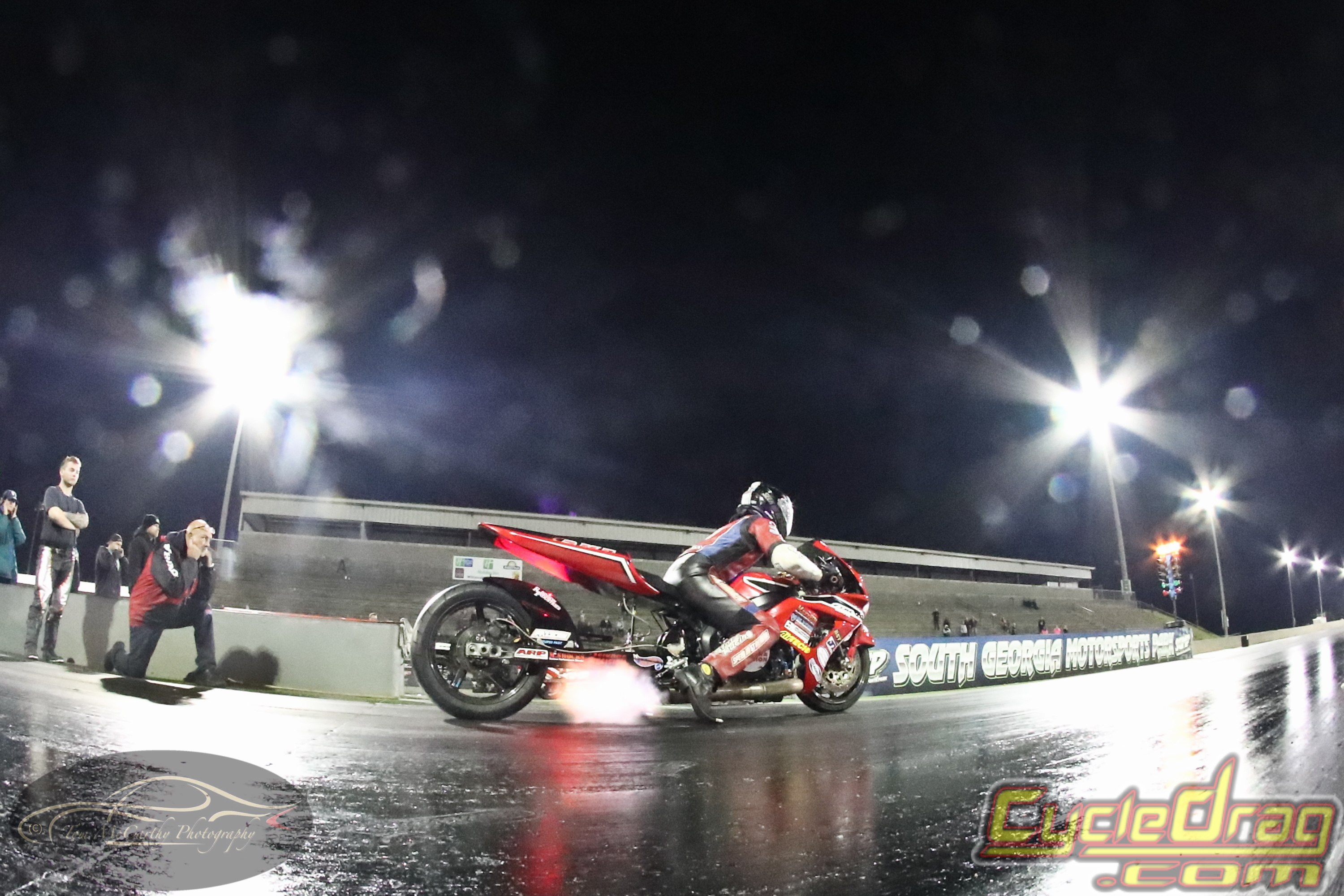 Shinko/WPS Real Street racing at the World Finals was off to a good start with Spencer Claycomb starting things off with his stunning 7.76 during qualifying, but mechanical woes took him out during E-2 paving the way for Marcus Hylton of NC to battle his way through the field for the victory. Marcus took out Sancho, Teasley and Orend on his way to the final round match up with Johnny "Turbo" Dobrin. Hylton killed it on the tree with a perfect .000 reaction time to Johnny's .071, and then ran an excellent 7.92 to match Johnny's 7. 91 and the difference in the reaction times became the deciding factor for Marcus Hylton's big win of the weekend.
Grothus Ultra 4.60 was as tough as always during the Man Cup Mann Hill Garage World Finals. With George Babor leading the way in qualifying going 4.60 on the 4.60 index, this earned him a bye run in the opening round. In E-2 he found himself opposite Jerry Scott and chopped the tree with a stunning .001 RT and ran 4.66 on the number to eliminate Scott. E-3 he matched up with Sharrod Fulghum, who broke during his run, giving the win light to Babor. During E-4 action, George rolled into the water against Wes Hawkins and they were in for the fight of the night. George dropped a perfect reaction time, .000 and ran 4.686 on a 4.60 index AND LOST! Wes Hawkins had a .040 RT and went 4.61 on the index for a MOV of .036 seconds. On the other side of the ladder, the defending point's champion, Tony Mullen was wadding through 5 rounds of racing, winning every round to make it to the finals where they met up with Wes Hawkins and late Sunday night, they faced off to decide the race and all the championship for 2018. Tony Mullen chopped the tree with a .020 and Hawkins responded with an .090 light that put him in the hole, right out of the gate. Tony went 4.62 on the number and Wes clocked in at 4.64 and the win along with the 2018 4.60 Grothus Drag Bikes championship went to the Mullen Brothers, Tony & Jimmy who worked hard for this one!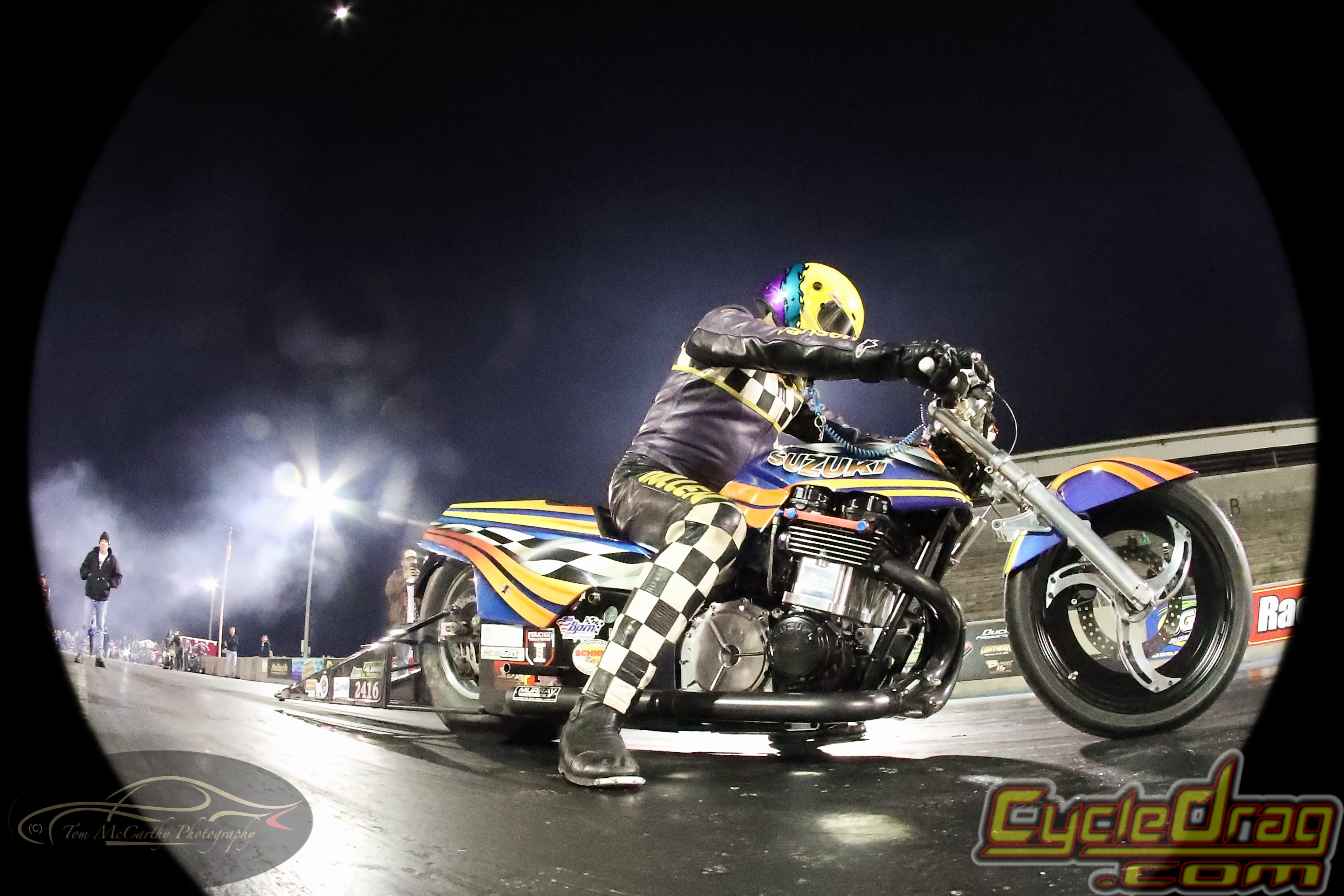 In the Star Racing Top Gas class, where racing on the 8.20 index is the goal, the #1 qualifier was Bob Carlson of Torrington, CT. His single in round one was welcome knowing he had many rounds of racing ahead of him this day. During E-2, Bob fouled out with a red light start, ending his day. But during that same round, Nick Bowling, a veteran sportsman racer from Florida, took out Brian Bolton and he was off to the races. In E-3 Nick eliminated Mike Luango, earning him a competition single in the next round of racing. In E-5 Nick eliminated the always tough Craig Adams to advance to the finals against Joe Deck who was just burning down the house all day. Late Sunday night they settled the score when Nick left first with a .038 RT to Joe's .070 and at the stripe, with a double breakout pass, the win light went to Nicklas Bowling III, of Holmes Beach Florida.
MTC Super Comp at the Man Cup World Finals was running on the usual 8.90 index, and took a whopping seven rounds of racing to complete. While Chris Bishop of Parrish, Florida was good enough to draw a bye run in round one, in round two he had the misfortune of drawing John "Spooky" Markham in E-2 and the Spooky man was fresh off his NHRA Championship win in Cali. So Markham eliminated Bishop, unleashing the Spooky man on the hoard of S/C racers. Tough as these racers are, even John Markham didn't last long, he fell next round to Wade Smith. Meanwhile elsewhere in the ladder system David Fletcher of Plant City, Florida was making his way past Tom Klemme, Randall Cross, Calvin Mason and Spencer Claycomb to advance to the final round. There he met up with the DL, Dustin Lee, who just weeded out the mob, one after the other, round after round. DL dropped a .031 light on Fletcher who responded with a .015 and Dustin Lee was a tad behind Fletcher for about 1200'of race track. At the stripe, David Fletcher went 8.91 on the 8.90 index and Dustin Lee clocked in at 8.884 with a breakout pass and it was a good day for David Fletcher, the winner of MTC Super Comp at the World Finals.
In World Wide Bearings Crazy 8's racing, the six rounds of racing went quickly with Shaun Bizette taking the bye run in round one. Shaun then took out Tim Layton in E-2 and in E-3 he eliminated Kevin Haag before falling to Murray Lonsbary during E-4. Maurry then was eliminated by Barry Pryor Sr. who marched on into the final round. Barry, who's come so close, so many times this year, finally shined in the finals by defeating Clark Proctor, 8.90 to 8.92 late Sunday night. Two great veterans in the finals, with one very happy Barry Pryer Sr. headed to the winner's circle and a happy ride home, following the race.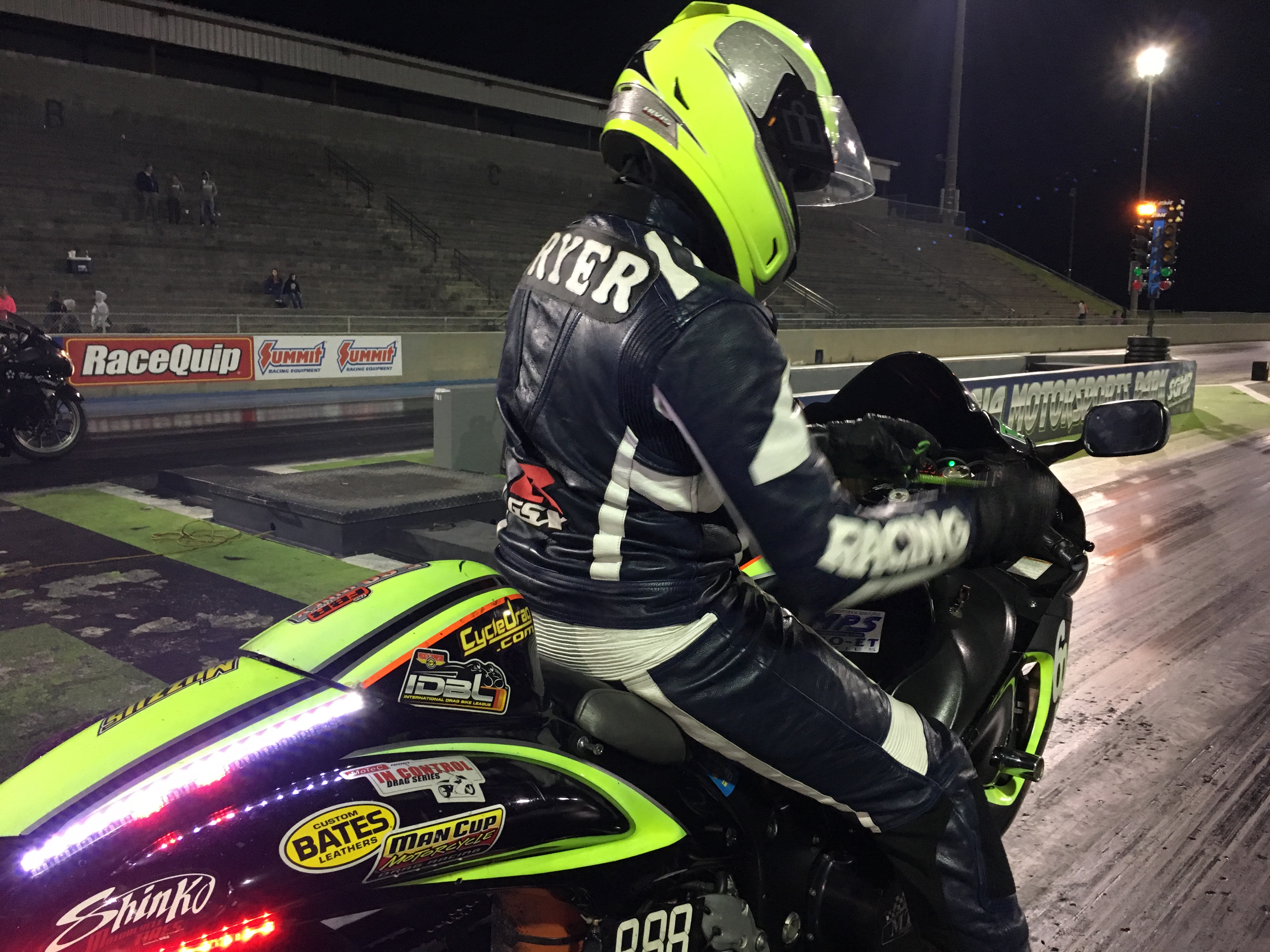 Cycle X sponsored Super Eliminator at the World Finals was like a step back in time with the smell of Klotz in the air and two-stroke motorcycles sounding like chain saw motors on steroids filling the air waves. Alex Hughes was the #1 man with a bye in E-1 and in E-2, fell to Jesse Baker. But the one to watch this day was Craig Adams. Craig defeated Aaron Cunningham, Kevin Hutchinson, Jesse Baker and then dispatched Eric Thomas on his H2 in the finals. It's always a pleasure to have the S/Elim bikes at the Man Cup events. They take us back in time.
Wiseco Street Fighter, racing on the 9.50 index is a highly popular class which hosted six rounds of eliminations during the World Finals. The diversity of racers from Aruba, India and Canada helped bring a bit of added color to the bikes and team outerwear this year. It was a proud moment for Man Cup to see the teams of Sportsman racers looking just as good as the top professional teams out on the starting line. Butch Norwood of Covington, GA was the buzz saw that carved through the ranks to do battle with Bob Carlson in the finals at this event. Butch defeated Jason Herron, Alan Fields, Tom Lagasse, and Bob Carlson, along the way to his World Finals victory. This was his first Street Fighter victory and it was a big one.
MPS Pro ET was ROCKIN at the Man Cup finals: seven rounds of the toughest sportsman racing seen by man in 2018. Joe Deck defeated; Cory Washington, Kelly McDaniel, Caria Adams, solo, Steve Kady and John Markham to make the final round. Adam Konopacki had to defeat, Kady, Blair Field, racer 156, Harvey Hubbard, Frank Dixon, and Martha White to advance to the finals. Once there the match-up between Deck and Konopacki was epic. Joe Deck dialed 8.13 and Konopacki dialed in at 8.97. The tree went to Konopacki who cut a .035 light to Joe's .044 offering and they raced hard to the finish line. Joe Deck clocked in with an 8.15 on his 8.13 dial and that was all for Adam Konopacki who ran 9.01 on his 8.97 number. Hopefully we will see more of Joe Deck in 2019 racing action.
Vance & Hines sponsored V-Twin racing had a stout ladder featuring the dominator, Vance Houdyshell, the toughest racer ever to enter the class. Vance qualified #1 and stormed to the finals as he often does at Man Cup events to meet up with Ken Strauss of Thompson, Ohio. Ken defeated Mike Marsh, Stacy Smith, did a solo in the semi-final round and into the finals to meet Mr. Houdyshell. At the launch, Vance had the hole-shot, but at the stripe, Ken Strauss took the win, his first of 2018 and Vance Houdyshell won the war by becoming the 2018 Vance & Hines, V-Twin class champion.
The pièce de résistance for the sportsman racing of the weekend happened during the final round of racing for the whole event. It was a moment to remember for Man Cup and all the many motorcycles and fans from the island of Aruba who came to race against the best of the best at the World Finals. The final round match-up between Stacy Smith and Garvey Werleman was the last round of racing in a very long race that happened late Sunday night and it was worth the price of admission. Every racer and every fan from Aruba, and there were well over a dozen of them, stood near the water box, flags waving, rooting for Gary Werleman their hero who made it to the final round. When the win light came on in his lane, they went bonkers and the cheers could be heard all throughout the pits as Garvey's 9.20 got the better of Stacy's 13.16 effort. The enthusiasm of the Aruban people lasted a while as they cheered and waved their countries flags to and fro at everyone in eyesight. One could not help but get caught up in the celebration.
It was a great ending to a great race! See you all in 2019 when the Man Cup sanction resumes racing on April 5-6-7, once again at SGMP to kick off another great season of Man Cup motorcycle drag racing, see you then!