The Discount Tire-Lucas Oil-Wheels Through Time-Sponsored Sportster raced hard and fast to the Final Round at AMRA's Nitro Nationals at The Rock in Rockingham, North Carolina on June 1, 2014.
The Wheels Through Time Museum in Maggie Valley, North Carolina was the event sponsor for Team Half Fast.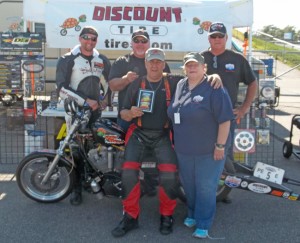 Sutinen qualified in the top half of the ladder at #7 with a 10.947 on Saturday.
In the first round of eliminations on Sunday, rider Chip Sutinen ran an impressive 10.908 in the 10.90 class against Paul Vicory for the win, earning Sutinen some bonus points for running dead on the index. The second round brought a "Bye" for Sutinen into the third round due to a foul by both potential competitors in the first round. The third round was against S. Wood, and
it was a race! Sutinen got the better reaction time (.086 to Wood's .137) and it was a double breakout – Sutinen's winning 10.887 to Wood's 10.879.
Sutinen continued in the semi-finals with a stellar reaction time – .006 – to Gregg Gross's .085. Sutinen kept the lead down the entire quarter mile and came away with the win yet again, this time with a 10.922 against Gross's 10.988. Sutinen earns his first-ever final round appearance in the PE 10.90 class.
The winning streak came to an end in the finals against Steve Legg of Oak Hill, West Virginia. The bike really took off and Sutinen broke out with a 10.783, giving Legg the win. Sutinen gets the Runner-Up plaque – his first in the 10.90 class.
"We're very proud to have The Wheels Through Time Museum as our event sponsor this weekend," says Chip Sutinen. "Our crew chief, Nate Thompson of Super V Cycles, and his brother, Dave, were also here at the event. Our team and bike were a well-Lucas-oiled machine here at The Rock. First and foremost, I would like to thank the Lord for everyone's safety at the event this weekend. I would also like to thank my loving wife, Maus. And I cannot thank The Wheels museum, Nate, and Dave enough for all their help in getting us to the final round. I also want to express my sincere gratitude to Discount Tire, Lucas Oil Corporation, Vega Helmet, Accel Motorcycle, Mickey Thompson Tires and Wheels, Pingel Enterprises, Inc., Design Engineering, Inc., Vital Virtual Services, Goodson Tools and Supplies, PBI Sprockets, and Airgas for their valued support."