PSE/Star Racing teammates Cory Reed and Angelle Sampey both had successes this weekend at the 62nd annual Chevrolet Performance U.S. Nationals. Sampey entered raceday in the No. 1 qualifying position and Reed raced to his first semifinals of his rookie season.
First Semifinals for Cory Reed at Biggest Race of Season
Cory Reed continues to prove himself on track as a rookie racer. Growing pains are to be expected and Reed is breaking through those with ease as he advanced to his first ever semifinal round in his first year in NHRA Pro Stock Motorcycle.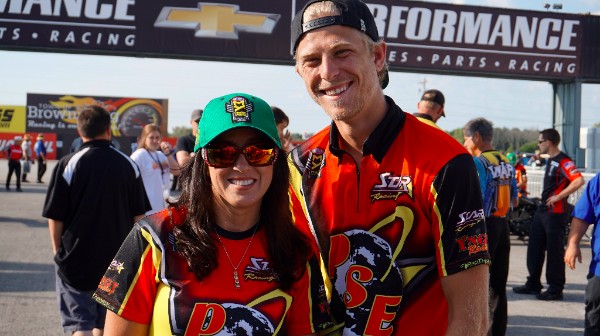 First round was one of the biggest rounds Reed has come across. Steve Johnson began raceday in the No. 10 spot in the point standings and if Reed defeated Johnson, he would have a good chance of getting himself into the Countdown to the Championship. Reed clocked in with a 6.931-second pass at 194.21 and edged out Johnson who ran a troubled 7.064, 192.11. With first round losses by Karen Stoffer and Michael Ray who were also attempting to get into the Countdown, Reed got himself a spot in the Countdown.
"I felt confident in that first round because I know how well my PSE/Star Racing Buell can perform," Reed said. "After I took out Steve, I just started screaming because I was so excited because I knew we had a good chance at making the Countdown with that big win. That's all I wanted to do this weekend."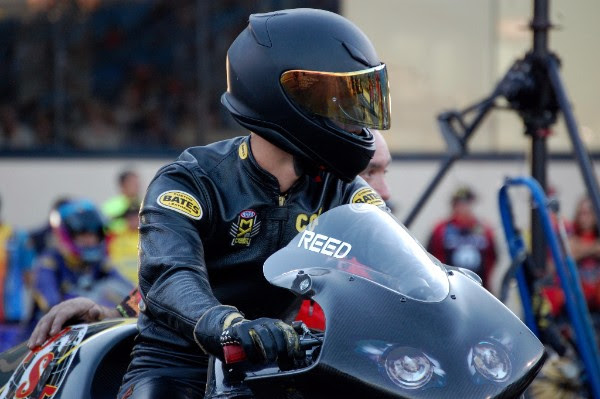 Second round Reed saw a familiar face in the lane next to him: teammate Angelle Sampey. Sampey went red by .015-seconds at the hit and Reed advanced to the semifinals with a 6.883, 193.68.
The Rookie of the Year contender has been making a name for himself with his ultra-quick reaction times. Reed crossed the finish line with a 6.977, 191.19 against opponent Hector Arana Jr. but Reed turned on the red light with a -.001-second reaction time. Arana Jr. would advance to the finals.
Angelle Sampey Early Exit Due to Red Light in Second Round
Coming in as the No. 1 qualifier, Sampey had a first round matchup against Hector Arana Sr. In the hottest air temperatures of the weekend, Sampey was able to ride to a quick 6.865, 195.76 to take out Arana Sr.'s slowed 7.044, 194.44.
"I felt really cool, calm and collected that first round," Sampey said. "I knew I was going to have a good run and it all worked out exactly how I wanted it to and then I got bummed that I had to race Cory in the second round. We want the PSE/Star Racing Buells in the finals but I was happy he had clinched his spot in the Countdown."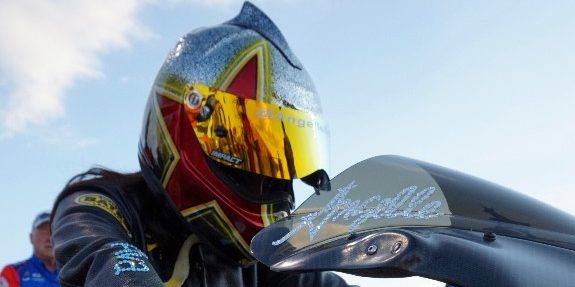 Racing her teammate in the second round, the guaranteed semifinal appearance of a PSE/Star Racing Buell was the ultimate prize. Reed clocked in with a 6.883, 193.68 and his win light came on due to Sampey reacting with a -.015-second red light ending her day in the second round.
"My bike crept on the starting line," she admitted. "When I turned the throttle, it rolled forward and that's what caused it to go red. If it wouldn't have done that, it would've been a .00 light which was what I wanted. I was pushing it a little bit harder because I know Cory's good on the tree and I wanted it to be a good race."
ANGELLE SAMPEY, PSE/STAR RACING BUELL
Qualified: No. 1
ELIMINATIONS
First Round: SAMPEY (6.865-seconds, 195.44 mph) def. Hector Arana (7.044, 194.44)
Second Round: Cory Reed (6.883, 193.68) def. SAMPEY (6.920, 194.38)
QUALIFYING
FRIDAY: 6.912-second, 193.32 mph (Session 1);
SATURDAY: 6.851, 194.52 (Session 2); 6.865, 194.41 (Session 3)
SUNDAY: 6.812, 196.62 (Session 4); 6.836, 197.02 (Session 5)
CORY REED, PSE/STAR RACING BUELL
Qualified: No. 8
ELIMINATIONS
First Round: REED (6.931, 194.21) def. Steve Johnson (7.064, 192.11)
Second Round: REED (6.883, 193.68) def. Angelle Sampey (6.920, 194.38)
Semifinals: Hector Arana Jr. (6.913, 194.44) def. REED (6.977, 191.19)
QUALIFYING
FRIDAY: 6.870-second, 192.66 mph (Session 1);
SATURDAY: 6.901, 193.52 (Session 2); 6.895, 193.63 (Session 3)
SUNDAY: 6.868, 194.41 (Session 4); (Session 5)