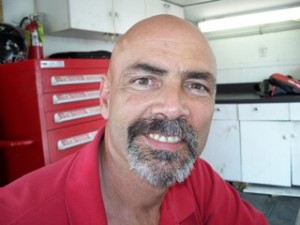 The Pingel Thunder Nationals in Indianapolis was a very hot place to be, both weather wise and racing. The Honda team of Stotz Racing put their hot track tune up in the bike but found the track to be better than usual on Saturday qualifying.
For Sunday's first round Kent Stotz cut a light on Jerry Young and posted a solid 7.54 at 189mph. In the second round Stotz cut a light on Curtis McDonald and needed it as McDonald posted his quickest pass ever 7.40 while Stotz made another consistently quicker pass at 7.41 to take the win.
In the Semi-final Stotz said he put a 7.35 tune up in it and cut the best light of the class. Stotz's .046 light to Phil Stoll's .102 light plus beating Stoll to the 60 ft cone gave Stotz the early lead. Stotz said he tried to hold first gear for a better ET but when it started wheeling he shifted into second and it stayed on the rear wheel all the way thru 3rd gear. At the 1000 foot cone Stotz could not see Stoll but just before the finish line Stoll got by.
Stotz Racing comes out of Indy still in second place. The next race is in Atco, NJ and the Stotz Racing team will lean heavily on the J E Pistons, Falicon Rods, Star Racing head, and Velocity Turbo to come up with a top end charge to get back to the winners circle.