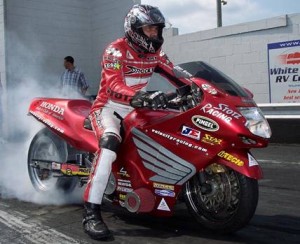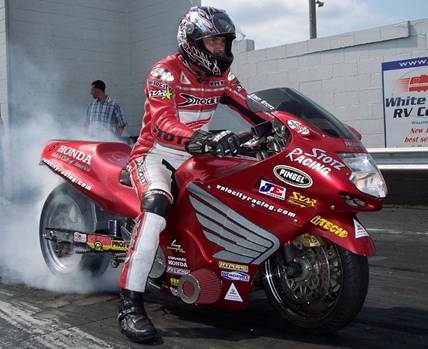 Four-time AMA/Prostar champion Kent Stotz continues to work feverishly on developing his new Pro Street and Super Street Hondas for the 2007 season.  In this article Stotz addresses the rumors swirling around about his recent testing mishap.
Even a veteran racer like Honda's Kent Stotz can get in some pretty hairy situations on the track when piloting a massive 500-plus horsepower no-bar bike.  However, Stotz reports that his recent scare wasn't as bad as some have said to be.
"There have been rumors that I crashed in testing on Tuesday Jan. 23rd. Thank God this is not true. Stotz Racing had rented track time at Bradenton Motorsports Park that whole week. Our test session did come to an abrupt end when the chain broke at 155 mph at the 1/8th mile. The chain tore through the chain guard, tail section, subframe, but my left pelvic bone finally stopped it," Stotz said. "As you can imagine this hurt very bad, but I got the bike stopped upright and I laid down. The track and emergency personnel were great. I had a small hole in my back above the pelvic bone. I got to the hospital and got stitched up. Mark got me back home and the Doc says it is healing nicely. We will be more than ready for the season opener in Valdosta GA. to start Bike Week."
In 2006 Stotz finished the season with one event victory, two runner-ups, and a pair of pole positions.  Immediately following the National Finals in November Stotz began preparing for 2007.
"All the work we did starting as soon as we got home from the finals is paying off. We went consistent 4.90's- 5.00 to the 1/8 mile and that works out to high 7.40's low 7.50's. These times will get us to the semi-finals every time and the finals often," Stotz said. "There was still quite a bit to test when we got cut short. We are looking forward to more performance from the RR at the first race."