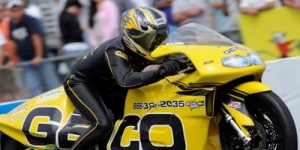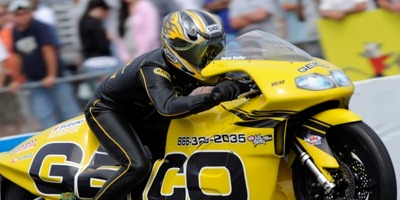 Karen Stoffer and the GEICO Suzuki reached the second round of the Big O Tires NHRA Nationals on Sunday at one of her home tracks, The Strip at Las Vegas Motor Speedway.
"Bummed, but happy," Stoffer said. "It was fun. This was the kind of day that I like, when I have good races like that. We'd rather have won, but we had fun."
Stoffer beat LE Tonglet in the first round before falling to eventual runner-up Matt Smith in the second round.
"The thing that made it fun today was the close racing," Stoffer said. "LE Tonglet is kind of our benchmark for racing. If you want to talk about parity, that's it between LE and the GEICO bike. They're pretty darn close from a Suzuki standpoint."
Stoffer had a slight edge off the starting line and she needed every fraction of a second because Tonglet ran a quicker 7.016-second lap at 191.46 mph to Stoffer's 7.021 at 190.92 mph. However it was her .007-second advantage at the starting line that gave her the holeshot victory.
"It was just a fun, close race," Stoffer said. "When you're on the NHRA Mobile Vision in the first round because of a close race and you get on it in the second round again for a close race, you know you've been doing something right."
It was another nail-biter against Smith in the second round. Stoffer was first off the line again but Smith's bike had too much power. Smith ran a 6.973 second lap at 191.84 mph to Stoffer's 6.994 at 192.14 mph.
"I didn't like coming out on the losing side of that round against Matt, but it was less than a thousandth of a second if you look at the numbers," Stoffer said. "I think it was even tighter than the first race. Matt Smith's got a good bike. For us to even get close to him was huge props to (crew chief) Gary Stoffer for figuring out that tune-up."
Stoffer took a point of pride for leaving first in both her races.
"That's another good thing: We left first on both of them," Stoffer said. "I've been working real hard on that. We're up there on leaving first in the stats this year. We rode good, we tuned good and it was flat-out good racing.
"This track has always bit us; it always has those voodoo gremlins around, and we did experience that on Friday, but luckily we were able to turn it around and have a good day Saturday and a reasonably good day today."