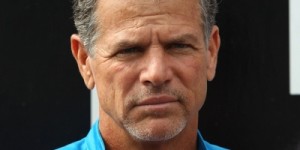 The team had very high hopes for a strong finish, but NHRA's 2012 Full Throttle Series season ended on a disappointing note for White Alligator Racing Pro Stock Motorcycle rider Jerry Savoie. Qualifying for the Big O Tires NHRA Nationals at The Strip at Las Vegas Motor Speedway was riddled with trouble, and Savoie was unable to make a run for the trophy on raceday.
Savoie left the White Alligator Racing Suzuki back home in Cut Off, La., and instead brought out the S&S-powered Buell that he ran earlier this year. He also formed a one-race partnership with former NHRA champion rider Matt Smith for the Las Vegas event.
"It was just unfortunate; the bike is making good power, we just had trouble with the transmission, trouble shifting," said Savoie, who made three passes down the quarter-mile during qualifying but did not produce numbers that were quick enough to get in the show.
In the final qualifying session, Savoie knew that his back was to the wall, and when there was trouble getting the White Alligator Racing motorcycle started for the burnout, he saw his hope for a powerful finish to the year vanish.
"I did get the bike started, but it was too late, the other rider was already gone," said Savoie.
There was some confusion on the starting line as initially Savoie was supposed to be in the second pair, but when one driver was a no-show for the final session, the White Alligator Racing team was bumped up to the first pair of motorcycles to try to push into the field. Unfortunately for Savoie, the confusion did not result in a second chance and he was shut off and pushed back.
"We're better than a non-qualifying team, and we shouldn't be counting on Q4 to get in the show; that's the bottom line," said White Alligator Racing's Tim Kulungian. "But we'll just shake this off and look ahead to what's next."
Savoie, who will not race at the season-ending Automobile Club of Southern California NHRA Finals in Pomona, agreed.
"We should have been in, but that's just the way it is," he said. "That's racing, man. I'm not mad at anyone or anything. I'm just disappointed.
"Anyway, I've been fighting this neck problem all year long, and I finally will be able to have surgery next week. I'll be out the rest of the season, but I'll be coming back next year, guaranteed. I wanted to say thanks to everyone who supported us and watched us race this year. We're just out here to have some fun, and even though we've been struggling recently, the fans and our friends and families made it worth it. We're looking forward to the future."