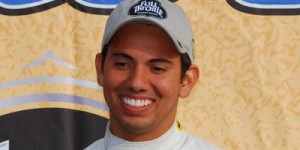 Lucas Oil Buell rider Hector Arana Jr. failed to make the semifinals for only the third time of 2012, losing in the quarterfinals of the Big O Tires NHRA Nationals Sunday at The Strip at Las Vegas Motor Speedway to his dad.
That was the lone consolation to the fiercely competitive Arana Jr., that he fell to Hector Arana Sr. The two Lucas Oil Buells were even at 330 feet, but Arana Jr.'s bike then began to wiggle so he wisely pulled in the clutch and watched his father speed to the finish line.
"I think it was a freak thing," Arana Jr. said. "I was in second gear and the bike finally came down on to the front wheel. It started tank-slapping, going from one side to the other. It caused me to plug out of second gear early into third, and it was still doing it, so I just pulled in the clutch."
As Arana Sr. won with a pass of 7.001 seconds at 192.19 mph, Arana Jr. coasted across with a 9.247-second pass at 93.99 mph.
"If I was racing somebody else, I might have stayed with it a little longer, depending on how it felt," Arana Jr. said. "I was holding on but the run was already screwed up, so I pulled in the clutch."
Arana Sr.'s win enabled him to put some distance on Karen Stoffer in the battle for fourth place in the Pro Stock Motorcycle points standings. Arana Jr. is in third, 114 points ahead of Stoffer.
"He needed that round win more than I did," Arana Jr. said. "He needed to get more of a buffer. I'm quite a ways ahead of him, but they're close to him."
Arana Jr. reached the second round with a victory over Redell Harris, who went red.
"That round was good," Arana Jr. said. "We missed the 60-foot tuneup a little bit, so we were slow. But that run was a good run."
Arana Jr. made a pass of 6.985 seconds at 192.95 mph against Harris.