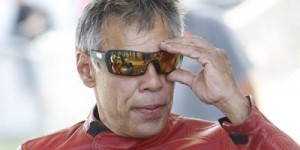 After a slow start to the weekend, Lucas Oil Buell rider Hector Arana Sr. bounced back to post a semifinal finish Sunday in the Big O Tires NHRA Nationals at The Strip at Las Vegas Motor Speedway.
Although Arana Sr. fell to Matt Smith when the engine in his Lucas Oil Buell went sour, the race marked his seventh semifinal appearance of 2012 and helped put some distance on Karen Stoffer in the battle for fourth place in the Pro Stock Motorcycle points standings.
"You know, it's been a rough weekend," Arana Sr. said. "We were behind the 8-ball and came to Saturday not even in the show. It puts it in perspective how well you can do, and then at the snap of the fingers, everything can go totally opposite. To make it to the semifinals today, it was great."
Arana Sr. was outside the top 12 after Friday's two qualifying rounds, meaning he had to get in the show via Saturday's qualifying. He did that, posting the seventh-fastest qualifying lap.
Sunday, he took out Steve Johnson in the first round with a pass of 6.988 seconds at 191.19 mph to beat Johnson's pass of 7.114 seconds at 188.81 mph.
That put him against son Hector Arana Jr. in the second round, the third time this season father and son have raced each other in eliminations. Arana Sr. improved to 2-1 against his son after posting an elapsed time of 7.001 seconds at 192.19 mph as Arana Jr. slowed to a run of 9.247 seconds at 93.99 mph with a mechanical issue.
"The second win, it hurt more, even though it was a win," Arana Sr. said. "I didn't enjoy it because it was against my son. I kept trying to hear him: 'How come he's not coming? How come he's not coming?' I was just waiting for him. As soon as I was able to slow down enough that I could look back, I saw him, and I knew something had happened.
"I think it hurt me more than if he would've beat me."
Arana Sr. had solid reaction times in the first and second round, with an .024-second launch against Johnson and an .031 against his son. But he had no such good fortune in the semifinals against Smith.
"I know I pre-staged, and I was waiting for him," Arana Sr. said. "He pre-staged and wacked the throttle. I'm waiting for him to stage, and before I know it, I could hear him on the two-step. I thought I didn't move, that I didn't stage. Here I was staged, and I didn't realize it. It caught me by surprise. I was way too late, but the motor did not respond anyway. As soon as I went into second gear, I could hear the motor going sour, so I pulled in the clutch. Nothing else I could do."
Arana Sr. slowed to a 15.074-second run at 34.51 mph as Smith sped to the finals with a pass of 6.997 seconds at 192.41 mph. But Arana Sr. knew it was better to save the engine.
"I didn't want pieces," Arana Sr. said. "Whatever happened is a lot cheaper and easier to fix than when you have parts everywhere."
Arana Sr. moved 65 points ahead of Stoffer with one race remaining in 2012.