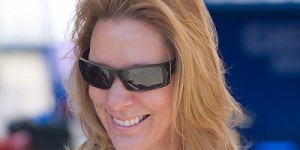 GEICO Suzuki rider Karen Stoffer was knocked out of the quarterfinal round Sunday at the FRAM/Autolite NHRA Nationals at Infineon Raceway with her first red-light start of the season.
Stoffer, the Pro Stock Motorcycle points leader, had not gone red in her previous 20 times to the Christmas Tree, but the law of averages caught up with her today.
Racing No. 2 qualifier Eddie Krawiec in the second round, Stoffer left -.054 seconds early.
"It didn't really feel like I was that anxious, but racing Eddie, who's right behind me in the points, I probably subconsciously was a little bit anxious," Stoffer said. "Sometimes the rider saves the bike and the crew, and sometimes the bike and crew saves the rider. This time, I hurt the team."
Stoffer still clinched a spot in the Countdown to the Championship with two races to go before the NHRA playoffs begin, lifting her spirits considerably.
"We solidified a spot in the top 10," Stoffer said. "We put our name up on the big board first, and that's never happened for us, to be the first one in. That's huge for us.
"We know we've got a good bike. I'm not going to dwell on this day. It's one light; it goes on. I know how to cut good lights, I know how to keep myself calm, and that's what I'm going to do when we get to Brainerd."
After a weekend of changing engines to help break in a new one, Stoffer beat Gerald Savoie in the first round with a pass of 6.894 seconds at 194.35 mph. She then had low elapsed time in the second round, too, albeit in a losing effort.
"We had the ET," Stoffer said. "Gary (Stoffer, crew chief) and the team worked real hard to give me the bike. It just came up on the short side. I noticed there were a lot of red lights out there. I think we're getting down to the Countdown cutoff and people are a little more anxious."