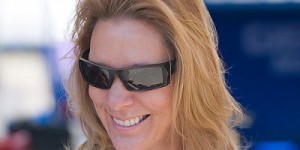 Karen Stoffer and the GEICO Suzuki finished runner-up for the second time this year and left Sunday's 31st annual Summit Racing Equipment NHRA Southern Nationals with the Pro Stock Motorcycle championship points lead.
"The team is just jelling really well," Stoffer said. "We overcame a lot of adversity and got a visit from Lady Luck too. It was a great day for all of us in the GEICO Suzuki pit."
Stoffer leads the standings by 15 points over second-place rider Andrew Hines, and reached the top on a weekend when the GEICO Suzuki wasn't at its best.
"The bike wasn't real happy this weekend," Stoffer said. "The good thing is we overcame a lot of issues that we haven't been able to overcome in the recent pass. We've put a lot of coins in the bad luck jar over the past year and now we're moving them back to the good luck side of the jar."
That new streak of good fortune was never more evident than in the second round against past champion Matt Smith. Stoffer's air shifter broke off its mount at the launch, but it didn't matter because Smith went red and fouled out by -.043 seconds. Therefore Stoffer's 16.702 second pass at 39.71 mph was a winner.
"It wasn't the way we wanted to advance," she said. "But it was huge because it showed us that when we get those little issues that every team gets, we can fight through them and survive."
In the final against LE Tonglet, Stoffer's 6.970 at 192.30 mph kept her close for most of the drag strip, but Tonglet's pass of 6.924 at 191.62 mph was just too much to overcome at the top end.
"We were able to get it down through there against LE," Stoffer said. "It was a decent pass but we know there was more left in it, and we could have used it all."
Stoffer beat Mike Berry in the first round with a 6.972 at 187.29 mph to a 7.070 at 182.58 mph. In the semis, she defeated Jim Underdahl with a 6.992 at 190.48 mph to a 7.065 at 187.76 mph.
"We'll take our good fortune here, but try to get back on our consistency game when we go to Englishtown," Stoffer said.