Harley-Davidson® Screamin' Eagle®/Vance & Hines rider Ed Krawiec blitzed through the Pro Stock Motorcycle field at the Mopar Mile-High NHRA Nationals at Bandimere Speedway, riding a Harley-Davidson® V-Rod® motorcycle to a hole-shot win over Hector Arana Jr. in the final. Krawiec holds the Pro Stock Motorcycle season points lead with a 36-point cushion over Arana Jr.
"Last week we went back to the shop and changed our entire set-up, and then tested in Michigan on Monday and Tuesday," said Krawiec. "We had great performance in testing. The V-Rods are fast, consistent and responsive to tuning input. I was quick right off the truck here in Denver, and I feel like we have a really good combination running right now."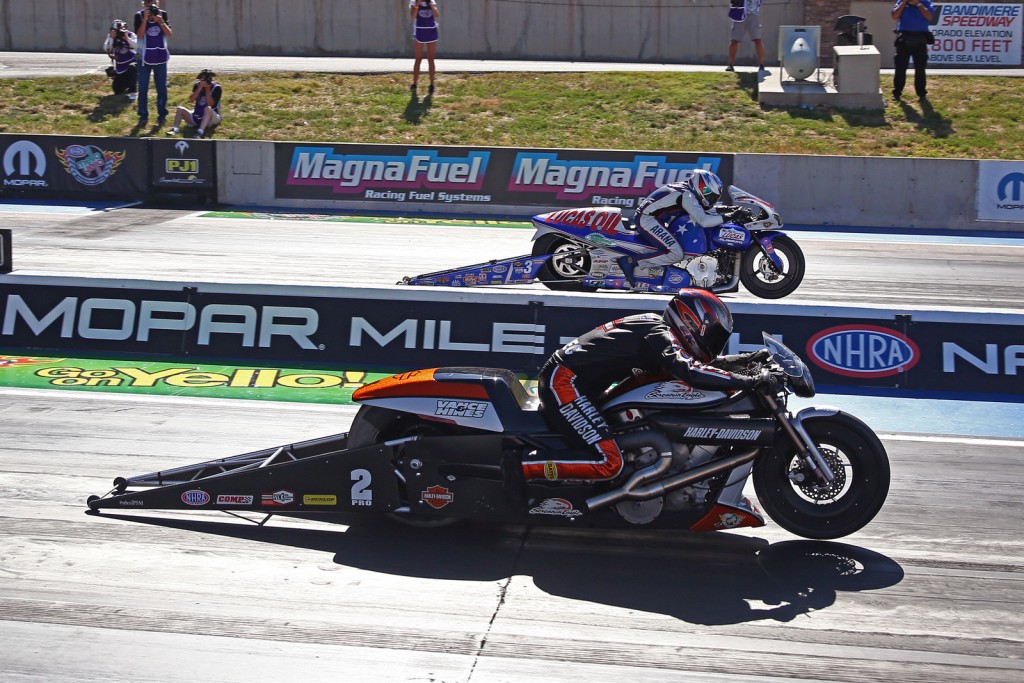 After seven of 16 events Krawiec leads the Pro Stock Motorcycle field with 575 points. Arana Jr. is second with 539 points, followed by Hines with 484 points, Stoffer with 413 points and Underdahl with 387 points.
Krawiec led all qualifiers for the Denver event with best Elapsed Time (ET) of 7.169 seconds. Harley-Davidson® Screamin' Eagle®/Vance & Hines rider Andrew Hines qualified the team's other V-Rod motorcycle in third position with an ET of 7.201 seconds.
In Sunday eliminations, Hines advanced to the semi-final round with wins over Karen Stoffer and Scotty Polacheck before losing to Arana Jr.
"We've got Ed's bike clicking and mine is almost there," said Hines, the defending Pro Stock Motorcycle champion. "We are really looking forward to the next race in Sonoma."
Krawiec charged to the final with wins over Chaz Kennedy, Matt Smith and Jim Underdahl. In the final, Krawiec left the starting line first with a reaction time of 0.025 seconds to 0.036 seconds for Arana Jr., and then held on for the win with an ET of 7.239 seconds to 7.230 seconds for Arana Jr., a 0.0029-second margin of victory, or about nine inches on the track. It was the 28th final-round win of Krawiec's career.
The Harley-Davidson Screamin' Eagle/Vance & Hines drag team will return to racing action July 31-Aug. 2 at the 28th annual NHRA Sonoma Nationals at Sonoma Raceway.
About Harley-Davidson Motor Company
Harley-Davidson Motor Company produces custom, cruiser and touring motorcycles and offers a complete line of Harley-Davidson® motorcycle parts, accessories, riding gear and apparel, and general merchandise. For more information, visit Harley-Davidson's website www.h-d.com.