At the Mopar Mile-High NHRA Nationals at Bandimere Speedway Eddie Krawiec raced to his 28th career victory in Pro Stock Motorcycle with a 7.239 at 185.51 holeshot final round result over Hector Arana Jr. on his Screamin' Eagle Vance & Hines Harley-Davidson. The current Pro Stock Motorcycle points leader earned his first win of the season and third at Bandimere Speedway.
"In the final, I could hear him next to me," said Krawiec, a three-time world champ. "I will say one thing; I knew I had to be about .020 on the Tree, and I was .025. I usually don't race that way. I don't usually have to push that hard, but this year I do. I really didn't want the final to be that close, but I couldn't ask for any better. It always makes the driver look good to win on a holeshot."
Recent Chicago winner Arana Jr. raced his Lucas Oil Buell past Freddie Camarena, Steve Johnson and defending world champ and 2014 event winner Andrew Hines to reach the final. Arana Jr. sits second in points, trailing Krawiec by 36.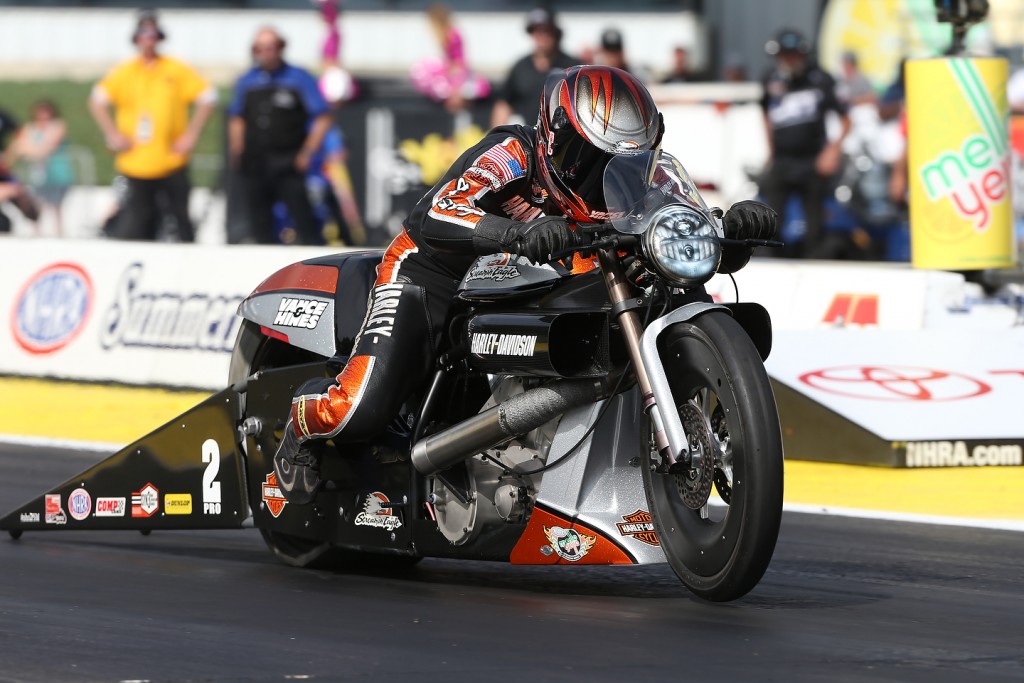 The NHRA Mello Yello Drag Racing Series moves to Sonoma, Calif. for the second of three stops during the NHRA Western Swing for the NHRA Sonoma Nationals, July 31-Aug. 2.
PRO STOCK MOTORCYCLE:
ROUND ONE — Matt Smith, 7.254, 183.69 def. Jerry Savoie, Suzuki, 7.268, 185.31; Jim Underdahl, Suzuki, 7.266, 184.40 def. LE Tonglet, Suzuki, foul; Hector Arana, Buell, 7.417, 171.49 def. Chip Ellis, Buell, 7.371, 183.02; Scotty Pollacheck, Buell, 7.287, 183.82 def. Angie Smith, 7.555, 177.49; Andrew Hines, Harley-Davidson, 7.258, 184.57 def. Karen Stoffer, Suzuki, 7.321, 183.00; Hector Arana Jr, Buell, 7.208, 187.76 def. Freddie Camarena, Suzuki, 7.355, 183.59; Eddie Krawiec, Harley-Davidson, 7.208, 186.85 def. Chaz Kennedy, Buell, 7.339, 180.16; Steve Johnson, Suzuki, 7.273, 180.84 def. Shawn Gann, Buell, 7.277, 184.52; QUARTERFINALS — Underdahl, 7.240, 185.05 def. Arana, 7.262, 185.28; Hines, 7.256, 183.87 def. Pollacheck, 7.298, 183.92; Krawiec, 7.229, 184.72 def. M. Smith, 7.278, 183.87; Arana Jr, 7.212, 187.29 def. Johnson, broke; SEMIFINALS — Krawiec, 7.254, 184.35 def. Underdahl, 7.453, 160.81; Arana Jr, 7.245, 185.08 def. Hines, 7.277, 182.13; FINAL — Krawiec, 7.239, 185.51 def. Arana Jr, 7.230, 186.43.