The Star Racing team began their three-race back-to-back stretch in the 2014 National Hot Rod Association (NHRA) Mello Yello Series this past weekend June 20-22 at the 2nd Annual Auto-Plus NHRA New England Nationals at New England Dragway in Epping, N.H.
This fifth race for the Pro Stock Motorcycle class demonstrated once again how close competition has become for these racers, with only a tenth of a second separating the No. 1 and No. 10 qualifiers.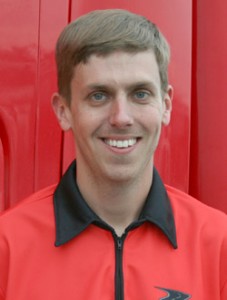 "We had great weather all weekend, and the track was in great condition. The event was sold out again like last year, and the huge crowds of fans were amazing. It's a tough field, though. All 16 qualified bikes were really fast this weekend, but we were still able to get some bonus points during qualifying when Michael (Ray) posted the third quickest ET (elapsed time) of the round," Star Racing co-owner and team crew chief George Bryce said.
Star Racing driver Michael Ray qualified in the No. 6 position, while his 20-year-old teammate Chaz Kennedy was at the No. 10 spot in his eighth career NHRA start.
In round one eliminations on Sunday, Ray turned on the red light when he left the starting line .002 seconds too early, forfeiting the win to opponent Adam Arana.
"Michael wasn't nervous or worried going up there for first round. He just wanted to make sure he got his best shot at winning the round, which includes leaving on time, going straight, and shifting on time. It's just part of racing. You can only talk about what to do better next time, and then go out next weekend and do it," Bryce said.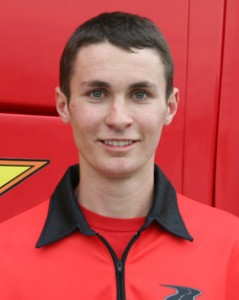 "I've been feeling good about my lights and consistency on the tree these past few races. When I went up for first round on Sunday, I just did my normal routine, but, unfortunately, I was a little too early this time. It's frustrating to go out like that – especially with it being so close – but I'm just glad that I get a chance to try again and improve this weekend in Chicago," Ray said.
Rookie of the Year contender Kennedy left the starting line before his first round opponent John Hall, but Hall began to pull away from him at the 330-ft. marker and went on to take the round win.
"Qualifying went pretty well for me, but I was a little early on my shift points during the weekend, which kind of hurt my performance. We were experimenting with different tune-ups to try to get an edge on everybody, and we found some things that worked and others that didn't. All around, I could have done a better job of driving, but I can't look back on that now. All I can do is fix it for next time," Kennedy said.
At this early point in the season, the Star Racing teammates still hold strong positions in the overall NHRA Mello Yello Series Pro Stock Motorcycle points standings, with Ray at No. 7 and Kennedy at No. 11.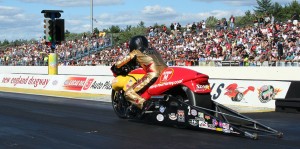 Both drivers also hold top 10 positions in the MiraMonte Records NHRA Pro Bike Battle points standings, which awards points based on qualifying positions at each event. Ray is currently at the No. 4 position, and Kennedy is No. 8 in this series.
The Star Racing teammates will compete again this coming weekend June 27-29 at the O'Reilly Auto Parts Route 66 NHRA Nationals at Route 66 Raceway in Joliet, Ill., near Chicago.
"You can't do anything to change the past, so you just have to forget about everything that happened (last race) and carry on with the momentum that you have. You have to go in fresh for the next race and be the best you can be each time," Kennedy said.
"We know we have the motorcycles and the team that can turn on some win lights; we just need to stick to the basics and be consistent every pass. It'll be good to have these three back-to-back races so that we can really stay on our game and be prepared to upset the competition a little bit," Ray said.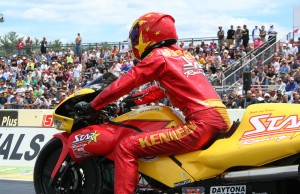 The Star Racing Team would like to thank the following sponsors: Star Racing, Georgia International Raceway Park (formerly the Americus Motorsports Complex), HopUpYourHarley.com, Underground Professionals Inc. (UPI), S&S Cycle, Daytona Sensors, Worldwide Bearings, Arrow M, Jay Warner, and Uncle Hal Gottspeed Racing.
The HopUpYourHarley.com campaign represents Star Racing's state-of-the-art upgrade options for Harley-Davidson® and other Big Twin street motorcycles. Star Racing offers a full range of S&S Cycle V-Twin replacement engines for Harley-Davidson® Dyna™, Softail®, and Touring models that deliver huge increases in horsepower and torque. For 2007 and up Harley models, Star Racing has also developed a 107" Thrasher Upgrade Kit that produces 120+ horsepower while maintaining the stock appearance and reliability.
• Star Racing Online:
o HopUpYourHarley.com
o Twitter: twitter.com/StarRacingGA
o Facebook: facebook.com/StarRacingGA
o YouTube: youtube.com/StarRacing6X
Star Racing Fast Facts:
• Based in Americus, Georgia
• Six-time NHRA Pro Stock Motorcycle Championships
• 80 NHRA national event wins with 10 different riders
• Owned by George & Jackie Bryce
Michael Ray Fast Facts:
• From: New Braunfels, Texas
• Job: Harley-Davidson Motorcycle Salesman
• Years in drag racing: 12
Chaz Kennedy Fast Facts:
• Age: 20 years old
• From: Ormond Beach, Florida
• Job: Sovereign-Star Racing crew member
• Years in drag racing: 4