Hawaya Racing Team headed to Bristol, Tennessee this past weekend for the NHRA Lucas Oil Screamin Eagle Series race presented by Harley Davidson Motor Company. Johnny Vickers in his fourth NHRA event this year, was riding the #1 school bike, Wayne McGuinness, 2013 fall Nitro Bike School graduate from Perth, Australia was aboard the #2 school bike. Janette Thornley, Rich Vreeland and Bill Bentz rounded out the 5 bike field. The field was a little short of the norm due to two other racing sanctions holding events the same weekend.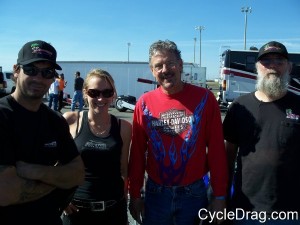 In qualifying, Vickers qualified in the #1 spot in the second round of qualifying running a 7.450 ET – 171.69 pass and Wayne on SB #2 qualified in the #2 spot with a 7.452 ET -167.18 pass. Janette was #3 with a 7.508 pass at 168.16 MPH on her HRP Pro Fueler. Bill Bentz qualified in the #4 spot running a 7.574 pass and Rich Vreeland on his HRP machine wound up #5 with a 7.808 at 158.09 MPH.
During the first round of eliminations on Sunday, Vickers ran quicker than on his qualifying time turning a 7.423 @ 172.43 MPH in a bye run. Janette handed the win to Bill pulling a red light and Wayne advanced in a great race against Rich who ran his best pass of the weekend. In the second round it was Vickers, #1 in the points against Bill Bentz, #2 in points. Vickers got the hole shot and win over Bill running a 7.443 pass to Bills 7.706 to advance to the finals with Wayne who had a bye in the second round. In an all Hawaya Racing, Derringer SB #1 versus SB #2 final, both bikes were running great and only a few hundredths apart all weekend. When the lights came down, Vickers got the hole shot again, but it was not to be for Vickers as his bike dropped a hole at 300 feet allowing the Aussie to get around him for the win, running a great 7.353 ET against Vickers losing 7.597 ET in an exciting final.
"Bristol is one of my favorite tracks, but the weather conditions were all over the place all weekend with sun, cloud cover, rain, more sun. When my engine went south, Wayne got past me, I peddled it and the Derringer came back to life and I started to reel Wayne back in, but just ran out of real estate, says Johnny. It was great to run former Nitro School Bike grad Wayne McGuinness in the final on the #2 school bike.
The next stop for the Hawaya Racing Team will be in July at the NHRA Lucas Oil Screamin Eagle event in Columbus, Ohio in which Johnny plans on having the Terminater bike completed, looking to extend his points lead.
Team Hawaya would like to thank our sponsors for their continued support and commitment to the sport of Motorcycle Drag racing:
VP Racing Fuels
Venom Group International
Vreeland's Harley Davidson
Mickey Thompson Tires
Vanson Leathers
PAC Racing Springs
Projack Race Lifts
CP Pistons
Pingel Enterprises
Contact www.hawayaracing.com for more information
Phone 336-973-5078