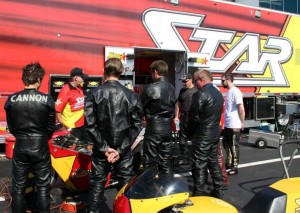 Star Racing has kicked off its 35th Anniversary Season of Celebration with the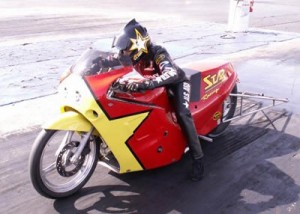 announcement of a 30 Rider Challenge where one champion will win a prize package worth over $25,000 and the opportunity to be a teammate to 3-time NHRA Pro Stock Motorcycle World Champion, Angelle Sampey and Rising Star Chaz Kennedy at one NHRA event in 2015.
"We want 2015 to be a year to remember at Star Racing," beamed Founder and CEO George Bryce. "This Riders Challenge will give thirty different racers the chance to live their dream with our team at one NHRA event. We hadn't even officially announced it and five people had already said I am in…where do I sign up."
The riders will be judged on a number of skills including bike control, natural talent, public speaking and passion for pursuing their dream. The judges are led by 6-time NHRA championship owner George Bryce, 3-time NHRA Champion Angelle Sampey, Rising Star Chaz Kennedy and Motorsports Marketing expert Rolfe Schnur.
"I am really excited about this competition," stated Sampey, a graduate of Bryce's Motorcycle Drag Racing School. "I wish there had been something like this when I was still dreaming about becoming a champion. I can't believe that the winner will be my teammate for one race. It's going to be a blast."
"Everyone is a winner when they participate," added Bryce. "You can't put a price tag on the information you will receive and being able to get to know Angelle on a personal level and hearing her stories of what it takes to succeed in motorsports is worth the price of admission."
This is more than a competition," exclaimed Angelle. "It is a life changing event. Where else can you learn from a mentor like George Bryce and also get to know the ins and outs of a championship caliber race team up close and personal. I am looking forward to getting to know the 30 riders and seeing if they have what it takes to be a winner."
The competition will take place sometime in March or April. The dates will be determined by February 1st to give ample time for participants to schedule their plans.
The winner will race with Star Racing at the NHRA Commerce, GA event and test with Angelle and Chaz prior to the NHRA race. They will also receive their own Star Racing Leathers, a $2500 marketing package, hero cards for the event, press releases, coaching by George and Angelle, professional photos and memories to last a lifetime.
"There are only 30 spots," said Bryce. "Once they are filled they are filled. We are investing a great deal of time and money into the future of our sport. Do you have what it takes to be a champion?"
For more information or to receive an application please call Jackie Bryce at 800-841-STAR or email at Jackie@Starracing.com.