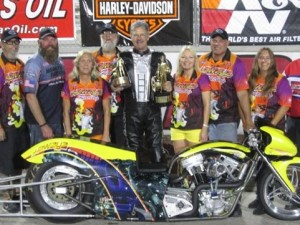 Hawaya Racing Team made the 3 ½ day trip to "The Strip" in Las Vegas, Nevada for the Harley Davidson Racing Series finals at the NHRA Lucas Oil event. Johnny Vickers in his eighth NHRA event this year, decided it was time to bring out the newly completed Terminater bike to see what it would do. NHRA team mate, Janette Thornley was looking to retake the #2 spot from Bill Bentz who had over taken her at theUtah event.
In qualifying, Vickers took the #2 spot on Friday night with a good 7.321 ET @ 167.82 MPH on the first full pass on the new bike. Bill Bentz made a great run taking the #1 spot with a 7.267 at 173.25 MPH. HRP team mate Janette Thornley was quick with a 7.456 at 171.66 and qualified in the #3 spot in the second round of qualifying. Evan Barsness, Al Miles, David Larsen, recent Nitro bike school grad Dan Ramage wound up in the 7th spot and Lloyd Stenerson rounded out the 8 Pro Fuel Bike field.
During the first round of eliminations on Sunday, Vickers had to run Canadian Dan Ramage. Vickers took the win running an improved 7.307 ET at 175.11 MPH. Bill advanced as well with another great run of 7.286 seconds. Janette was pitched against Dave with the numbers in her favor, but it was not to be. A busted chain just off the starting line ended Janette's chances to re-take the #2 spot from Bill. Al Miles and Dave Larsen advanced to the semi finals along with Johnny and Bill. In that match up, Bill slowed but still managed to squeak by Al who ran his personal best, 7.447 to Al's 7.494. Johnny got around Dave with a very consistent 7.325 to Dave's 7.778 ET. In the final Johnny had lane choice over Bill and stayed in the left hand lane. Bill got a bit of a light on Johnny but by the 330 foot mark, Johnny had the advantage. At the stripe, Vickers got the win with a 7.334 @ 175.07 MPH (high MPH for the meet) to Bill's slower 7.401 ET @ 170.73 MPH run. This gave Vickers the 5th Wally of the year and put a period on the first ever Pro Fuel Harley Championship.
"I had never run at the Las Vegas Drag strip as a rider before, only as a T/F crew chief, so there were some unknowns for me tune up wise. Not to mention a radical new bike with just one burn out on it before this event. The NHRA track personnel did their usual excellent job of keeping up with the track all weekend, so that helped. I was really sweating Bill in the finals as he was running good numbers all weekend, says Johnny. But he was a little too fast to last as his performance began to fall off in eliminations. I take Bill very serious and had to really get up on the wheel against him. He is a great competitor. I was lucky and hit on a good tune early and just stayed there, not wanting to make any mistakes. I had enough on my plate as the new bike is the first purpose built sit-up Pro Fuel bike as far as I know. It has been since 1985 since I last rode a sit up bike. Man, it felt strange." 5 wins, 2 runner-up's, setting the ET record twice, the MPH record once and a first NHRA Championship, it is still sinking in.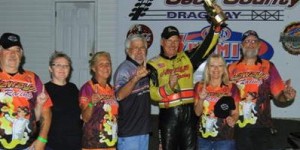 Team Hawaya would like to thank our sponsors for their continued support and commitment to the sport of Motorcycle Drag racing as well as Steve Vickers, Leanne Purvis Walter and Norine Halonski, Rebel Glover, Las Vegas native Jimmy Tubbs & Janeane Diffin for their dedication to the Hawaya Racing Team.
A special thank you to team mates Janette Thornley, Buddy Foss, Joyce & Don Yeaman of Dream Chaser Racin for their support. It was a great race season and we are proud of all your accomplishments and the fierce determination that you show both on and off the track!
VP Racing Fuels
Venom Group International
Vreeland's Harley Davidson
Mickey Thompson Tires
Vanson Leathers
Lucas Oil
Projack Race Lifts
CP Pistons
Pingel Enterprises
Pac Racing Springs
For more info contact WWW.hawayaracing.com