The Star Racing teammates demonstrated consistency in their driving abilities and motorcycle performance at the Toyota NHRA (National Hot Rod Association) Summernationals race event this past weekend as Michael Ray held his No. 6 position and Chaz Kennedy advanced to the No. 9 spot in the overall NHRA Mello Yello Series Pro Stock Motorcycle points standings.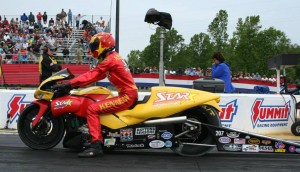 Ideal weather conditions over the race weekend at Old Bridge Township Raceway Park in Englishtown, N.J., set the stage for one of the fastest NHRA Pro Stock Motorcycle (PSM) fields yet. The top and bottom qualifiers in this tight, competitive PSM field were separated by only .182 of a second, requiring all 16 qualified racers to be at the top of their game going into elimination rounds on Sunday.
"A lot of records were set this weekend because of the great weather and atmospheric pressure. It was almost like you had to be creative to figure out how to connect to the track and handle having much more power than you're used to, but our bikes hooked up pretty well. It was good to see our drivers qualify No. 6 and No. 10, especially after the Harleys' record-setting performances over the weekend," said Star Racing co-owner and team crew chief George Bryce.
Star Racing's Michael Ray qualified No. 6 with a 6.816 ET (elapsed time), while Chaz Kennedy posted a career best 6.840 to take the No. 10 qualifying position.
"I have to say this is probably one of the fastest Pro Stock Motorcycle fields ever. I think 6.92 was the No. 16 spot, and there were lots of low 6.80s. I got my career best and still only got 10th, but I think that posting a new career best really showed that I'm becoming one with my motorcycle. It also proves that when you line up against me on Sunday, I'm going to cut a good light on you, and you'll have to drive around me to win," Kennedy said.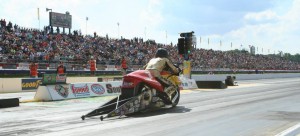 "We didn't really get any good (qualifying) runs in on Friday, so Saturday was make it or break it. At that point, we just really had to go back to the basics. Don't try and be perfect; just go back to the basics and rely on the hard work of the guys at the (Star Racing) shop and the crew at track. When the competition is as tight as it was this weekend, that's when the best rise to the top. I think we really stepped up this weekend and showed how having the right team and the right bike allows you to just go out and do what you need to do," Ray said.
In addition to posting competitive numbers, it was also evident that the Star Racing teammates were focusing much of their attention on getting consistent reaction times at the starting line. The Star Racing drivers, who typically aim for a .020 or .030-second reaction time, were averaging between .020 and .040-second lights throughout most of the weekend.
"I think we've really honed in on what it takes to be really consistent and good on the tree. I just carried that over from the Atlanta race to this weekend and tried not to get out of our routine. I kept my focus on what I did in Atlanta to be great on the tree, and it really helped. I feel better riding the bike now than I did last year, and I think it shows in my reaction times and consistency at each race," Ray said.
"I can tell I'm getting better and better every lap. I wrote down a list of things this weekend that were good and bad. I ended up with six positives and one negative, so feel like it was really a great weekend. Hopefully, we can turn that into some round wins in these next couple of races," Kennedy said.
In round one eliminations, Ray claimed the win against No. 11 qualifier Scotty Pollacheck with his 6.831-second pass against Pollacheck's 6.851.
Also in round one, Kennedy earned the round win, the second one of his professional career, against No. 7 qualifier Hector Arana.
In second round eliminations, Ray's 6.836 ET was not enough to take the win against No. 3 qualifier and Englishtown event winner Andrew Hines, who posted a 6.762. Kennedy was also taken out that round by No. 2 qualifier Hector Arana Jr.
"We were proud that Chaz was able to set a new career best over the weekend. He was on his way to an even better career record during second round, except that he was steering a little when the shift light came on and he missed the button. Chaz had four big positive outcomes for the weekend, though: he learned from another rookie mistake, which means it won't happen again; he got his .030 reaction time goal both rounds; he ran his career best lap; and he moved up a spot in the points. Those were all good positives for him," Bryce said.
Following this weekend's NHRA Summernationals, Ray remains at the No. 6 position in the overall NHRA Mello Yello Series Pro Stock Motorcycle points standings, but Kennedy advanced one spot and is tied with Hector Arana for No. 9.
"Michael is still just refining his skills and abilities as a racer, and he's making smoother and straighter runs every time. He said that now the main thing is for him to zero in on making his shift points the very best they can be – which he is already really good at. As far as driving, that is really the only thing left on the table for him to improve on," Bryce said.
Both Ray and Kennedy held steady at their respective No. 1 and No. 8 positions in the MiraMonte Records NHRA Pro Bike Battle points standings, which awards points based on qualifying positions at each event.
The Star Racing Team would like to thank the following sponsors: Star Racing, Georgia International Raceway Park (formerly the Americus Motorsports Complex), HopUpYourHarley.com, Underground Professionals Inc. (UPI), S&S Cycle, Daytona Sensors, Worldwide Bearings, Arrow M, Jay Warner, and Uncle Hal Gottspeed Racing.
The HopUpYourHarley.com campaign represents Star Racing's state-of-the-art upgrade options for Harley-Davidson® and other Big Twin street motorcycles. Star Racing offers a full range of S&S Cycle V-Twin replacement engines for Harley-Davidson® Dyna™, Softail®, and Touring models that deliver huge increases in horsepower and torque. For 2007 and up Harley models, Star Racing has also developed a 107" Thrasher Upgrade Kit that produces 120+ horsepower while maintaining the stock appearance and reliability.