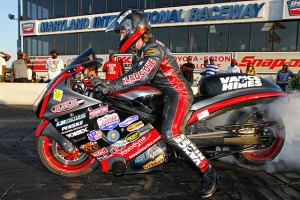 The great expectation when the Mickey Thompson MIROCK Superbike Series hit Maryland International Raceway for the Fast by Gast Summer Nationals on May 30-June 1, was the world's first 6.80something street tire pass. And when Orient Express Pro Street champion Joey Gladstone unloaded the DME Racing turbocharged Suzuki Hayabusa with a 6.90 at a jaw-dropping 218 mph on Friday, railbirds kind of discounted the 218 and focused on the 6.90. In a class where the MPH record stood at 213….well, maybe that 218 was a timing anomaly…
"Oh, 220 will be the next milestone after the 6.80," nodded the railbirds. "Maybe we'll see that sometime next year. But this weekend is all about 6.80s."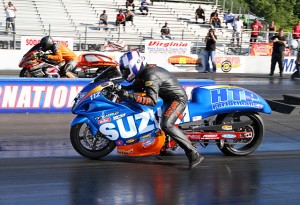 And so when Gladstone ran a new ET record 6.903 at 220.02 mph in Sunday's round 1 of eliminations, it was a truly stunning moment—surely the most dramatic since Ryan Schnitz rode the HTP Performance nitrous 'Busa straight to a 6.90 on the world's first 6 second street tire pass a few years ago—also at MIR. Check that box, 220 is done, although not for the record. The 220 backed up a 215.51 that will stand.
Number 1 qualifier Jeremy Teasley also ran a 6.90 on John Drake's "No Fear" bike, built and tuned by 3X champ Rodney Williford. Teasley's bike gets the 6.90 job done early in the quarter mile with a remarkable 1.15 60 foot time, crossing the line some 20 mph slower than the DME bike. Most importantly, both bikes were on opposite sides of the ladder and sure to meet in the final.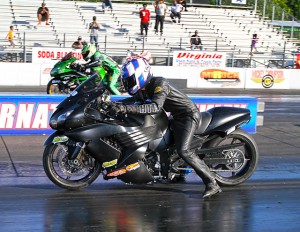 But just as sure as 220 might come along in 2015, and just as sure as Teasley or Gladstone would run a 6.80, a funny thing happened. Both bikes were OUT in round 2. Williford is notorious for dialing in a wild-wheelieing tune-up, and boy did he deliver a show-stopper for Teasley to ride. Jeremy kept the 'Busa unicycle on the throttle as much as he could but came up short against Darion "Nanu" Payne. Gladstone's day ended less spectacularly, as air in the clutch line pulled the DME bike through the beams for a foul start against Rendolf Torbed. When Gladstone's teammate Terence Angela also lost in round 2, this race was busted wide open.
Who would have picked a semifinal with Payne, NHDRO champion Doug Gall and HTP's Torbed and Danny Cox? The final boiled down to Gall and 14th place qualifier Cox, who took the tree on his nitrous bike and fully expected Gall (who ran 7.00 at 209 in the semi) to reel him in on the big end. But instead, Gall's motor reeled itself out and Cox held on for his first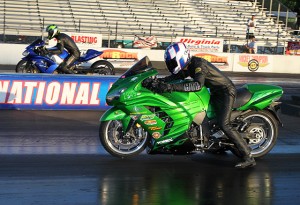 Pro Street win ever and the end of a long dry spell for HTP. An underdog rider who's worked hard and shed weight to get himself in this position, a nitrous bike in a class that has seen turbos and superchargers get all the press, and a once-dominant team that has struggled through growing pains—this win had it all.
Teasley also qualified number 1 in DME Racing Real Street (7.76 at 195 mph) on the sinister black RS Motorsports Kawasaki ZX14, and this time he made it stick. Teasley faced off against legendary Rickey Gadson in a nitrous vs. turbo, all-Kawasaki final. Jeremy took the tree and was never headed all the way to the stripe.
But Teasley wasn't through winning. He rushed out of the Real Street winners circle photo 'cause he was still active in Street ET and Cycle Connection Crazy 8s on his beautiful ZX14R streetbike. He didn't make the finals in Street, but he did in the 38-bike Crazy 8s field. He beat Clay Davies in a double breakout race, both bikes crossing the line at an equal pace of 153 mph. Makes one wonder what might have been if Pro Street had indeed boiled down to a Teasley/Gladstone final. Number 1 qualifier Domonic Anderson lost in round 2.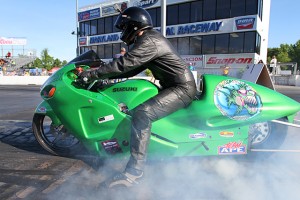 Louis Concrete 4.60 is not just the world's quickest, 2-wheeled index class, it's also MIROCK's fastest growing. Number 1 qualifier Cameron Shelton beat April race winner Darryl Hollins in the final, after Hollins advanced out a controversial round 2 rerun with number 1 qualifier Richard Gadson.
FBR Shop 5.60 whittled down to Michael Rankin on a streetbike vs. Ben Knight on Marion Ford's defending champion dragbike. Both bikes ran identical 5.622s, with Rankin taking the tree but Knight giving up the stripe at only 101.54 mph. Number 1 qualifier Bryan Minor lost in round 2.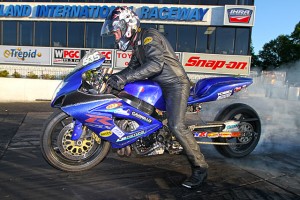 Trac King Clutches Top Sportsman takes the quickest 32 bikes out of the 137 bike Pro ET field, and at the end of the day it was Dave Clinedinst who prevailed. Not that he didn't try to lose, mind you, giving up the tree with a .176 to David Ashton's .050. But Ashton broke out by .021 on his 7.88 dial-in.
Brian Canoles and Alan Fields were Fast by Gast Pro ET winners, taking their trophies over Turon Davis and Melvin Armel respectively. Anthony Buckson won Friday's Gamblers race.
Saturday night's Brock's Performance Street ET win went to Steven Murray over a frustrated Tony Ficher, who's waiting for the latest version of the DAS supercharged Pro Street 'Busa to roll out of Eric Paquette's shop. Sunday's race went to Connecticut HVAC man Bob Carlson, who froze Calvin Walton at the tree in the final.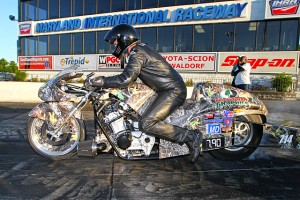 Saturday night's 3-hour long Afterdark Undergound brought out the latenight crowds for freewheeling action, but the big race of the day went down early with Pro Street winner Cox scoring on HTP's Cobra Kai. Kingpin, Cocaine and Mandingo also made laps out of the HTP trailer but found no takers—that means you In2Deep.
The world's largest motorcycle drag racing series returns to the Miller family's sticky quarter mile in Budds Creek on July 25-27 for the biggest event of the year, the WPGC Bike Fest.
This report was prepared by Tim Hailey. Enjoy everything there is to read, see and watch about motorcycle drag racing and more at http://www.eatmyink.com