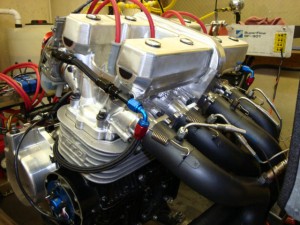 The MonStar billet 4-valve cylinder head, developed by Star Racing and Monster Race Products, has been officially approved for Pro Stock competition in the UEM European Drag Racing Championship.
After several weeks of deliberation, the official announcement was delivered to Star Racing co-owner George Bryce by Peder Eneroth of the UEM Drag Racing Commission. The approval marks a significant moment for the newly-machined MonStar heads as the European racing market opens its doors for this state-of-the-art product.
"The Star Racing team is so proud that our new MonStar heads have been approved to race in the UEM Championship series. This really shows the world that our new product is worthy of international recognition and is something that will greatly improve the racing competition in Europe," Bryce said.
With the first batch of MonStar cylinder heads nearly complete, customers who have pre-ordered heads in both the first and second batches eagerly anticipate the arrival of these fully machined, ready to assemble products.
These GS-style heads are custom machined by Monster Race Products in Clearwater, Kan. After Star Racing's Bryce drew the initial design for the cylinder head on a napkin, Monster Race Products owner, Mitch Brown, brought Bryce's idea to life by producing the heads. Brown was also instrumental in the production process as the team adjusted and improved the original design. Monster Race Products also completed all of the CNC machining for the new product.
"We've been working tirelessly to improve and perfect these new MonStar heads ever since George sketched that first design on a napkin. It's been a long process, but we're confident that this product is the absolute best it can be. The billet aluminum that we've machined them from is an aircraft proprietary alloy and is about 10 times stronger than your standard cylinder head," Brown said.
Bryce and Brown were thrilled to see their new product in action as the head made 300 horsepower on the engine dynamometer and 250 horsepower at the tire on the chassis dyno. These successful runs were completed with all stock components.
For photos, videos and more information on the MonStar head, visit: http://www.starracing.com/Billet4-ValveGSStyleCylinderHead-4Cyl.php